Choosing your career is a defining moment in your life, and knowing which direction to go in can be stressful and confusing. Here are 10 inspirational prayers for career guidance along with printable images to use or share.
Prayer for Your Direction
Almighty and Everlasting God, I pray that You put me in the right direction as I search for a career. Please align me with Your plan. Fill me with the values and convictions that will equip me for this career. When I feel doubtful or lost on this career journey, I pray that You remind me of Your never-ending presence. I will never walk alone. You have designed me and my story beautifully, Lord. I pray that I see Your plan unfold. In Jesus' loving name, Amen.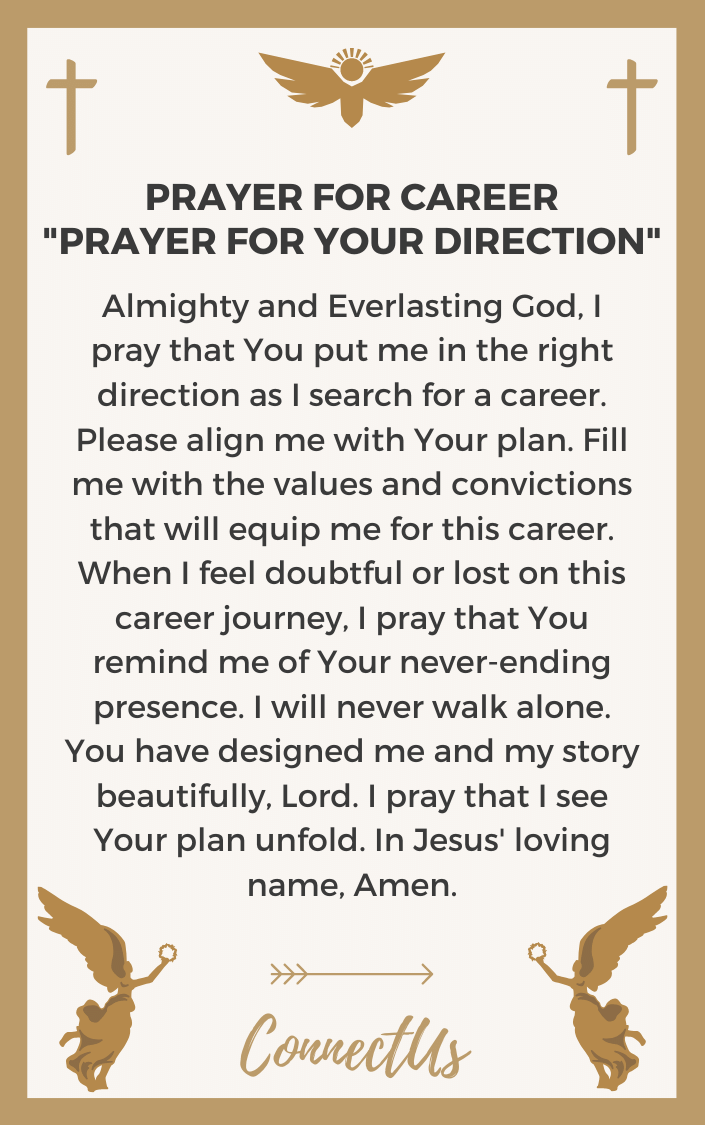 Perseverance Prayer
God of Victory, my journey to finding a career has not always been easy. I've been met with rejection, doubt, and hopelessness. I know that these empty feelings are not the end of my story. I know You have a grander plan ahead. Please fill my spirit with perseverance so I can see Your plan unfold, Lord. Remind me of this gift of determination during my hard moments. I know that with this gift, I will see Your destiny for me. In Jesus' glorious name, Amen.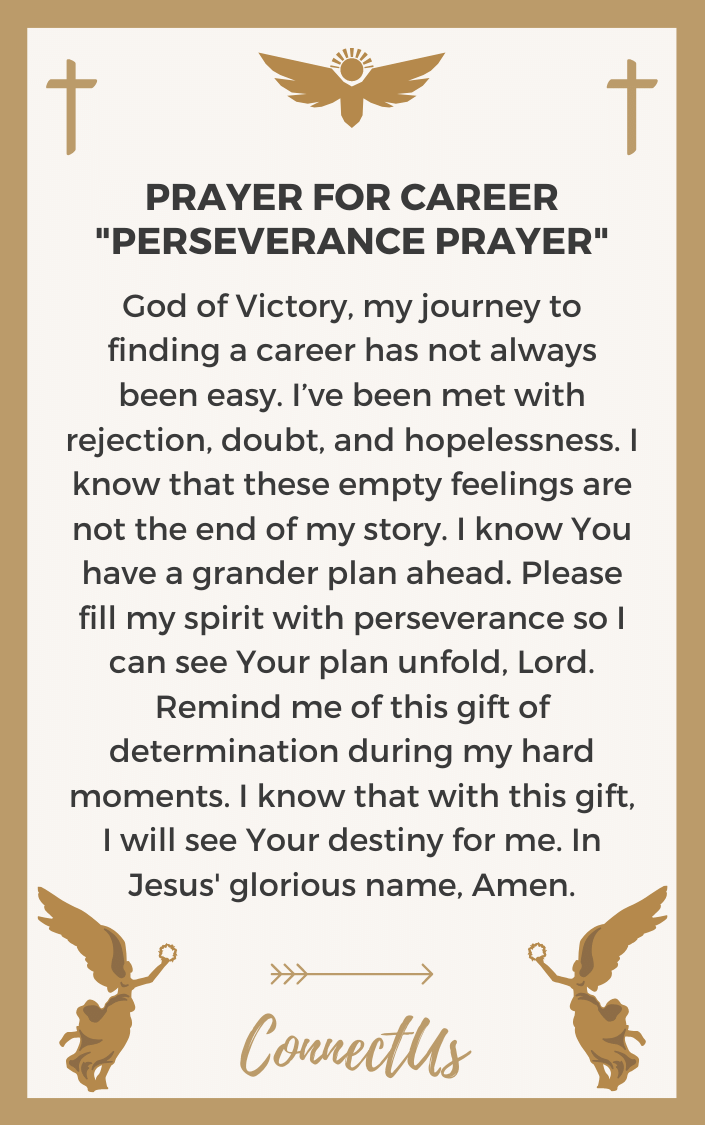 Prayer for Interview Help
O Lord, Mighty in Power, I ask for Your loving guidance. Please help me during my upcoming interviews. I know they are crucial components to the career journey. Please deliver me ease. Bring me confidence in my skills and talents. Remind me that You are always near. When the interviews go well, celebrate with my soul. May we rejoice in success together. When the interviews do not go well, please bring me peace and a new tomorrow to try again. In Jesus' gracious name, Amen.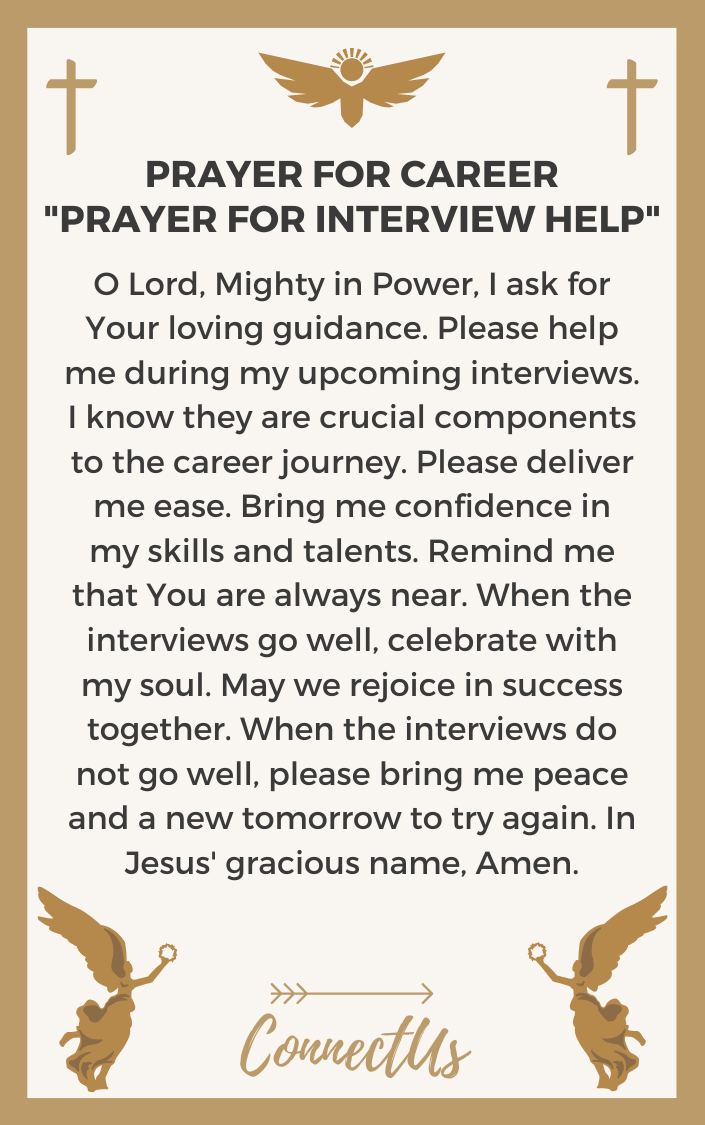 Doubt Prayer
Lord Jesus, my Rock, I find myself doubting the direction my career is heading. Please cleanse me of those negative and toxic doubts, Jesus. Remind me that I am capable and living out Your beautiful plan for me. I know that when I seek You, everything will be okay. Please stay at the center of my thoughts, Jesus. Take away the worry. Walk me towards goodness as I continue to search for my career. In Your name, Amen.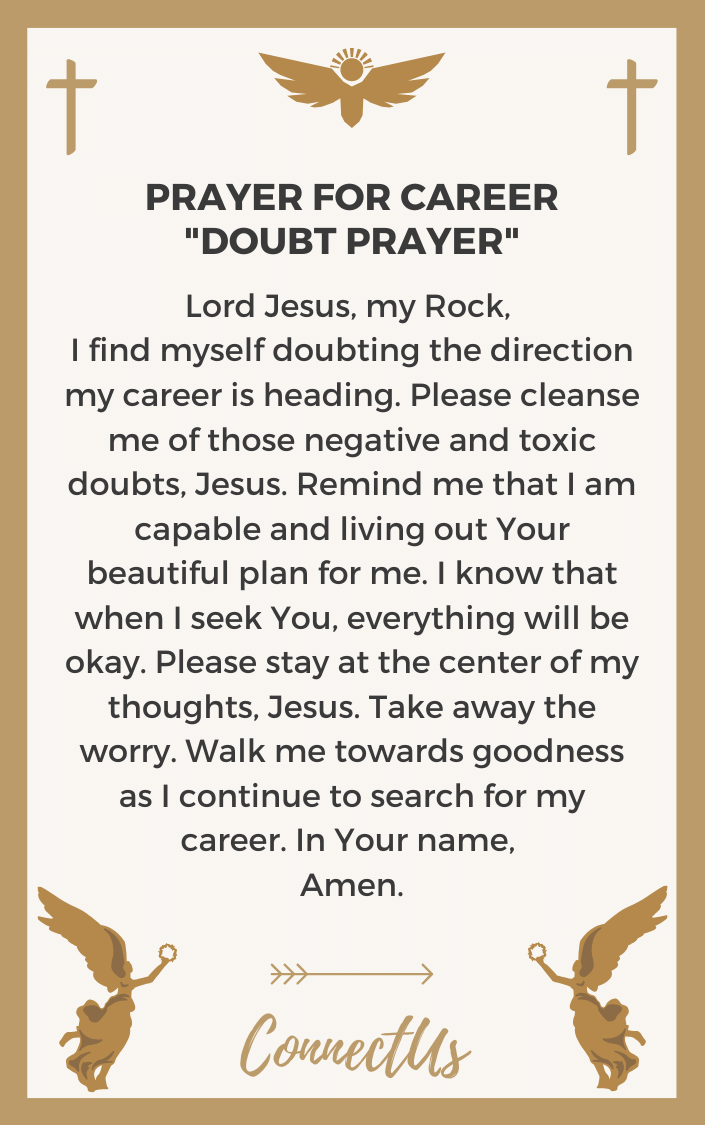 Vocation Prayer
God of Loving Devotion, please open my eyes to my vocational gifts and talents. I know that You have placed those gifts within me to make this world brighter. As I look for a career, may I rest on these vocational passions. Please take away any outside pressures and distractions. Please help me find a career that parallels my vocation. I know that Your plan is good for me. May I find a career where I can use these vocational gifts that were given by You. In Jesus' all-knowing name, Amen.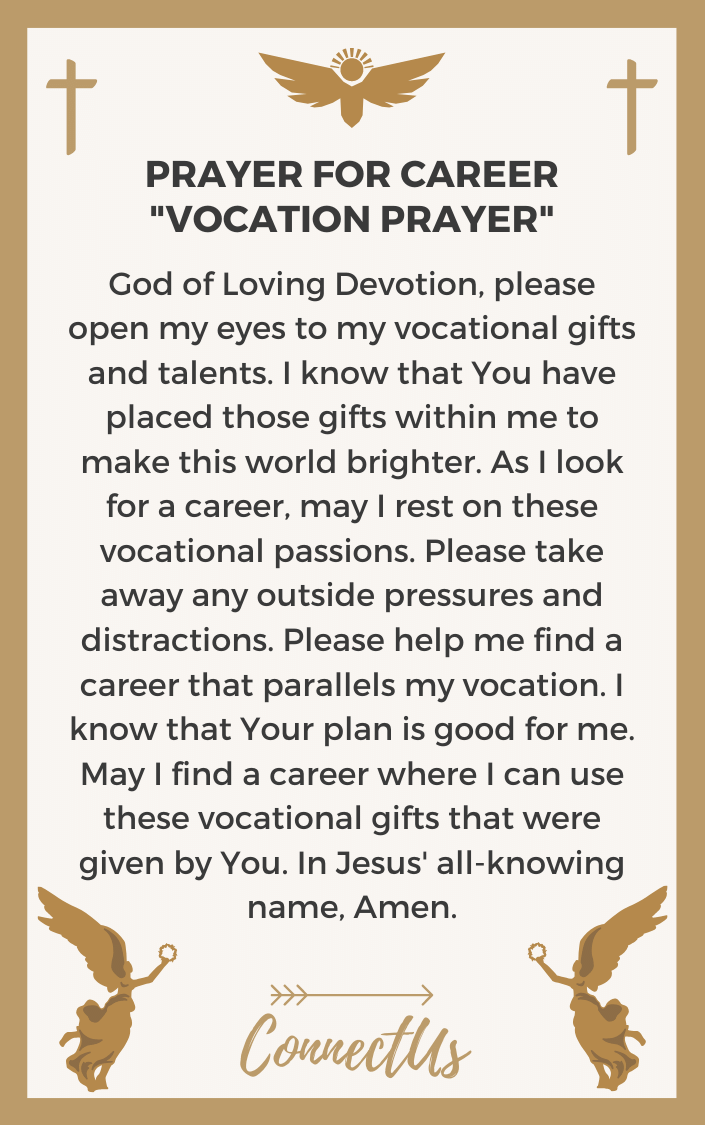 Community Prayer
Jesus, my Savior, I find myself struggling to find a career. I know that You are near, but my challenges are still daunting and hard. Please bring me to my brothers and sisters of Christ. May I overcome these career challenges by finding a community of supporters. May we lift each other up in adversity. May we praise You in moments of success. I know that my career journey is part of Your plan. I pray that I don't walk there alone, Lord. In Your compassionate name, Amen.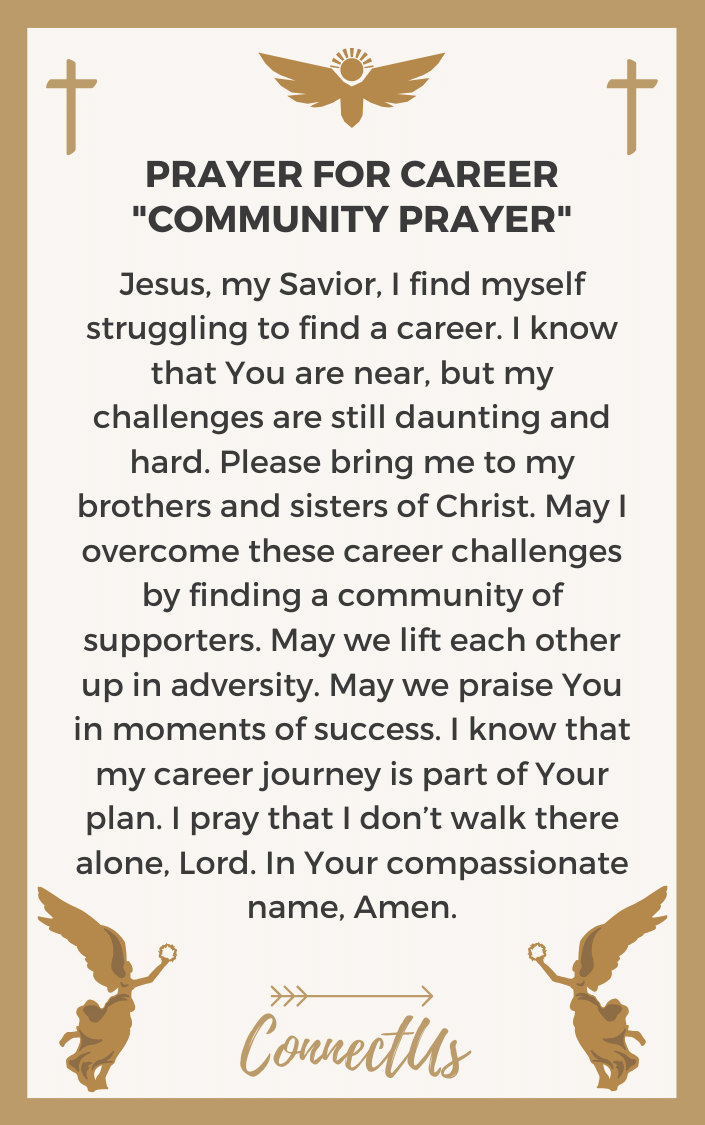 Joy in the Journey Prayer
Gracious God, I praise You for Your overwhelming presence in my life. I know Your plan is good for me. As I search for a career, please help me find joy and peace in the journey. Help me rest on my faith in You. During the challenges, may I remain loving to Your will. During the good moments, may we rejoice together. May I celebrate every moment of this beautiful journey. I know that You will lead me to a fulfilling and meaningful career, Lord. In Your precious name, Amen.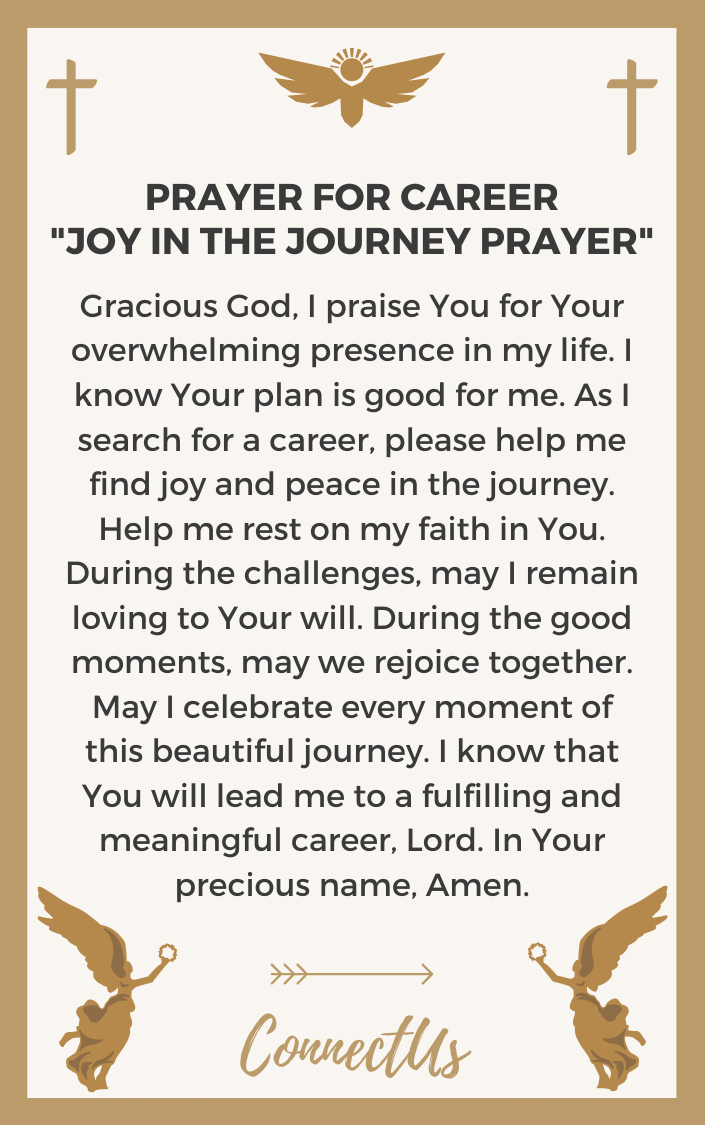 Rejection Prayer
O God, my Strength, my heart is heavy. As I search for a career, I am met with another rejection. I have faith in Your plan, Lord. But my soul is growing weary and doubtful. My mind is tired and impatient. I compare myself to other career journeys. Cleanse me of these thoughts, Lord. Help me look to You in these troubled times. Please turn my sadness and doubt into energy and resilience. Give me faith that this is only the beginning of an exciting journey that is filled with purpose. I know You have an extraordinary career waiting for me. In Jesus' gracious name, Amen.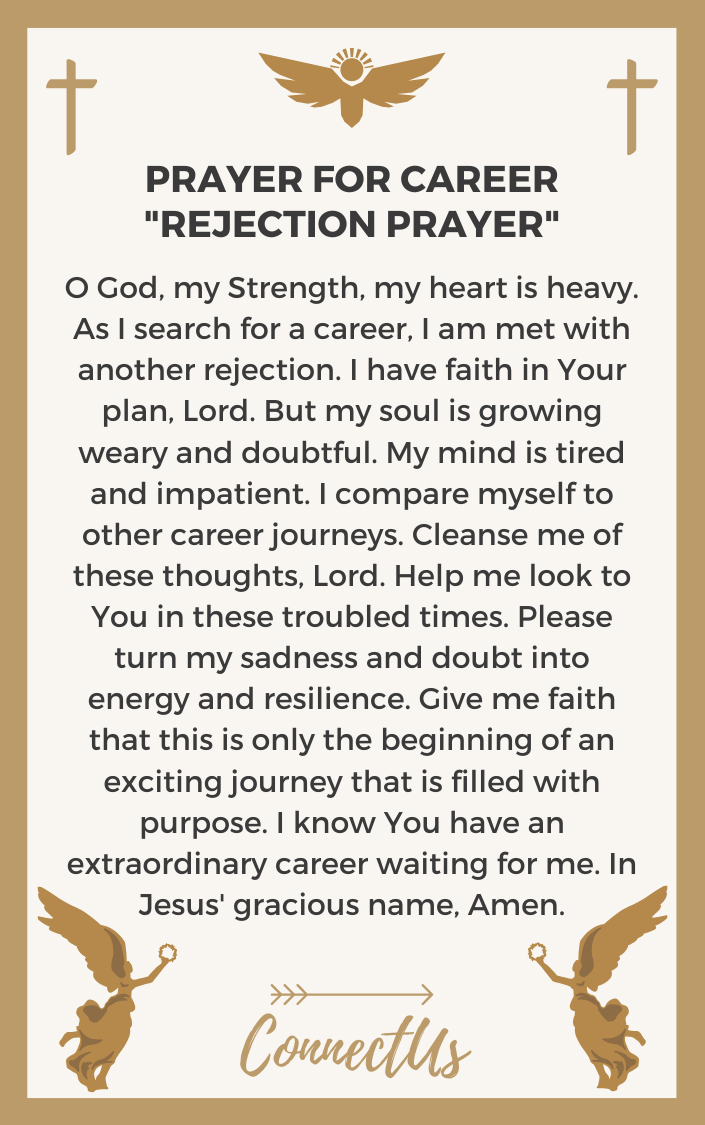 Inspiration Prayer
Creator and Sustainer, please give me the inspiration to find a fitting career. Help me look inwardly at my own passions and feelings. May those feelings guide me to an inspired and fulfilling career. I pray that You open my eyes and mind to many inspirations. May I see inspiration all around me in Your many gifts. I know that with You I will feel inspired every day to continue in this career journey. In Jesus' glorious name, Amen.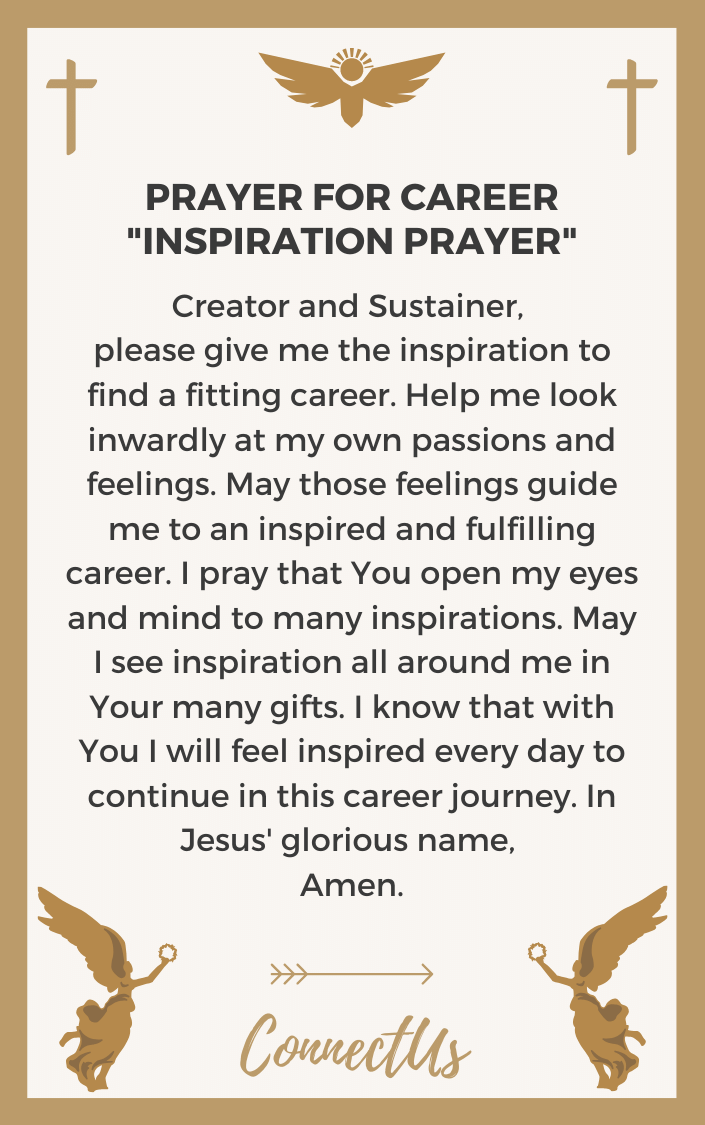 Positive Thinking Prayer
Abba Father, I am searching diligently for a career. As I traverse through this often-challenging season of life, please guide me in my thoughts. Stop any negative or toxic self-talk. Bless my mind with positivity and confidence. I have faith in Your plan for me. May I celebrate this even in the difficult moments. I know that through positivity comes prosperity. May this come true in my journey to find a career. In Jesus' righteous name, Amen.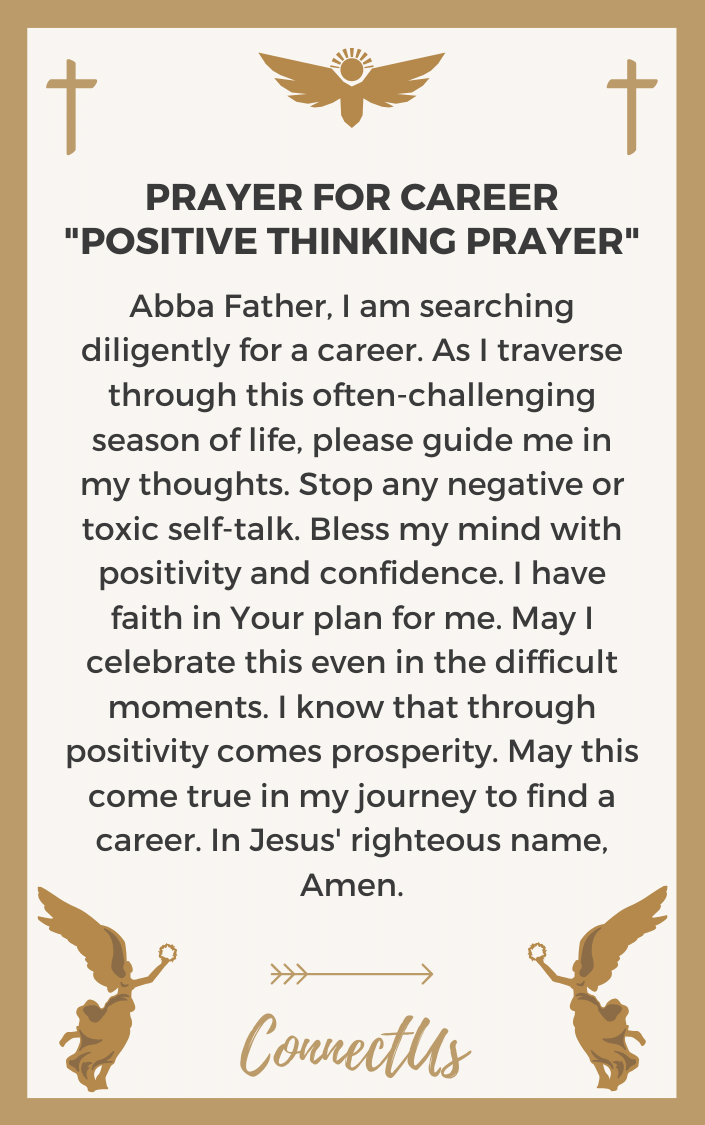 Most Popular Prayers by Topic
For Hard Times
For Financial Prosperity
For Physical Health
For Emotional Health
For Protection
For a Marriage
For Babies and Pregnancy
For Family
For Spiritual Warfare
For Spiritual Health
For a Death
For the Workplace
For Bedtime
Our 10 week prayer journal will guide you through your daily prayers and help you plan out your prayer week. It is completely free. You can
click here to get it now
.

Author Bio
Natalie Regoli is a child of God, devoted wife, and mother of two boys. She has a Master's Degree in Law from The University of Texas. Natalie has been published in several national journals and has been practicing law for 18 years.