Seeing homeless individuals and families is heartbreaking, and we must pray for them to be lifted out of their situation. Here are 10 powerful prayers for the homeless, including images you can print to use and share.
Prayer for Homeless Men, Women, and Children
Precious Holy Spirit, I come to You with a broken heart for all our brothers and sisters in Christ who are living with no security, no shelter, and no safety from the outside world. Please be with all the men, women, and children in our world who are homeless. Give them extra warmth, peace, and guidance like only heaven can send. Let angels hold their hands at all times, ease their worries, and provide opportunities for a better life. Give them hope where there is no hope and provide wisdom as they work through their trials. Lord, let them know they are loved, prayed for, and your precious children who will never be forgotten. In Jesus' name, I pray. Amen.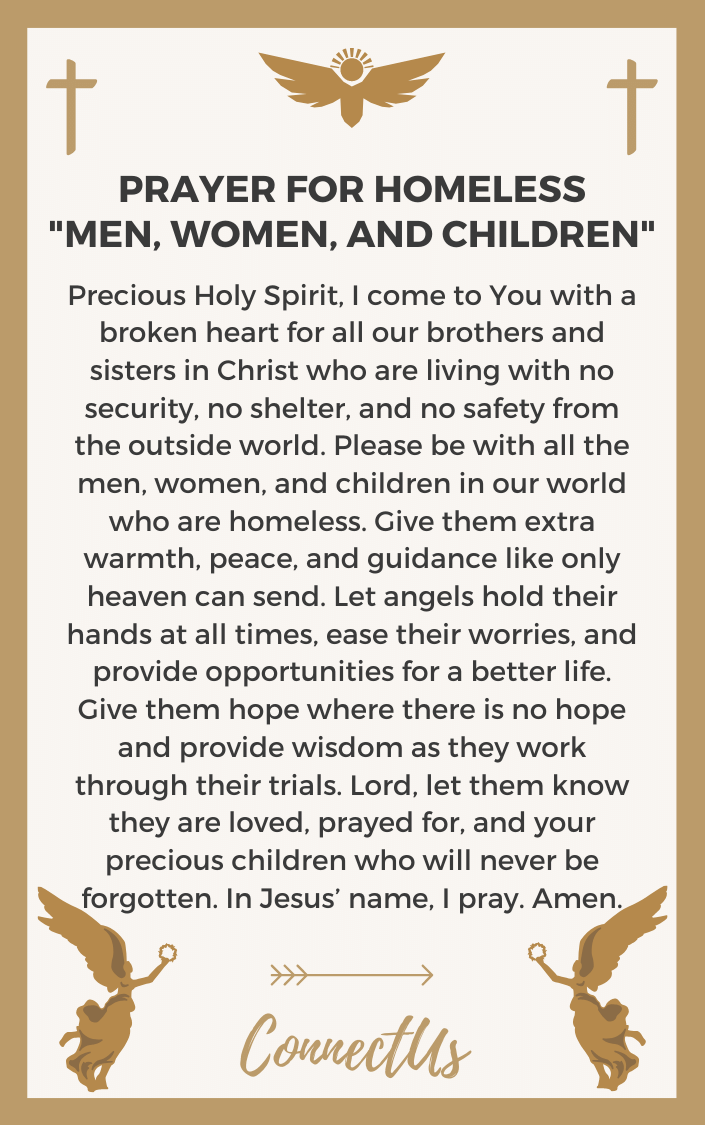 Prayer for the Homeless and Hungry
Sovereign Lord, for the homeless people of the world, I pray that a never-ending supply of blessings rains down upon them. Please allow them to have the food and drink they need. I ask that You nourish their bodies with warm meals and clean water. Lord, it weighs on my mind so heavily when I think about all their struggles, but more often than anything else, I worry about their nutrition and hydration. Please be with all of them as they suffer from hunger, especially the babies and children. Lord, bless their little tummies and help us to never miss an opportunity to help. We love You, Lord. Keep them at the forefront of our minds and help us help them. In Jesus' precious name, I pray. Amen.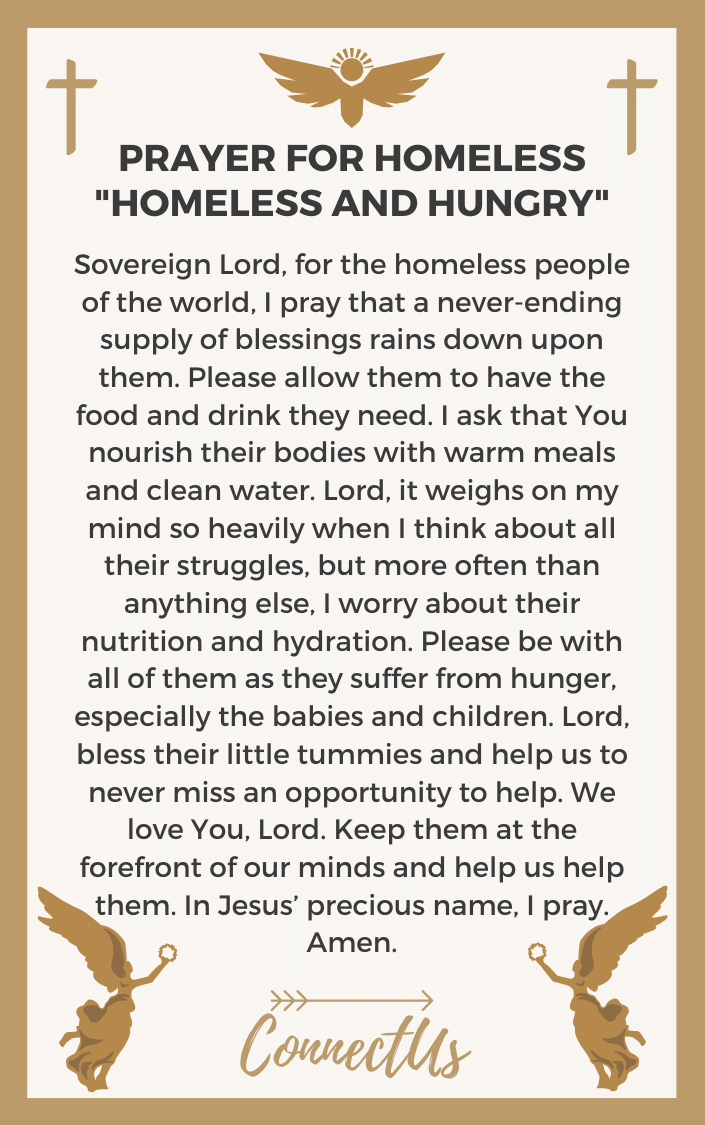 Prayer for the Homeless and Needy
O God of Loving Devotion, please be near our homeless citizens. Remain by their sides and meet their needs. Show me how to be a part of their lives by generously giving my prayers, time, and money to help them. Guide me so that I can spread your word to the needy. Direct my actions so I can help the world understand that when we help the needy, we are acting as the body of Christ. Let me be a cornerstone for those in my area who are less fortunate. I ask You, almighty Father, to show me unending opportunities to help them and serve You. In Jesus' name, I pray. Amen.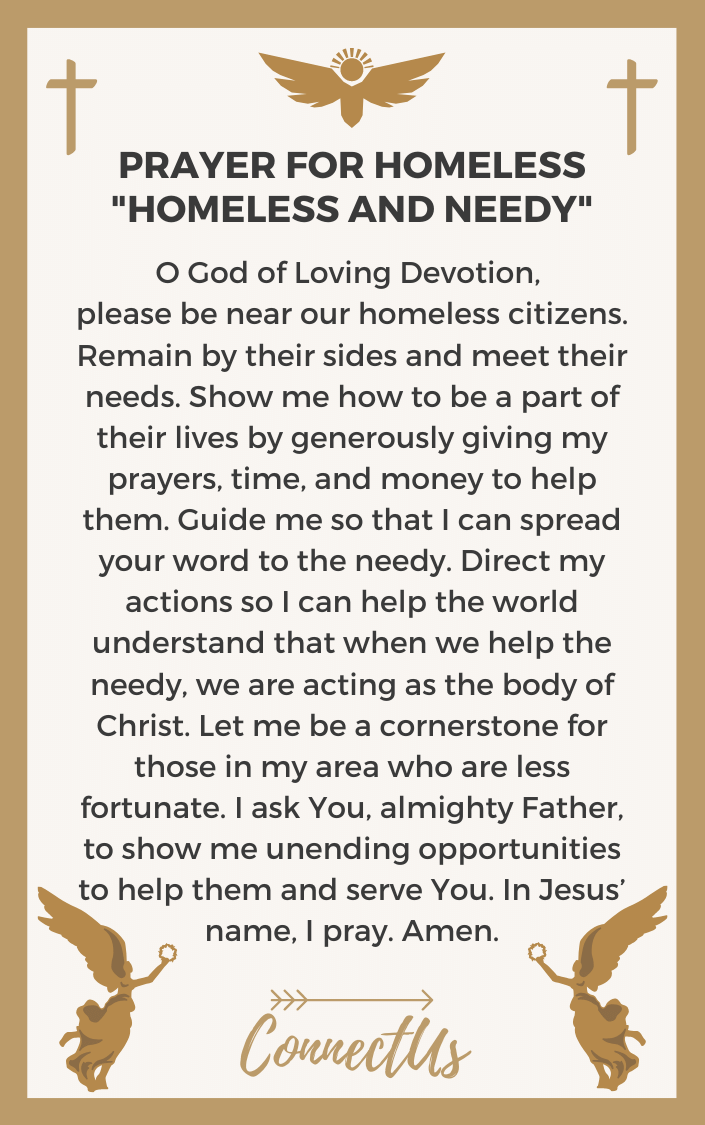 Prayer for the Homeless and Poor
Dear Jesus, our Savior, thank You for all my blessings, and may I work for You daily, storing up my treasures in heaven. I pray the homeless and poor will see the beauty in themselves and know that they are loved and cherished by You, our All-Faithful King. Be with organizations all over the world as they fight against poverty and homelessness. May I do much more than my part as one person on Your wonderful Earth. May I do the work of a million men when showing my love and genuine care for those living in poverty or without a home. Help them to see You in all that I do. In Your compassionate name I, pray. Amen.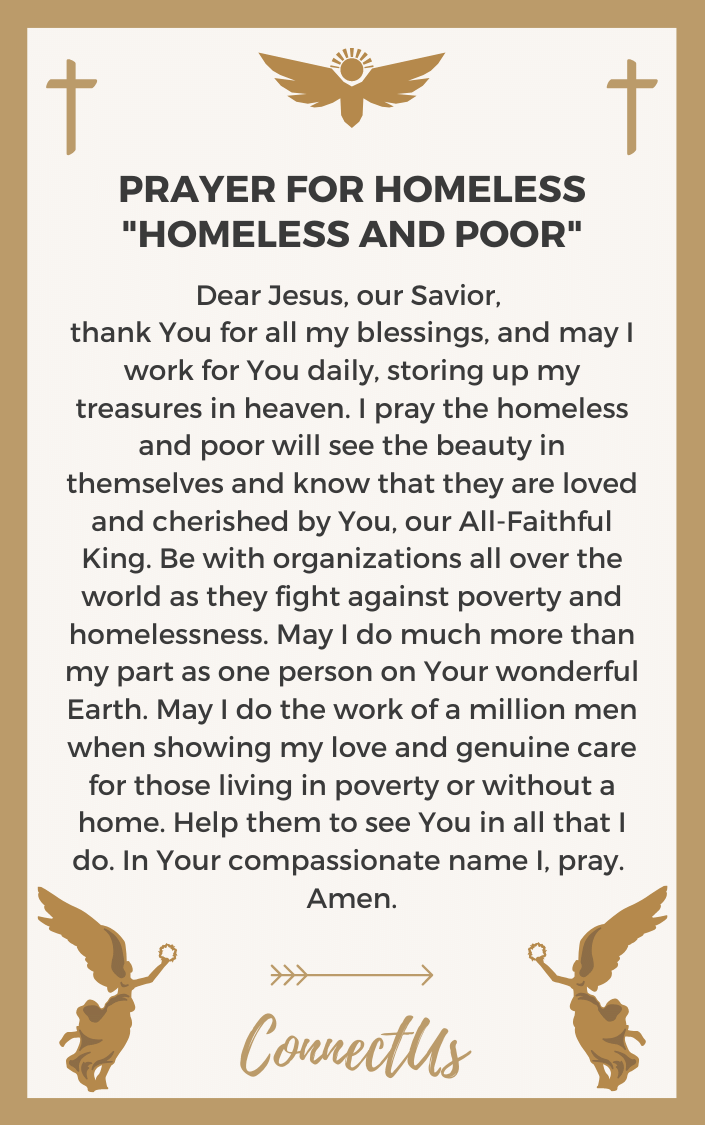 Prayer for the Homeless in the Cold
God, my Fortress, I pray that You will provide warmth to those who are cold and lonely. If it is in Your will, provide a place of shelter for them this cold season. Comfort them and supply a peaceful and warm area for them to rest. I pray that they will have coats and blankets to keep the cold away. I know all things are possible with You and my heart is certain You are aware of their needs. I pray that all homeless people will be rescued from their life of sorrow and strife. Please Lord, hear my prayer. In Jesus' name, I pray. Amen.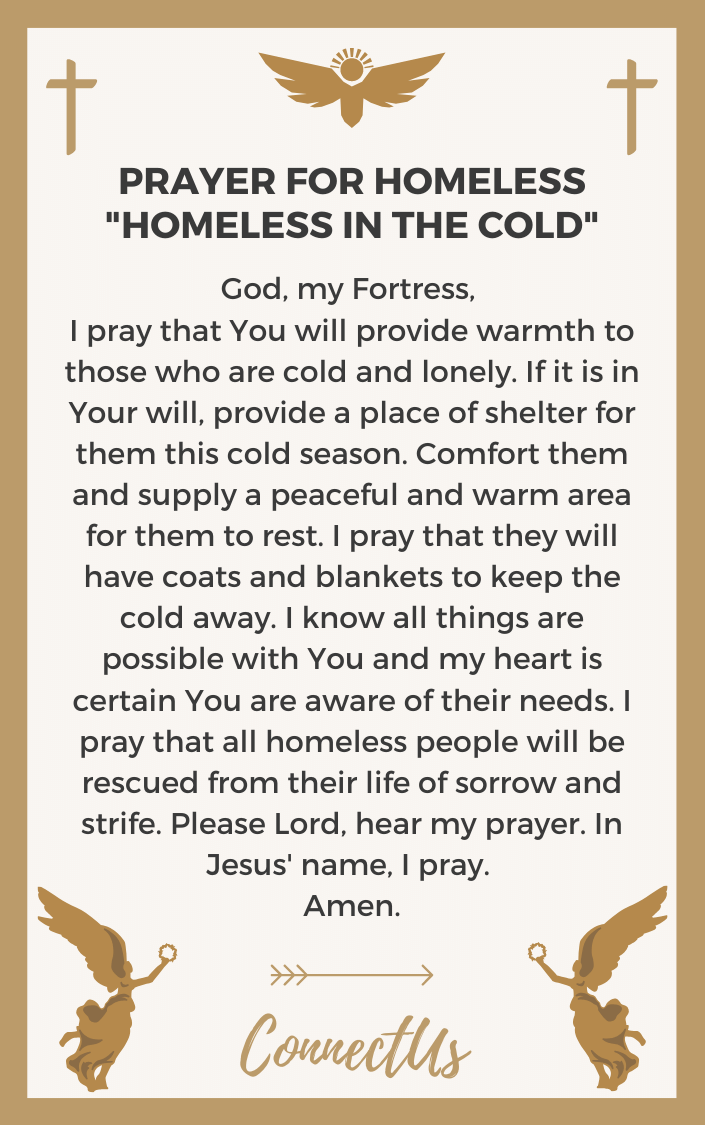 Prayer for the Homeless at Christmas
Sweet Gracious Jesus, during this joyful season, my heart and mind spend many hours thinking of the homeless. Please give them peace this year as they do their best to get through the holiday season. Remind them of Your promises, keep hope in their hearts, and guide us, as Christians, to meet their needs as best as we can. Let them remember and explain to their children that Christmas is about, You, Jesus, and the eternal life we have awaiting us. I pray that organizations rally together to create amazing Christmas events and gatherings for the less fortunate this year. Help me to make a difference in their lives as well. Lead me in my search for how best to be Your hands and feet, Jesus. In Your precious name, I pray. Amen.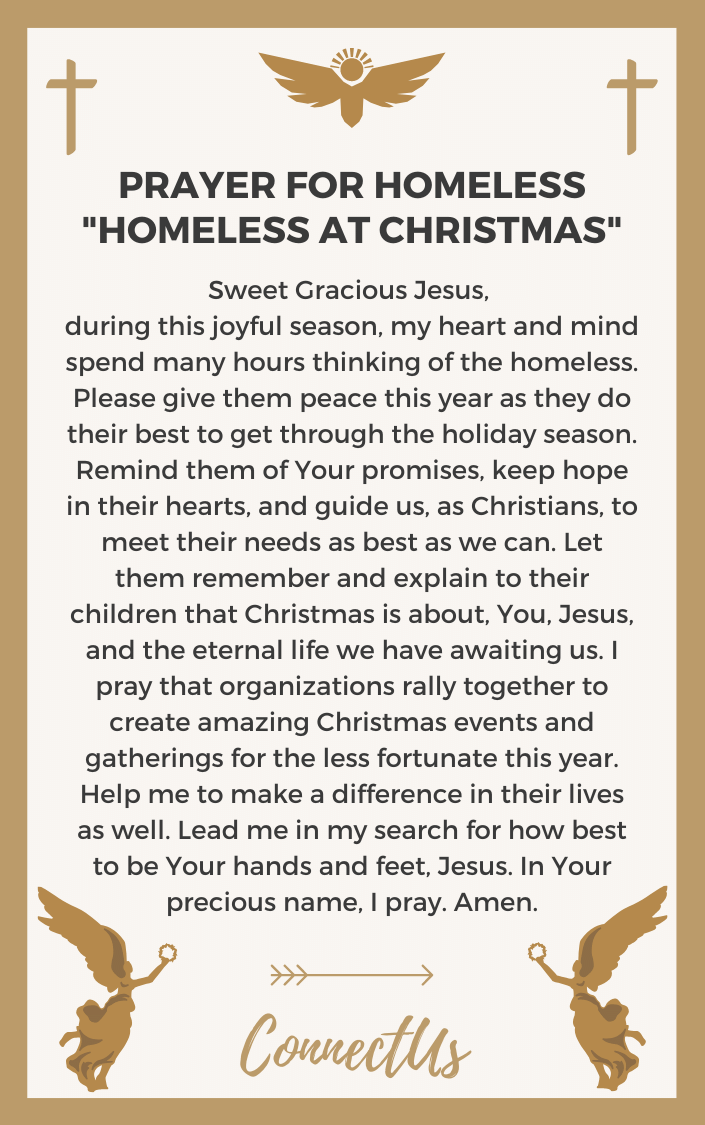 Prayer for Shelter for the Homeless
Compassionate Father, I ask that You provide shelter for all the homeless in our world. It's unbearable to think of all the sorrow they must hold in their hearts. Guide them to safe shelters so they can be protected from the weather, from people with bad intentions, and from all other complications of living outdoors. Lord, please bless them and meet their needs. Bless the little ones and babies who must be so uncomfortable and scared. Let their eyes see the angels that You send for their protection, that we as adults, cannot see. Give them this comfort, Father. In Jesus' holy name, I pray. Amen.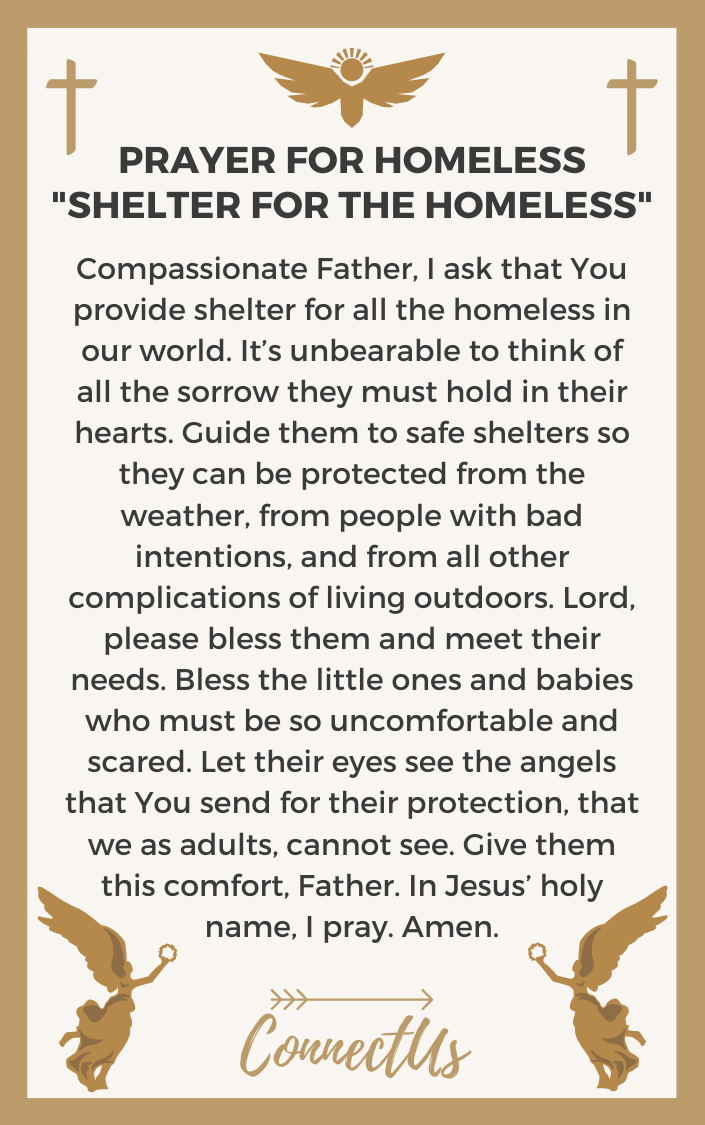 Prayer for the Homeless Who Are Sick
Jesus, the Great Physician, please bless those who are ill or stricken with disease. In particular, I pray for the homeless who are sick. Whether it be a small sickness or a life-altering disease, I ask that You hear my prayer and bless them. Give them a strong will to keep going and build up their immune systems. I hurt so badly for those who need help and can't get it. If sickness has to come, allow it to be brief and heal them quickly, Jesus. Encourage them to visit free clinics and guide them to free medical help. In Jesus' holy name, I pray. Amen.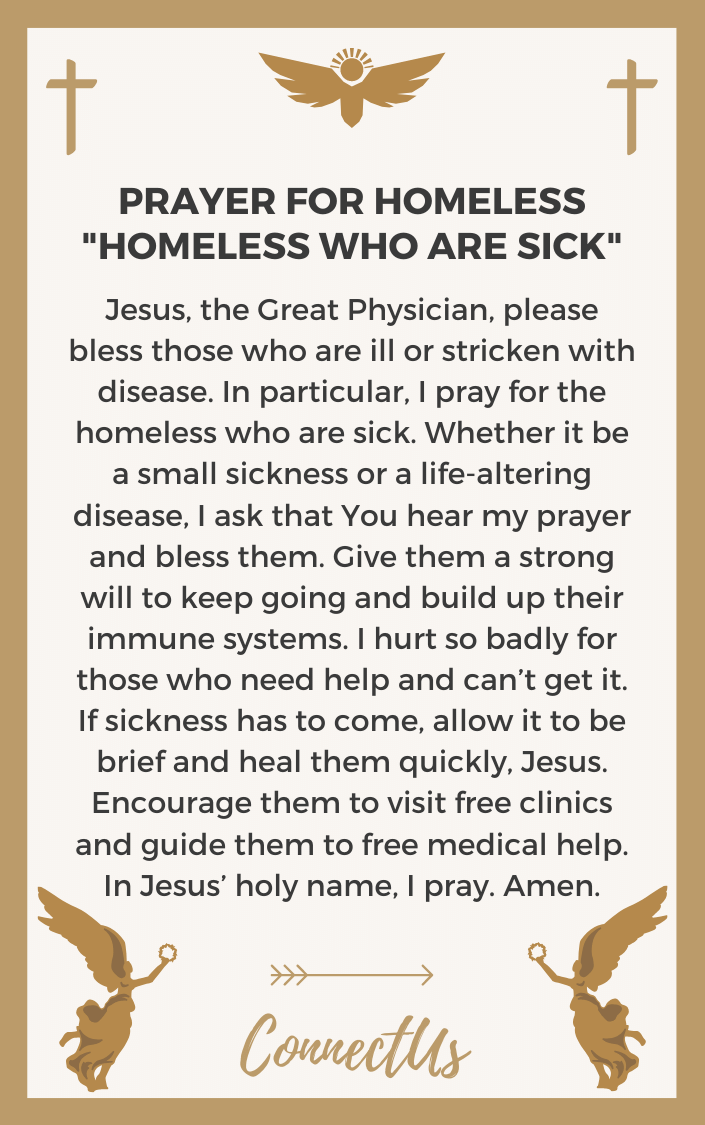 Prayer of Encouragement for the Homeless
Father of Compassion, I ask that You allow blossoms of hope and sprouts of encouragement to bloom among the homeless of our world. Give them the Godly grit they need to not give up. Let them see brightness in their futures and encourage them. Show them ways to progress towards a better place, show them where to find food and clothes, and make their hearts realize that You will sustain them. Father, strengthen their spirits every day and build their faith. May they see the wonders of trusting You for all they need. In Your Son's name, I pray. Amen.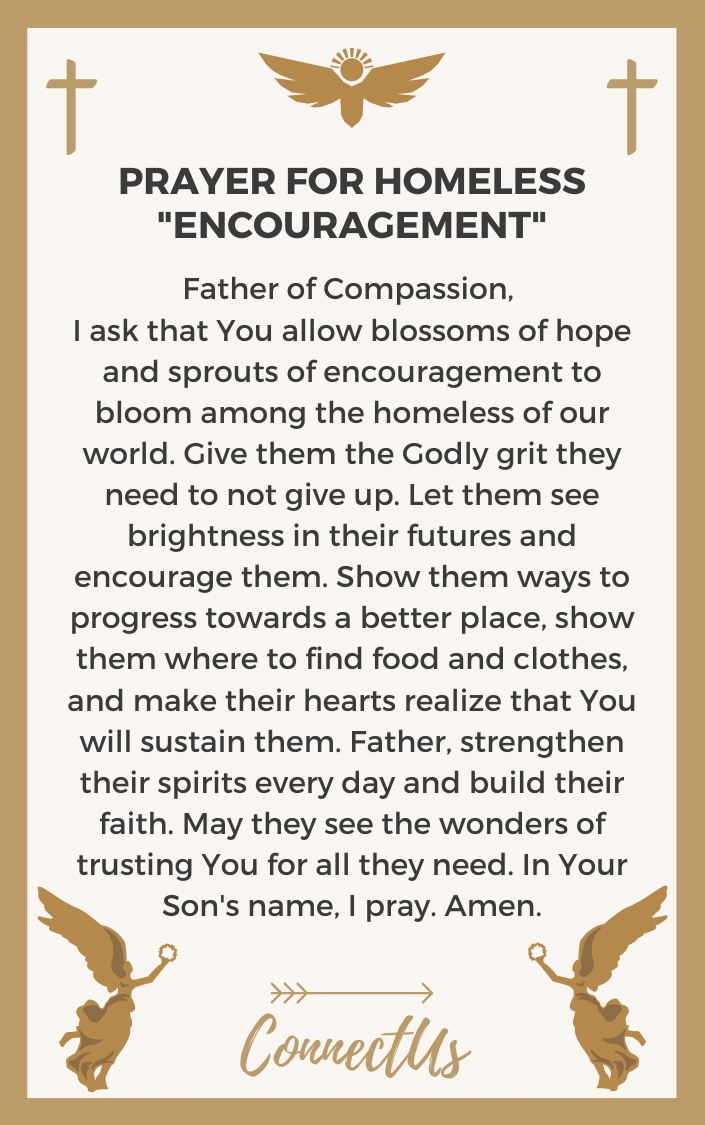 Prayer for Safety for the Homeless
Light in the Darkness, I ask that You use Your majestic light to surround the people without a home. Let that light keep evil of every kind away from their bodies and minds. Don't let Satan tell them lies or make them more susceptible to sin. Keep them safe from all harm, especially the women and children who are so much more vulnerable. Please keep them from being objects of destruction, of evil ploys, or of anger and aggression. Make demons hear Your objections and see Your light. Keep them away at all times. In Jesus' name, I pray. Amen.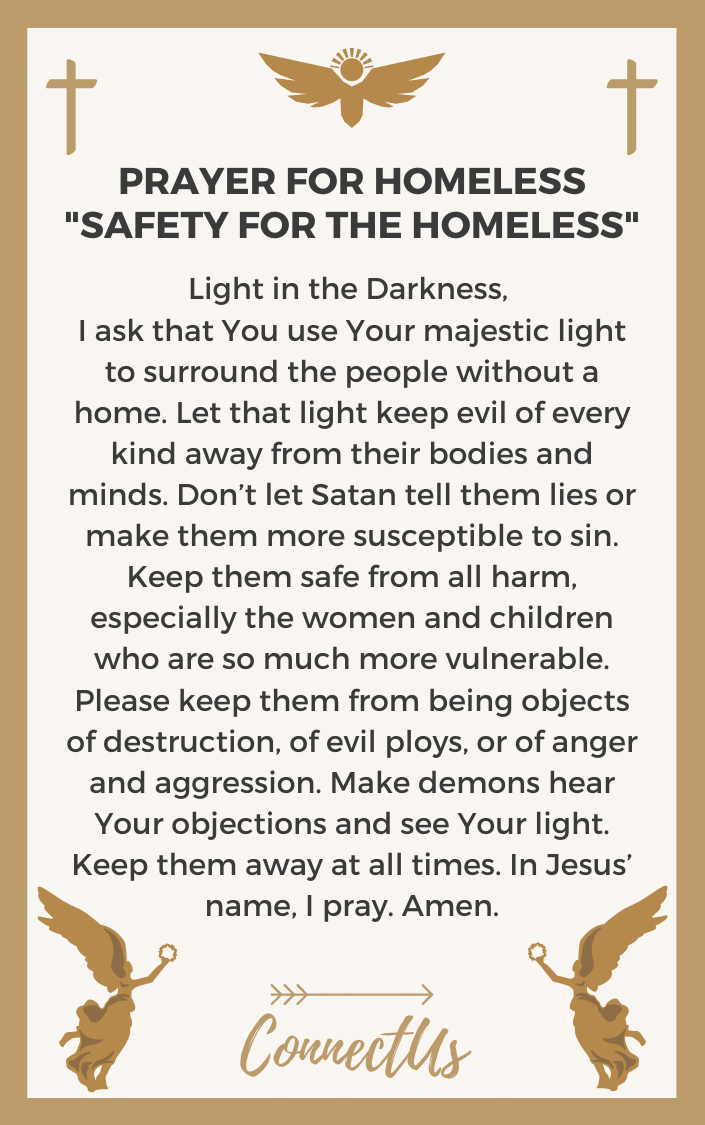 Most Popular Prayers by Topic
For Hard Times
For Financial Prosperity
For Physical Health
For Emotional Health
For Protection
For a Marriage
For Babies and Pregnancy
For Family
For Spiritual Warfare
For Spiritual Health
For a Death
For the Workplace
For Bedtime
Our 10 week prayer journal will guide you through your daily prayers and help you plan out your prayer week. It is completely free. You can
click here to get it now
.

Author Bio
Natalie Regoli is a child of God, devoted wife, and mother of two boys. She has a Master's Degree in Law from The University of Texas. Natalie has been published in several national journals and has been practicing law for 18 years.