Even if you are still waiting to find your future wife, you can pray to God to bless her and keep her before you even know her. Here are 10 powerful prayers for your future wife along with printable images to use or share.
A Prayer for My Future Wife's Safety
God of Heaven's Armies, You are the shield of all who call upon Your name. I ask that You protect the woman I will one day marry. Wherever my future wife is now, may she be safe. Keep her from danger. I pray against physical threats to her wellbeing: that the plans of those who seek to harm her will be thwarted; that accidents will be averted; and that natural disasters will be avoided. Keep her in Your mighty hand. I ask these things in Jesus' mighty name. Amen.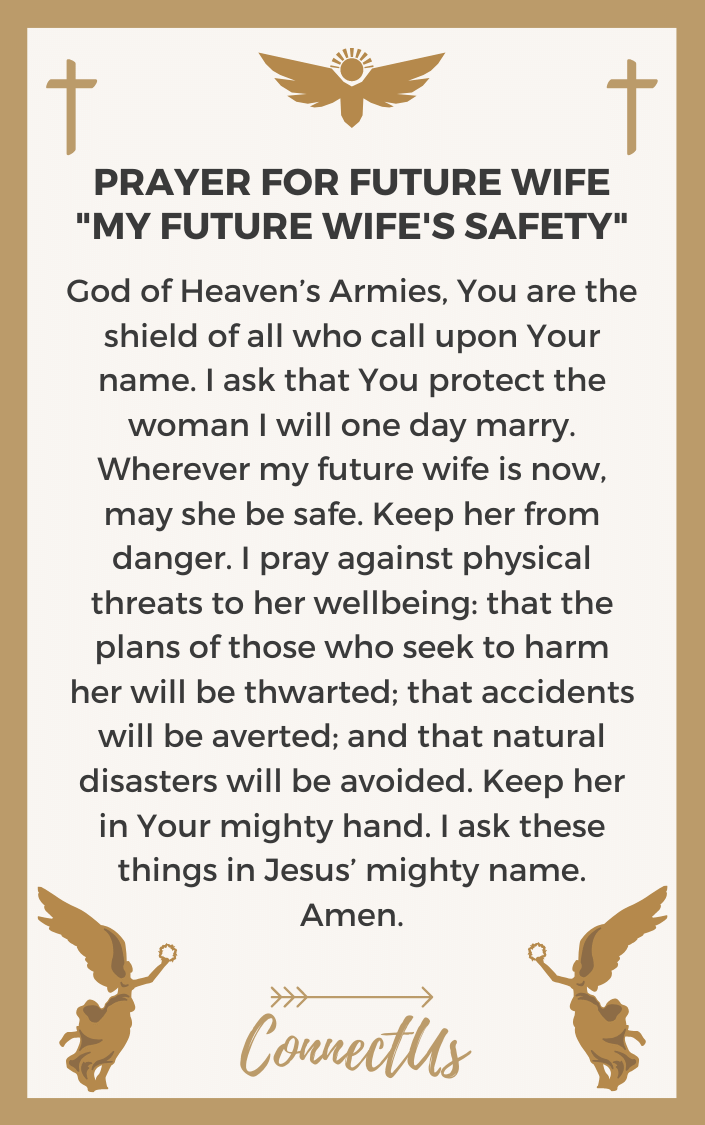 A Prayer for My Future Wife's Character
Righteous Savior, You do not look at the outer appearance; It is at the heart that You look. As I wonder about my future wife, I pray that qualities such as kind, faithful, reliable, and genuine are used to describe her. When others speak of her, they will comment on her godly character. Lord, like precious rubies, make the integrity of her heart shine. Build her through the training she receives and her life experiences. Use it all to mature her into godly womanhood. In Jesus' name. Amen.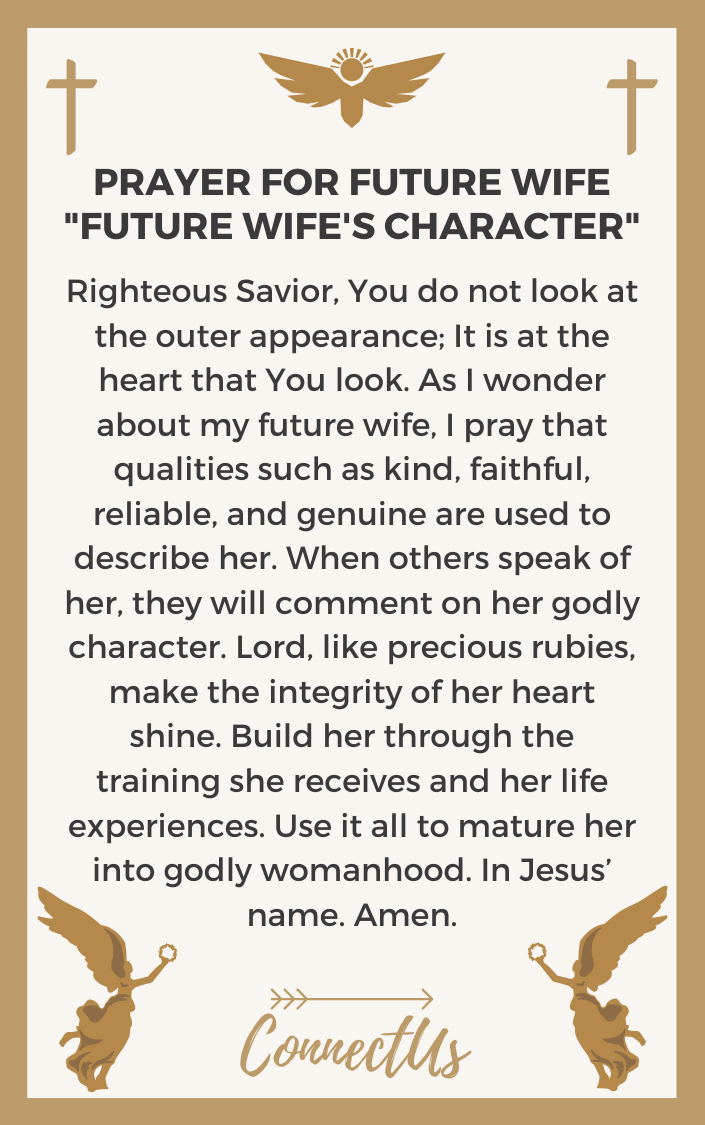 A Prayer for My Future Wife's Studies
Heavenly Father, I thank You for my education and the studies I have pursued. This I pray for my future wife: that You equip and energize her to pursue her studies with clarity. Guide her into the right training and may she find joy in her academic pursuits. May she study uprightly knowing that even her studies are to be done for Your glory. Give her a clear mind to understand and retain what she learns. I know that You are with her always. Amen.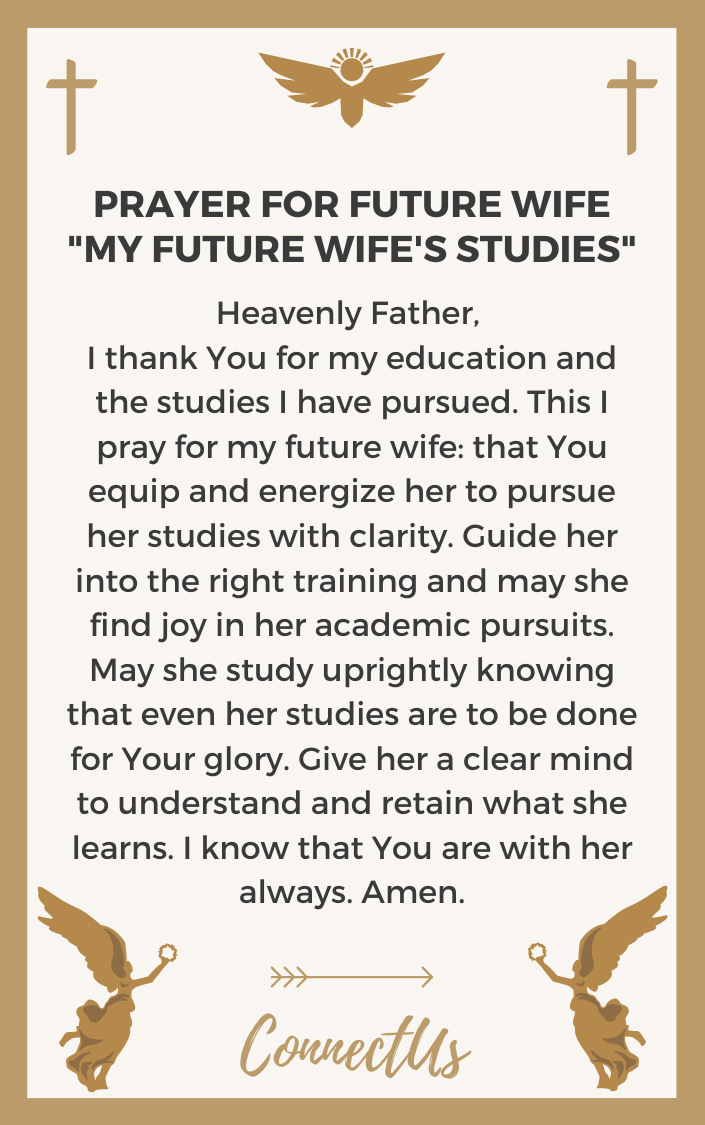 A Prayer That My Future Wife Grows in Love for God
Lord of Unfailing Love, You are a loving God. And I know that You command Your people to love You with all our heart mind soul and strength. I ask this for the woman I will one day marry that she will be a woman who loves You first. As I know that I need help in this, help her. Make her more and more aware of Your great love for her so that she responds in overwhelming love to You. In the love of Jesus, I pray. Amen.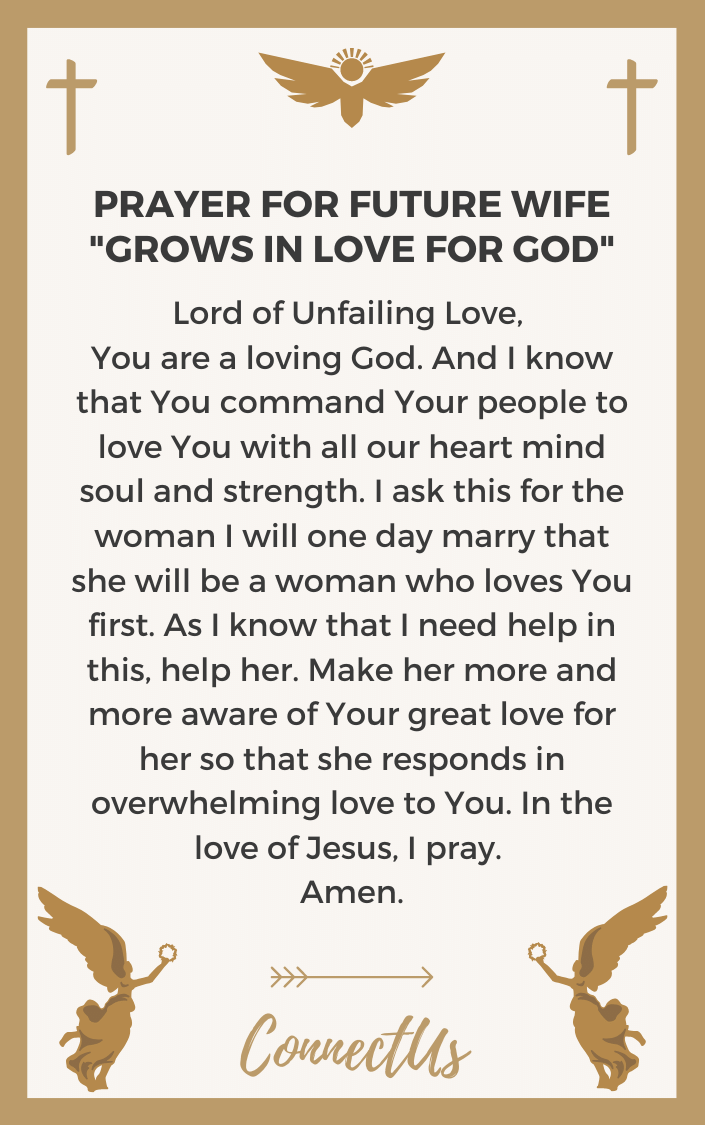 A Prayer That My Future Wife Grows in Love for Others
Jesus, my Savior, Your Word states that whoever is born of God is one who loves others. I ask that this be true of my future wife that she be one who loves those around her. Give her a heart that is moved with compassion by the needs of other people. May she be a woman who will continually spur me on to demonstrate compassion to others as well. Make her a model of obedience to the instruction to love thy neighbor as yourself. Amen.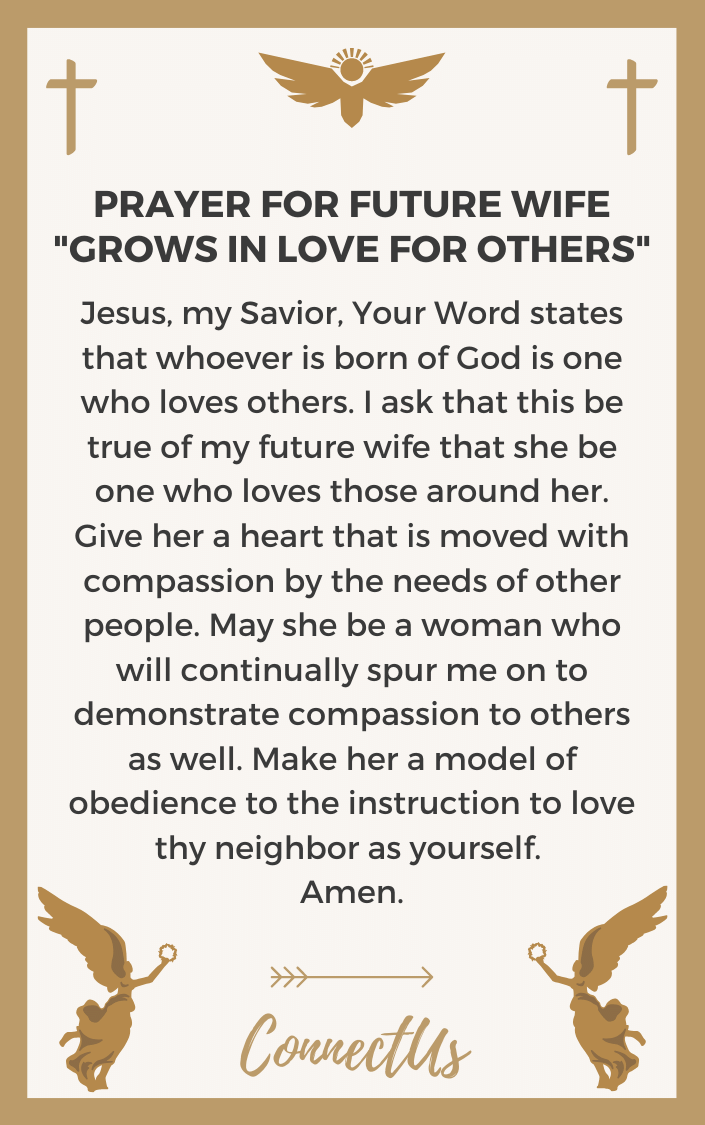 A Prayer for My Future Wife's Family
O Jehovah, my God, I pray for the family of my future wife. Lord, although I do not yet know who they are, You do know them and I pray for every relation that she has. Keep them safe in your hands, O God. I pray they are bonded together in the unity that Your love brings. I pray that her parents model the kind of relationship I want with her. Grant her wisdom in how she loves her family. In Jesus' name. Amen.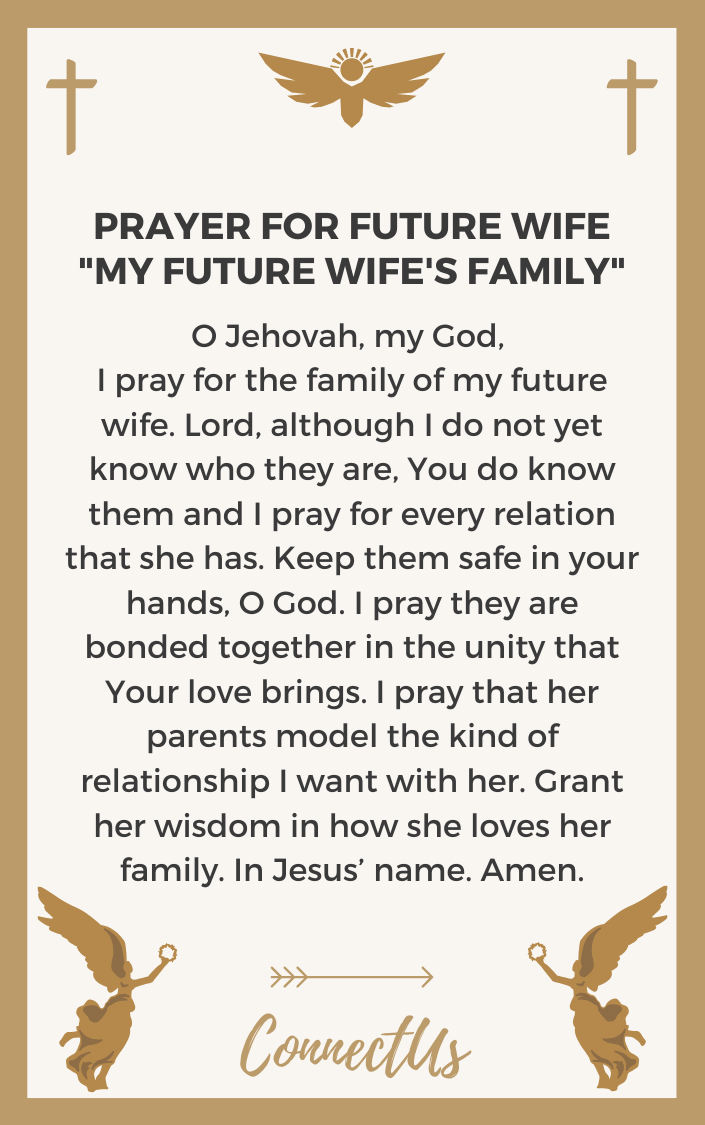 A Prayer for My Future Wife's Health
Jesus, the Great Physician, You are our sustainer, and by Your Spirit, we have life. By Your nourishing hand, preserve my future wife's health. Keep her from sickness and ailments of all kinds. Even if she were to become sick, I ask that You heal her quickly. I pray also for her living conditions that they might promote her health. Lord keep her from the burden of ill health. I thank You that You have the power to do so. You are our healer. Amen.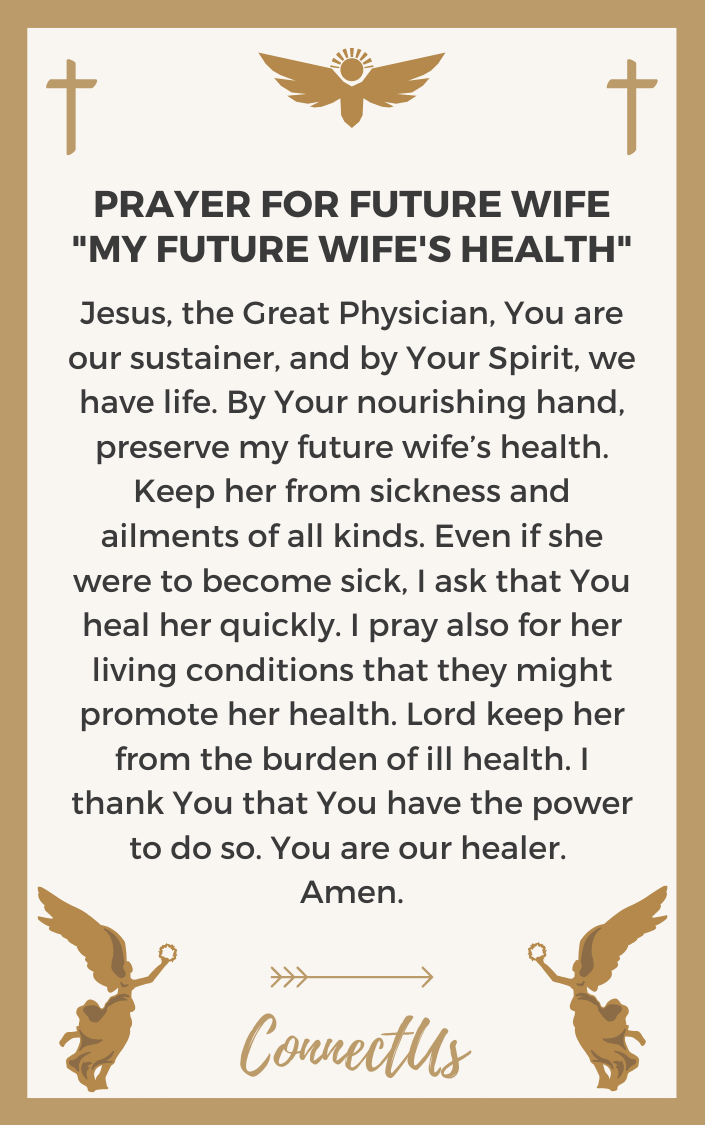 A Prayer for My Future Wife's Career
Name above all Names, in all things, You guide our steps. May You guide the steps of the woman You have ordained me to marry that she be led into the right profession. I ask that it be one which provides for her but also one in which she finds joy and meaning. Prepare her way so that she gains favor with those who employ her and goodwill from those she works alongside. Keep her from idolizing her career but help her to use her job as a way to serve the kingdom. Amen.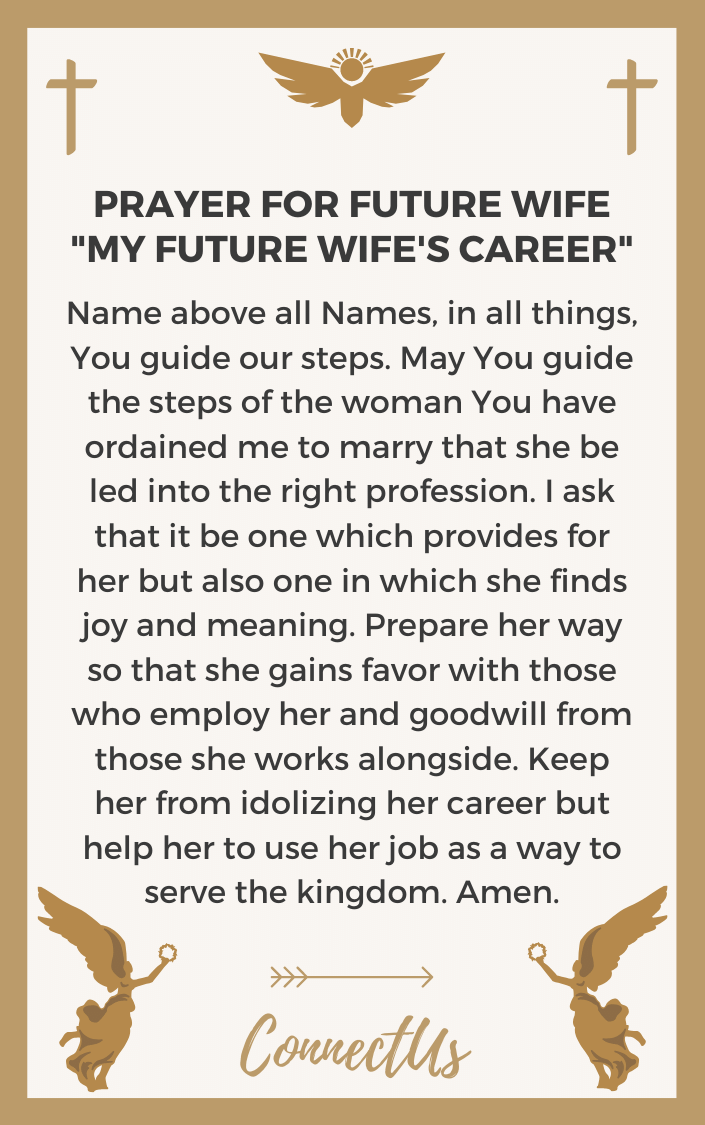 A Prayer for My Future Wife's Friends
Most Merciful God, You have made us to be in community. I ask for a good community of friends for my future wife. Proverbs advises us that the righteous choose their friends carefully. May her friends cherish her and care for her in the highs and lows of life. As she keeps in their company, I pray they are a source of wisdom and draw out a sense of fun. I ask that they give good counsel. Thank You for the gift of friendship. Amen.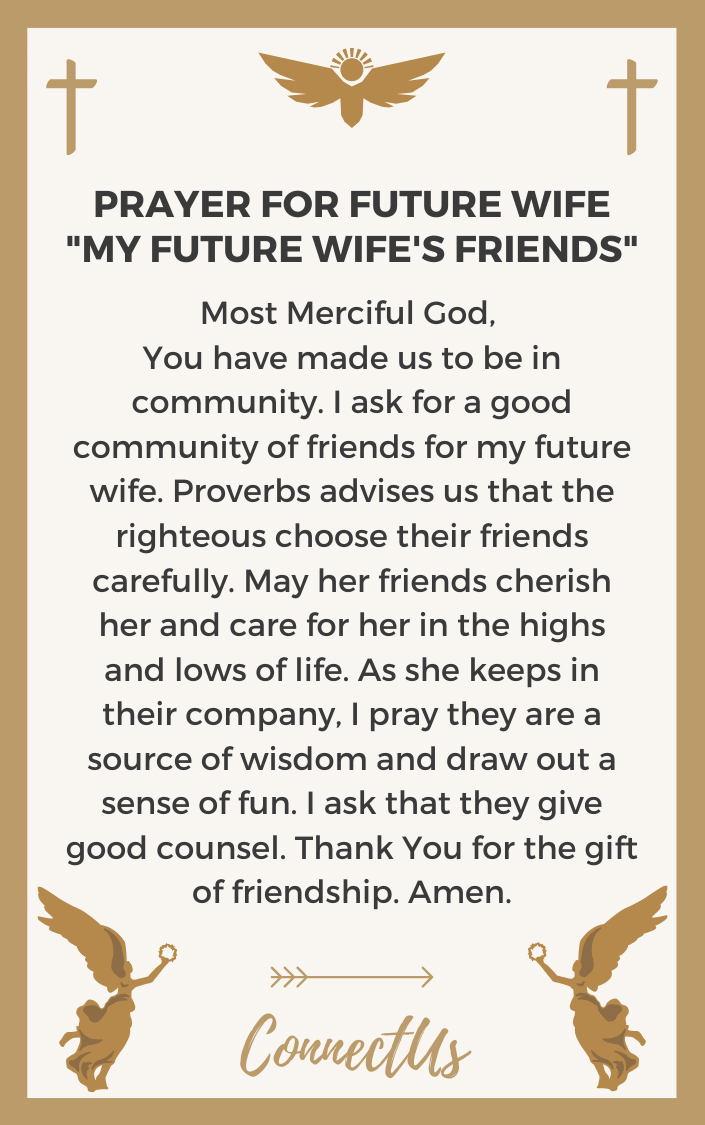 A Prayer for My Future Wife's Church
Mighty God, You know the woman I am going to marry. You know whether she knows You yet or not. In light of that, I pray for a church community to be pointing her to You. I pray that she will learn more about You from the preaching of Your Word week by week. I ask that she be exhorted to love and good deeds and for her to exhort others in reply. May her church be a source of strength and consistency in times of trial and a place where she can celebrate in times of abundance. Thank You, Father God. Amen.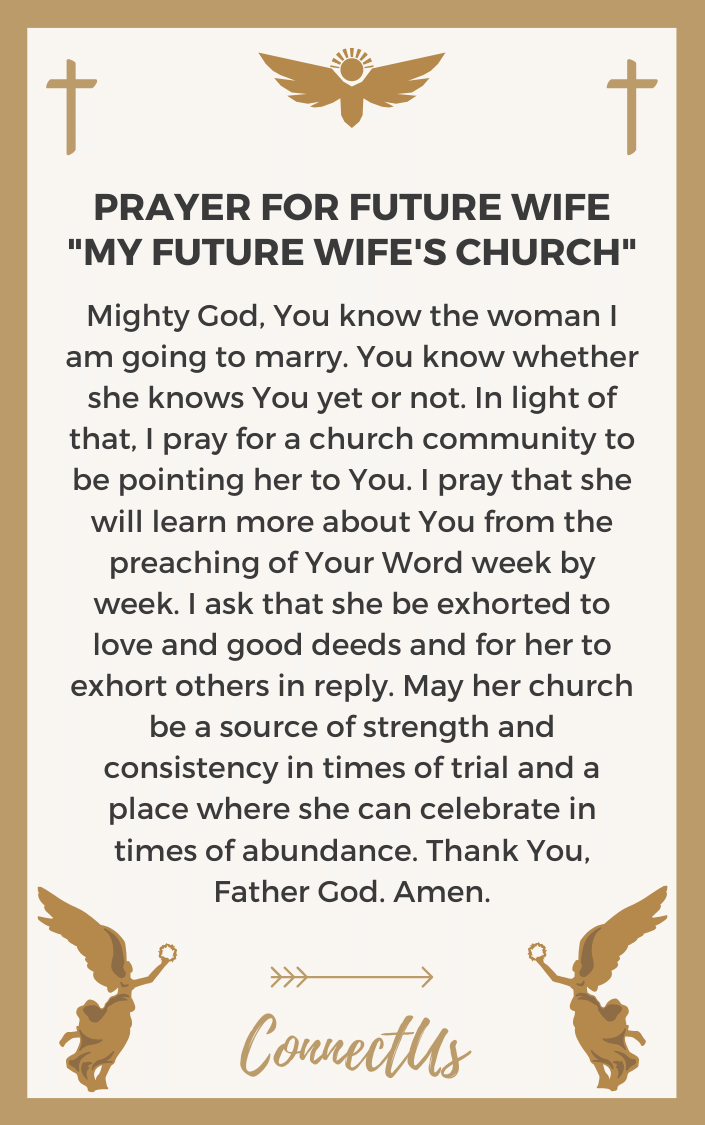 Most Popular Prayers by Topic
For Hard Times
For Financial Prosperity
For Physical Health
For Emotional Health
For Protection
For a Marriage
For Babies and Pregnancy
For Family
For Spiritual Warfare
For Spiritual Health
For a Death
For the Workplace
For Bedtime
Our 10 week prayer journal will guide you through your daily prayers and help you plan out your prayer week. It is completely free. You can
click here to get it now
.

Author Bio
Natalie Regoli is a child of God, devoted wife, and mother of two boys. She has a Master's Degree in Law from The University of Texas. Natalie has been published in several national journals and has been practicing law for 18 years.