Sisters are one of the most precious gifts God gives us in this life. Here are 10 powerful prayers for your sister along with printable images to use or share.
Prayer for Protection
Father, You are the provider of every good thing. You established the family out of Your goodness, that we might know love, support, and companionship in this life. Among Your gifts is my dear Sister, whom You have given me out of Your abundant grace. Lord, send the protection of Your mighty angels to watch over her. Keep her safe in the love of Your Son, Jesus. Amen.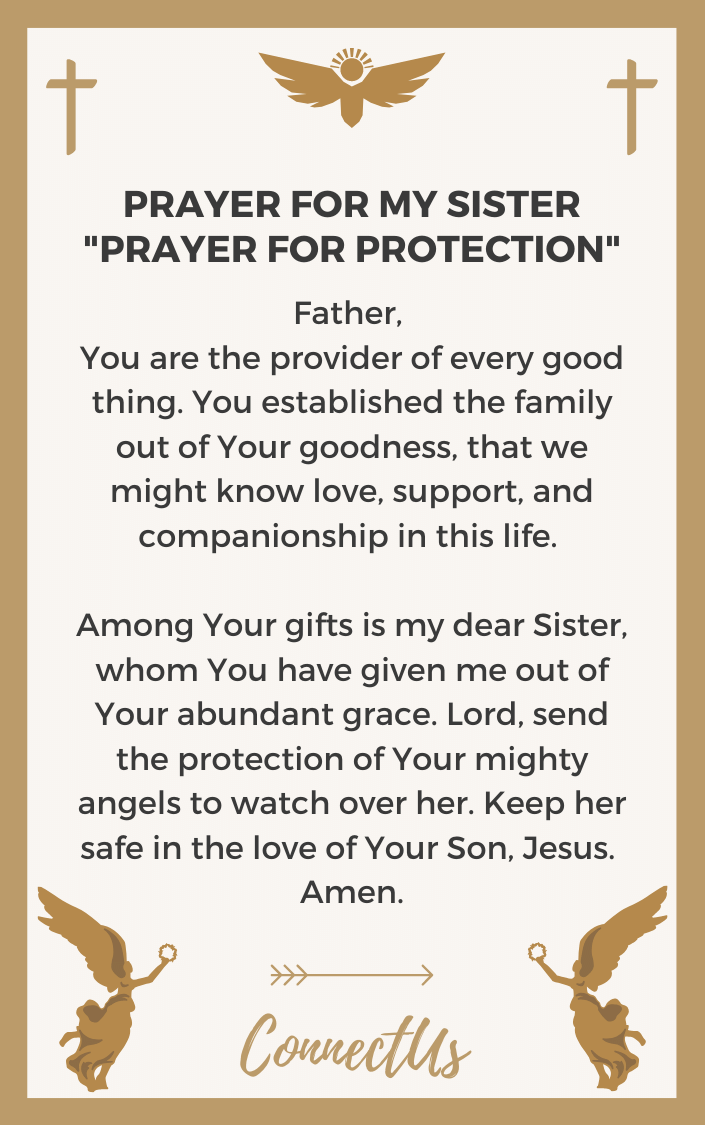 Prayer for Sister's Revival
Sovereign Lord, all life flows forward from Your word. Nothing at all exists apart from You, and in You, all things subsist. You are the author and perfecter of our faith, for nobody comes to Your Son lest You draw them to him. Lord, my dear Sister is struggling to believe. She is in danger of falling from Your watch. Good Shepherd, bring this wandering lamb back into Your fold. Protect her in her vulnerability. Amen.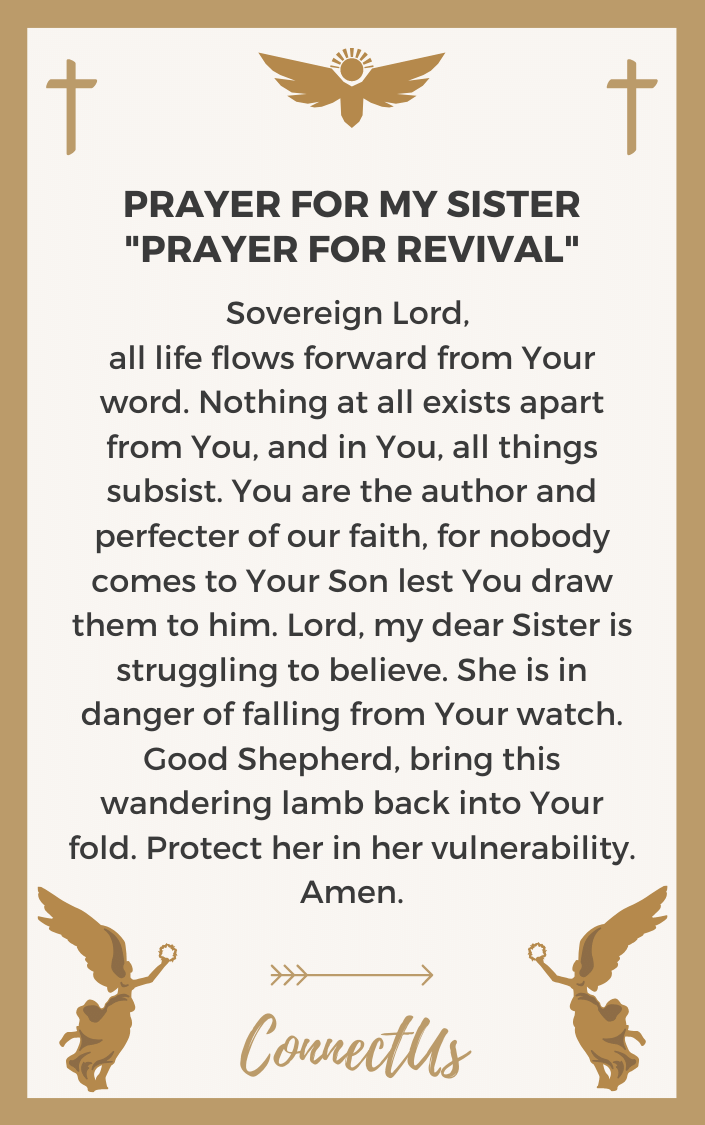 Sister as a Gift Prayer
Heavenly Father, siblings are to us as wonderful gifts. For who is a greater friend than a Sister? Through her, You teach me so much about Your love for us. Lord, I give thanks and praise to You for giving her to me. Continue to bless and uphold her. Let her find favor in Your eyes and give her many years here with us. Through Your Son Jesus, who lives and reigns with You and the Holy Spirit. Amen.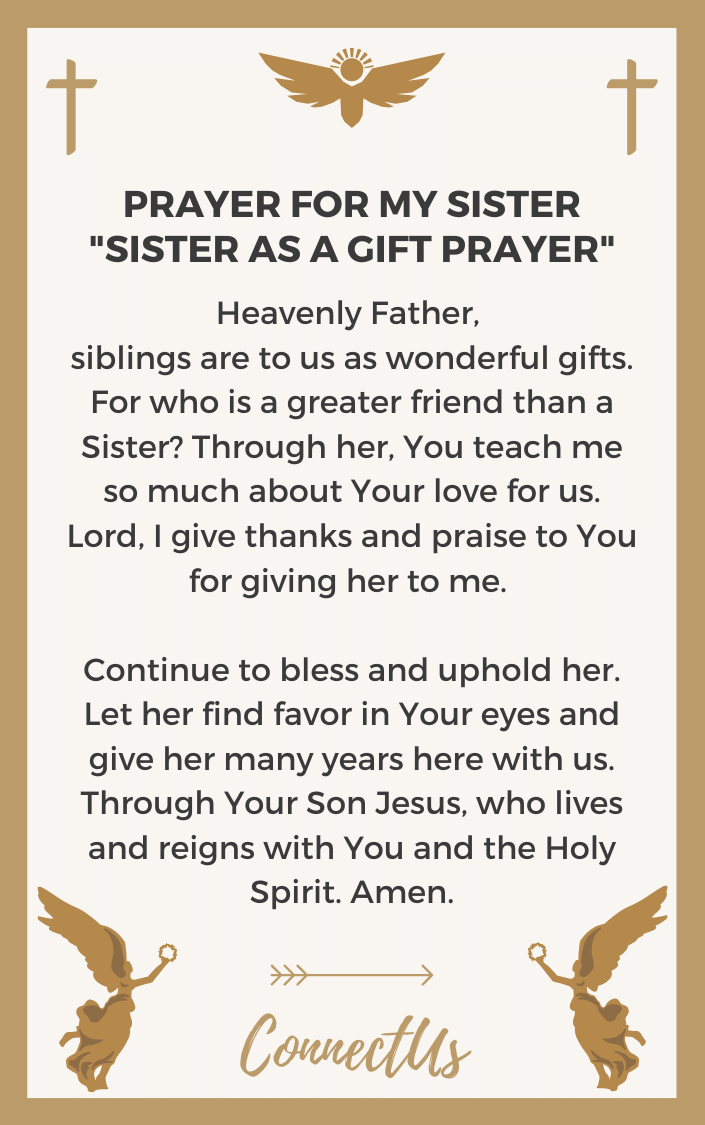 Prayer for Sister's Struggles
Lord God, through Your mighty power You can discern the thoughts and conditions of every heart. Even though I am close to my Sister, I cannot see what You see. You know the battles she is waging within her heart and soul. Father, comfort Your daughter, my sister, in her time of strife. Help her to get through her season of struggle and despair. Take the burden from her, Lord, and yoke herself unto her, that she might finish the race in faith and win her crown of life. Amen.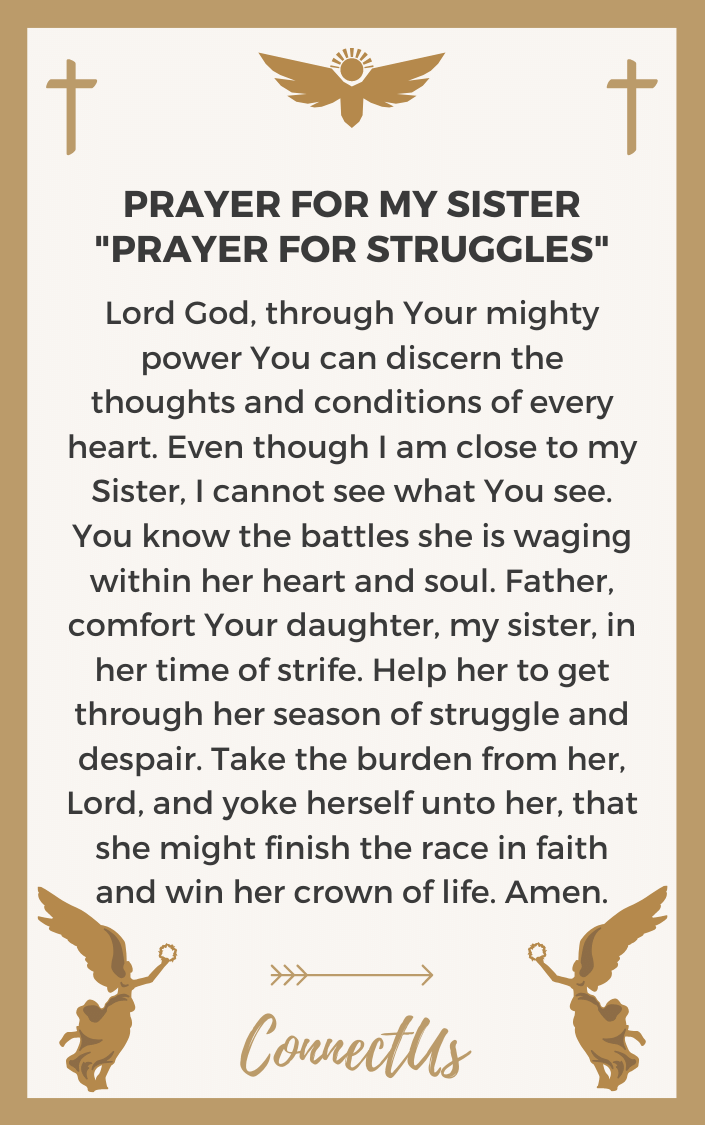 Prayer for Our Relationship
Lord Jesus, things have not always been easy between my Sister and I. Although I love her dearly, our relationship has always been one of tension. I desire to have a better relationship with her, but I always dread our encounters. Lord, I pray that You would help us to become closer. Open our hearts that we might receive one another as You intend. Help us to honor one another as You have commanded us in Your word, that together we might be a shining light to others and an example of Your reconciliatory grace. Amen.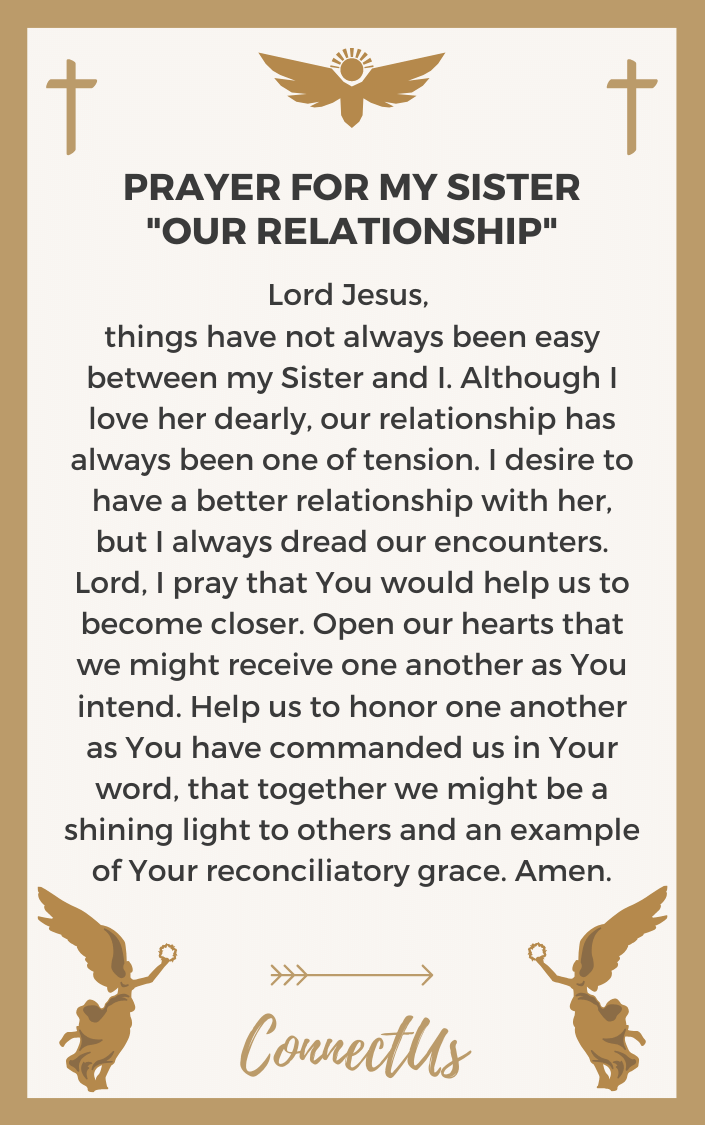 Prayer for Sister's Growth in Christ
Faithful God, You have graciously given me the ability to witness my Sister as she is on her spiritual journey. Since she was an infant in Christ, I have watched her grow in faith and holiness. I have seen her transform into the image of Your dear Son. Lord, I pray that You continue to rain Your grace down upon her. Help her to continue to flourish in this life, that she might shine like a torch in the dark and bring others unto Your Son. Amen.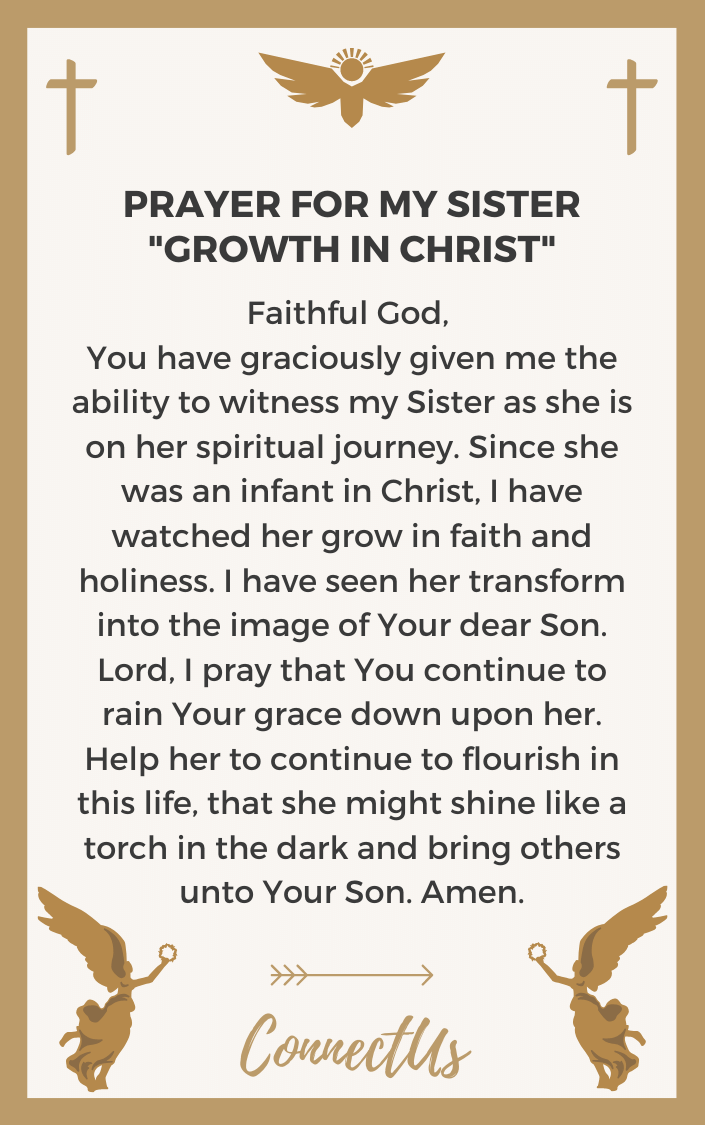 Prayer for Sister's Encouragement
God of all comfort, You are a God of new beginnings. You look at us and say "Behold, I am making all things new!" Lord, my dear and sweet Sister is going through a discouraging time. It seems each time she takes a step forward in life, she takes two more steps backward. She has had some misfortune fall upon her, and she is exhausted mentally, physically, and spiritually. Lord, refresh her in Your Spirit and give her hope beyond all understanding. Give her the peace that comes from You alone, and help her to be encouraged in life. Amen.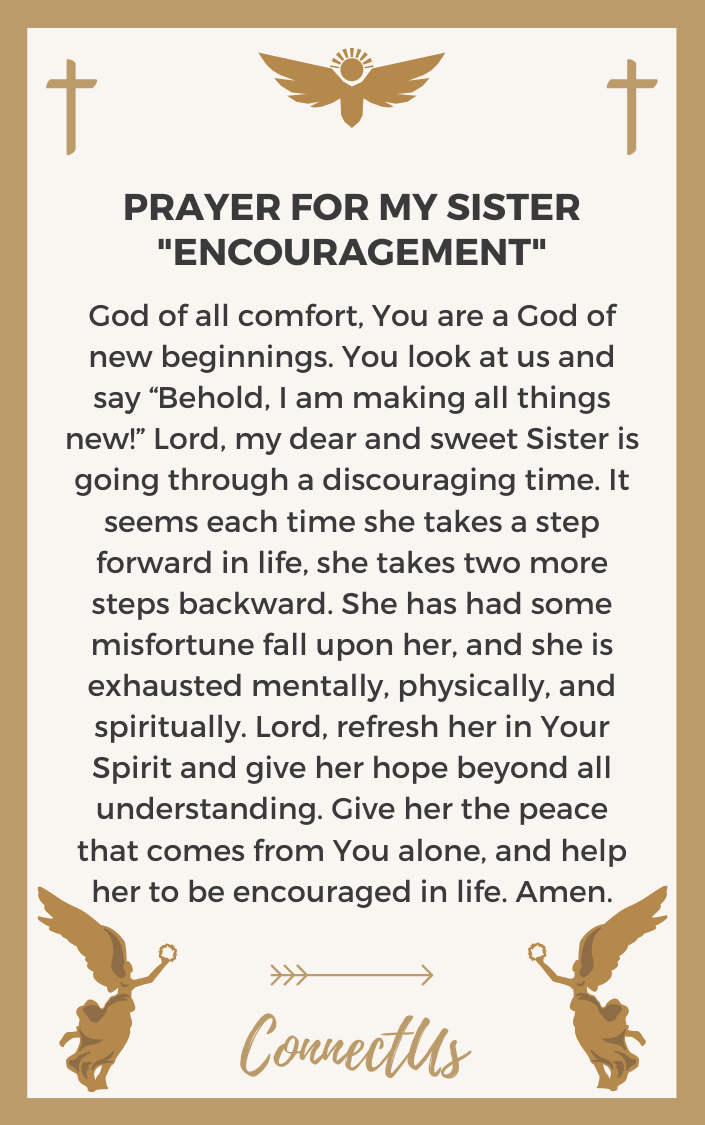 Prayer to Save my Sister
Lord God of Mercy, You beckon us to bring all things to You. Today Lord, I come to You to beg and plead for You to save my Sister's soul. She is not a person of faith, Lord, and she does not know the love You have for her in Christ Your dear Son. Father, I implore You to reveal Yourself to her. Remove the blinding scales from her eyes and bring her to faith. Lord, if I can be used in bringing this to pass, equip me and use me. Amen.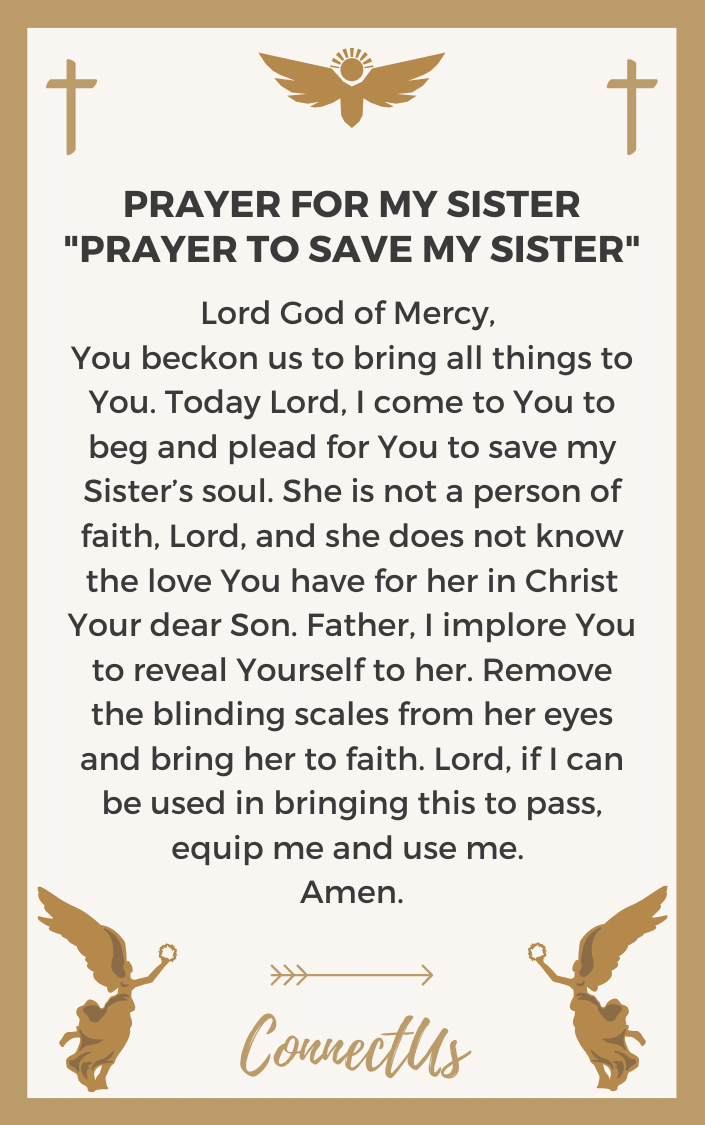 Prayer for My Sister's Healing
God, the Great Healer, You are the Lord our healer. By the stripes of Your Son Jesus, You have given us forgiveness, healing, and peace with You. Lord, my Sister has always been one to lend her hand to help heal others. But now, she finds herself in need of physical healing. Father, wash Your healing Spirit over her. Reach down Your hand and heal her. We beg this of You through Your dear Son. Amen.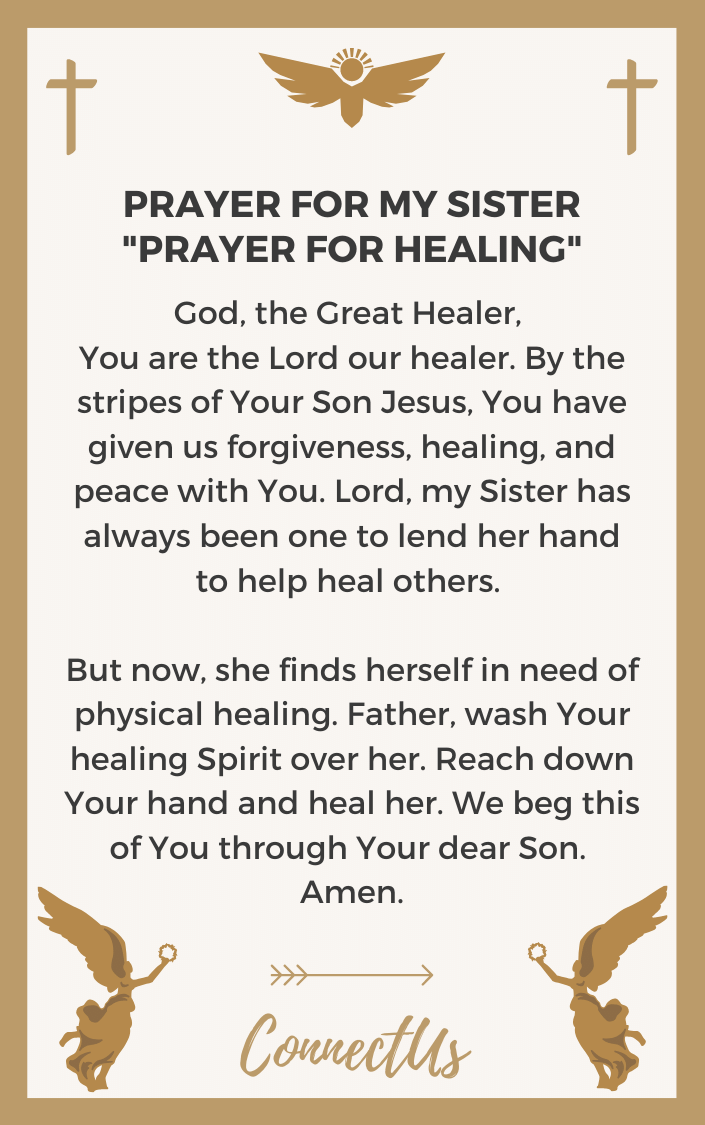 Prayer for Sister's Peace
Lord of unfailing love, You teach us not to worry about things. When we seek Your face, You have promised to give us all these things we need to sustain our life on this Earth. Yet, my Sister is struggling to find peace from her anxieties and fears. She is very anxious and stressed about many things. Lord, teach her to sit at Your feet and listen. Help her to understand that we cannot add one moment to our life through fear and worrying. Impart to her Your peace. Amen.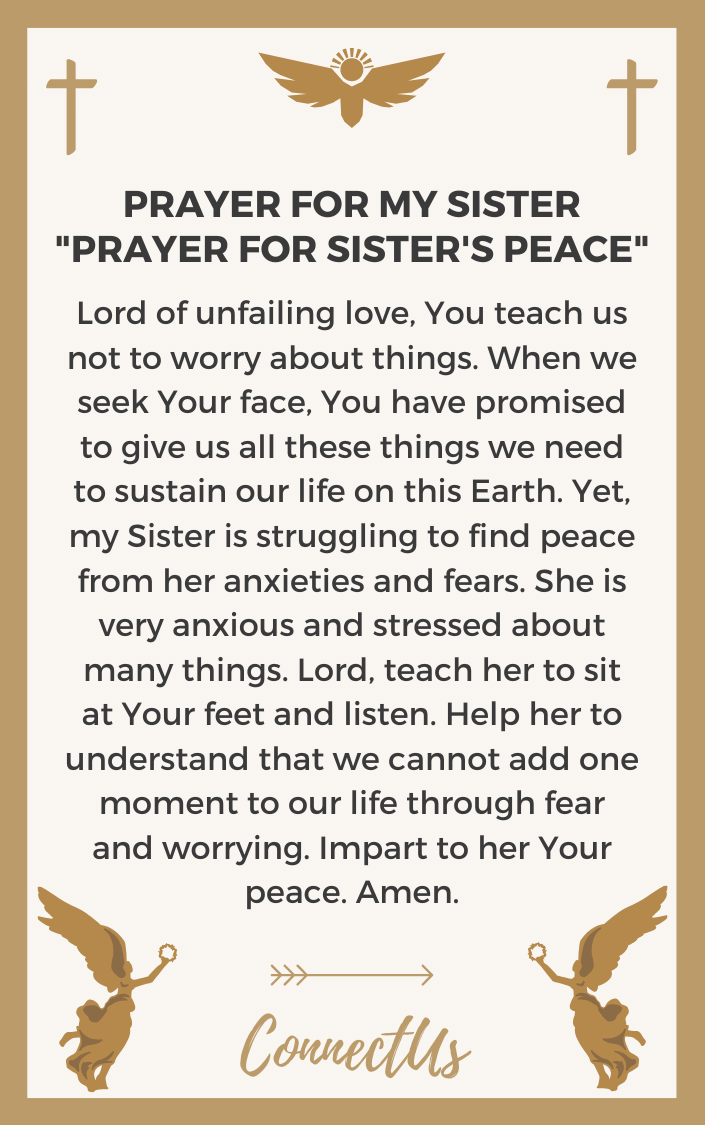 Most Popular Prayers by Topic
For Hard Times
For Financial Prosperity
For Physical Health
For Emotional Health
For Protection
For a Marriage
For Babies and Pregnancy
For Family
For Spiritual Warfare
For Spiritual Health
For a Death
For the Workplace
For Bedtime
Our 10 week prayer journal will guide you through your daily prayers and help you plan out your prayer week. It is completely free. You can
click here to get it now
.

Author Bio
Natalie Regoli is a child of God, devoted wife, and mother of two boys. She has a Master's Degree in Law from The University of Texas. Natalie has been published in several national journals and has been practicing law for 18 years.