Youth ministers are called by God to play a huge role in shaping the faith of children and teens. Here are 10 powerful prayers for youth ministers along with printable images to use or share.
Prayer for Your Guidance
Jesus, my Light in the Darkness, I ask for Your loving guidance right now. Please guide me to become a purposeful and supportive youth pastor. Please walk with me. I know that when I act and think through You, Lord, my life is full of light. Please help me be the person these young people need. Guide me into important truths, Lord. Walk with me during the highs and lows. Please place me in the right direction so I can be who You need me to be. In Your name, Amen.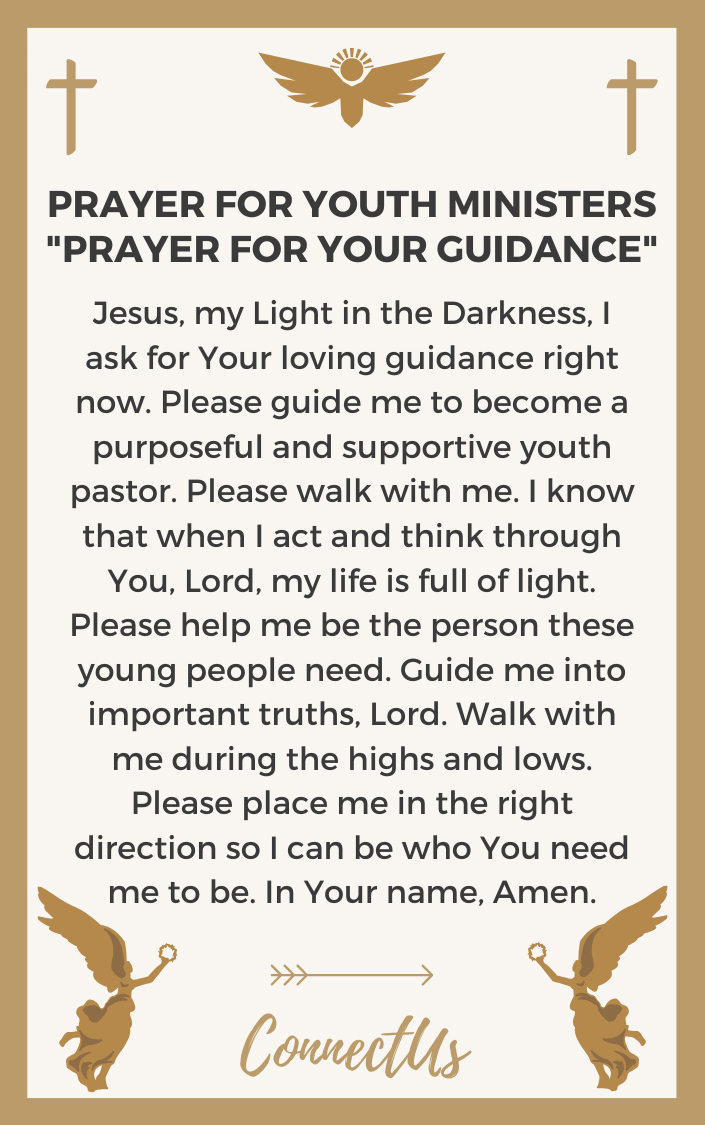 Empathy Prayer
Compassionate and Gracious God, as a youth pastor, I help many young people on their relationship with You. However, the problems and challenges they face are very different than mine right now. They are young and going through many changes. They have pressure and stress to fit in. Please help me empathize with these young people. Help me walk in their shoes, just as Jesus did for us. Help me be the listener and supporter they need right now. In Jesus' loving name, Amen.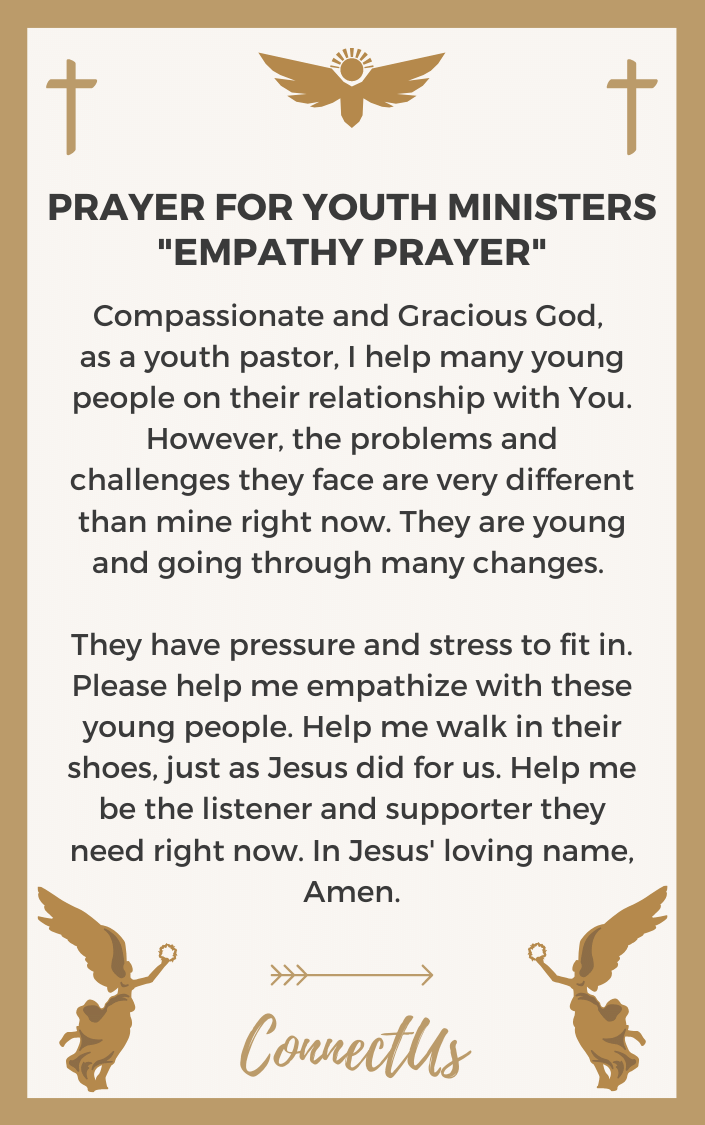 Grace Prayer
Precious Holy Spirit, my work as a youth pastor is not always perfect. I make mistakes and say the wrong things. But You continually bless me with second chances and forgiveness. I wake every morning with a new chance to share this good news to young people. Please help me stay grateful for Your gift. Help me celebrate this amazing news with the young people of my church. May they also learn that they are forgiven and blessed. Thank You for this everlasting blessing. In Jesus' almighty name, Amen.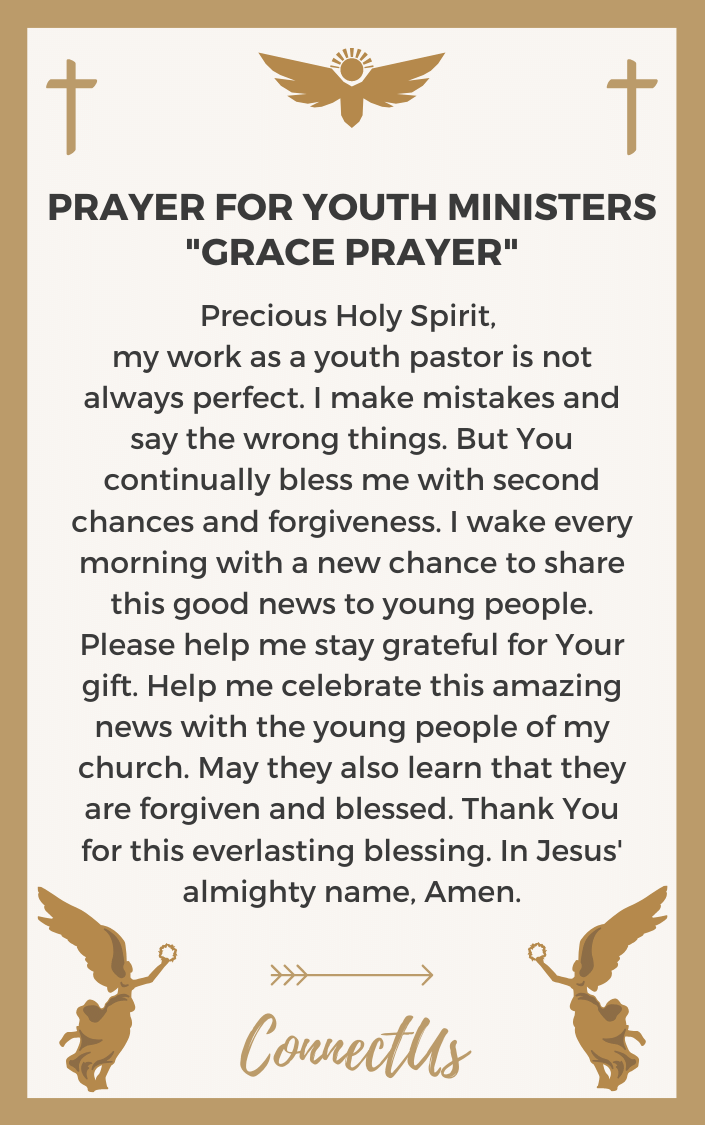 Prayer for Mentorship
O Lord, Mighty in Power, I know we all walk different paths towards You. As a youth pastor, I see many young people get to know You in beautiful and miraculous ways. But beyond that Lord, I ask for Your help. Please place me in a position to be a mentor and supporter of these young people. Help me teach them that You are always there for them, but that there are also people cheering them on here in this lifetime. Help me be a role model, listener, and friend to these young people, Lord. In Jesus' beautiful name, Amen.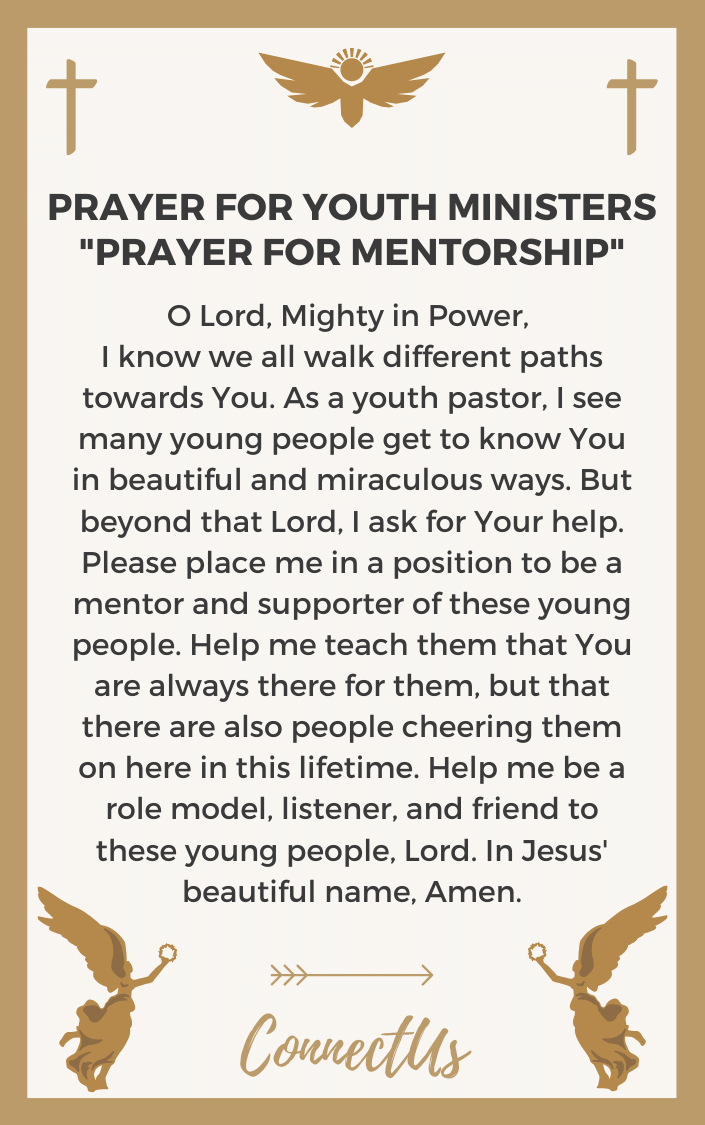 Speaking Your Word Prayer
Sovereign Lord, Your word is so good. I have the great honor of sharing it with many young people at my church. Please help me continue to speak Your word into their lives. Help me find stories that they can relate to and love. Help me show them the tool Your word can be during good and bad times. Help me speak power and joy into Your word. Thank You for this opportunity, Lord. In Jesus' glorious name, Amen.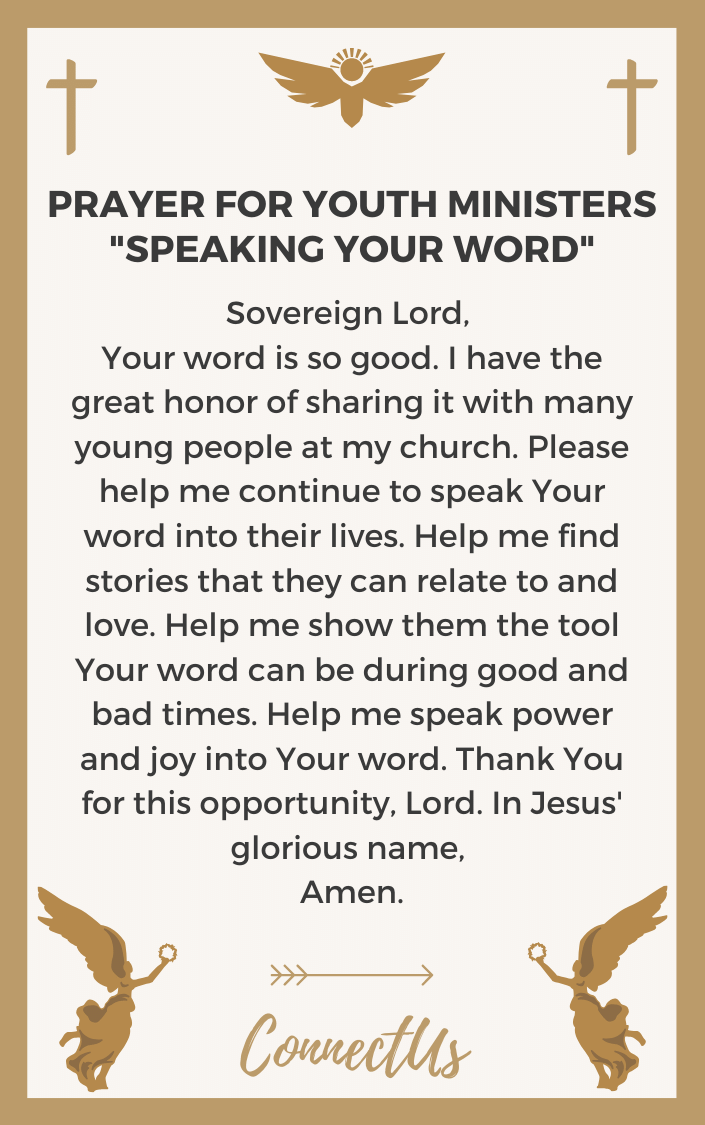 Gratitude Prayer
Name above all Names, I am so grateful for the opportunities You have placed in my life. I sincerely thank You for the chance to be a youth pastor. I get to praise You and help young people praise You every day. I get to lead young people to You. I celebrate every day as I go to work, for I get to rejoice in Your goodness as a career. Thank You for this exceptional gift, Lord. Please help me do it well. In Jesus' gracious name, Amen.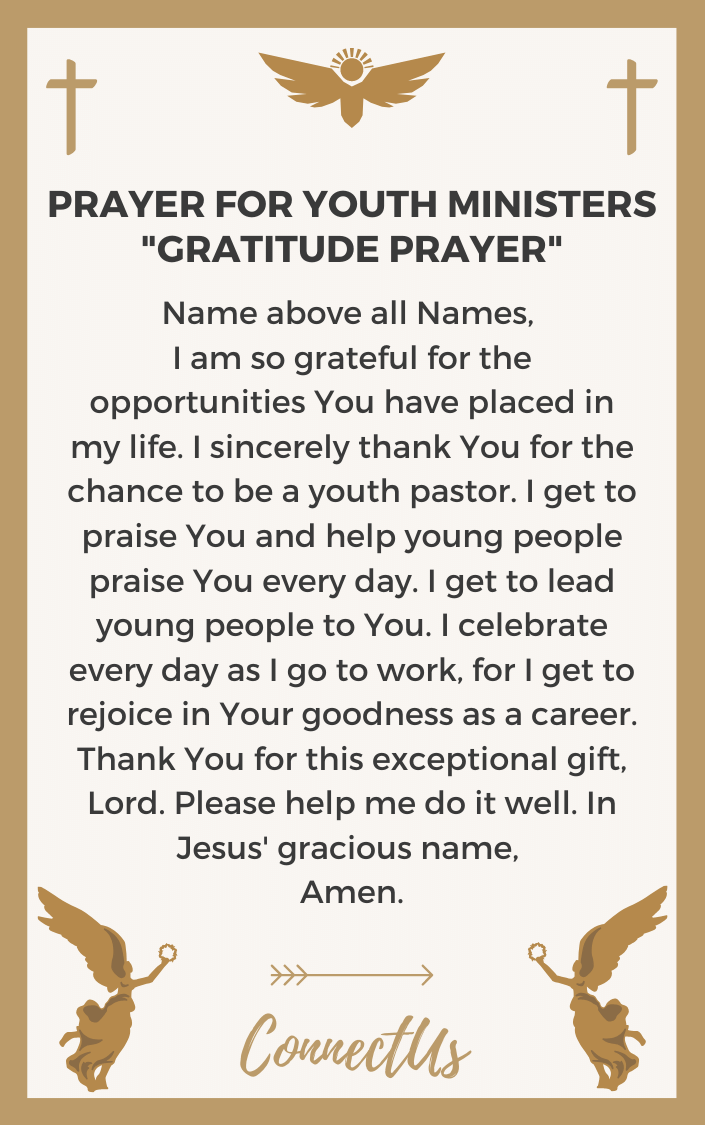 Comfort to Young People Prayer
Dear Lord of All Comfort, the young people I mentor are in need of help and support. As a youth pastor, I urge them to seek You during their difficult times. But in addition to this, please help me be a person of comfort to them. Help me listen more than I speak. Help me give these young people ease. Help me share my own difficult times and how You raised me from the darkness. Please help me deliver comfort, Lord. In Jesus' loving name, Amen.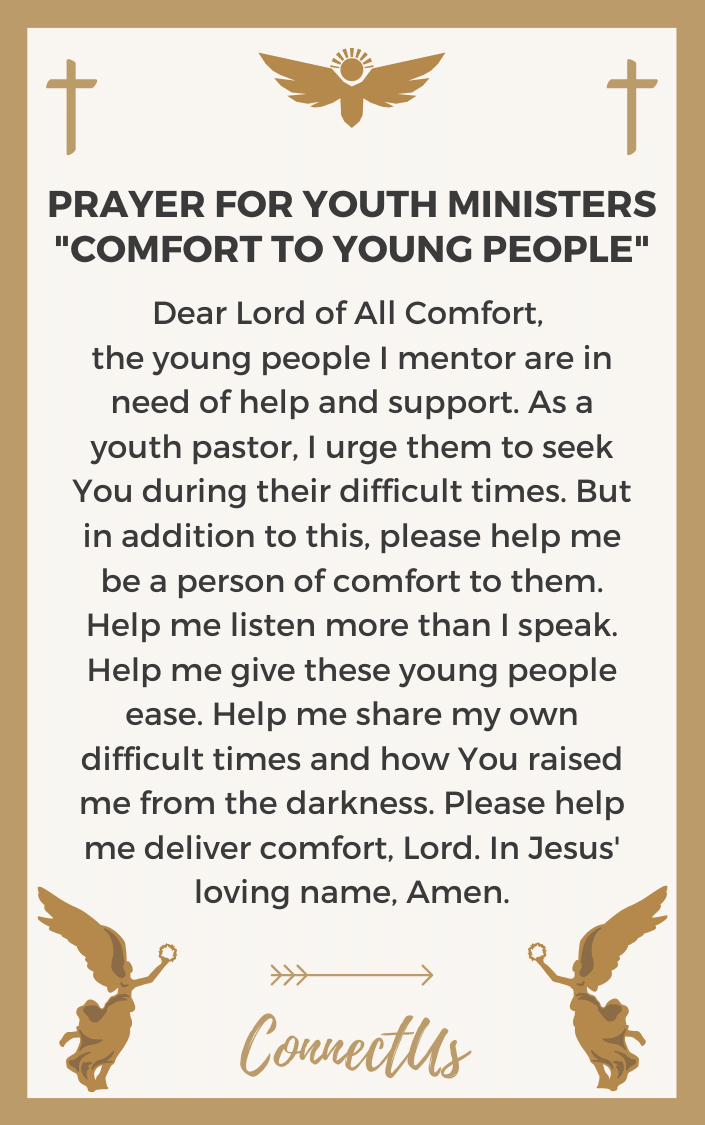 Inspiration Prayer
Abba Father, please help me be an inspiration to the young people of my church. May they look at my relationship with You in awe. May they want to live out Godly lives. Please connect with them, Lord, and welcome them into Your life. Shine light on them. Teach them that they too can praise You every day. Even in difficult times, You will be there. I ask this in Your Son's all-powerful name, Amen.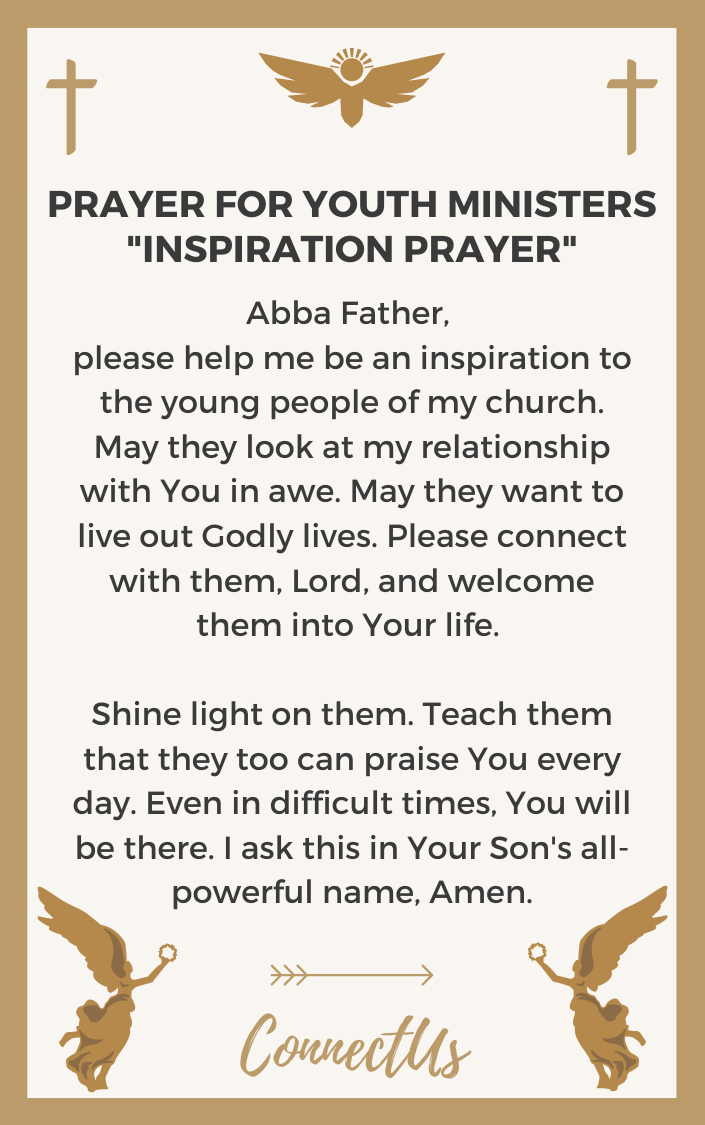 Hope Prayer
All-Powerful Father, please bless me with hope. May I see hope in the young people of my church. May hope be the basis of my sermons and talks. May hope be the driving force through my days of light and my days of darkness. Please help me teach my young followers the beauty and everlasting nature of hope. Please help me show young people that hope is a connection to Your touch, Lord. May hope stay strong in our hearts. I ask this in Jesus' name, Amen.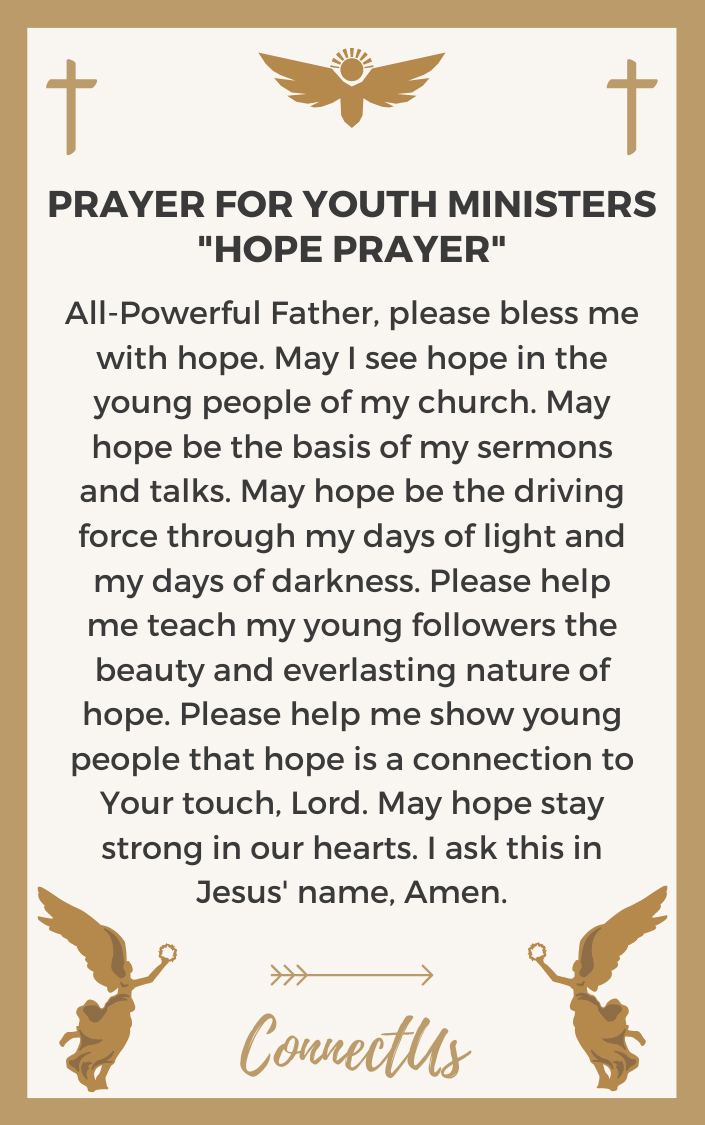 Prayer for the Tough Days
O Jehovah, my God, I know that some days are better than others. As a youth pastor, many of my days are stressful and saturated in self-doubt. I make mistakes. Please show me Your grace, Lord. Carry me through the hard days and teach me that there will always be light in the morning. Thank You for staying close to my heart, especially in my hard days. May I teach this lesson to the young people of my church so they too can have a companion when times are tough. In Jesus' loving name, Amen.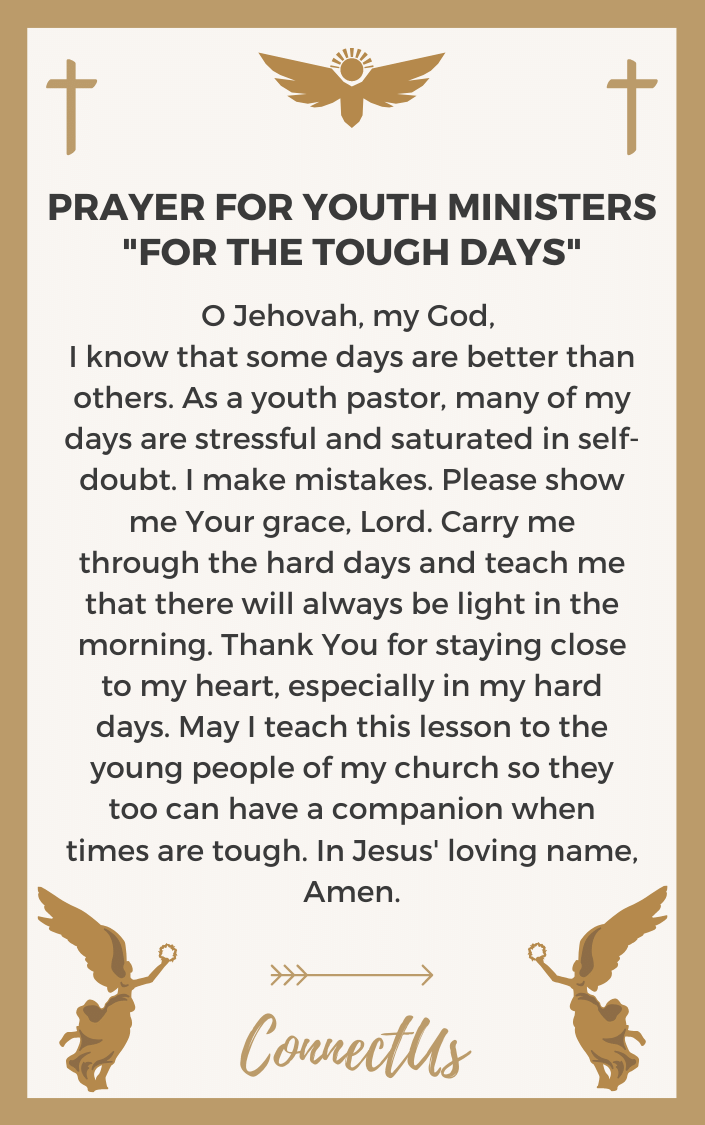 Most Popular Prayers by Topic
For Hard Times
For Financial Prosperity
For Physical Health
For Emotional Health
For Protection
For a Marriage
For Babies and Pregnancy
For Family
For Spiritual Warfare
For Spiritual Health
For a Death
For the Workplace
For Bedtime
Our 10 week prayer journal will guide you through your daily prayers and help you plan out your prayer week. It is completely free. You can
click here to get it now
.

Author Bio
Natalie Regoli is a child of God, devoted wife, and mother of two boys. She has a Master's Degree in Law from The University of Texas. Natalie has been published in several national journals and has been practicing law for 18 years.