Getting a task done when you are lacking the motivation and energy to do it can be arduous and drag it out even longer than it needs to be. Here are 10 strong prayers for focus. Along with the prayers are printable images for you to use or share.
Powerful Prayer for Focus
Most High God, distractions seem to be everywhere this day and age. I cannot focus, even to pray. I feel as though I am being pulled in a million directions at once. I cannot take the time to even spend with my family. Lord, remove these distractions from my life. Help me to focus and to get things done, that I may be able to serve You better. Amen.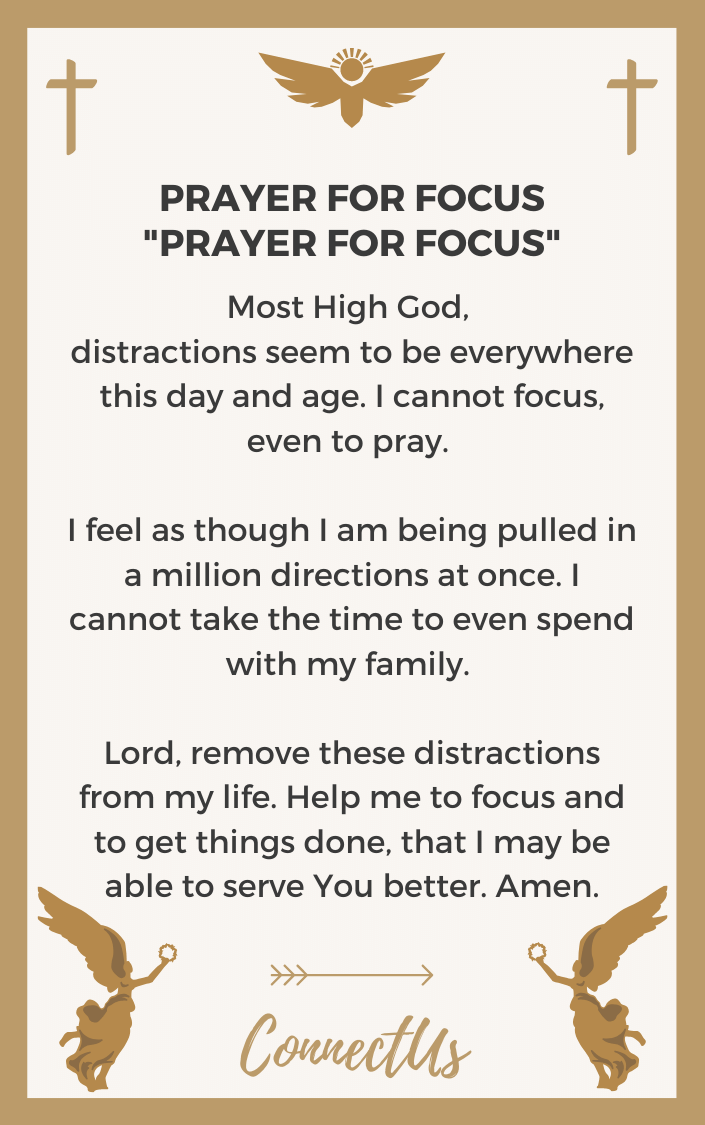 Prayer for Increased Concentration
Abba Father, the things I do in life require me to concentrate. If I make too many mistakes, it could cost me dearly. I don't want to be irresponsible, Lord, so help me to concentrate. Vanquish all things from my purview that distract me and compete for my attention. Instead, allow me to focus solely on the task at hand so that I may be pleasing to You. Amen.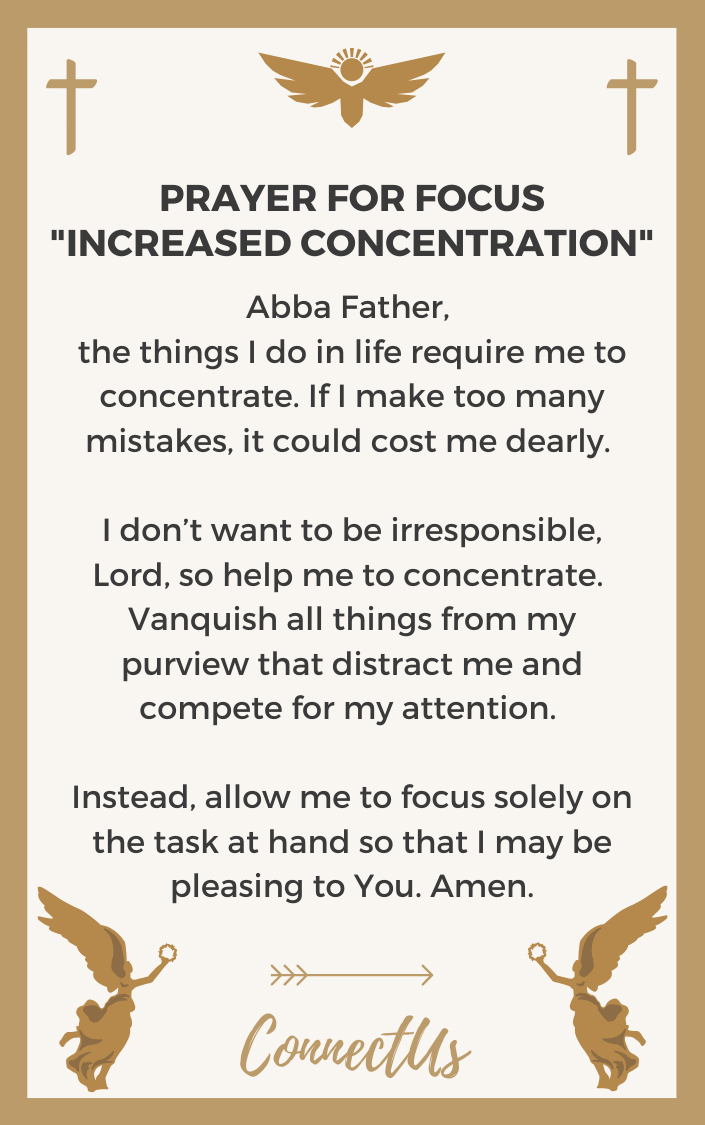 Prayer for Mental Stamina
Sovereign Lord, be with me now, for I am so exhausted. Even working for hours out in the field is nothing compared to the mental exhaustion I am feeling. I cannot start any task without nearly falling asleep. O Lord, help me to focus. Give me the mental stamina and energy I need to stay sharp and on point so that I do not bring myself nor my neighbor greater misery through my negligence. Amen.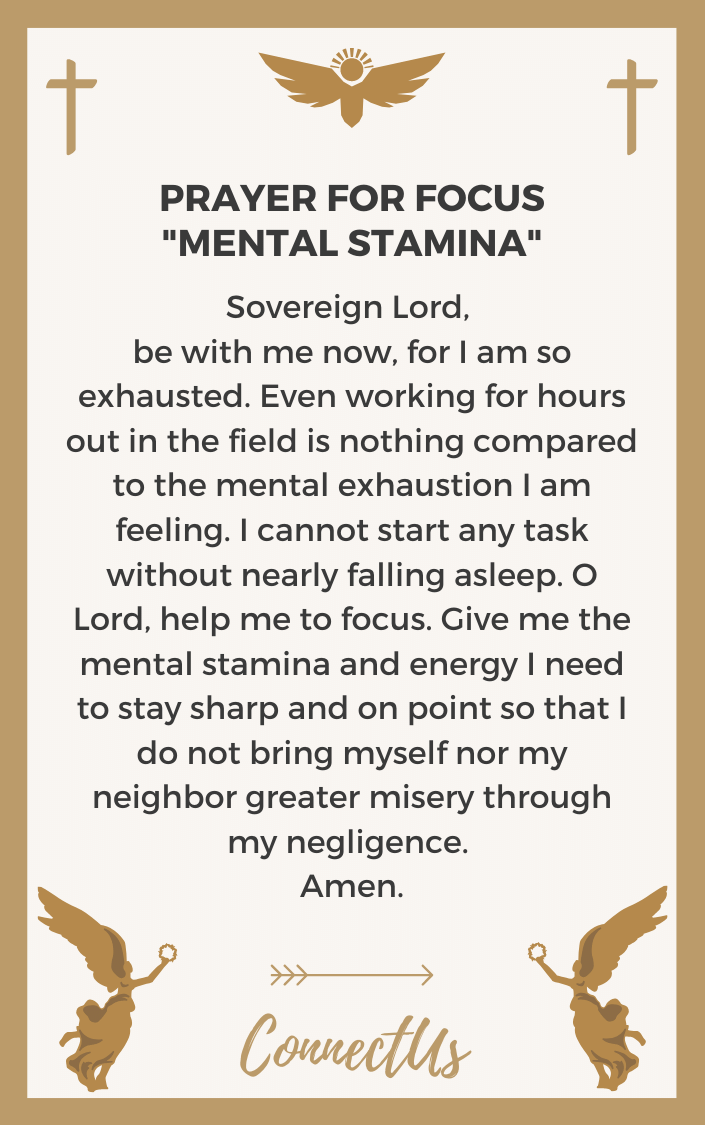 Prayer for Diligence at Work
Lord of the Highest Heavens, help me and hear my cries. I am falling behind at work, and I know it is because I am distracted. I cannot focus on my work at hand, but I have become preoccupied with petty and unproductive things. I want to do good work and be a good employee, so I ask that You break this habitual distraction. Allow me not to get sidetracked, but to do good work so that I can provide for my family. Amen.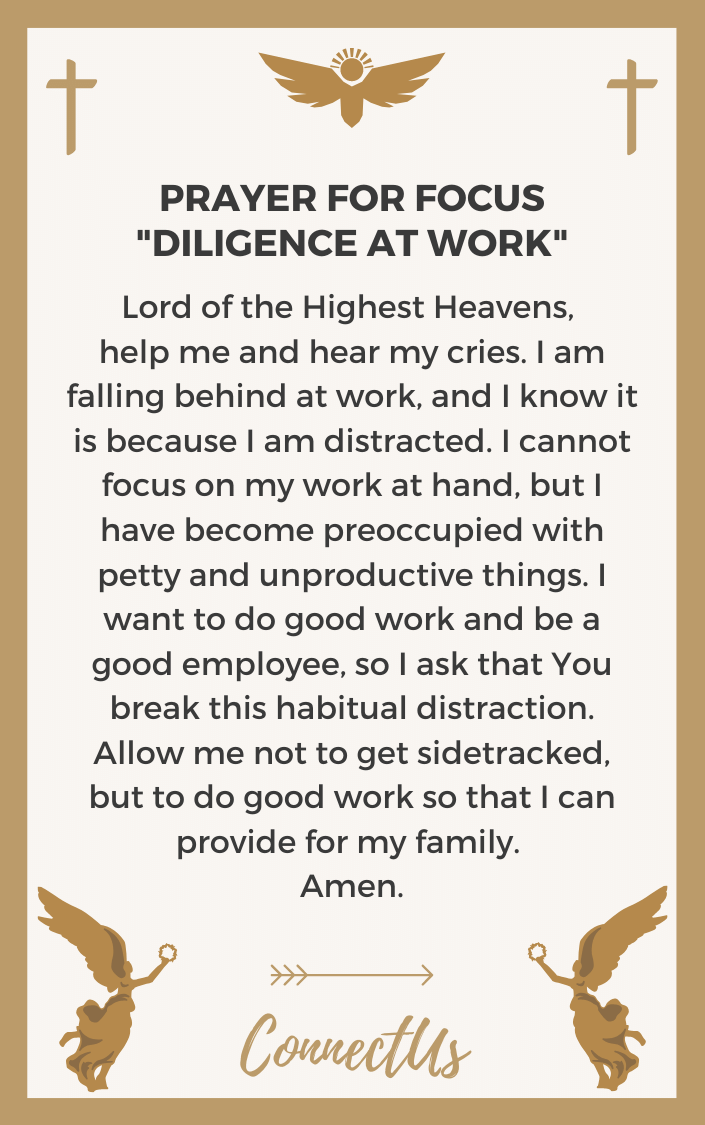 Prayer for Greater Clarity
Lord Jesus, You have assured us that You are not the author of confusion. With confusion comes a lack of clarity, and with a lack of clarity, there is always a distraction and a feeling of hopelessness. Therefore, I ask You to make me sharp and quick-witted. Help me to focus and tease apart messy situations so that I can be of use to others and help resolve problems. In Your almighty name, I pray. Amen.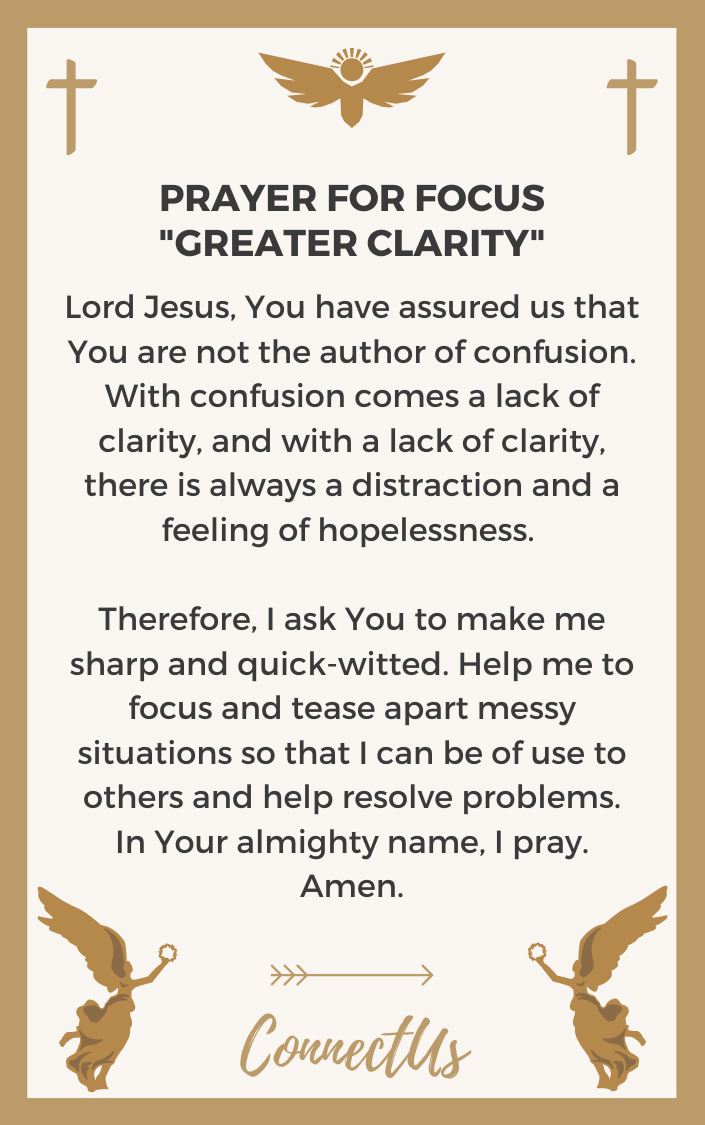 Prayer for an Energy Boost
My Living God, each day is so difficult to get through. I feel as though I am always running on empty. Everything seems so tedious, and I have such a hard time investing myself in my work. Give me the energy I need to improve in my career. Help me to focus and concentrate on the task at hand, so that I can become useful in my vocation. Amen.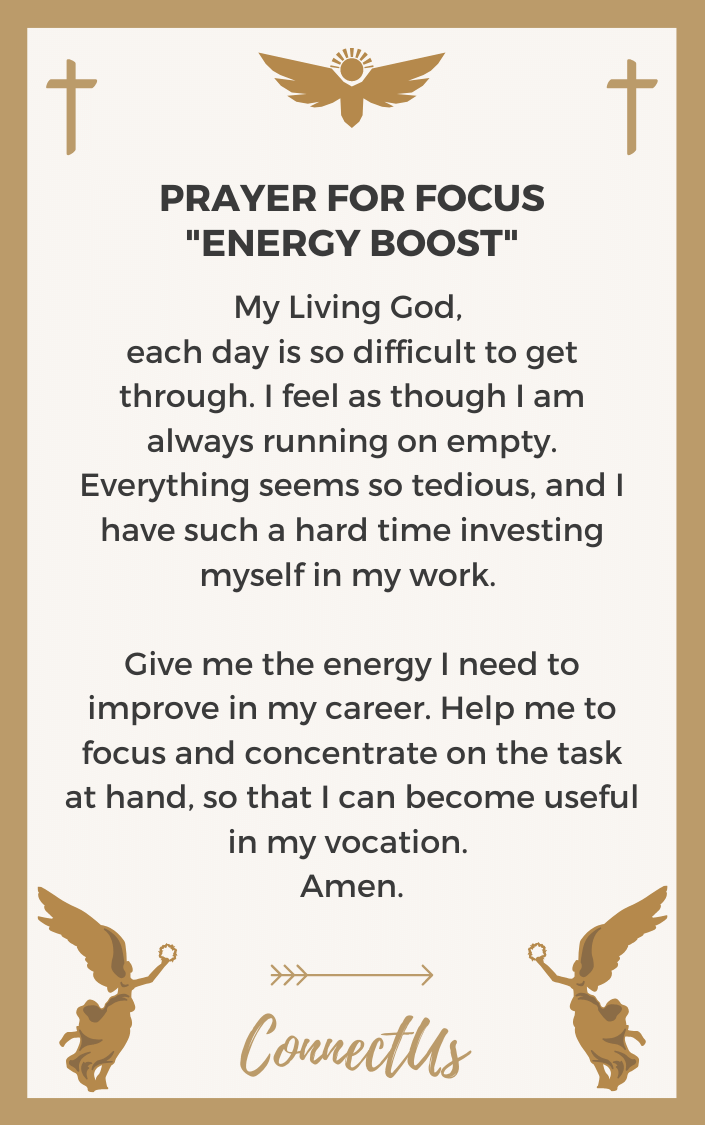 Prayer for Direction
Maker of Heaven and Earth, I have come to a fork in my career path. Opportunities I did not foresee have come about, and I am not sure which path to take. Yet there is confidence and clarity in Your will. I humbly ask that You make the right path apparent. Bless me with Your gift of wisdom so that I can make the best of my situation and come to peace with my career decisions. Amen.
Prayer for the Strength to Remain Focused
Most Gracious Lord, the taxing and monotonous nature of my job have left me feeling empty. I feel like I am being used up. The job is thankless. My boss is unreasonable with his/her demands, and I cannot concentrate for the life of me. Send me Your enlightening Spirit to help me make it through this difficult time in my career. Allow me to still be a good and gracious employee while I strive to improve. Amen.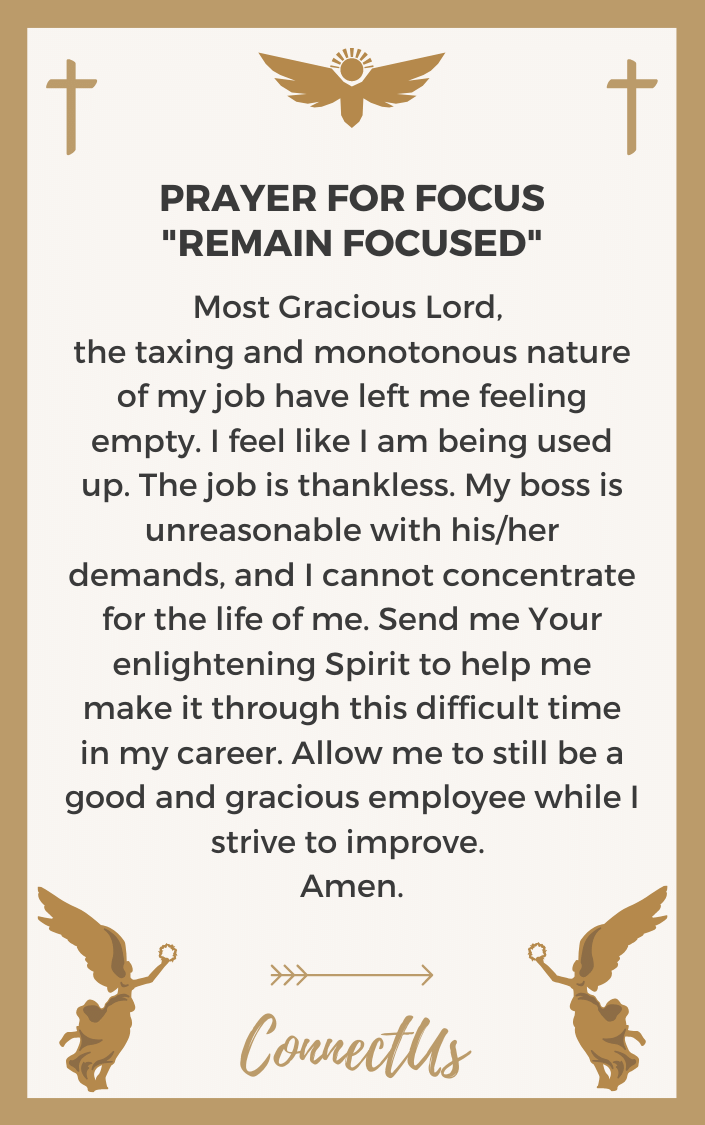 Prayer for Motivation
Lord Jesus, our Merciful and Faithful High Priest, why am I so unmotivated? I want to go to work and succeed. I want to have the dignity of a good job and lead a peaceful life. I want to put all of myself into my job and make my family and employer proud. Yet it is so difficult for me to dig down deep inside and find the fire within. O Jesus, You know my heart. I desire to walk in Your ways and to be a good ambassador to my neighbor. Reignite the fire within me so that I can find motivation each day. In Your all-powerful name, I pray. Amen.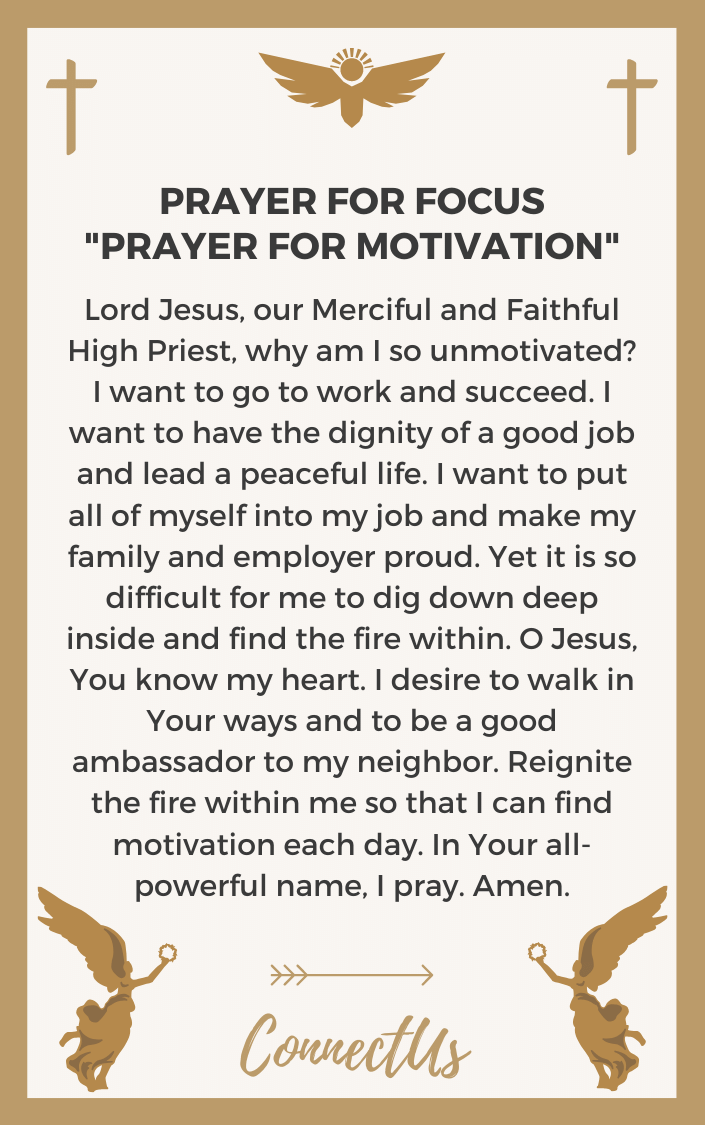 Prayer Against Distracting Spirits
Oh God of my Salvation, even though much of the world pays no attention, I know when I am under spiritual attack. Even the most minuscule things get under my skin. They distract me from my work, my family, and my devotion to You. Keep these demonic entities away from me. Drive them far off from my home and workplace. Keep my heart and mind in Your grace so that the enemy is kept far off. Amen.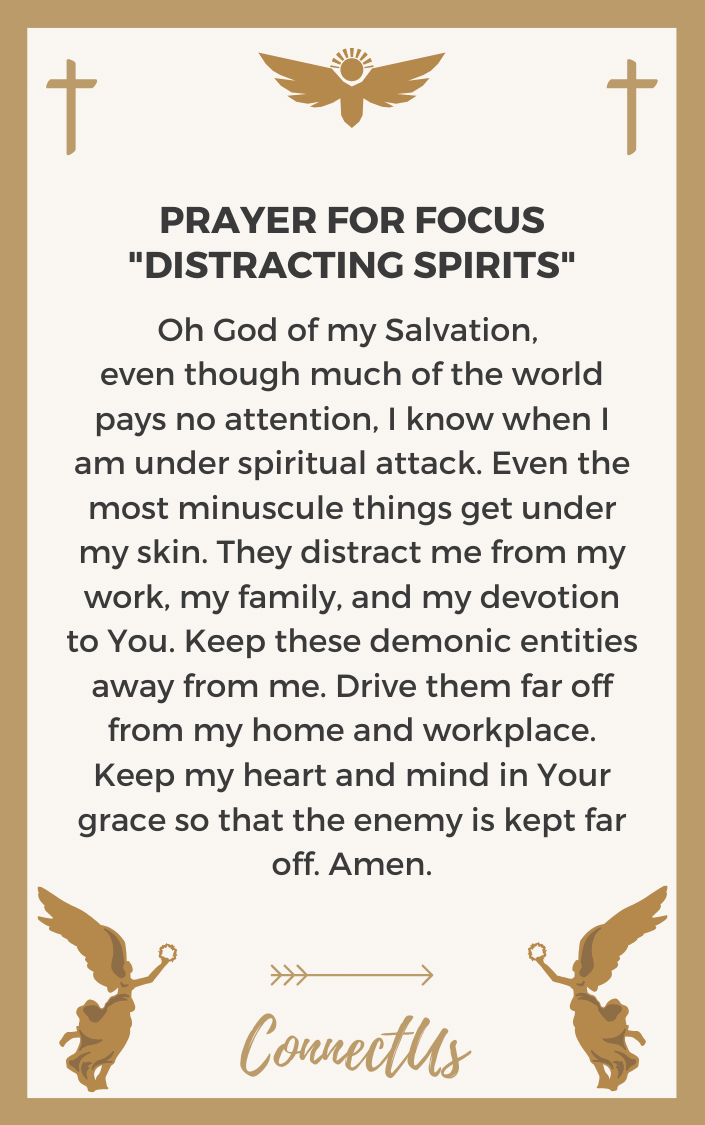 Most Popular Prayers by Topic
For Hard Times
For Financial Prosperity
For Physical Health
For Emotional Health
For Protection
For a Marriage
For Babies and Pregnancy
For Family
For Spiritual Warfare
For Spiritual Health
For a Death
For the Workplace
For Bedtime
Our 10 week prayer journal will guide you through your daily prayers and help you plan out your prayer week. It is completely free. You can
click here to get it now
.

Author Bio
Natalie Regoli is a child of God, devoted wife, and mother of two boys. She has a Master's Degree in Law from The University of Texas. Natalie has been published in several national journals and has been practicing law for 18 years.