If your world seems to be crumbling around you, all you need do is reach out to the Great Restorer to bring peace to your situation. Here are 10 strong prayers for restoration, including images you can print to use and share.
A Prayer for Marriage Restoration
Jesus, my Savior, I need You. We need You. I do not even know where to begin with fixing my marriage – show me where to start. I need Your help. I know that You are the God of restoration, and You can redeem even my marriage. Help me to love my wife and help my wife to love me. Give me understanding and patience. Make me able to listen. Transform our marriage with Your love. May we realize how much You love us so that we can love each other even despite difficulties. I beg this in Jesus' name. Amen.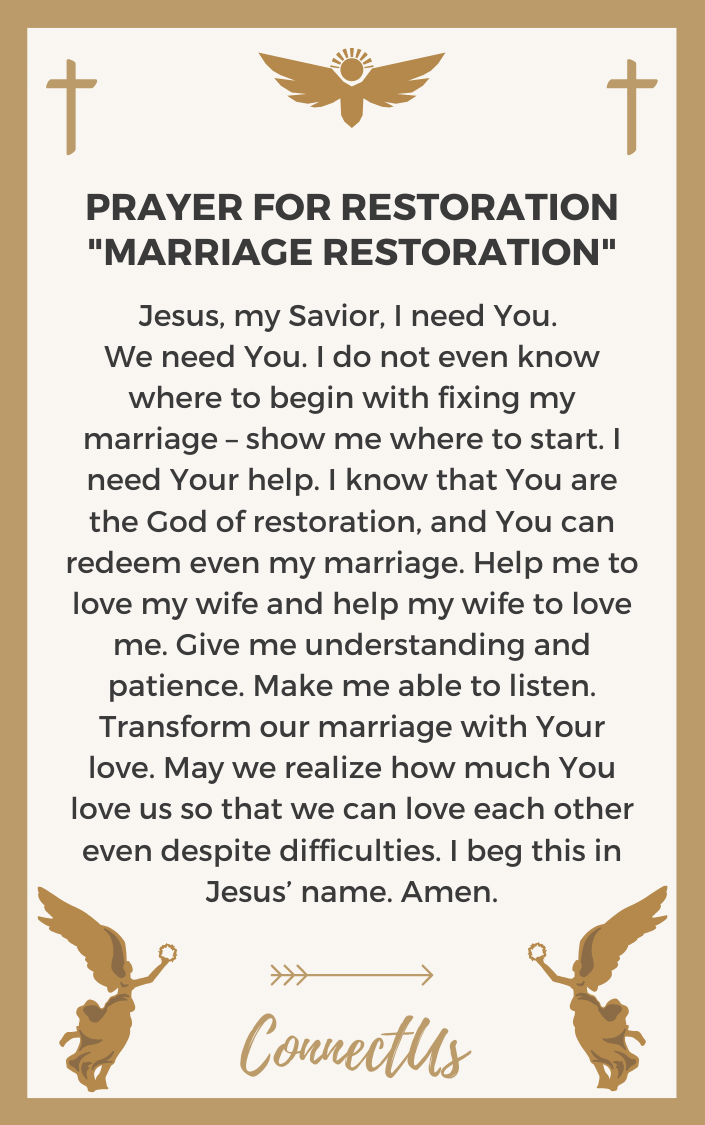 A Prayer for Financial Restoration
Faithful God, just as the nation of Israel prayed for You to restore their fortunes like streams in the Negev, so I ask that You may restore my fortunes. Prepare my heart for the restoration of my finances so that I will not be overtaken by greed. Help me to be a good steward of the money You give, making wise investments with the money I am entrusted with. Train me to be trustworthy with very little so that I will be trusted with much. Amen.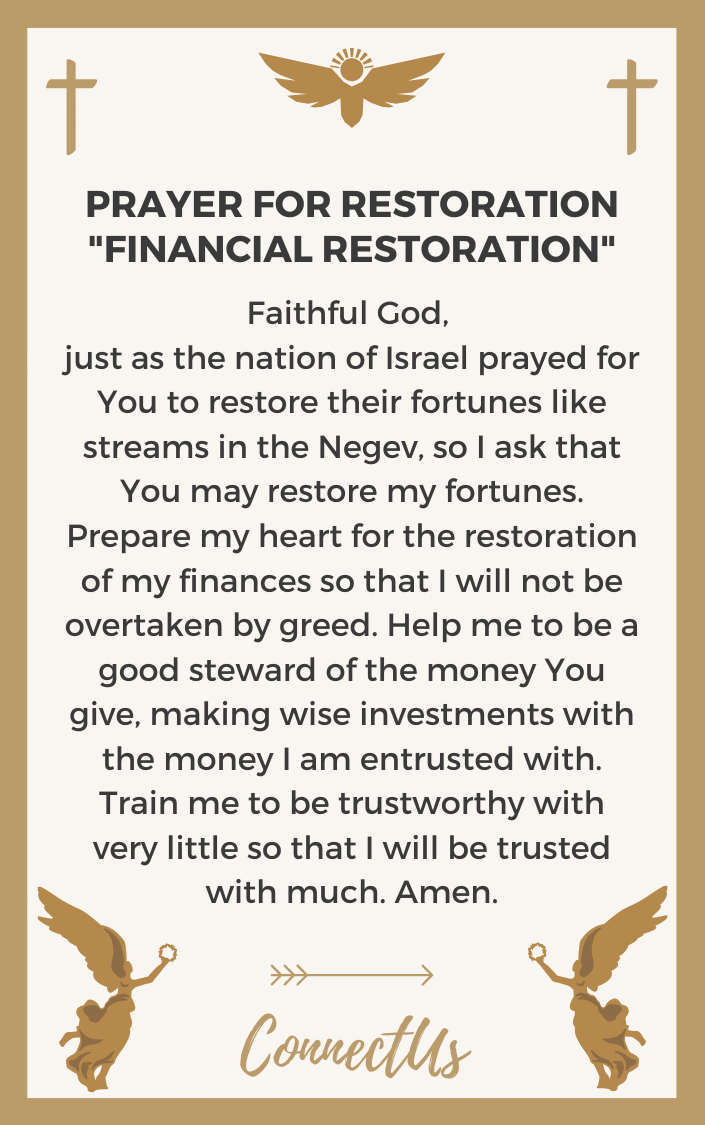 A Prayer for Spiritual Restoration
Precious Holy Spirit, my spirit is weak. By choosing sin, I have gone far from You. I realize now that I need You more than ever and I want to come back to You. Forgive me, precious Holy Spirit, for I have sinned against You. You are compassionate and gracious, slow to anger, abounding in love and faithfulness. Please extend that to me know as I go home to You. Refresh me with Your grace. Renew a steadfast spirit in me. Thank You for forgiving me through Jesus' sacrifice. Amen.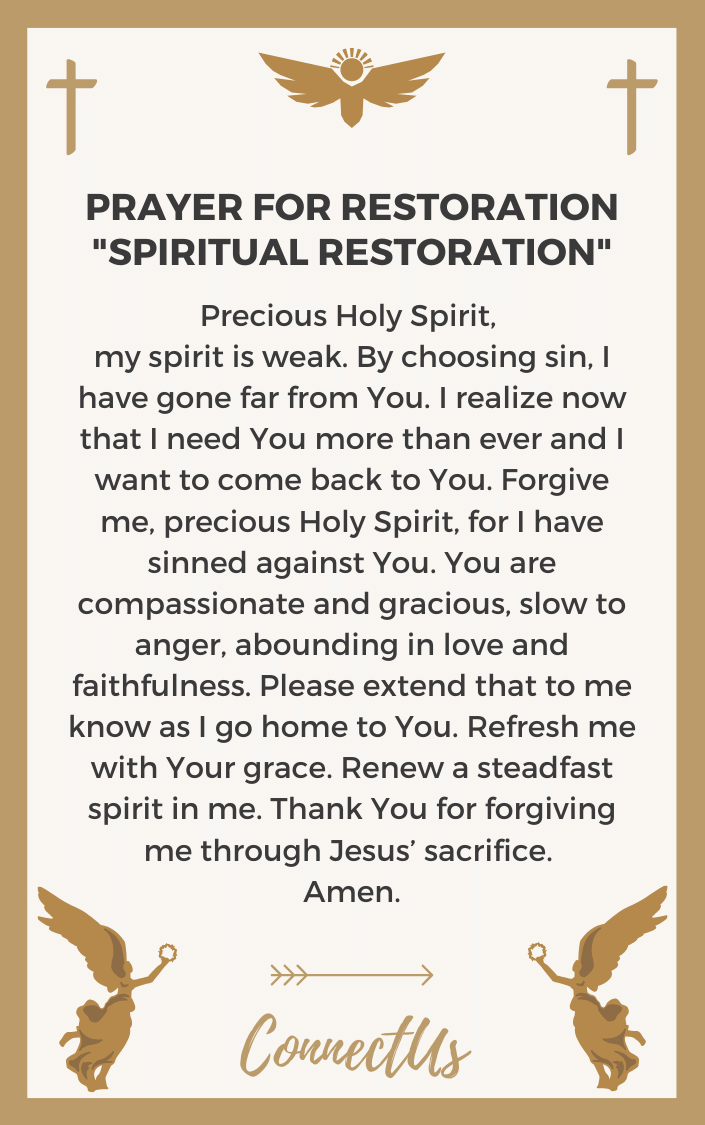 A Prayer for Restoration from Addiction
God of Miracles, I surrender my addiction to You. I cannot live like this anymore. I have been hurting myself and my loved ones. I confess that I have been selfish. I turn to You and ask for Your help to break free from the chains of this addiction. Set me free, Lord! In Jesus' powerful name, this addiction will no longer make me a slave. Clear the way for me to run from any temptations that may come my way. Give me strength for the coming days. Thank You, Jesus! I am victorious in You. Amen.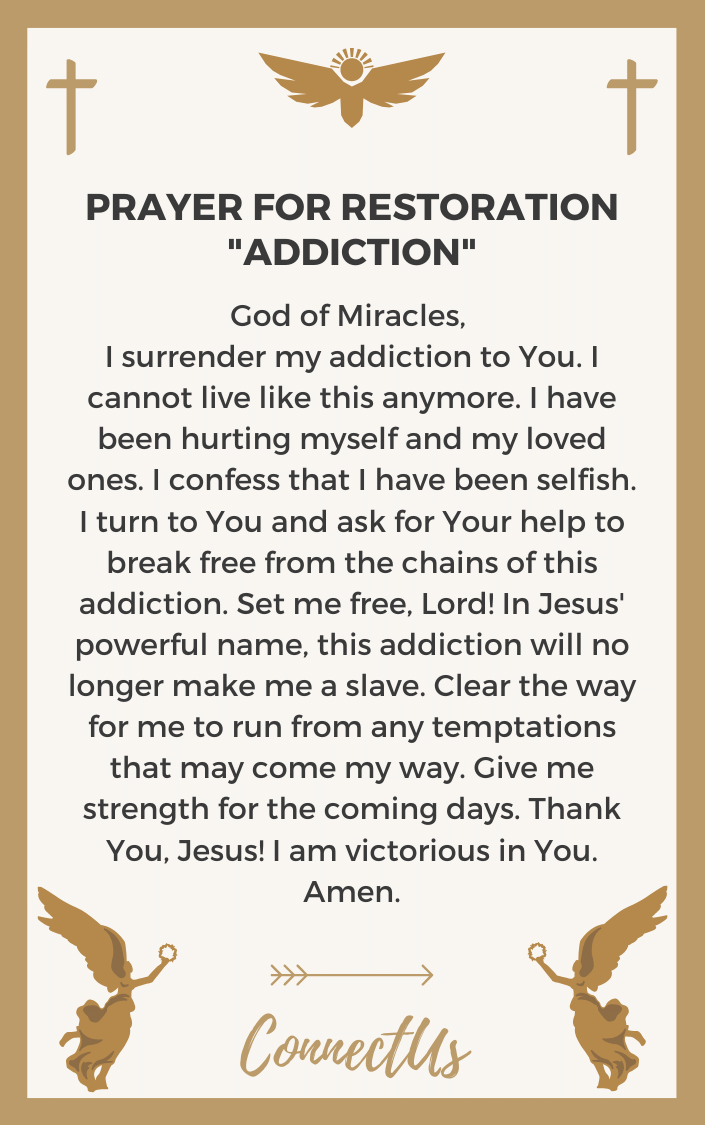 A Prayer for Restoration with a Friend
Lord Jesus, our Merciful and Faithful High Priest, You know the motivations of the human heart. You know that things are not right between me and my friend. Lord, there is hurt and feelings of betrayal between us. Even though I do not see it, You can see the path to reconciliation and restoration. Guide me Lord to take steps of humility and compassion to build a relationship of trust with my friend. Make our friendship even stronger than it was before. I ask this in Jesus' name. Amen.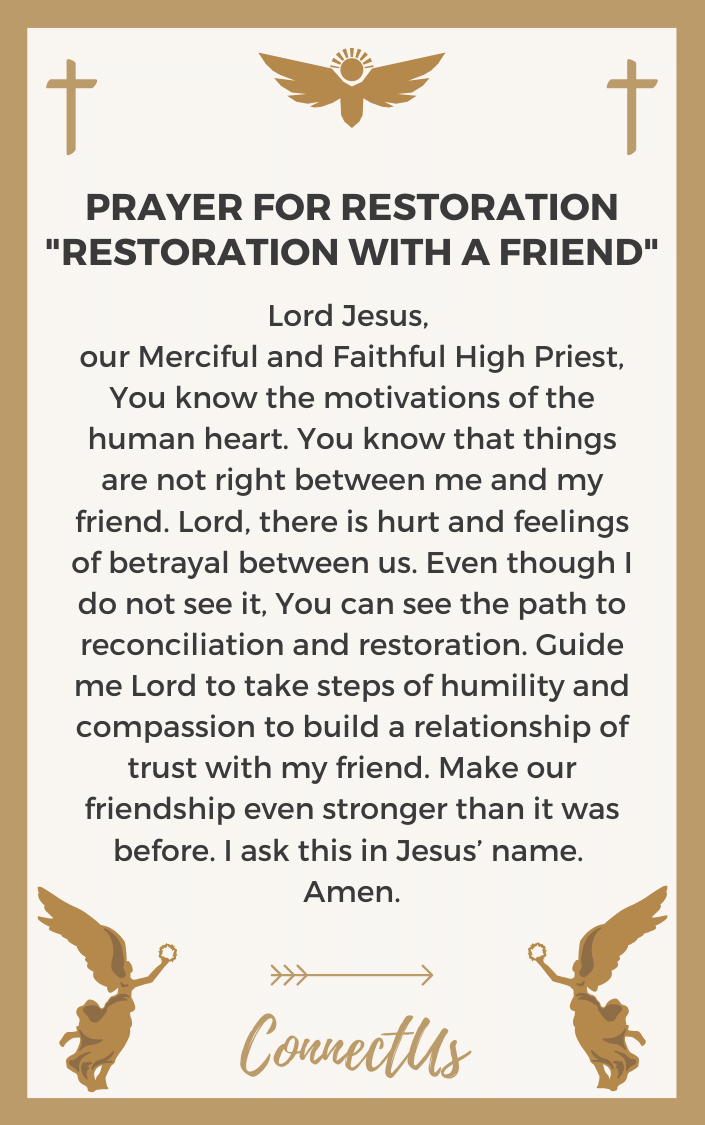 A Prayer for Mental Restoration
Lord Jehovah, Self-Existent One, You are the one who made me and know me completely. You know my innermost thoughts and You know the struggles I have. Lord, even when I feel utterly overwhelmed, help me to know that You are with me. Father, please restore a sound mind to me. Help me not to be controlled by my thoughts and emotions. Heal my mind and bring restoration of my thinking. I need Your power in my life. In the mighty name of Jesus. Amen.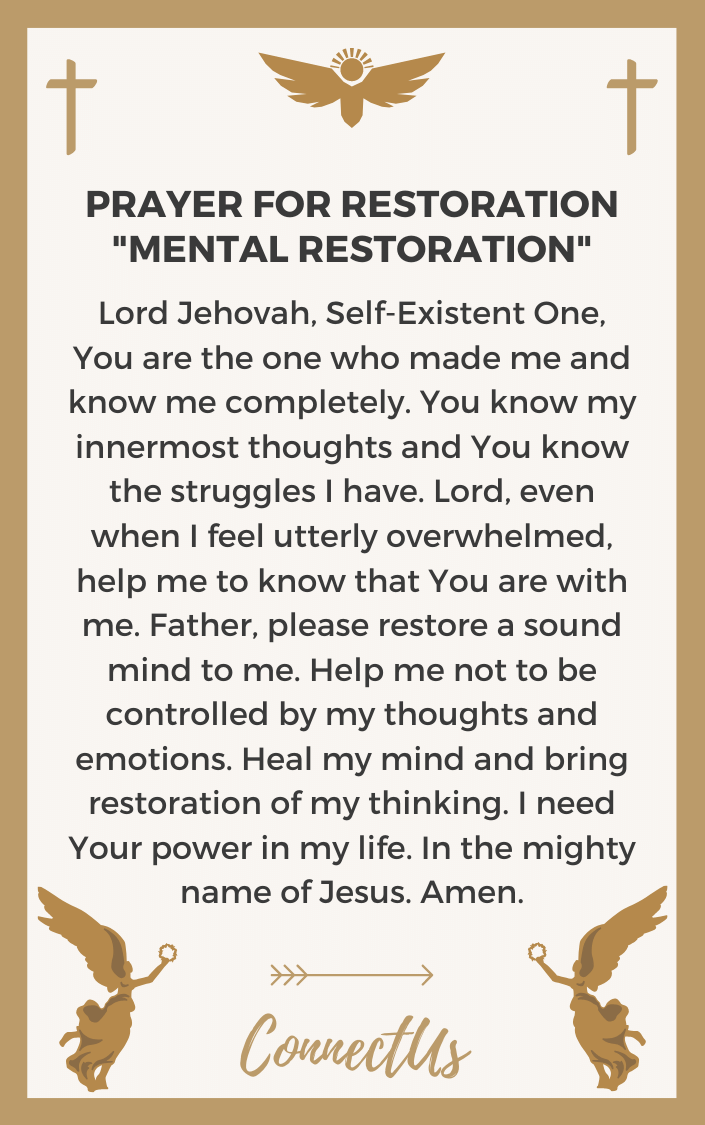 A Prayer for Restoration in Family
Lord of Unfailing Love, You are good and faithful, abounding in steadfast love. My family is in crisis, Lord, and I need You to change their hearts. Restore trust and redeem relationships, O God. I am not capable of bringing my family back together, but nothing is impossible for You. Give me wisdom and help them to see the gift of family. Where someone needs to forgive, give them the strength to forgive. Where someone needs to admit fault, give them the humility to admit fault. Thank You, Lord Jesus, for Your power. Amen.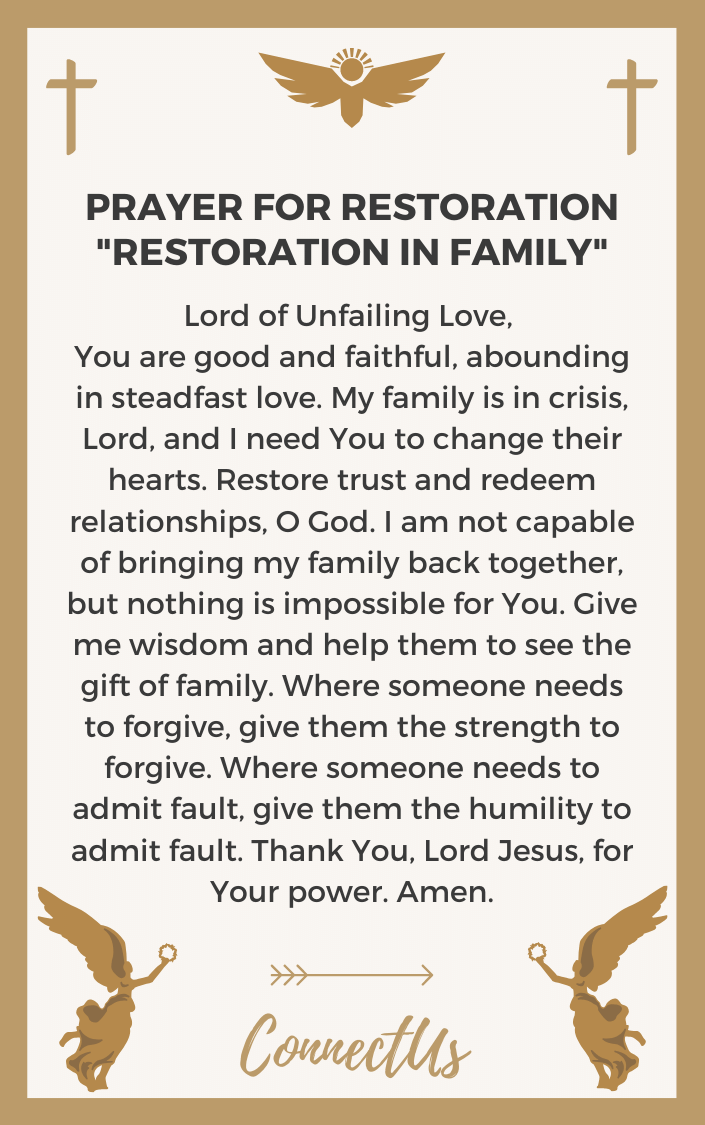 A Prayer for Restoration with Children
Lord of the Highest Heavens, I need Your help. You are a perfect Father and I need You to bring restoration to my relationship with my children. I admit to the times when I have not measured up to what I should have done. I ask that You restore my relationship with them. Enable forgiveness and enable reconciliation. Help my children to recognize my contrition and my desire to honor You by being a better parent. Lord, change their hearts as much as You change mine. In Jesus' name. Amen.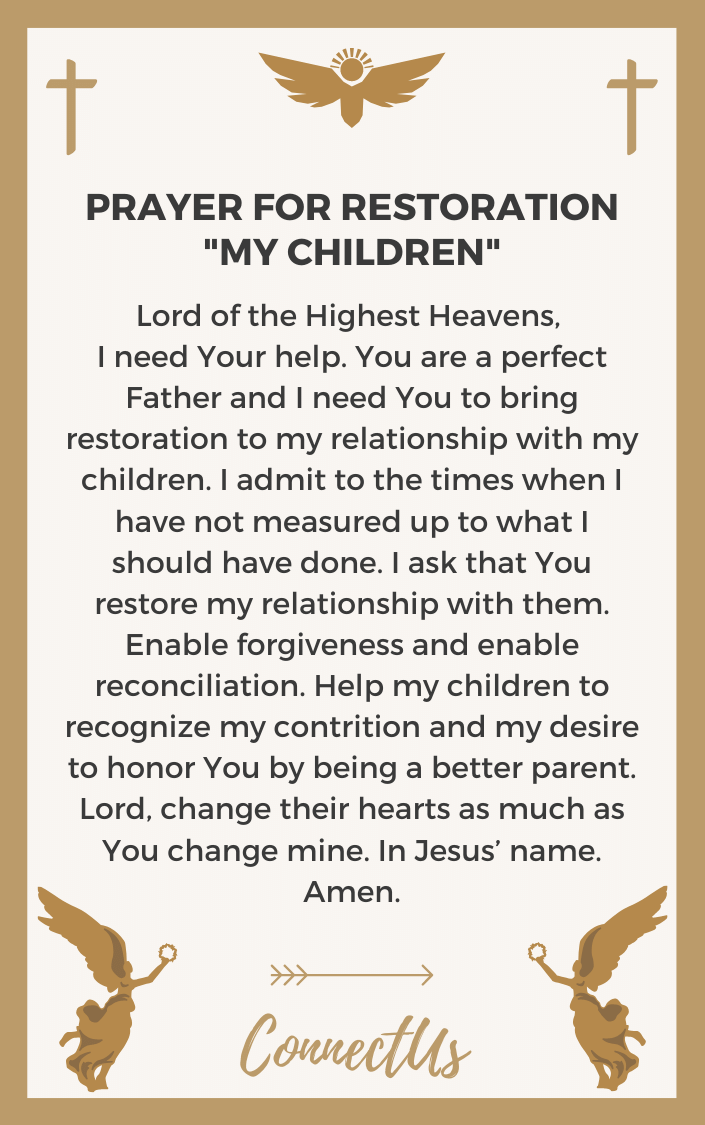 A Prayer for Restoration with Parents
Father of Compassion, You are my perfect loving heavenly Father, and You have graciously given me earthly parents as well. I am asking for restoration with my parents because things are not as they should be. Lord, You know my parents are not perfect, and I realize, neither am I. May You bring about an understanding between my parents and me so that we can enjoy the relationship that You created for parents and their child. In the love of Your Son, Jesus, I pray. Amen.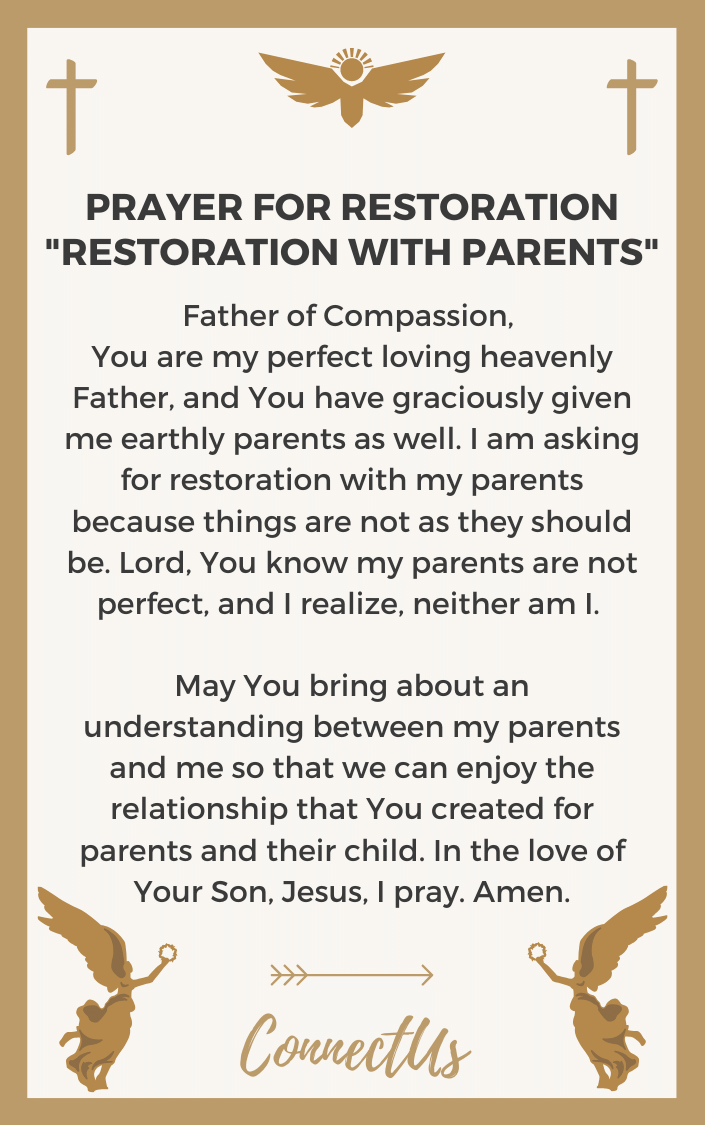 A Prayer for Restoration of Health
Jesus, the Great Physician, You created my body with all its inner workings and complexities. However, my body needs restoration and healing. I am sick of being sick. While I know this is only a shell for my spirit until I am resurrected in glory, I ask that Your healing Spirit flow through me. Enable me to enjoy the world through this body. In all this, help me to continue to lift Your name on high and trust in Your saving work in me. In Jesus' name. Amen.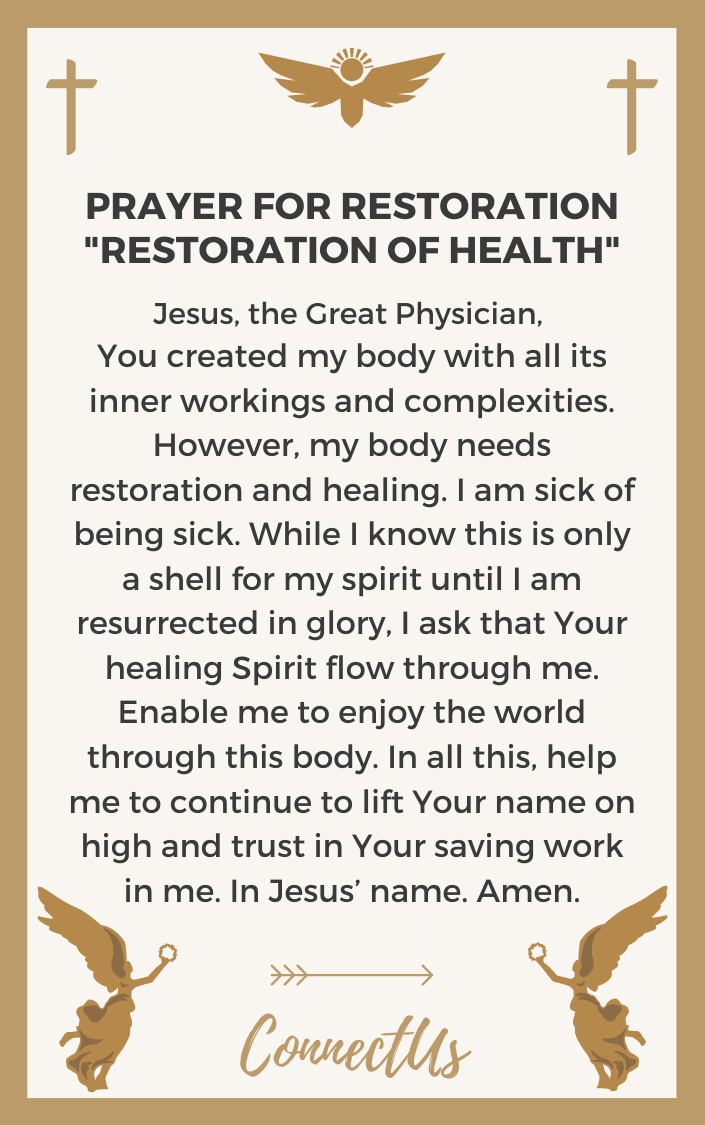 Most Popular Prayers by Topic
For Hard Times
For Financial Prosperity
For Physical Health
For Emotional Health
For Protection
For a Marriage
For Babies and Pregnancy
For Family
For Spiritual Warfare
For Spiritual Health
For a Death
For the Workplace
For Bedtime
Our 10 week prayer journal will guide you through your daily prayers and help you plan out your prayer week. It is completely free. You can
click here to get it now
.

Author Bio
Natalie Regoli is a child of God, devoted wife, and mother of two boys. She has a Master's Degree in Law from The University of Texas. Natalie has been published in several national journals and has been practicing law for 18 years.