Having a child that is on the spectrum can be confusing for parents who love their child and just want the very best in life for them. Here are 10 uplifting prayers for autism along with printable images to use or share.
Prayer for Non-Verbal Child
Compassionate and Gracious Jesus, thank You for what You have already done for my child. I thank You that by Your stripes, You have purchased his healing. And now, I ask for him to be able to speak and communicate his needs and wants. In Your mighty and holy Name, may the part of his brain related to speech be perfectly restored, and may a river of words, fluent and articulate, flow from his mouth. Amen.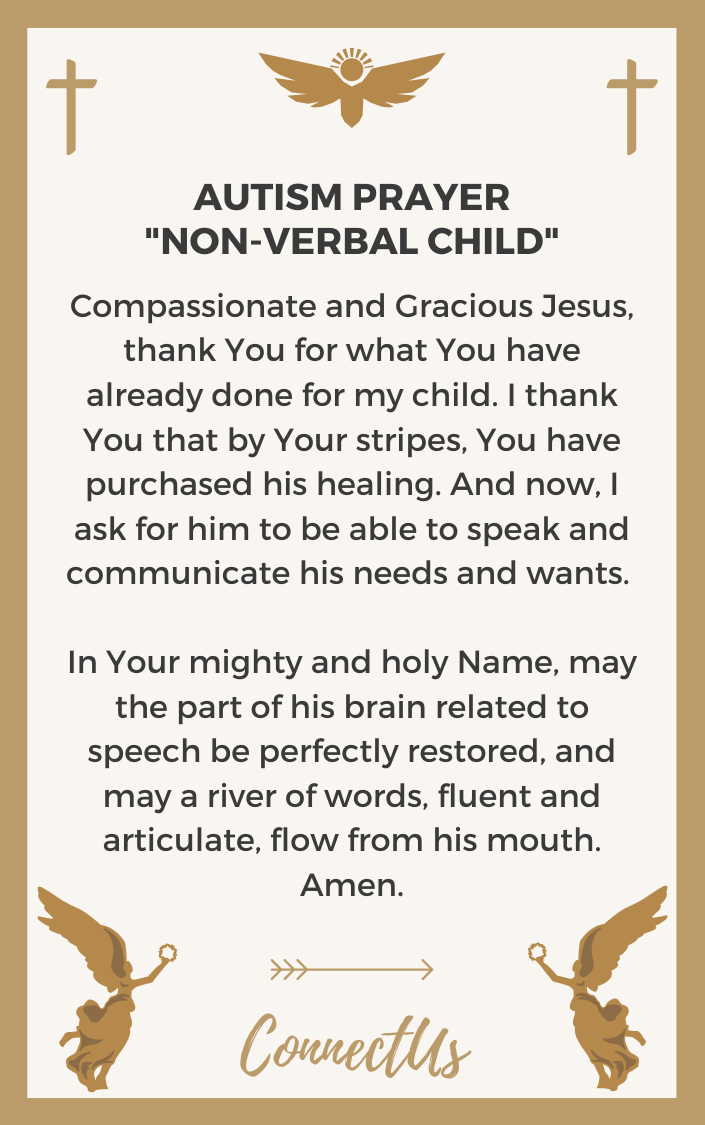 Prayer for Language Patterns
Almighty God, I thank You that You created my child with a purpose and a destiny and that You love him. And now, I ask for Your help with problematic language patterns such as repeating what someone just said without really understanding the meaning, or using a flat tone, or speaking the same phrase or sound over and over again. Help us find good speech therapy for him, and may Your healing touch enable him to speak normally. Amen.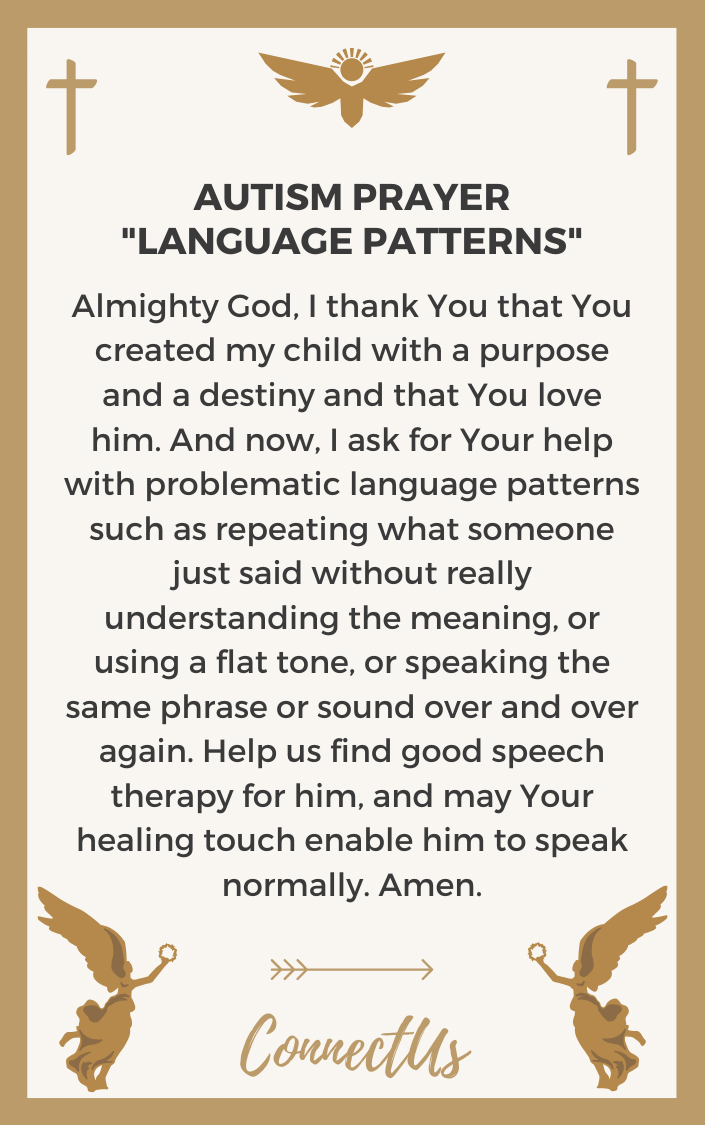 Prayer for Child with Asperger's Syndrome
Merciful Lord, please touch my son, and give him peace and guidance as he navigates through a world that is often confusing to him. Lift him out of the depression he often suffers because he is laughed at, isolated, and excluded at school and in social settings. Help him overcome awkwardness in communicating and catching social cues. Help him acquire good social skills, so he can develop friendships and have a sense of belonging. Heal his wounded heart and lack of self-worth. Amen.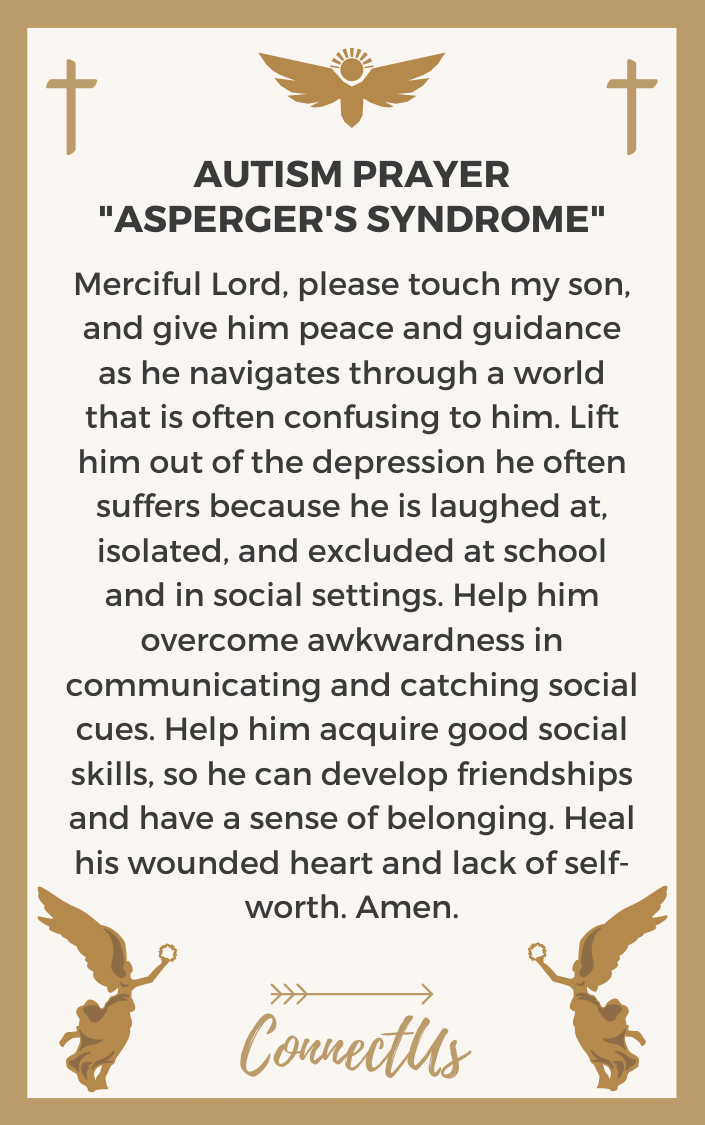 Prayer for Meltdowns
God our Deliver, I intercede for my child's response to overwhelming stimuli and emotions that often lead to loud vocalizations and aggressive actions. I pray that You will help us as parents to identify triggers and find strategies to minimize outbursts. Help us to recognize signs of impending meltdowns, and take steps to head them off. Help us to stay calm through these episodes and aide our child in regaining control. Oh Lord, bring Your peace to our child and to our family. Amen.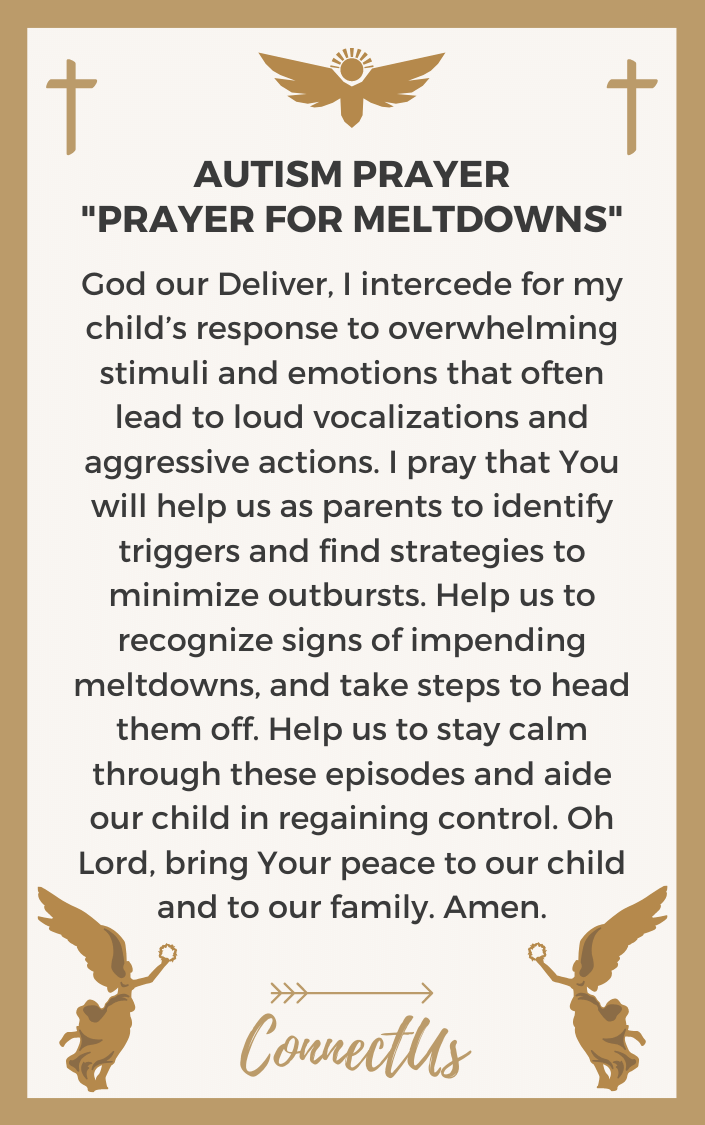 Prayer for Sleep Disruptions
Lord of Peace, I ask for restoration in my child's brain and body. I specifically pray for sleep disruptions that are making neurological issues worse and making a good night's sleep elusive for all of us. Father, please enable our child to fall asleep quickly, have adequate REM sleep, sleep through the night until morning, and not get up and roam around the house or try to get outside. I thank You that You are sovereign over this situation. Amen.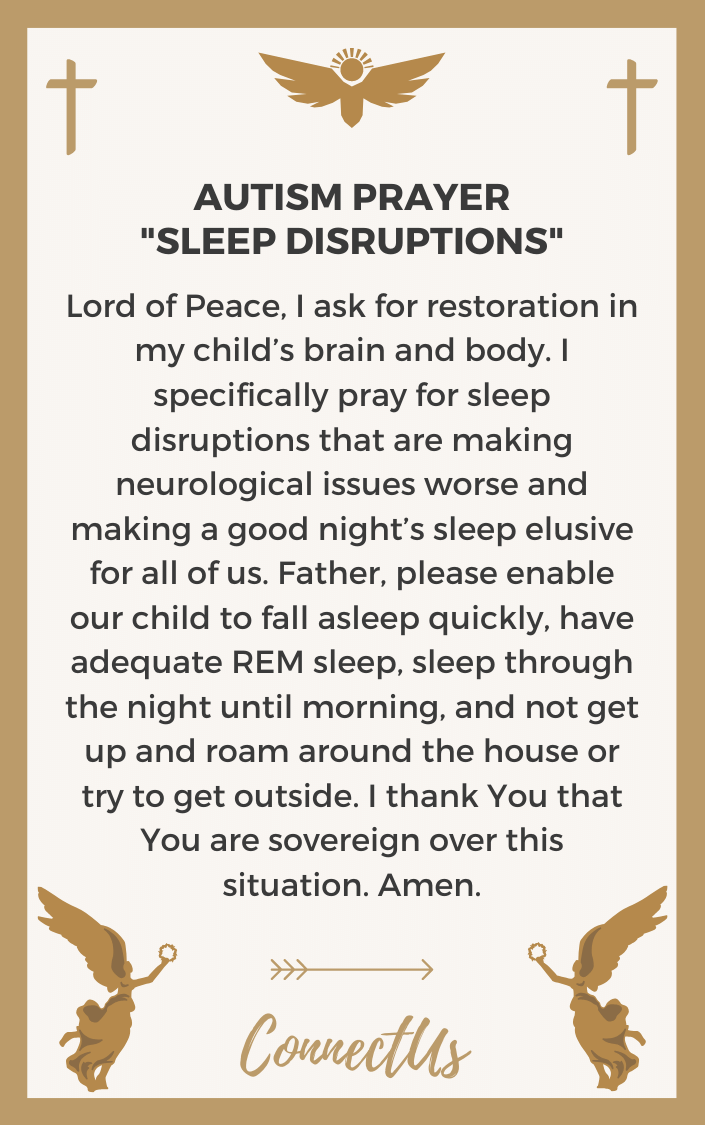 Prayer for Effective Communication
Lord our Help and Strength, we ask that You help our child to effectively communicate. Enable him to come out of his own little world and interact effectively with others, using good eye contact, and able to interpret and engage in body language such as appropriate hand gestures and facial expressions. Help him not to fixate on specific topics and monologues, but be able to have normal give and take in a conversation. Amen.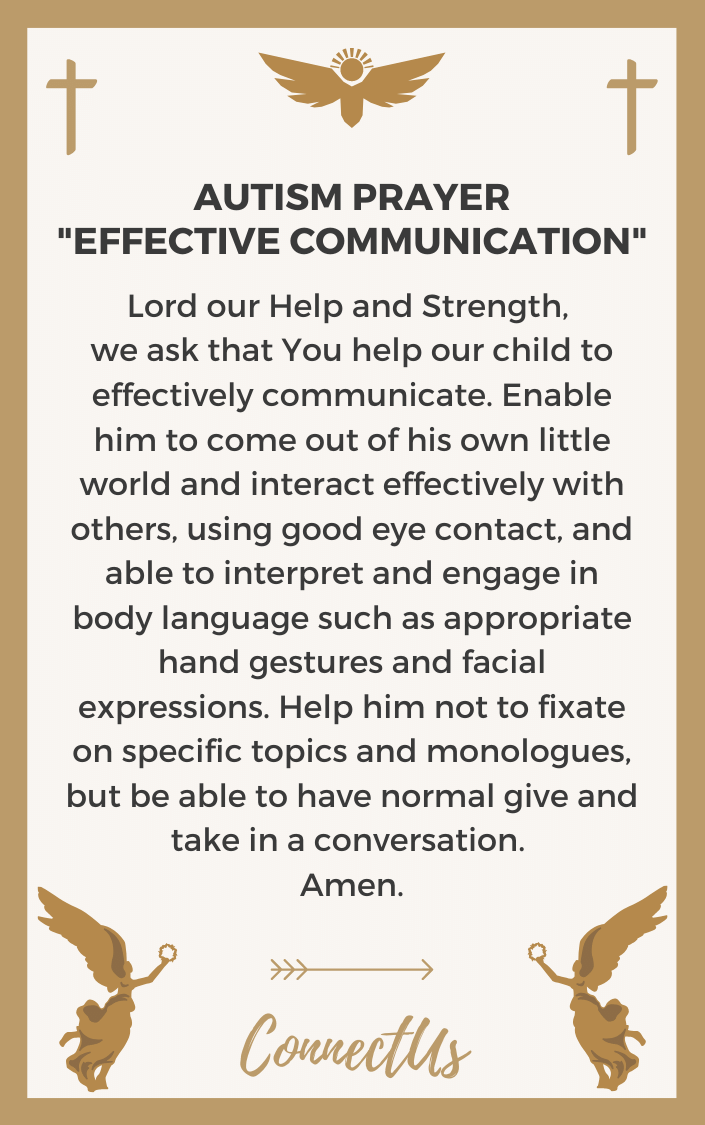 Prayer Against Aggressive and Self-Harming Behaviors
God of all Comfort, in the blessed Name of Jesus, I pray that my child's self-harming behaviors, such as head-banging and hitting and scratching himself, will come to an immediate end. I pray that aggressions, including hitting, scratching, pushing, and pinching others, and breaking things in the house, will stop. Ease his frustrations with communication problems and becoming overwhelmed by stimuli that lead to self-harming and aggression. Amen.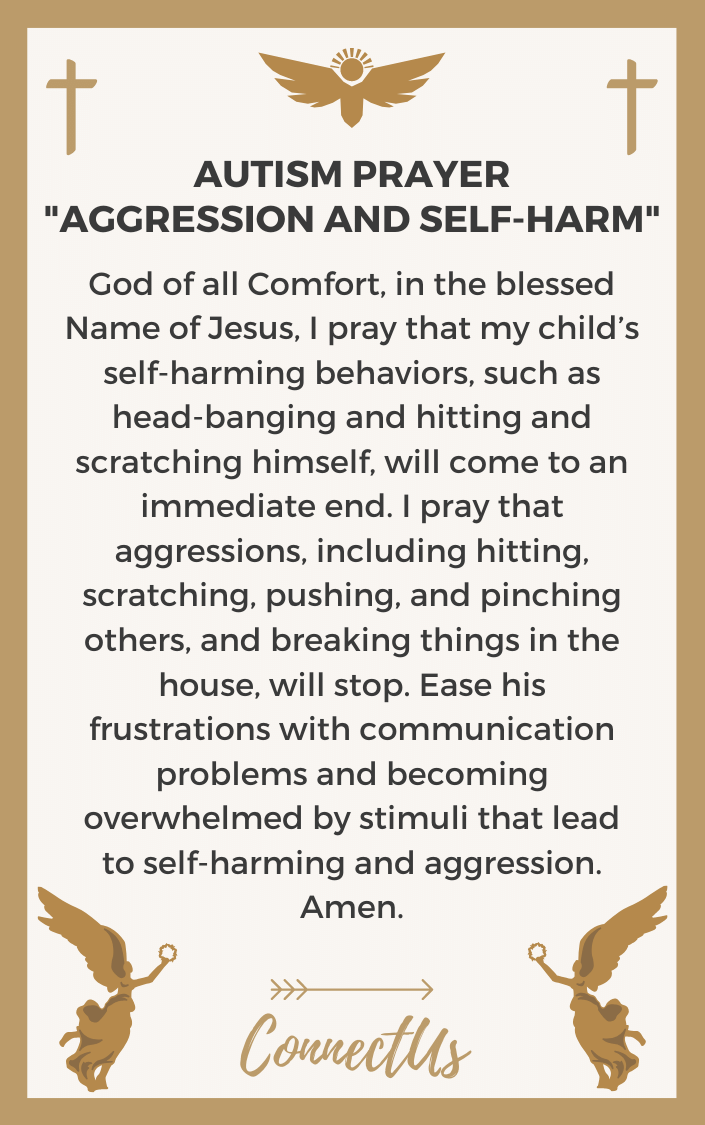 Prayer for Real Play
Lord of Encouragement, because play is essential in development, I pray that my child will actively play with toys, rather than just stimming with them. May she engage in a wide range of play, rather than the same repetitive ways. May she learn to share her toys and attention with others, and enjoy interactive and cooperative play. May she join in with imaginary and pretend play. Help her to develop and grow through playing by herself and with others. Amen.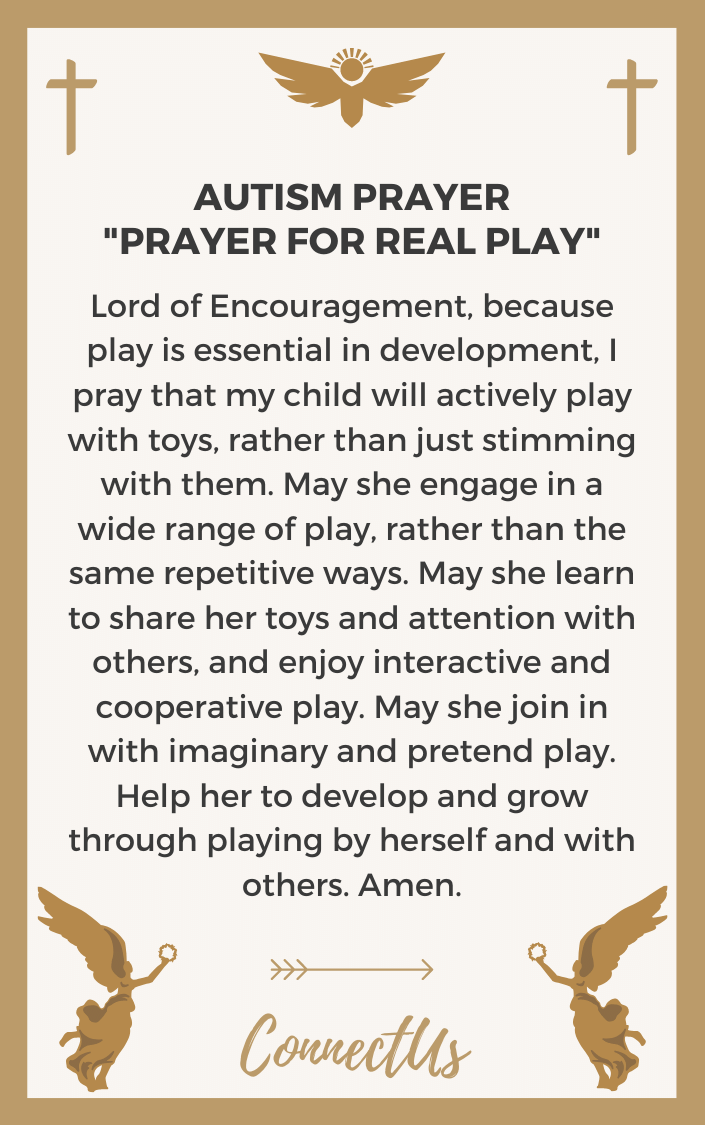 Prayer Against Hypersensitivity
God of Hope, I ask that You heal my child of hypersensitivity to bright or flashy lights, loud or high-pitched or sudden noises, and busy environments that are over-stimulating. I pray against the effects of this overloading of his senses, such as stiffening of his body, anxiety, agitation, loud vocalizations, hyperactivity, and even emotional meltdowns. Give him normal sensory processing, I pray, and bring calmness to his mind and body. Amen.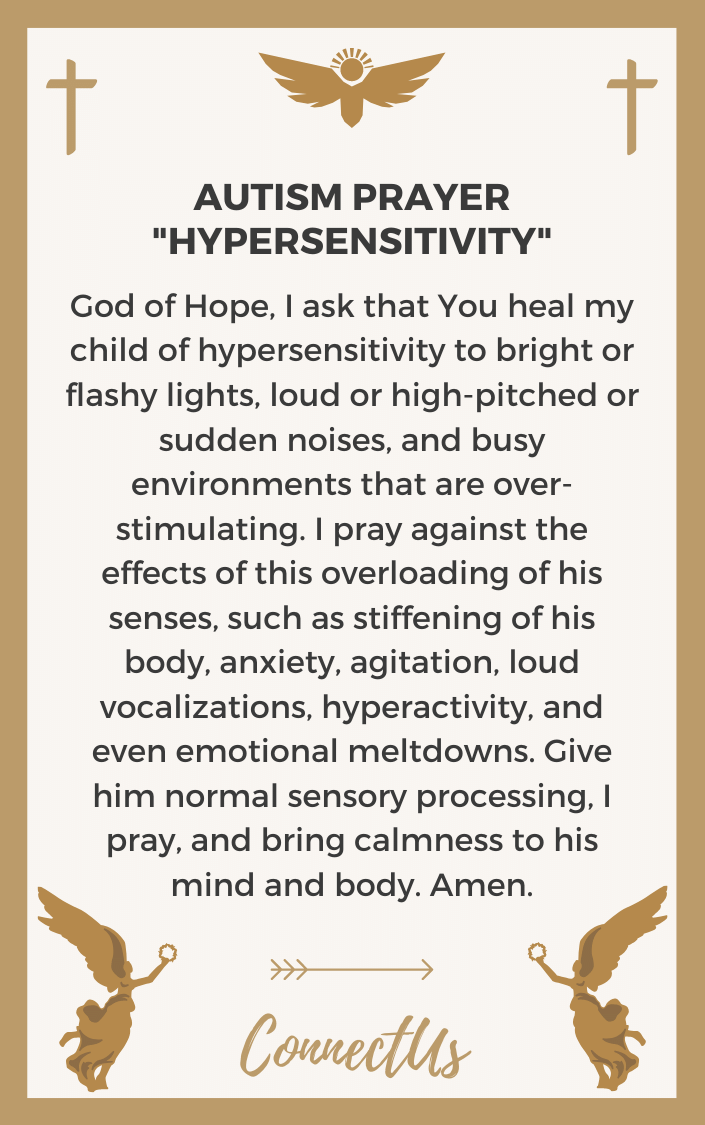 Prayer for Abundant Life
God of Miracles, please bless my child with the abundant life You came to give, and restore what has been stolen from her. Give her the ability to focus on tasks, but not get fixated on things. Help her to interact well with others and to develop flexible thinking and social imagination. Help her to understand metaphors, and sarcasm and irony, and not take these things literally. Help her develop empathy and know how to express it. Amen.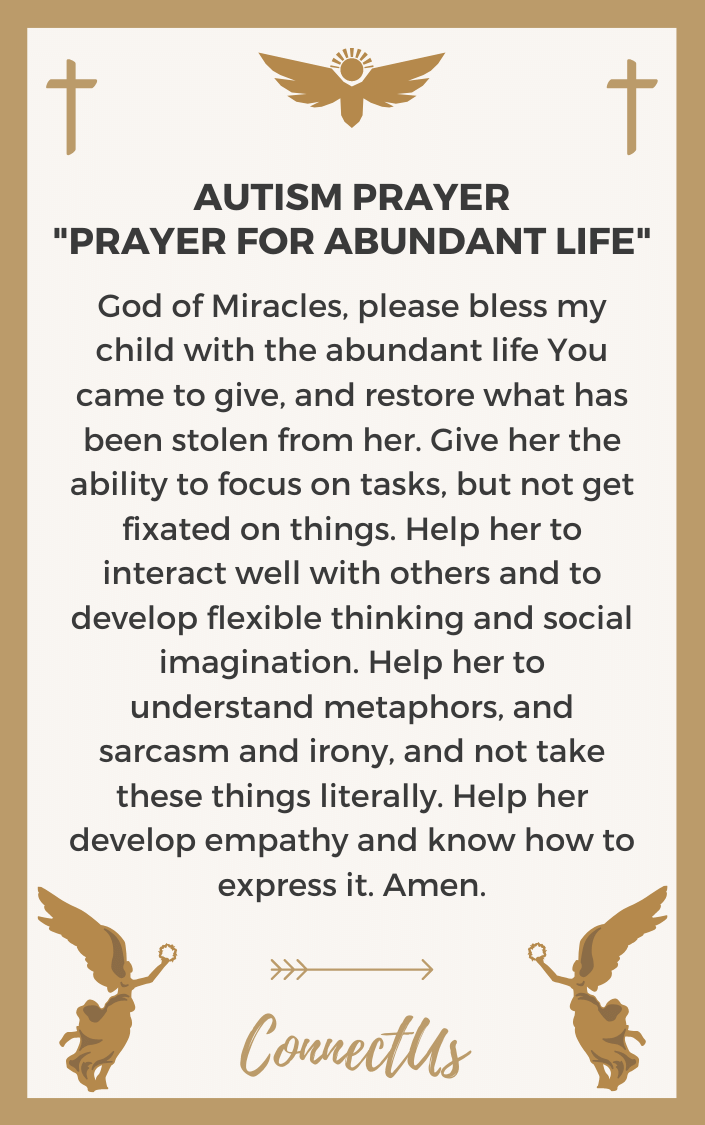 Our 10 week prayer journal will guide you through your daily prayers and help you plan out your prayer week. It is completely free. You can
click here to get it now
.

125 Most Powerful Prayers to Use in Times of Need
25 Powerful Prayers for Healing
25 Uplifting Prayers for Anxiety
25 Strong Prayers for Financial Stability
25 Encouraging Prayers for Peace of Mind
25 Powerful Prayers for Perseverance
20 Most Famous Prayers in the History of the World
Most Popular Prayers by Topic
For Hard Times
For Financial Prosperity
For Physical Health
For Emotional Health
For Protection
For a Marriage
For Babies and Pregnancy
For Family
For Spiritual Warfare
For Spiritual Health
For a Death
For the Workplace
For Bedtime
Author Bio
Natalie Regoli is a child of God, devoted wife, and mother of two boys. She has a Masters Degree in Law from The University of Texas. Natalie has been published in several national journals and has been practicing law for 18 years. If you would like to reach out to contact Natalie, then go here to
send her a message
.