When you have people in your life working against your good, God protects you and keeps you from evil. Here are 11 mighty prayers for enemies along with printable images to use or share.
Fill Us With Your Spirit Prayer
Dear Lord, we have many enemies seeking to destroy us. Some want to spread false rumors about us so we lose our jobs, others are spying on our families, others attack us in public. Lord, you promised to be by our sides at all times. May you fill us with your spirit to gracefully deal with these trying times. We may be tempted to harm them or seek revenge but, God, we pray for your peace and love to be with us to the end. Amen.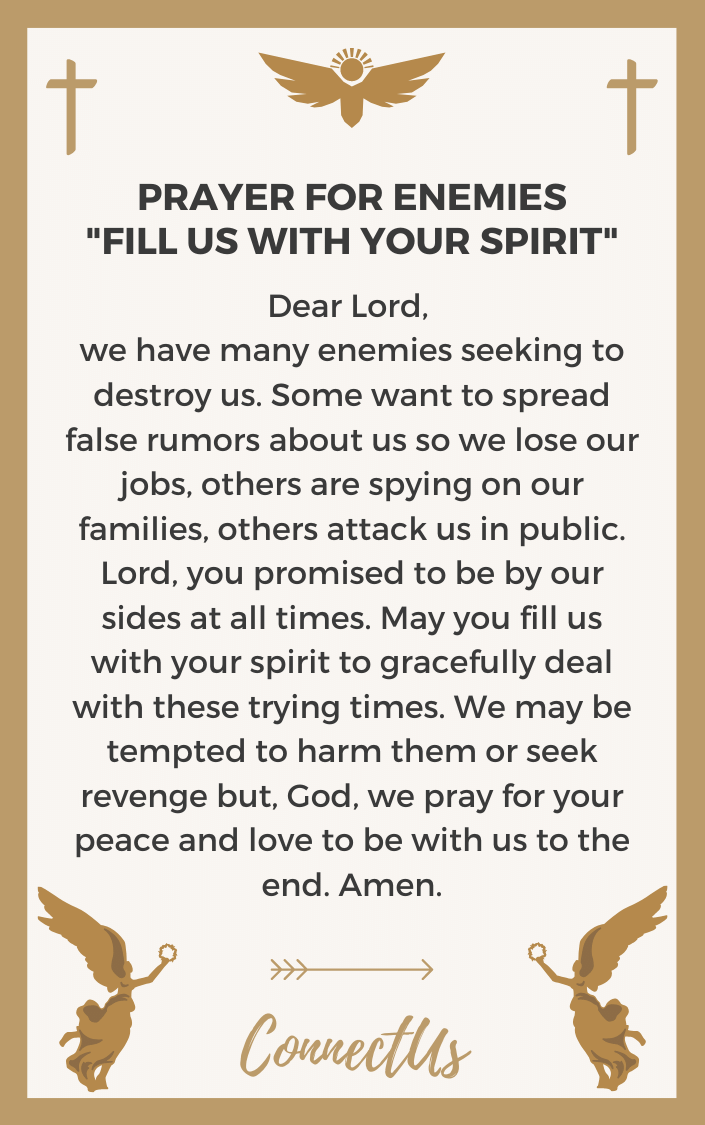 Forgive Them Prayer
Heavenly Father, I am a sinner who recognizes that you sacrificed your own Son to set me free. The same way you loved me, Lord, please love my enemies and forgive them for their ill thoughts, for their hurtful words, and for their wrongful accusations against me, Lord. Please send the Holy Spirit to guide my enemies into your light so they no longer wish to fight, but find it in their hearts to desire peace. Amen.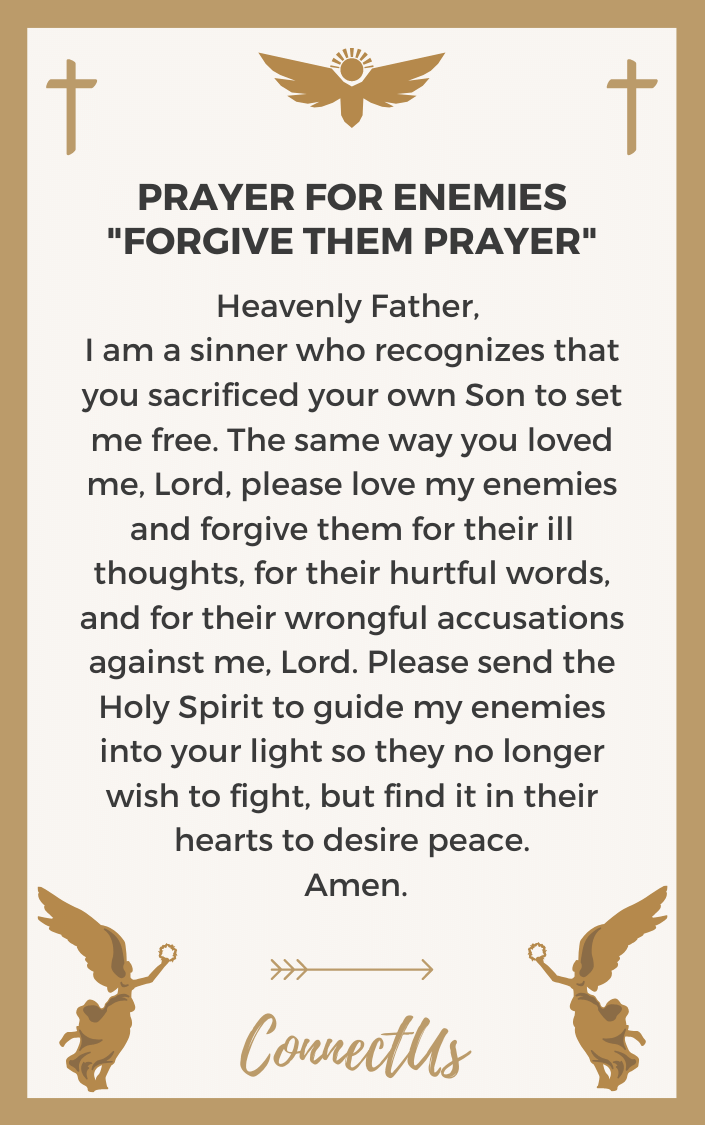 Surrender Prayer
Lord, I have many enemies surrounding me. They have waged a battle against me and want to put you to test, oh Lord. You are the ever-living God who fought for David and the Israelites against their enemies. Lord, I surrender my battles to you, may you fight them for me. Your unending love assures me of victory, and I hold onto your promise. Thank You, Jesus. Amen.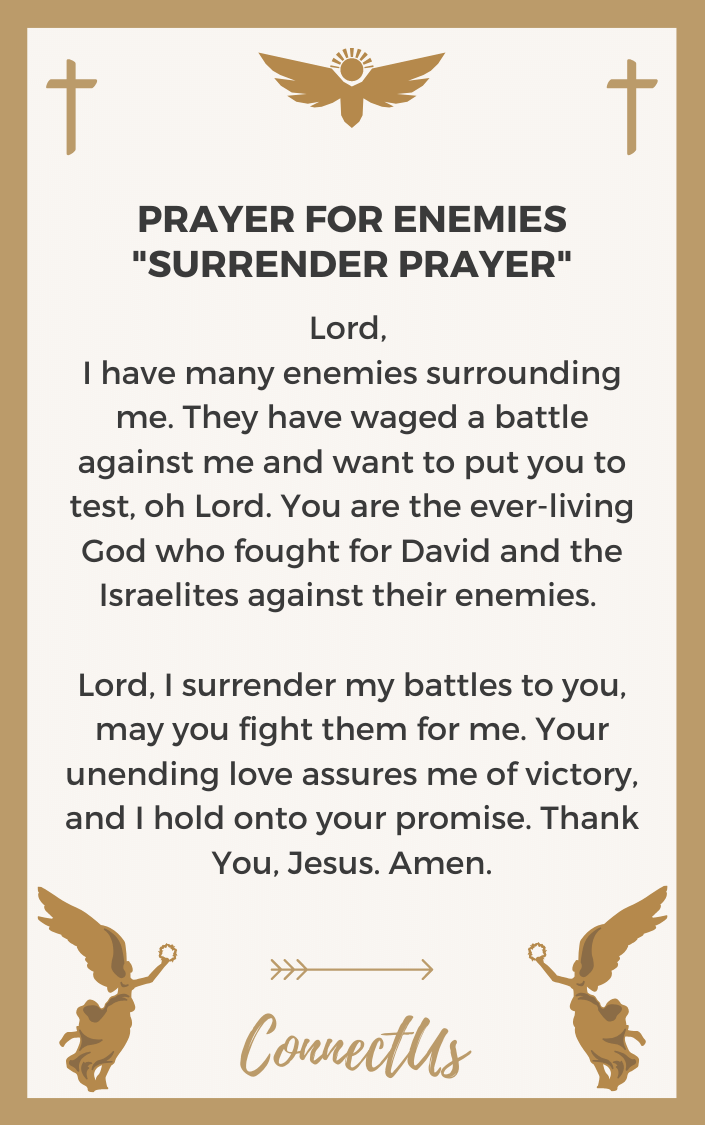 Faith in Suffering Prayer
Christ, Son of the most high God! I cry to you in pain and anguish caused by my enemies. You too, Lord, were hated and persecuted by those who did not know you. However, you trusted in your Father, for He never failed you. Help me, Jesus, to have the same faith in suffering and let God defend me. It is your suffering that brought light into this world. Teach me to persevere, for your blood protects me. Amen.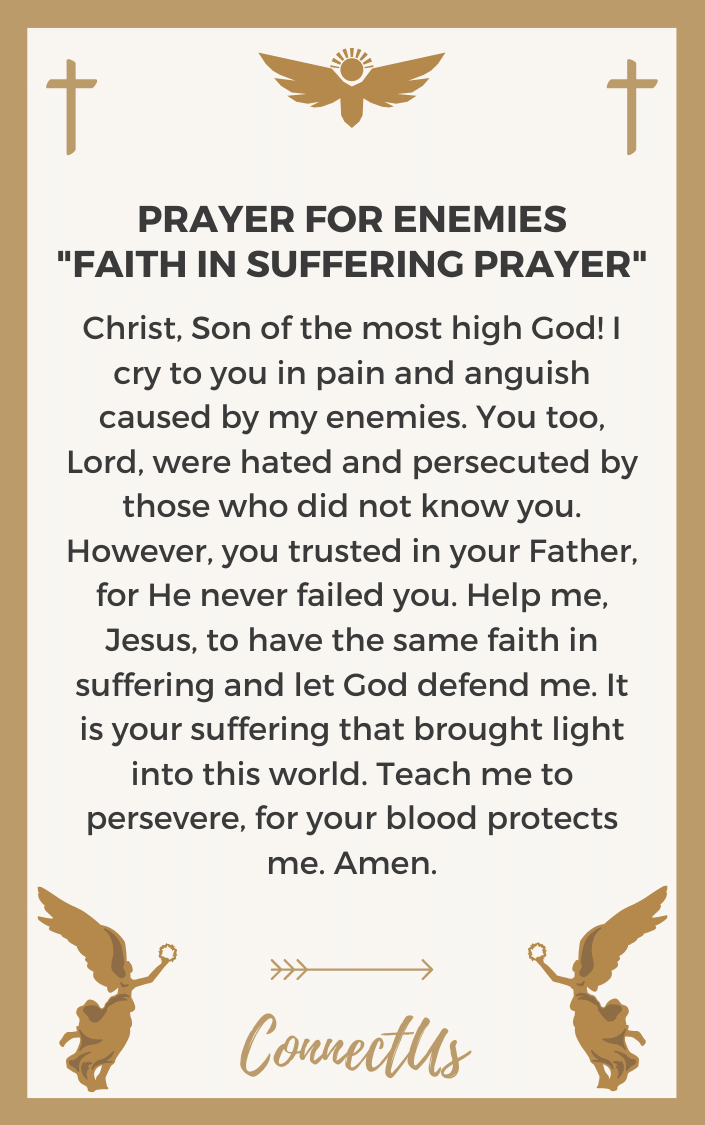 Love One Another Prayer
Holy Lord, you love us all with unending love. Your grace and mercy are unconditional. Dear Lord, teach us all to love one another in your Spirit. May we not hold grudges and create enmity with each other. Lord, for all those enemies that despise me and persecute me, be their healer and help them move on. Teach them not to hold onto things of the past. May they find joy in love and living in harmony. Amen.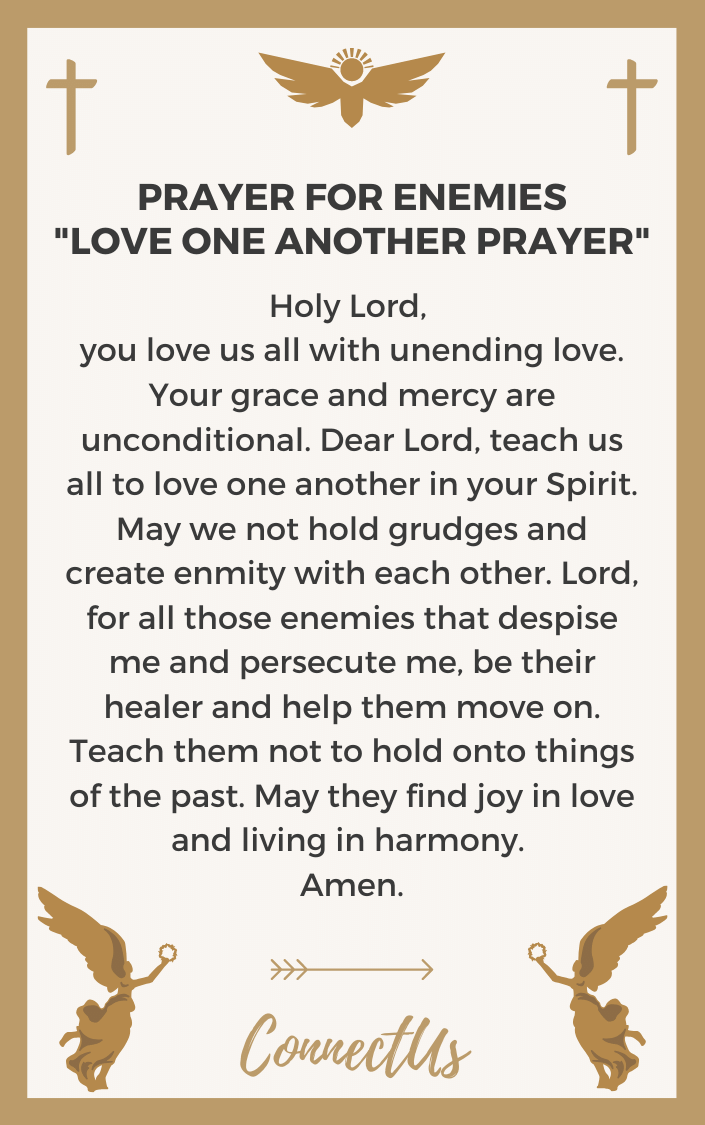 Be My Guide Prayer
Dear God, I pray that you help us all to live with one another without injecting hate into each other's lives. May our hearts know nothing but your steadfast love. I pray that I learn to live with my enemies and settle any issues that keep us apart. Be my guide as I seek reconciliation. Lord, for those that do not want to be my friends anymore, I pray that you always accompany them wherever they go. Give them peace. Amen.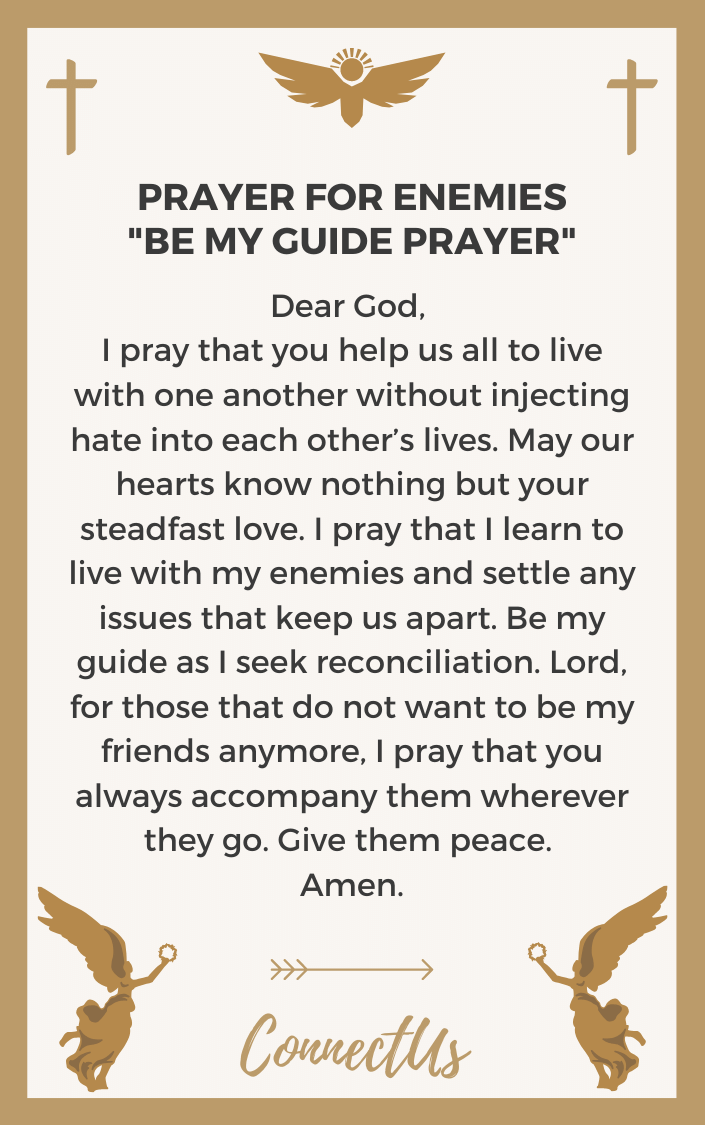 Humility Prayer
Heavenly Father, you are our creator, and none of us is greater than the other in your eyes. You treat us all equally with your unconditional love, yet some of us chose to discriminate when they choose who to associate with and who to love. Lord, for those who have created enemies through discrimination, I pray that you guide them back to you and teach them humility. May their enemies find a place in their hearts to forgive them. Amen.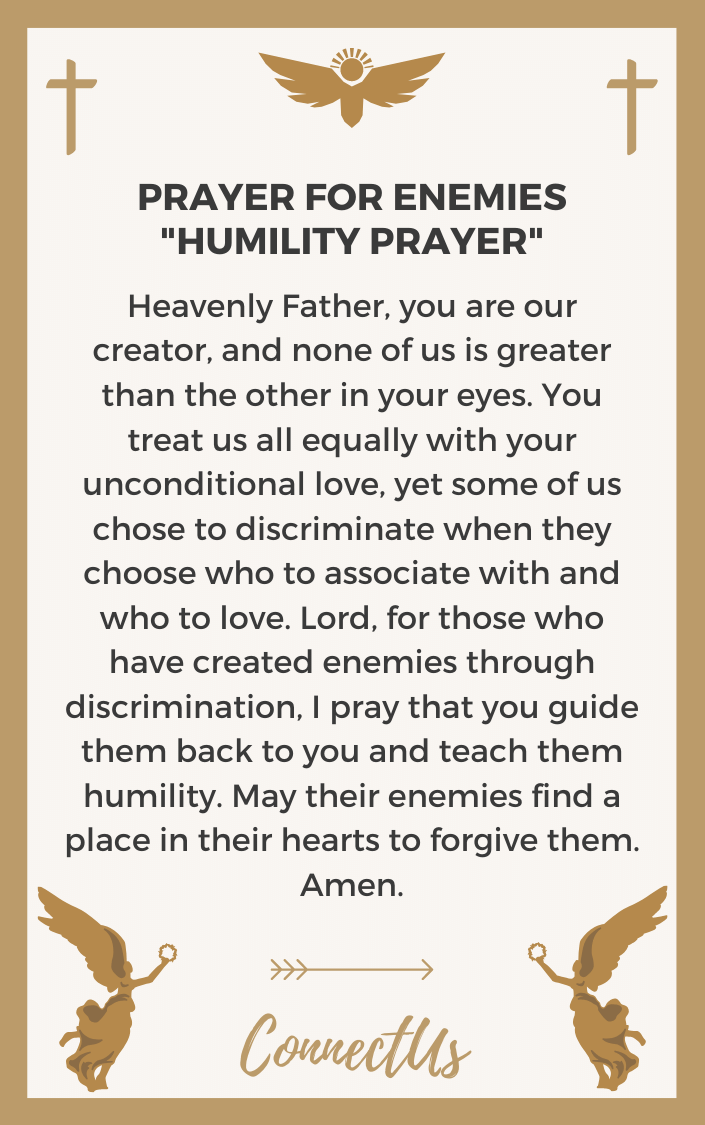 Peace and Unity Prayer
Dear Lord, I pray for this country that you created so wonderfully. We have enemies all around the world that seek to destroy us economically, socially, and politically. May your blood be the high wall around us like Jerusalem that no one can shake. Help our enemies realize the disadvantages and destruction that war causes. May they only seek peace and unity. Amen.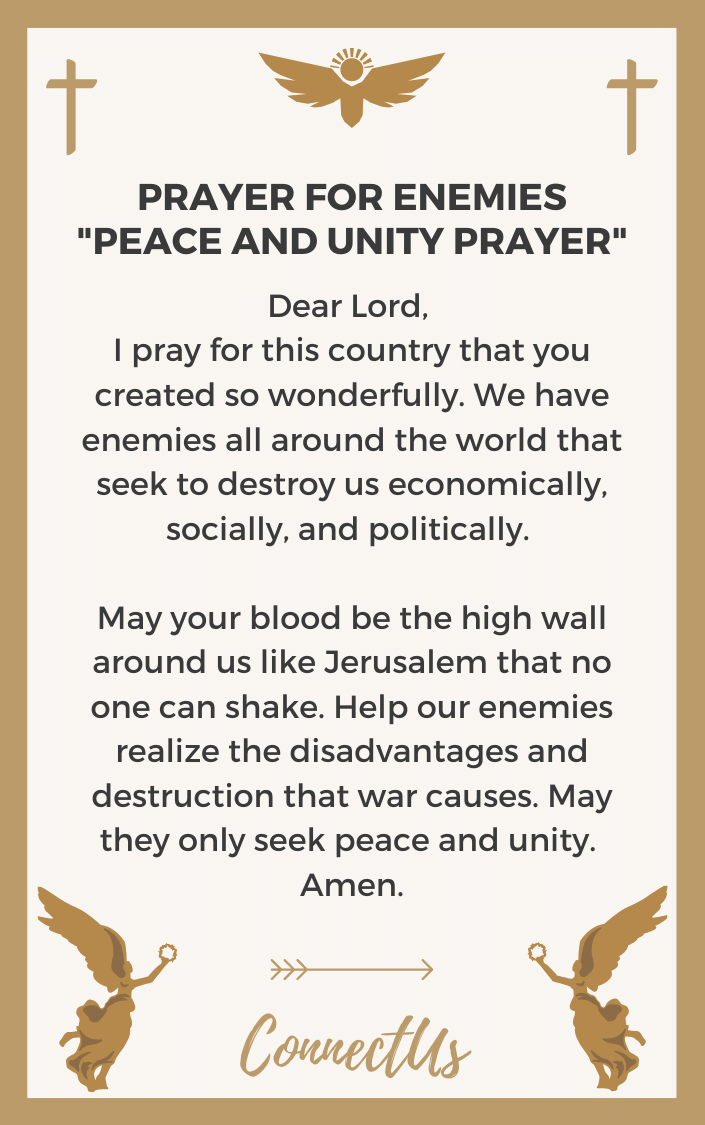 Good Intentions Prayer
Dear Jesus, Son of God, you taught us to love our neighbors as we love ourselves and to pray for our enemies always. I pray to you for the healing of the ill, reignition of hope in the hopeless, restoration of the lost, and lighting of the way for our enemies and friends. Fulfill all their hearts' desires that are of good intention and make them fail in pursuing their ill intentions. May they live a comfortable life and know that it is only you who can judge us all. Amen.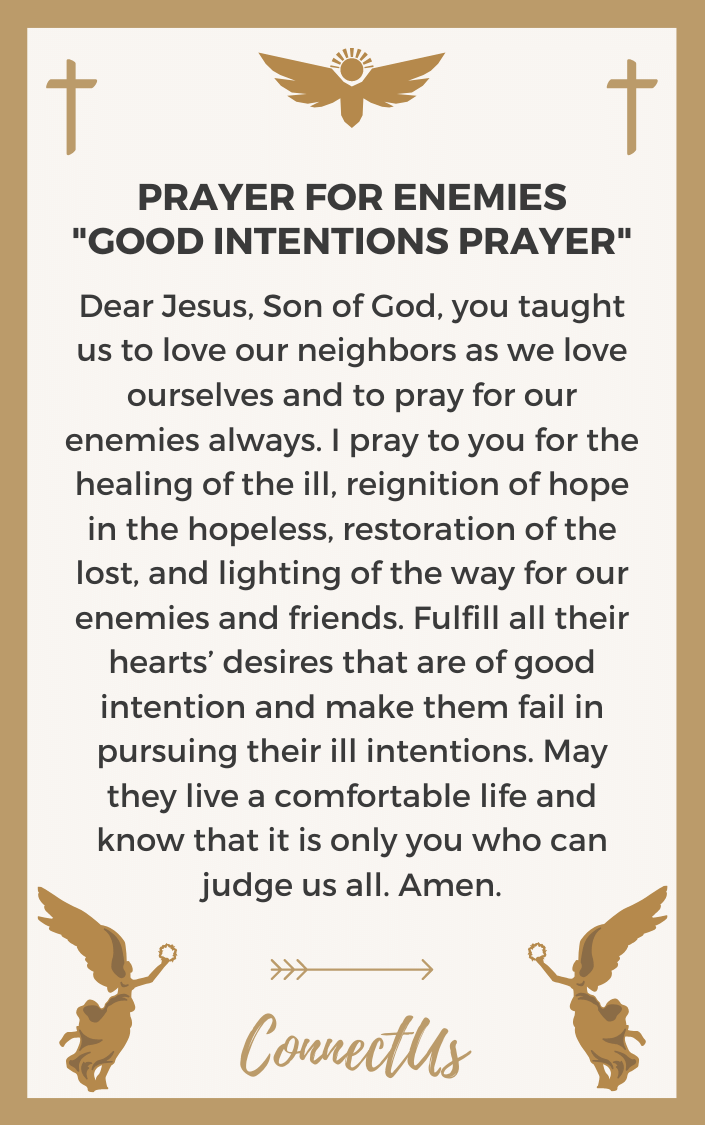 Teach Me Prayer
Dear God, we have many adversaries who look for ways to see us fall. This hurts us so much God, but you commanded us to love even those who mistreat us. I pray that you teach me to love my enemies. Teach me to be generous to them without expecting anything in return, for you have always done that. May I obey your command so that I can receive the promised reward of heaven. Teach me to be kind to my enemies, to feed them when hungry, to give them a drink when thirsty, and to know that you see all that we do. Amen.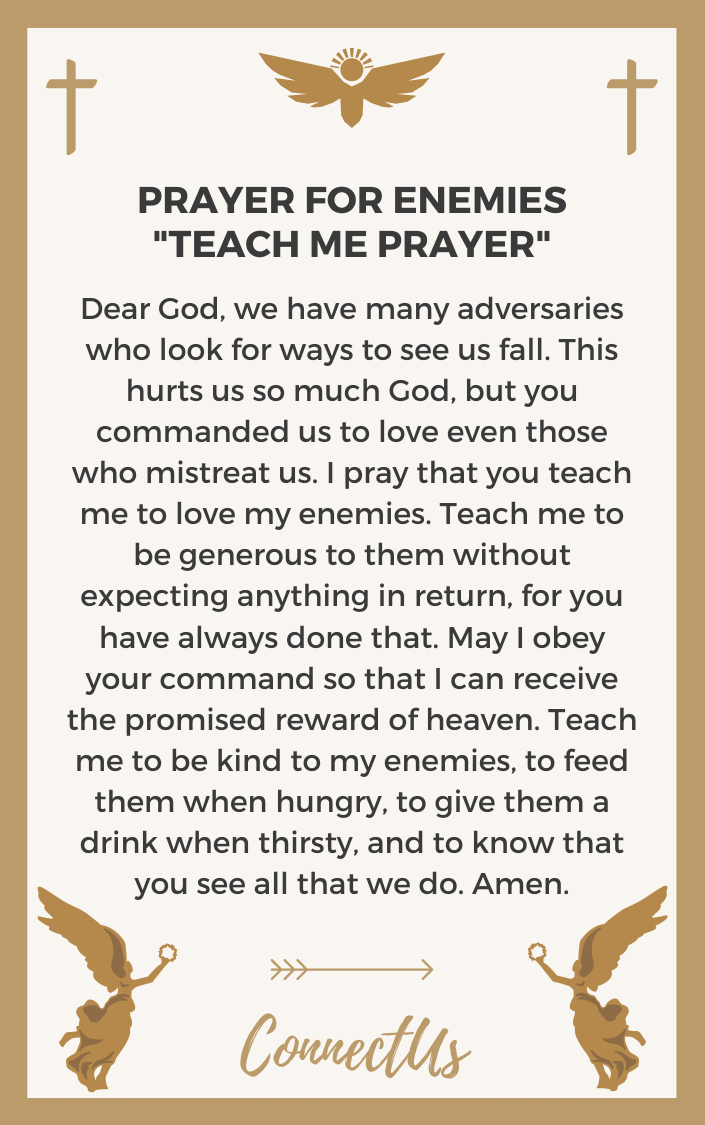 Deliver Their Souls Prayer
Dear Lord, I have enemies, my family has enemies, my friends have enemies. God, we pray that you save us from any of their destructive plans. May they fail when they try to do wrong so that they may not be sought by the law or those who seek revenge. Redirect our enemies away from their evil plans and save them from the fire of hell. Deliver their souls from eternal agony. Amen.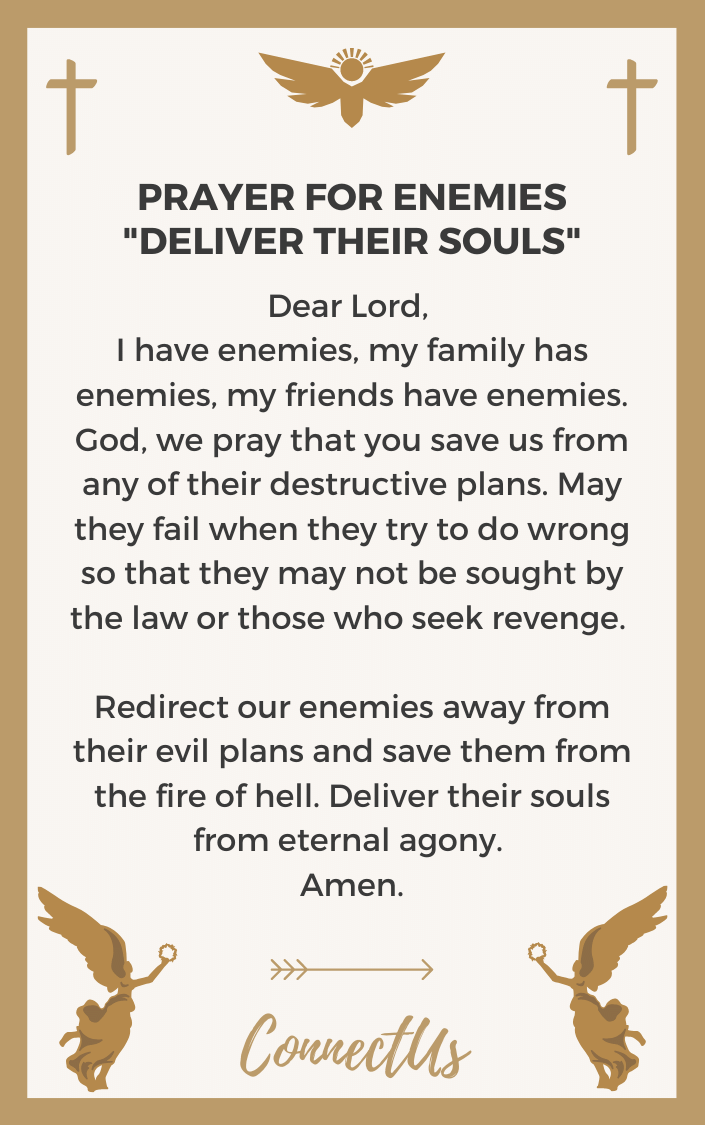 Most Popular Prayers by Topic
For Hard Times
For Financial Prosperity
For Physical Health
For Emotional Health
For Protection
For a Marriage
For Babies and Pregnancy
For Family
For Spiritual Warfare
For Spiritual Health
For a Death
For the Workplace
For Bedtime
Our 10 week prayer journal will guide you through your daily prayers and help you plan out your prayer week. It is completely free. You can
click here to get it now
.

Author Bio
Natalie Regoli is a child of God, devoted wife, and mother of two boys. She has a Master's Degree in Law from The University of Texas. Natalie has been published in several national journals and has been practicing law for 18 years.