Working towards your future by growing your education can be a stressful journey, and seemingly the finish line is miles away from where you stand. Here are 11 powerful prayers for academic success, including images you can print to use and share.
Prayer for Academic Achievement
Jesus, my Savior, I pray that You walk with me towards academic success. I want to strive for academic achievement and prosperity in the classroom. I pray that You keep my eyes fixated on these goals. Please bless me with a heart of determination and discipline. When days are hard, please remind me of my capability to strive through Your love. I believe in myself to achieve great things, Jesus. Please be with me on this journey. In Your name, Amen.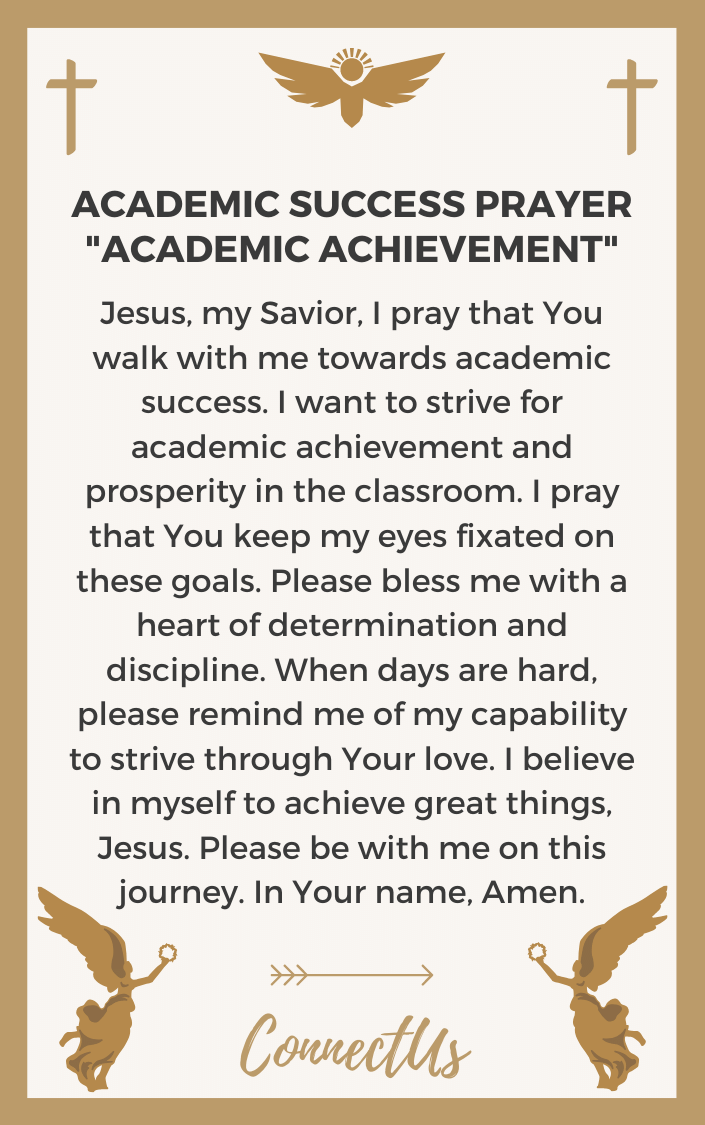 Prayer for Overcoming Academic Challenges
All-Powerful Father, please help me in my hard days. When I face challenges during my academic journey, please be present. Help me overcome even the hardest of moments with Your strength and perseverance. When I feel dejected or doubtful, please remind me of my worth. When I fail academically, remind me of second chances and Your beautiful grace. When I fall down, remind me that You are always there to help me back up. In Jesus' all-powerful name, Amen.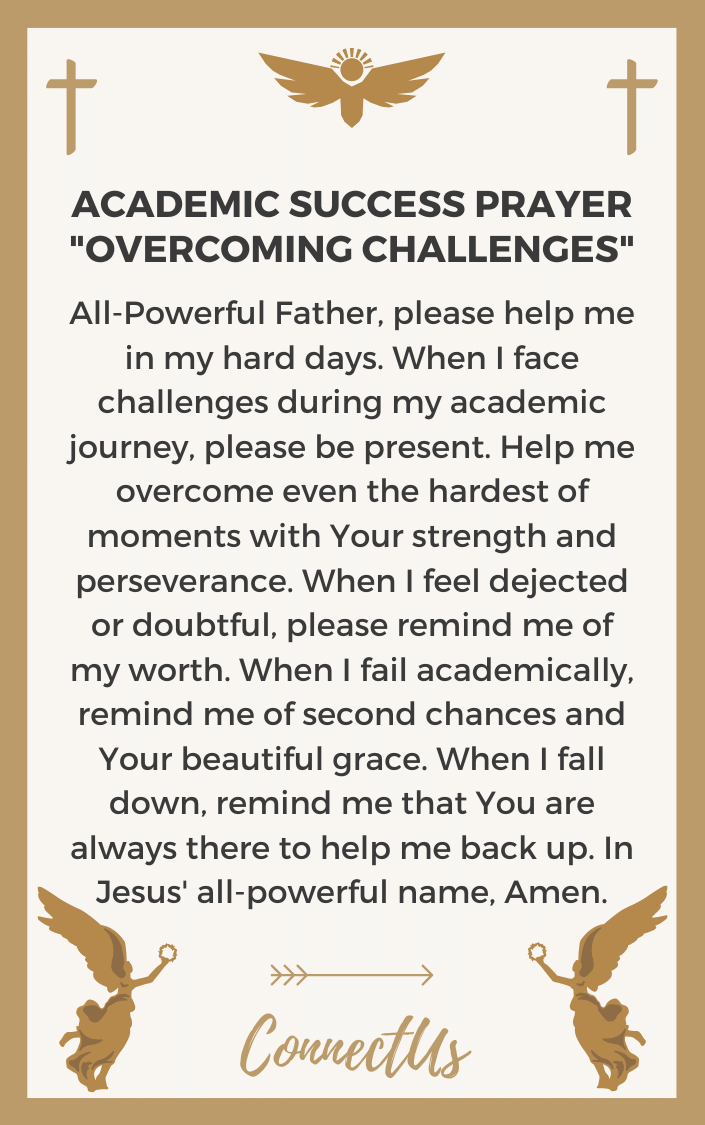 Prayer for Seeking Guidance
Righteous Savior, You have taught me to seek community within this life. I know that I can find You by finding Your sons and daughters. Please lead me to mentors and supporters during my academic journey. Help me find people to coach me, encourage me, teach me, and challenge me, as I undergo my progress towards academic success. Open my eyes to these knowledgeable people around me. May I also be supporters for them. In Jesus' glorious name, Amen.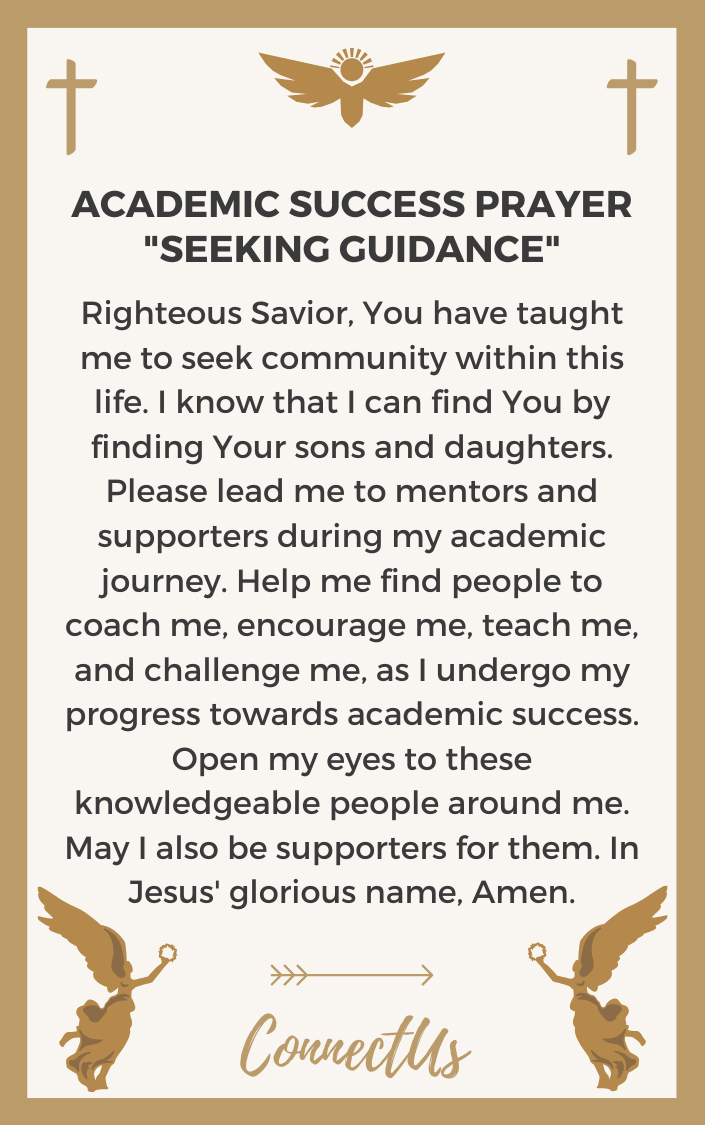 Academic Success in College
My Righteous God, I am embarking on a new season of life as I begin my time at college. I pray that my mind stays focused on the academic opportunities that exist here. I pray that my heart stays grateful for this outstanding privilege I get to learn here. Please guide me towards academic success during my time at college. May each new day in the classroom provide challenges and success. May I see Your love for me in my accomplishments. Thank You for this time to grow my knowledge. In Jesus' all-powerful name, Amen.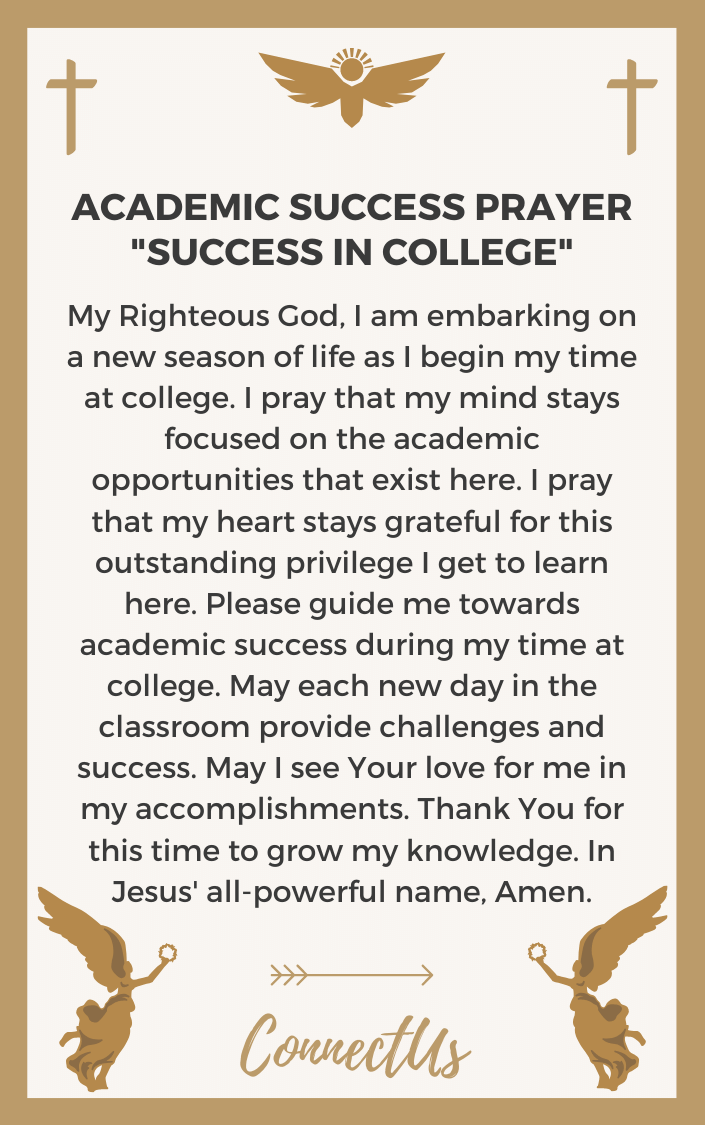 Acceptance into Graduate School Prayer
Maker of Heaven and Earth, I ask for Your almighty hand. Please support me and bring me prosperity as I apply to graduate school. You have blessed me with an exceptional education throughout my life and I want to keep learning and loving You through that journey. I know that through knowledge, I can love You and this world more deeply and with more understanding. Please take away my worries and self-doubt. Remind that I am smart and capable. I ask that You are near during this application process. In Jesus' name, Amen.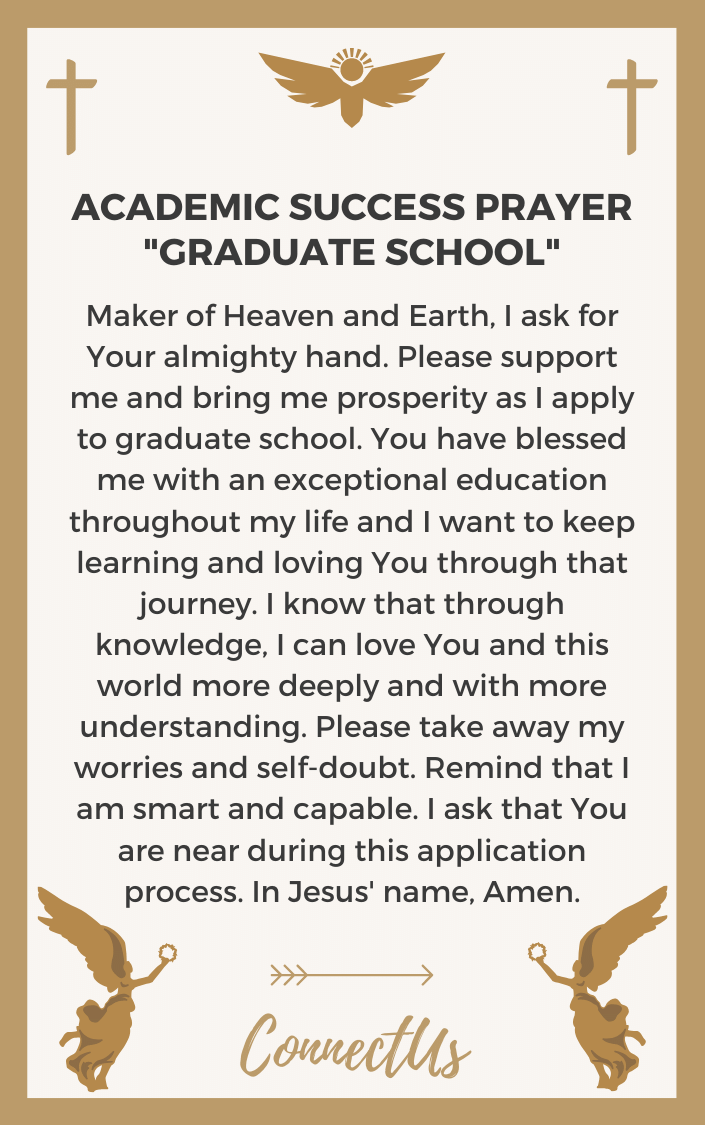 Acceptance into College Prayer
O God, my Promise-Keeper, please bless me with the beautiful and fortunate opportunity to attend college. Please take away my fear of rejection and open my eyes to Your almighty plan and direction. Please keep my studies diligent as I apply for prestigious schools. Lead me to academic success. I know that my mind is eager for achievement and more knowledge. Remind me to stay humble and kind. Please be with me as I await this next academic step. In Jesus' loving name, Amen.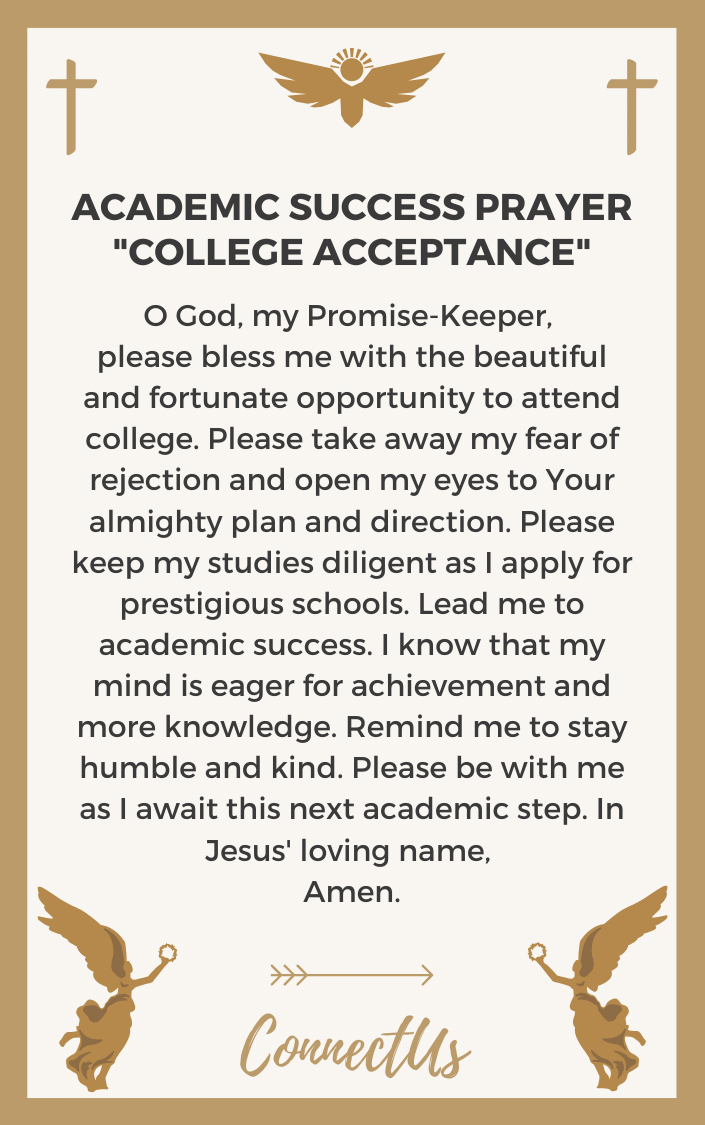 Academic Success During Hard Times Prayer
Oh God of my Salvation, my world is saturated with worry and hardship. But still, You bless me with the opportunity to achieve academic success and learn every day. Amidst these difficult times, may I still strive for academic success. May I look to You for strength and determination. May I take my studies one day at a time. I know that You are near and You will guide me out of the darkness and into great glory. In Jesus' almighty name, Amen.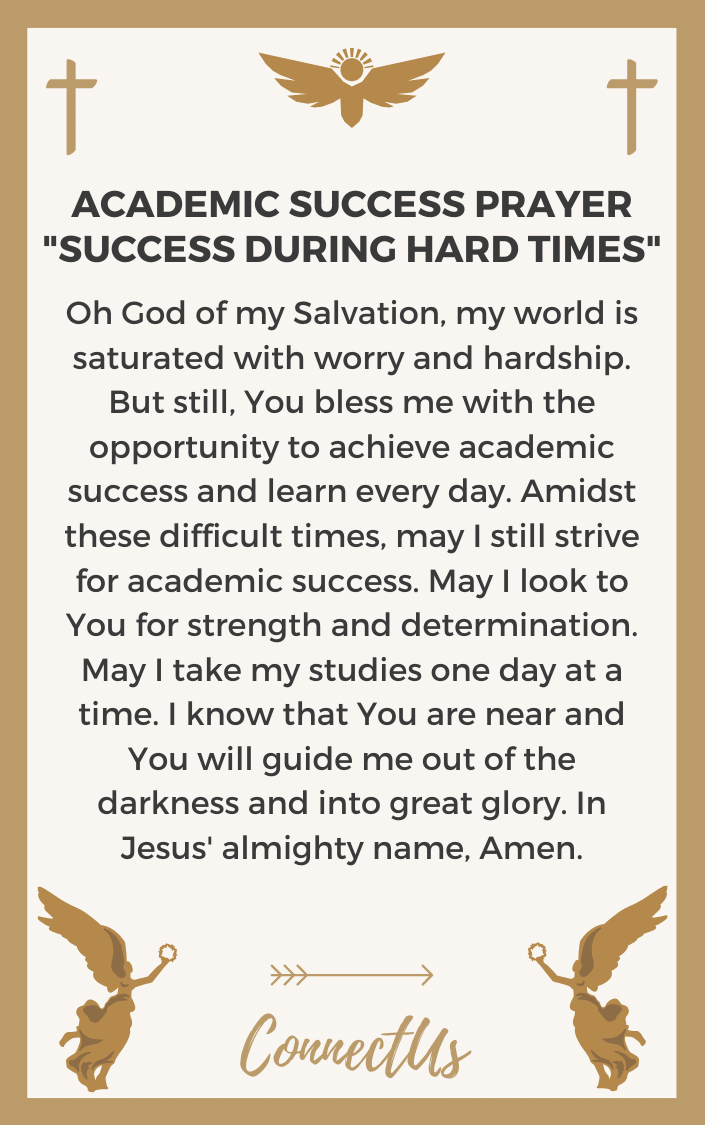 Celebration Prayer
Compassionate and Gracious God, I have learned and achieved so much through Your marvelous opportunities and gifts. Today, I celebrate all that I have learned and achieved academically. My brain is stronger, my mind is more open to knowledge, and my soul sees a world of learning moments. Thank You for walking with me during this academic journey. Thank You for bringing me success, even with times that were hard. I pray that I continue to learn and strive for academic achievement. In Jesus' glorious name, Amen.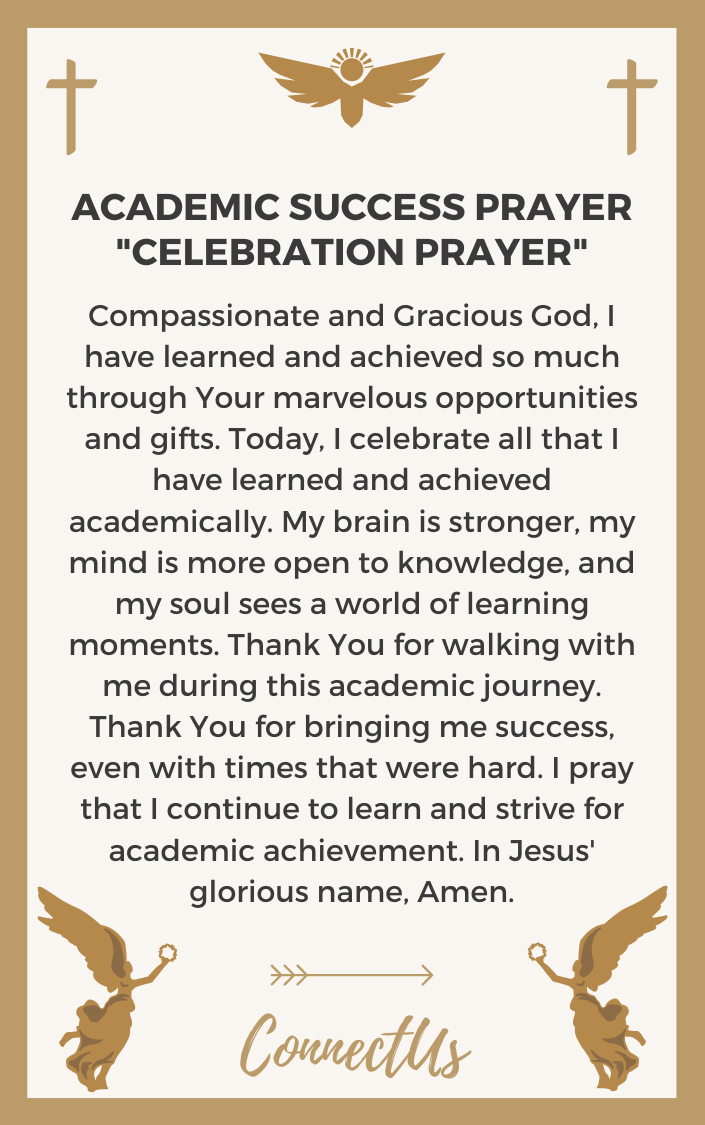 Faith in You Prayer
Lord of Enduring Faithfulness, my mind is often filled with worry and self-doubt. I want to achieve so much in school and set my goals high, but I'm scared I will fail. Strip me from these worries, Lord. Bring back faith to my mind and soul. Through faith, I know that I can achieve anything. I can find great success academically. I can strive to accomplish great victories for my mind. I ask that You make faith the center of my soul so all these things can be true. In Jesus' name, Amen.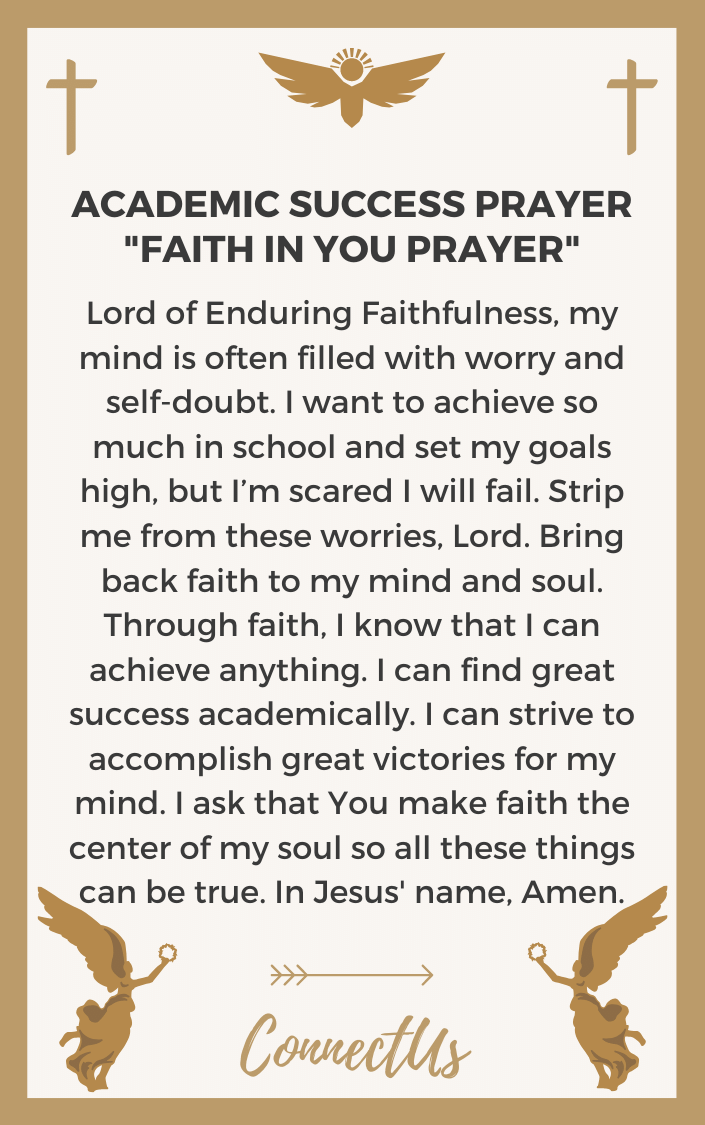 Long Term Academic Success
Almighty and Everlasting God, I have set many goals for myself. I want to achieve academic greatness and success. I know this goal will not fulfill itself overnight. It will take hard work, determination, and a fixation on Your greatness and support. Please prepare for this lifelong journey towards academic success. Lift me from my failures and celebrate me in my victories. Excite my mind for knowledge. Please join me on this path towards success. In Jesus' precious name, Amen.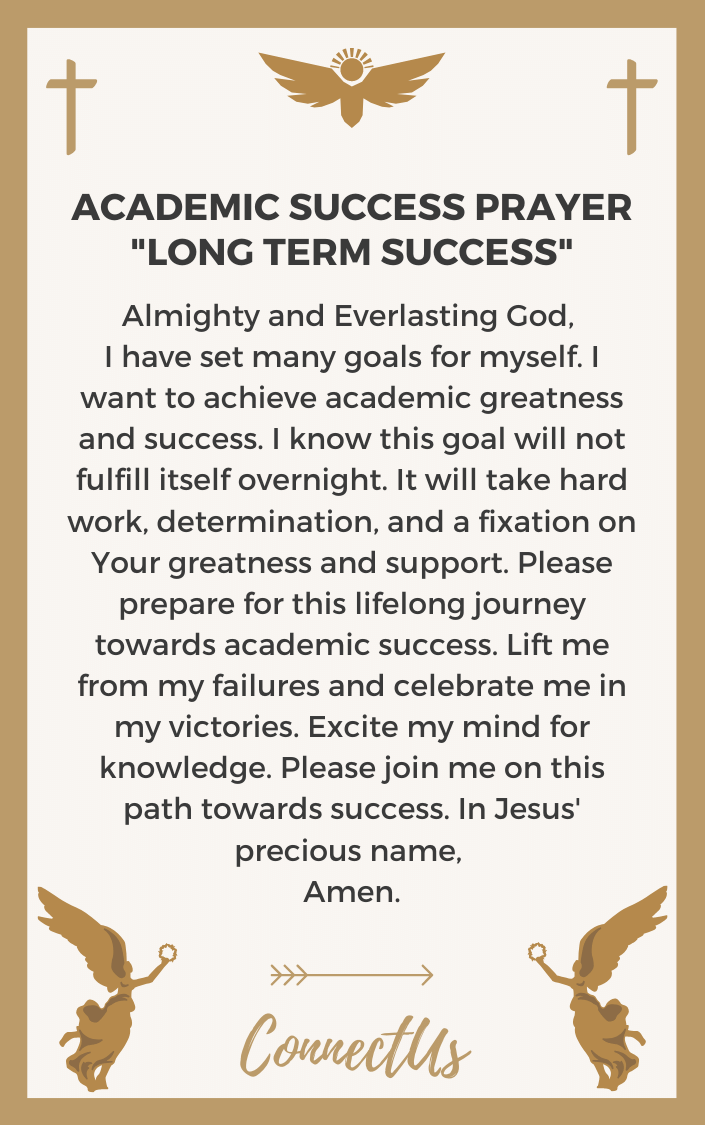 Success and Humility Prayer
All-Powerful Father, You have blessed me with so much. You have given me so many opportunities to learn and be successful with my academics. I am grateful for all of the academic victories I have fulfilled. I ask that among these victories, You humble my soul. Please keep my mind grateful and respectful to the privilege I possess. Please keep my focus on You, for You are the one who has walked me towards these successes and never abandoned me. Keep my spirit gentle and humble, Lord. In Jesus' righteous name, Amen.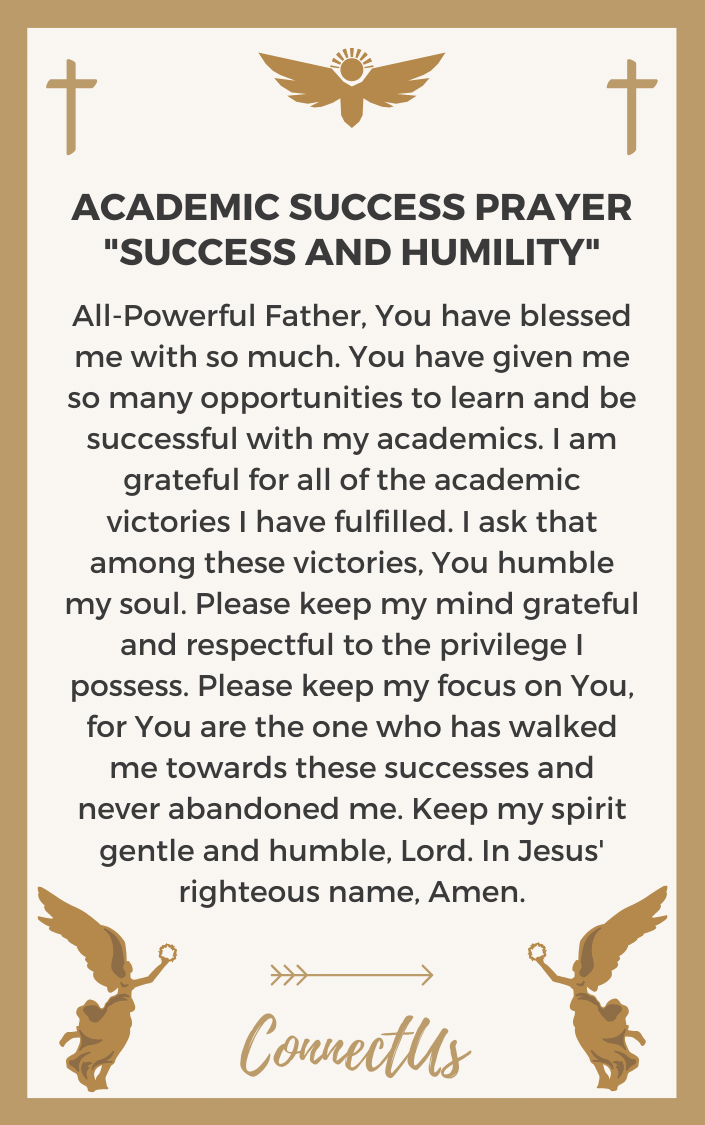 Most Popular Prayers by Topic
For Hard Times
For Financial Prosperity
For Physical Health
For Emotional Health
For Protection
For a Marriage
For Babies and Pregnancy
For Family
For Spiritual Warfare
For Spiritual Health
For a Death
For the Workplace
For Bedtime
Our 10 week prayer journal will guide you through your daily prayers and help you plan out your prayer week. It is completely free. You can
click here to get it now
.

Author Bio
Natalie Regoli is a child of God, devoted wife, and mother of two boys. She has a Master's Degree in Law from The University of Texas. Natalie has been published in several national journals and has been practicing law for 18 years.