Coming back together after being separated can feel hopeful, but it can also bring feelings of uncertainty and concern about if the issues in your marriage that led to separation have truly been resolved. Here are 11 of the strongest prayers for marriage restoration after separation along with printable images to use or share.
Prayer for Protection
Most Powerful Lord, You tell me to cast all of my concerns before You. I come to You now, laying my distressed marriage at Your feet, and asking for Your help. I know the enemy is a roaring lion seeking to devour Your children and we are no match for him. Lord God, I pray You would defend my marriage and protect it from the influence of the evil one. Reunite me with my spouse so we can again live together as man and wife should live. Deliver us from his influence and keep us safe. Amen.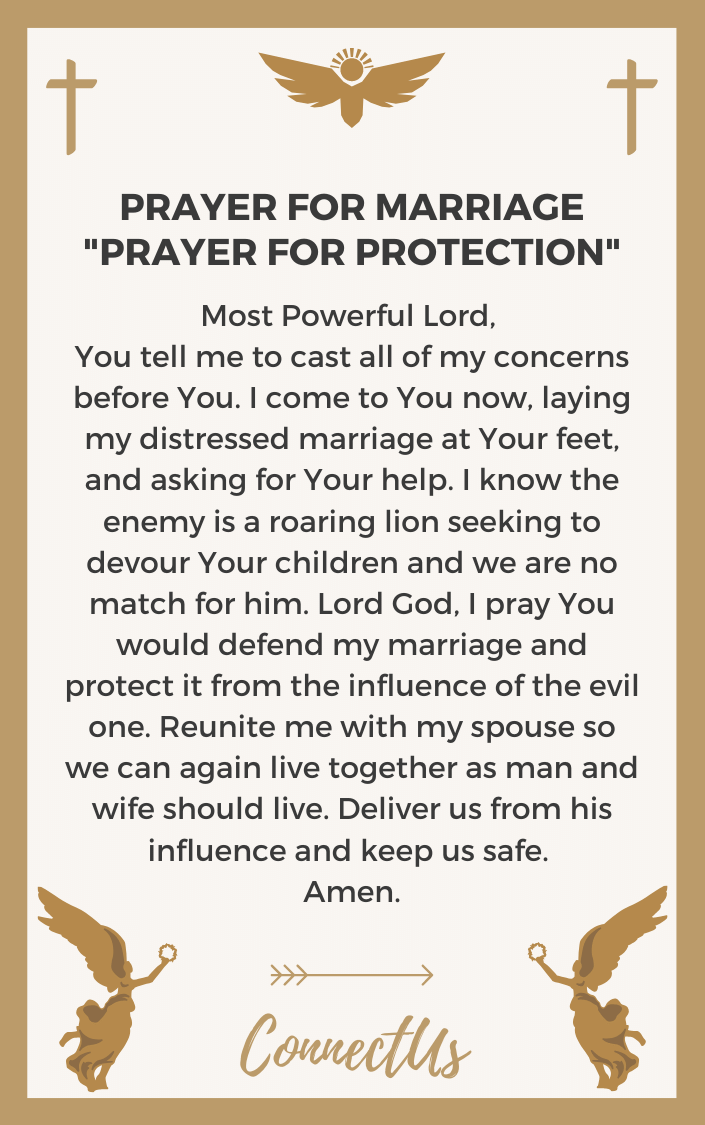 Prayer for a Changed Heart
Heavenly Father, my heart is hurting because of my broken marriage. Restoration seems impossible now that we are separated. You, Lord, told us in your holy Word that You can turn a heart of stone into a heart of flesh. For this reason, I cry out to You now. I am asking You to change the heart of my spouse so that they would want to reunite with me. I want to live together again and be united as one. Help me save my marriage Lord, please. Amen.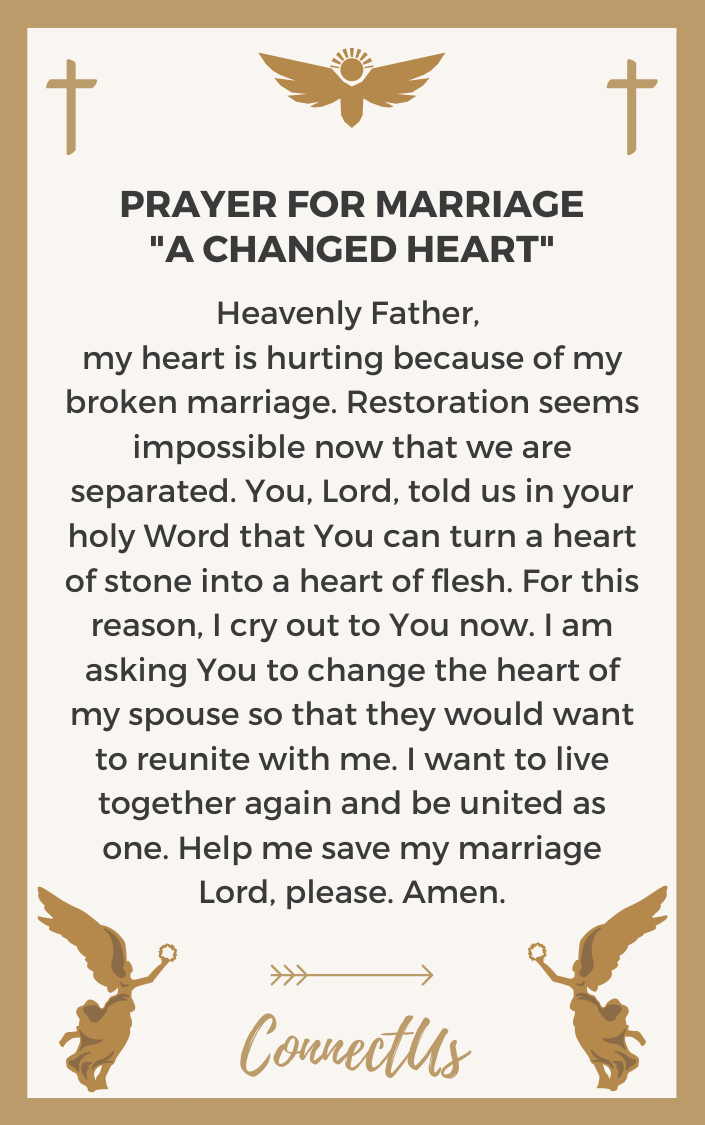 Prayer for Obstacle Removal
Gracious Lord, I come before You as a battle-weary child. My marriage is in distress, we are separated, and I desire to reunite with my spouse. Will You please go before me and remove all obstacles that are blocking our reconciliation? You always made a way out for Your children when there was no other way. The way out to reconciliation is what I am asking for now, be my way maker. Create a clear path to reconciliation. Amen.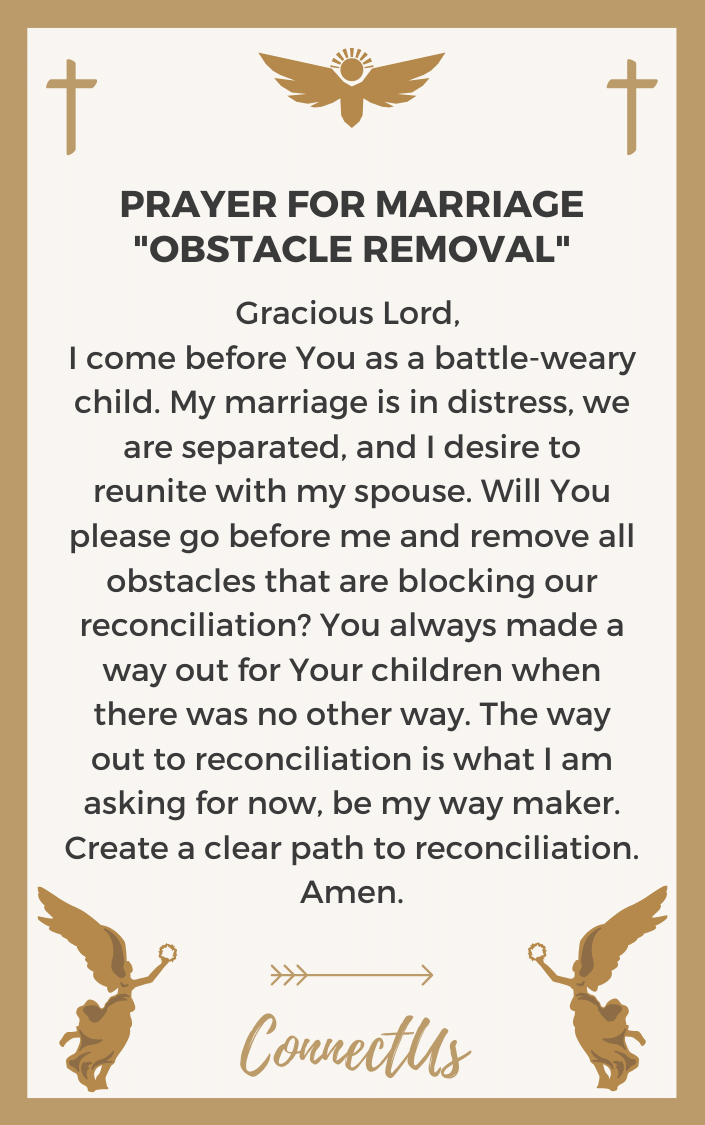 Prayer for a Clean Heart
Jesus, my Savior, please remove all the enemy's lies I have believed and help me to focus on what You want to show me during this trial. You instruct me to ask for a clean heart, and I feel weighed down by my own condemning heart. Show me things in me that don't honor You and help me to remove them. With You, I know I can continually reflect Your love as I walk through these difficult days. Amen.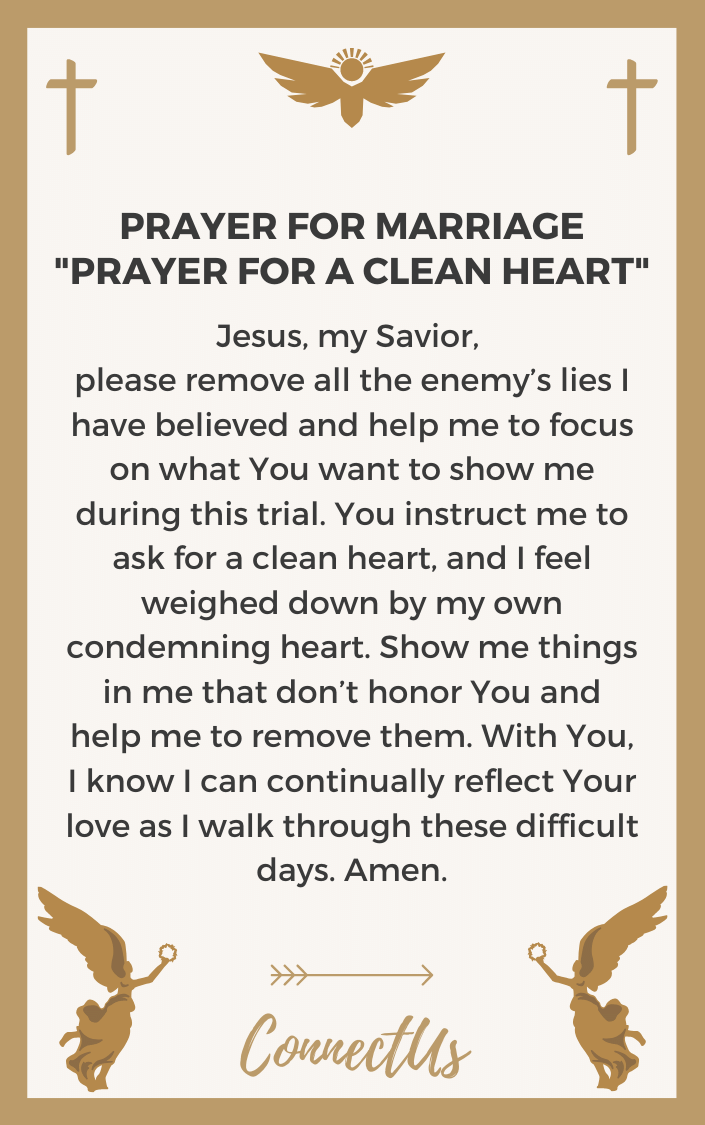 Prayer for Marriage Restoration
Blessed God, You created marriage between a man and woman for Your purpose and will. I am asking You, Lord, to please restore my marriage. The way we are currently living apart from one another is grieving Your Spirit. I pray that You would help me find the way back to where my marriage brings glory and honor to Your name. I pray that we can live a life together on this planet that honors You. Intercede on behalf of my marriage, Lord, and bring the reconciliation I seek. Amen.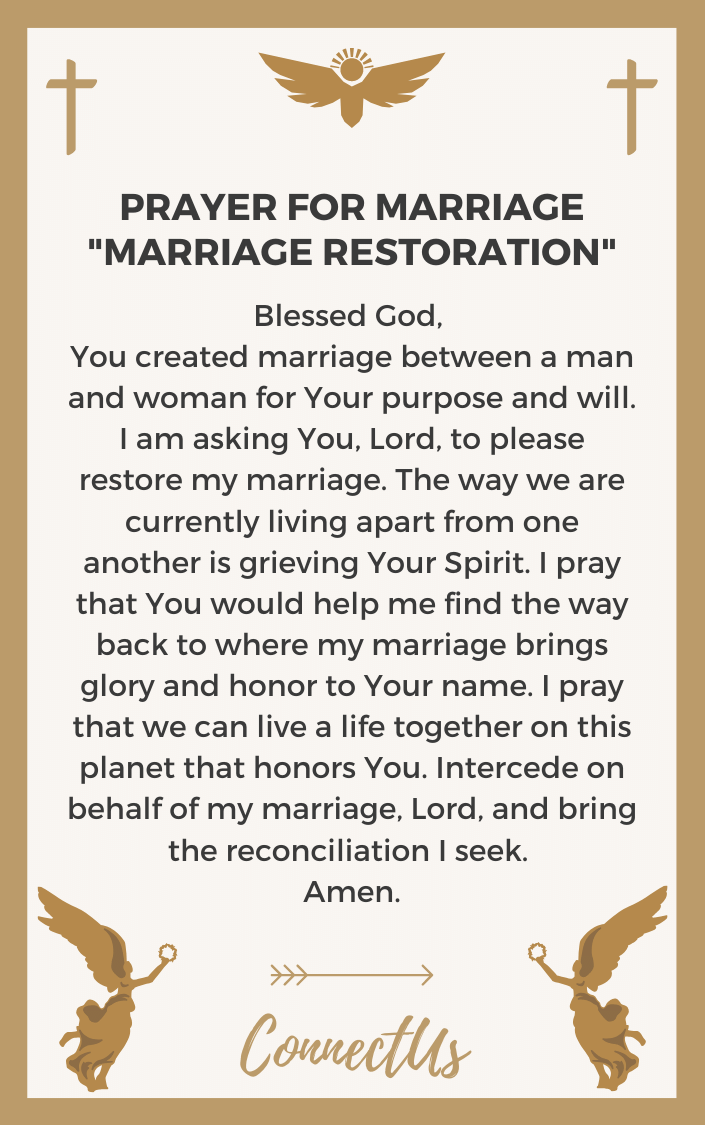 Prayer for Words to Speak
Precious Holy Spirit, throughout history You have given Your children the words to speak in crucial moments in their lives. As Your child, I am asking for the same thing. Give me words to speak, which will help in restoring my marriage and bring me back together with my spouse. Help me, Lord, not to talk out of the rawness of my emotions, but to speak only things that will honor You and bring the restoration I desire. Amen.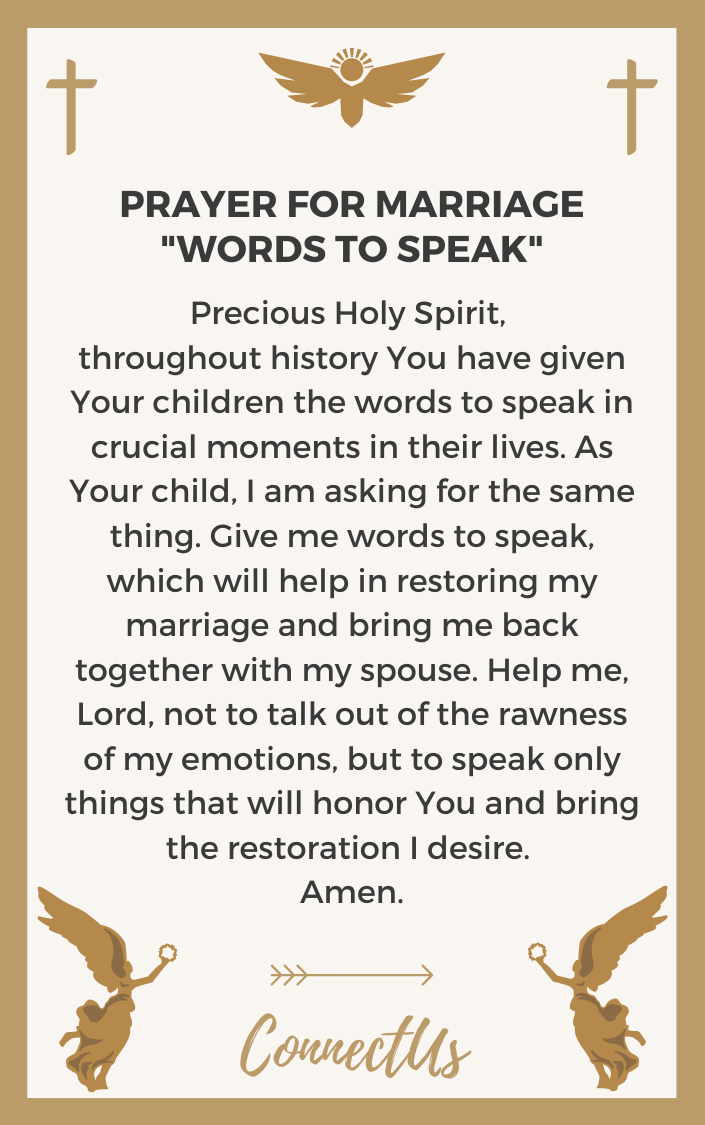 Prayer for God's Intervention and Will
Faithful Father, from the beginning, the union between a man and a woman has been a sacred thing to You. I come confessing my absolute dependence on Your holy passion for marriage to be poured out on mine. I ask for Your intervention to resolve my marriage's issues and bring us back together living under one roof again. I humble myself before You and commit my life to Your will for the restoration of my marriage. Amen.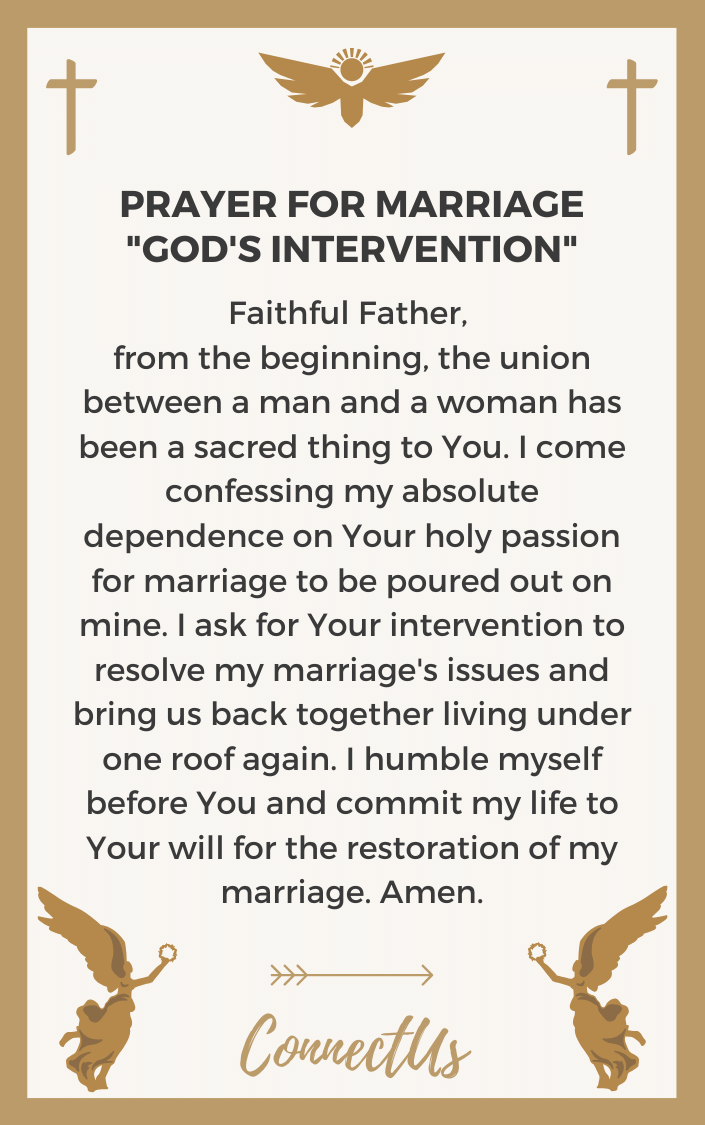 Prayer for the Breaking of Barriers and Obstacles
Precious Lord and Savior, your holy Word is a prophecy of how You made the way for my salvation through the sacrifice of Jesus on the cross. I am asking You to prepare a straight path to restoration for my marriage. Please remove all our obstacles; hurt, guilt, shame, pride, and whatever else hindering our restoration. Please unify us once again, so that we may live together as man and wife. Amen.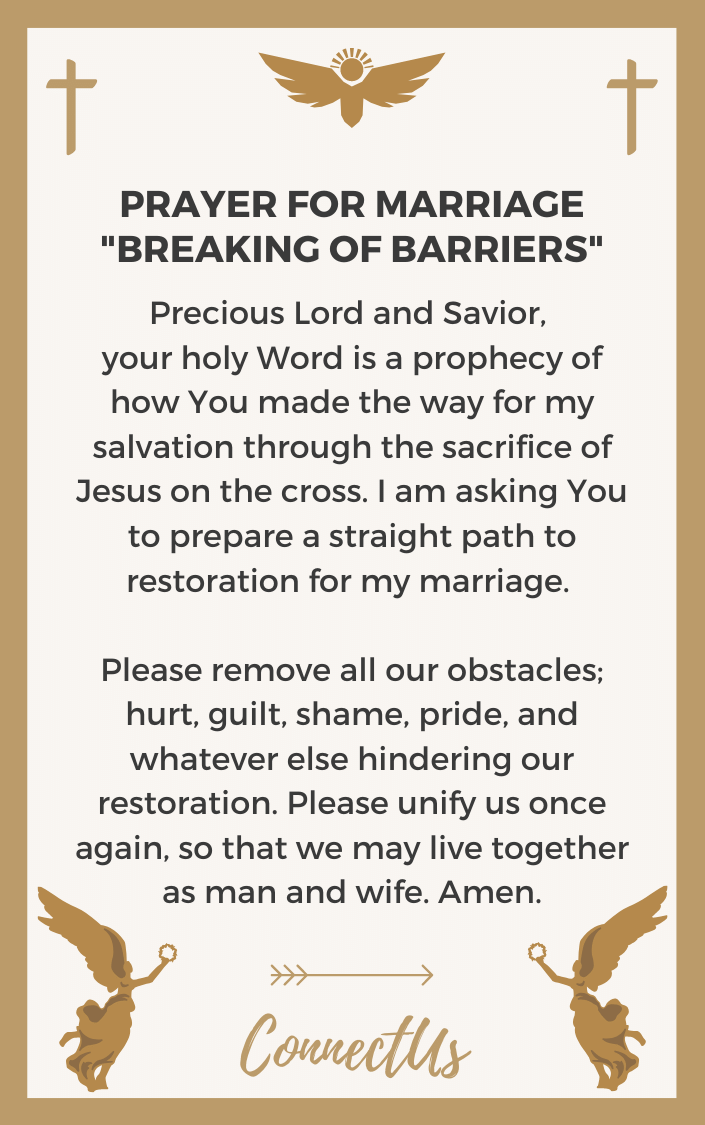 Prayer for Favor
Sovereign Lord, Esther obtained grace and favor in the sight of the King. Lord, this was Your work and was for Your purpose. I am asking if You would please do the same for me now. Would You please grant me grace and favor in the eyes of my husband? Bind our hearts together as one and reunite us. Please give my husband eyes for me only so my marriage's restoration can begin. Amen.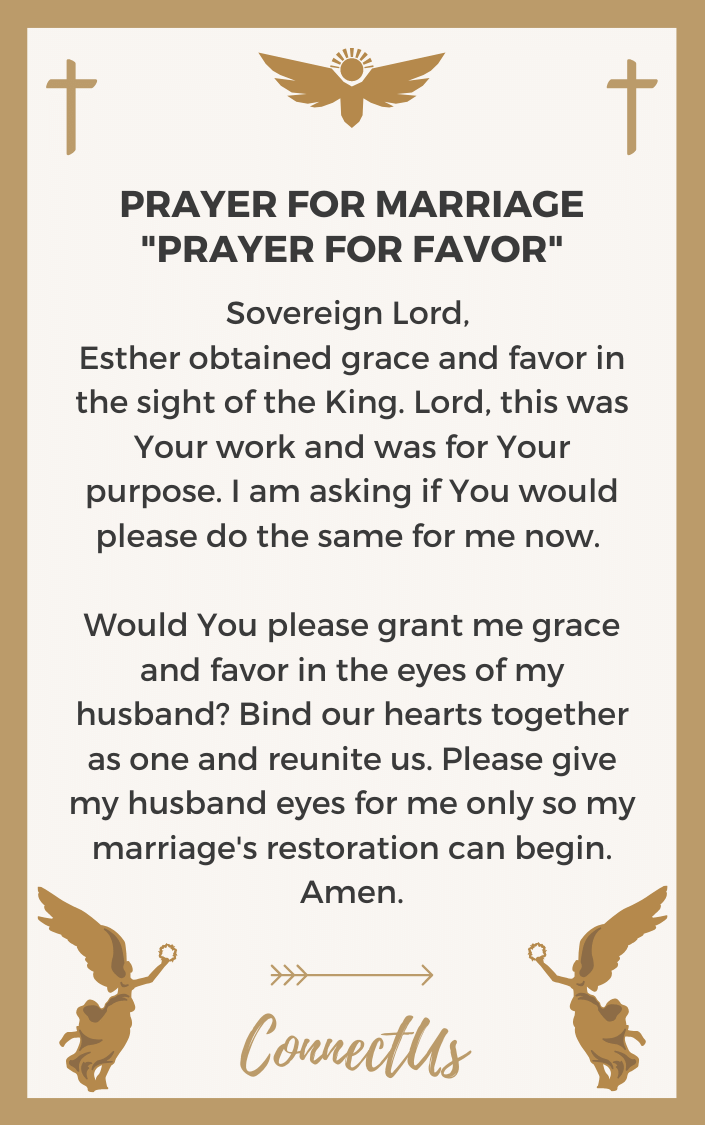 Prayer for Acceptance of the Lord's Timing
Merciful and Loving Father, Your timing is perfect. I have prayed in earnest for my marriage's restoration. I am separated from my spouse and I confess, Lord, that my heart grows anxious waiting for Your response. You tell me not to worry, but commit my way to You and to trust You. Lord, I need Your peace now. I trust You, but my flesh is weak. Strengthen me to stay the course You have set before me. Amen.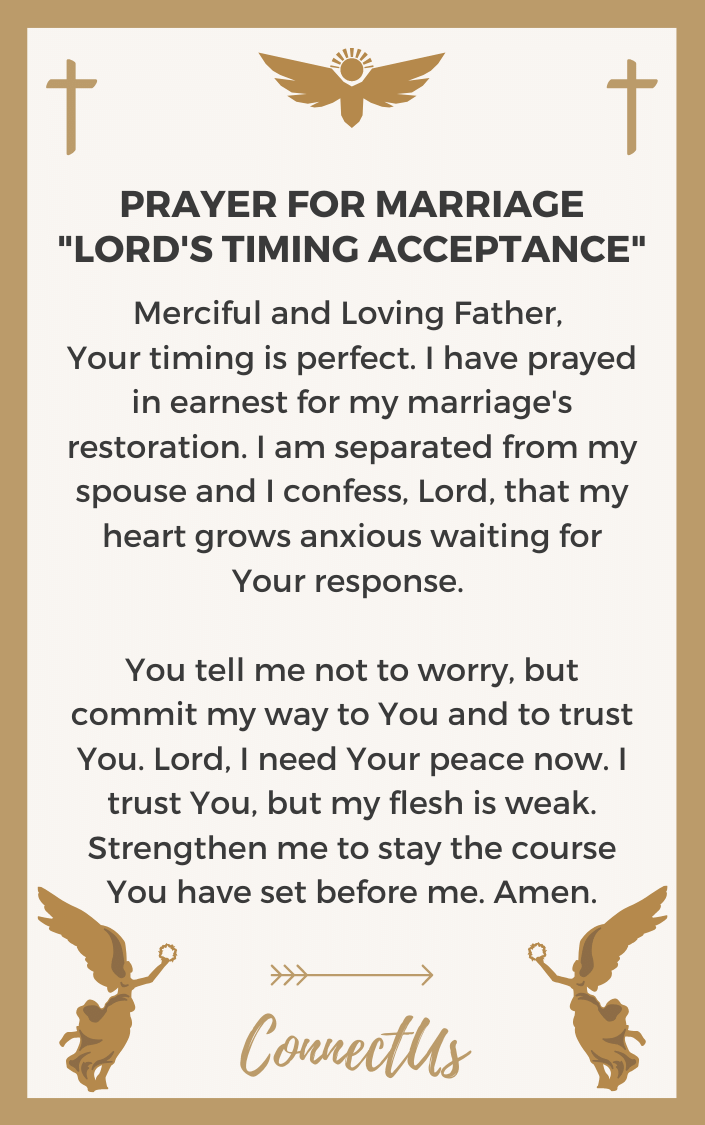 Prayer for Faith
Gracious Lord, I feel as though my faith is like the faith of the father who prayed for his son in the Bible. I gave my marriage problems to You, just as the father gave his son's illness. His lack of faith is seen by the small word "if" in his request, and I can recognize my wavering faith in my own prayers to You. I know You can heal and restore my marriage, but my faith is weak. Please increase my faith, Lord, and reunite me with my spouse soon. Amen.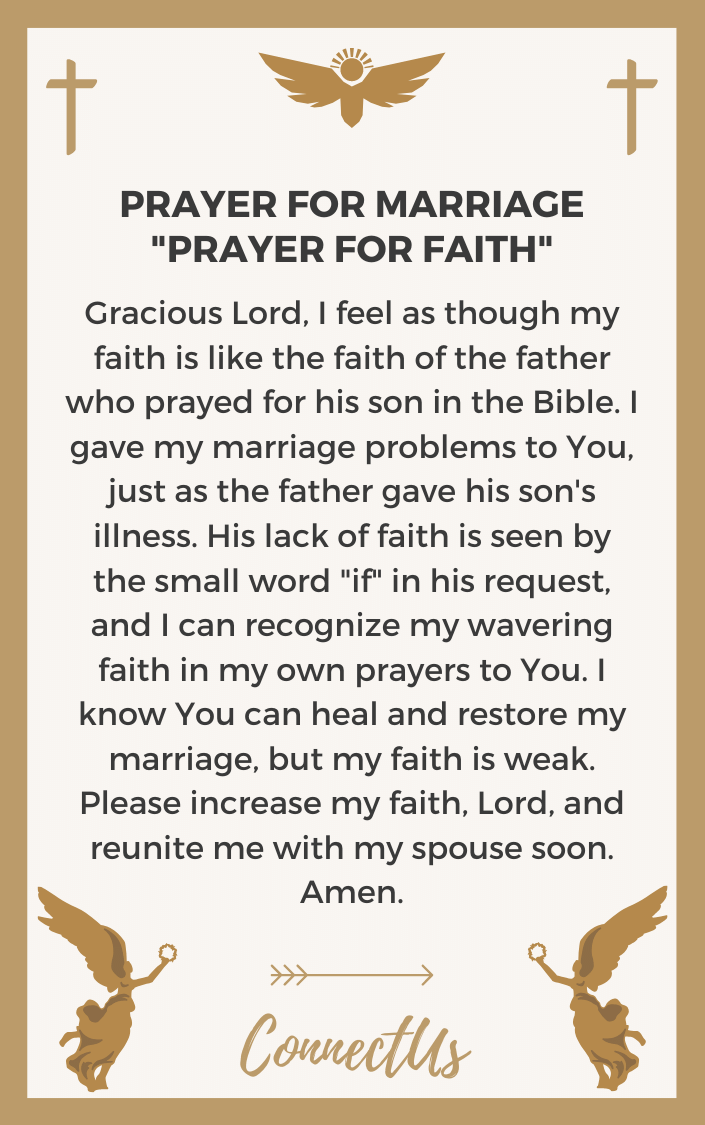 Most Popular Prayers by Topic
For Hard Times
For Financial Prosperity
For Physical Health
For Emotional Health
For Protection
For a Marriage
For Babies and Pregnancy
For Family
For Spiritual Warfare
For Spiritual Health
For a Death
For the Workplace
For Bedtime
Our 10 week prayer journal will guide you through your daily prayers and help you plan out your prayer week. It is completely free. You can
click here to get it now
.

Author Bio
Natalie Regoli is a child of God, devoted wife, and mother of two boys. She has a Master's Degree in Law from The University of Texas. Natalie has been published in several national journals and has been practicing law for 18 years.