We have so much to be thankful to God for, including the fact that He chose to wake us up today to experience another beautiful day of life. Here are 12 strong prayers for thankfulness. Along with the prayers are printable images for you to use or share.
Thankful for Life Prayer
Dear God, I am grateful for this wonderful gift of my life that you have blessed me with. It is ripe with chances and choices I can make with it. The many things I can learn. The awe-inspiring sights I can see. The delightful sounds I can hear. The different people I can meet. There are many beautiful things in this life you have given, along with its many paths I can travel. I am alive with the will to think and act, and I thank you for such a blessing. Amen.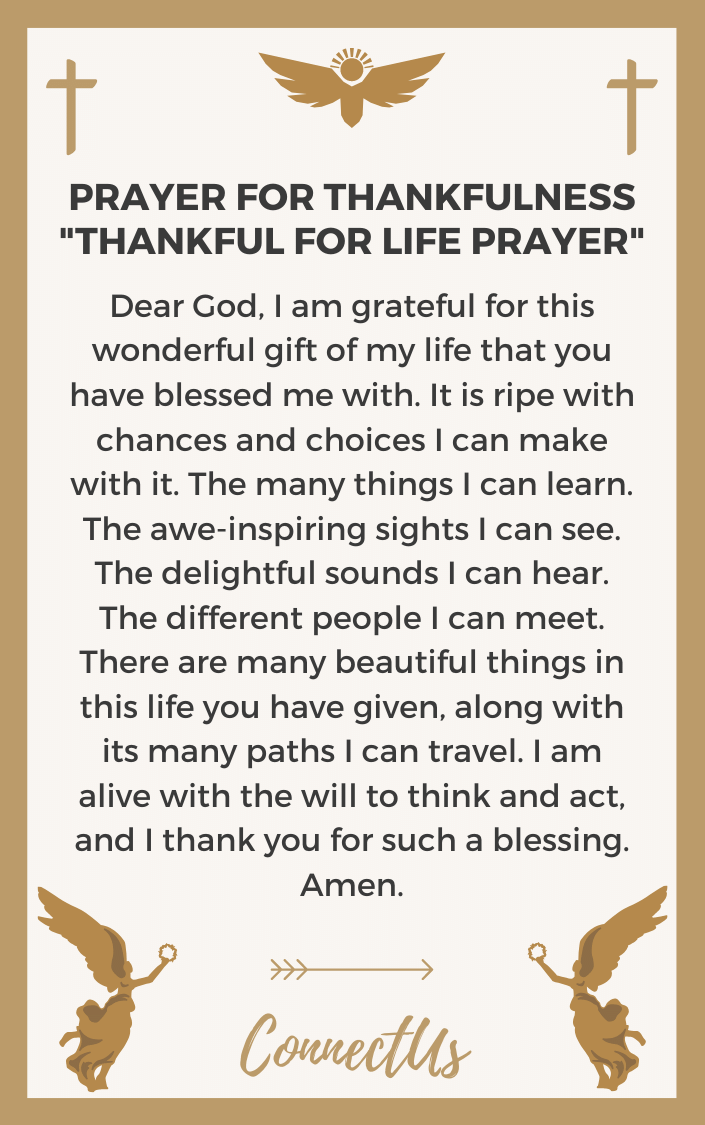 Thankful for Family Prayer
Dear Father, I am blessed. I have a family who loves and cares for me. I am thankful for the many lessons I have learned from them. I have a kind father, who is always there to advise me in life when I need it. I have an understanding mother, who is always willing to listen to my troubles. I have brothers and sisters that are always thinking of me, and never fail to put a smile on my face. I thank you, my dear God, for blessing me with such a family. Amen.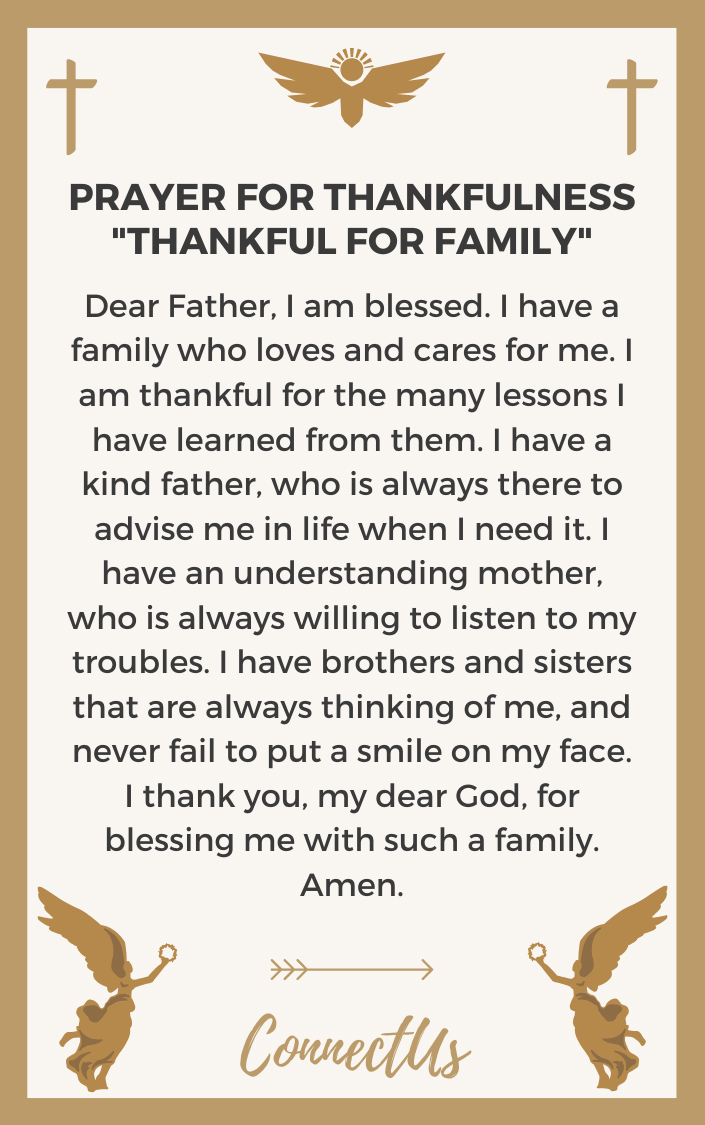 Thankful for Friends Prayer
Dear Lord, I want to thank you for my friends. I can share my interests with them with no fear or worry. I can talk to them about anything, and I know they will listen, whether it will be a serious conversation, a helpful suggestion or playful teasing. They're faithful, they're there to back me up and support me when needed. They are fun and give me moments marked with laughter and excitement. So thank you, God, for giving me these dear friends of mine. Amen.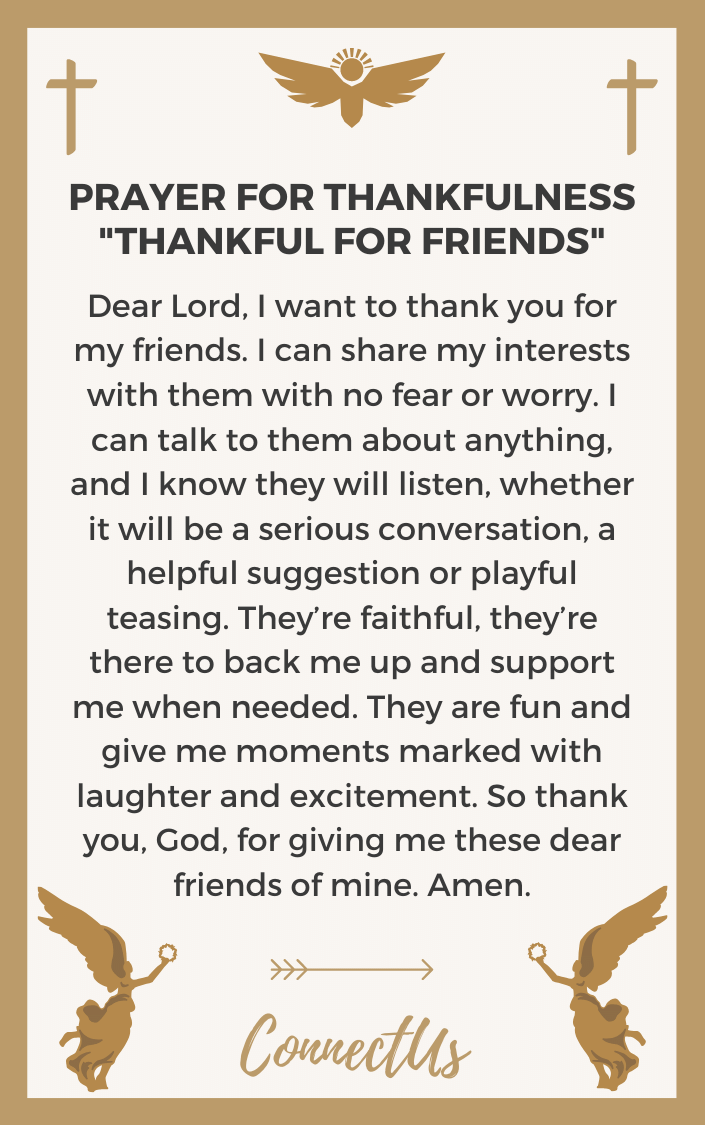 Thankful for Fruitful Relationships Prayer
Loving God, I am grateful for the relationships you have brought into my life. From family to friends, co-workers, peers, and acquaintances – I thank you for each one. My relationships with them grow daily and will grow even stronger through each experience we have together. I thank you, God, for the dear friends I've made and the friendships that continue to flourish. I have learned and grown with and through them. There are many things yet to learn and bonds to form, no doubt. And for that as well, I thank you, Father. Amen.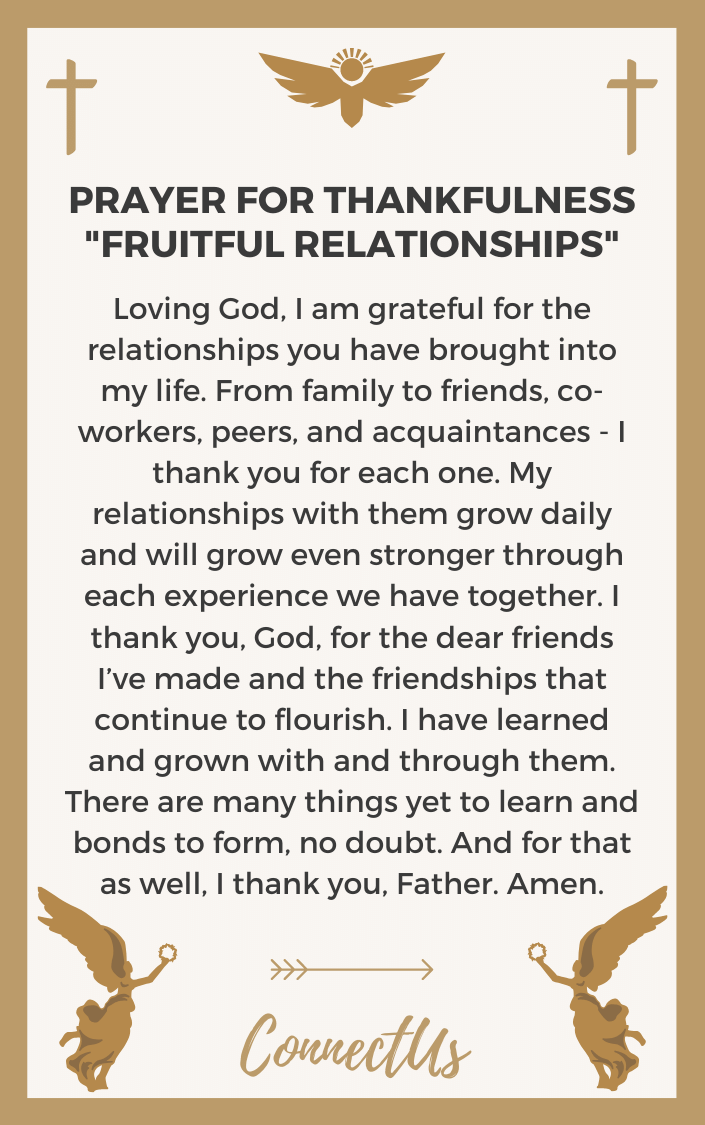 Thankful for Provisions Prayer
Heavenly Father, You are always providing for me in some way. I have clothes to warm me and act as a protective covering. When I am hungry and thirsty, there is always food and drink to nourish me. The roof over my head is there to shield me from the burning heat of the sun, the raging storms and the bitter cold. Your holy Word fills my soul and keeps my eyes focused on You. I thank you, Lord, for providing all of this for me. Amen.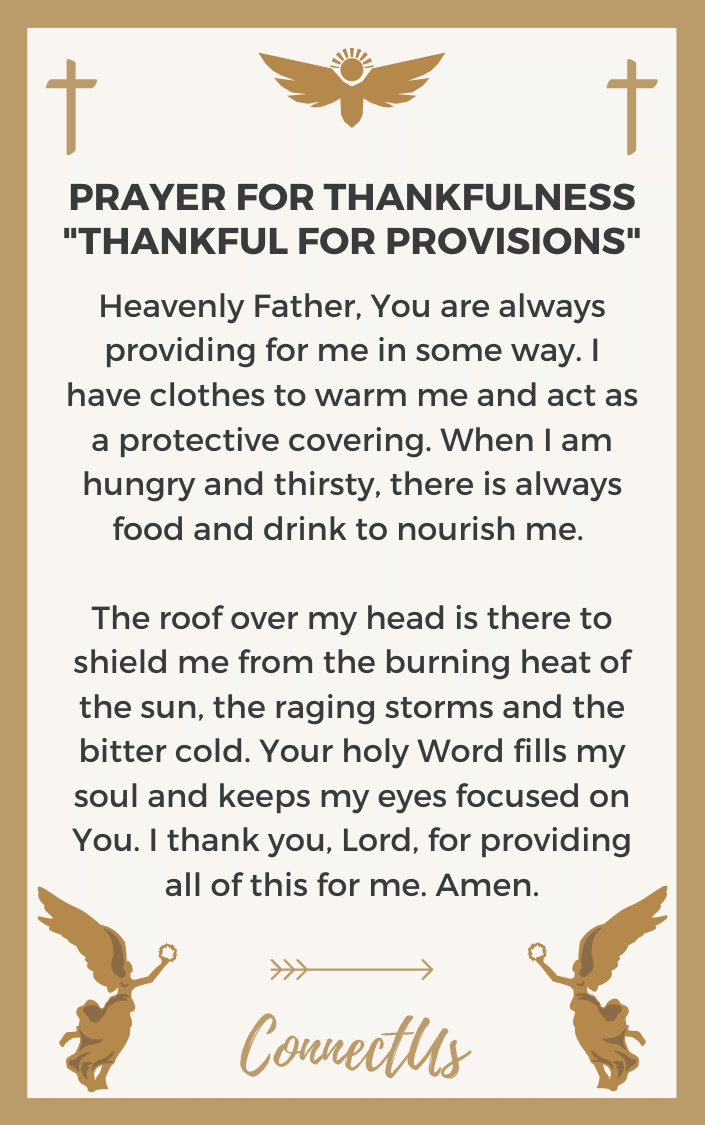 Thankful for Success Prayer
Gracious God, Thank You for all the success – for every milestone reached, for every project completed, for every goal met. Your Word promises success and prosperity to those who honor You and depend on You for guidance. Help me to keep pursuing a life that pleases You. With Your wisdom I know I can make the right decisions. With Your strength, I know I can keep trying until I get things right. So, thank You, Father. In every step, I know You will be there to bless me and see me through. Amen.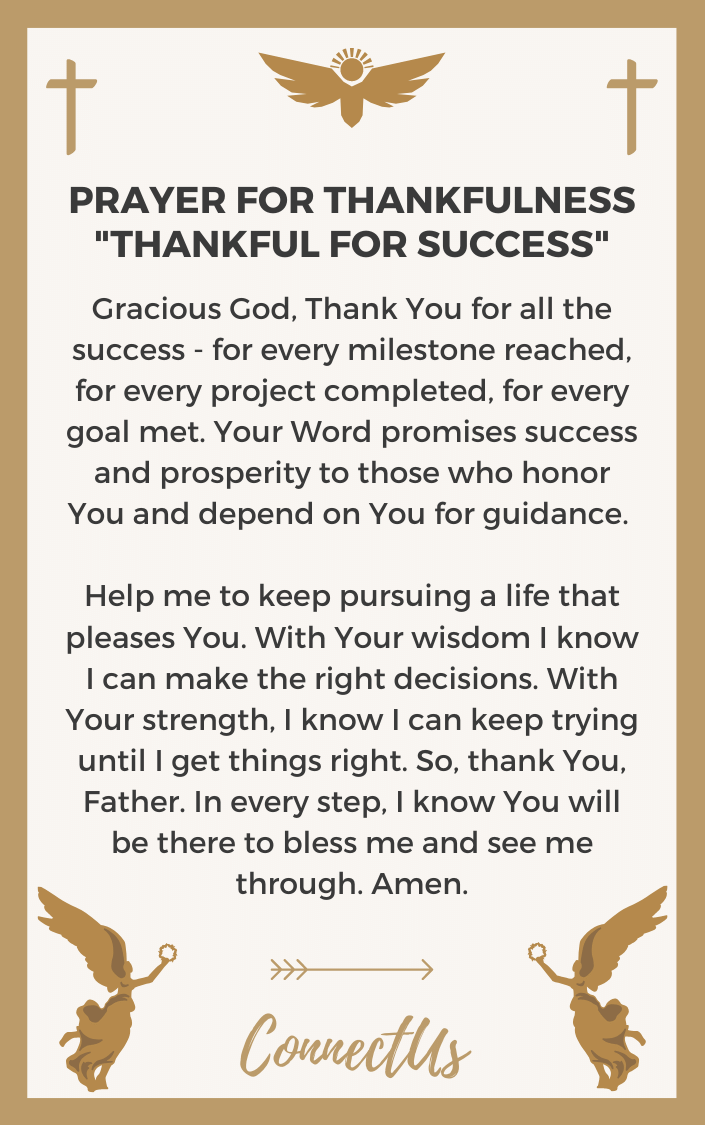 Thankful for Strength Prayer
Dear Father, Thank You for the strength You give to me. In You, I can brave through the difficulties of life. In You, I can stand tall during my various trials. I know that I am moving through and past these hard times, however slowly. It is because of You that I have the strength to carry forward. Even when I tire and my body collapses with exhaustion, through you I can find the will to continue. Thank You, Lord, for giving me the strength when I need it. Amen.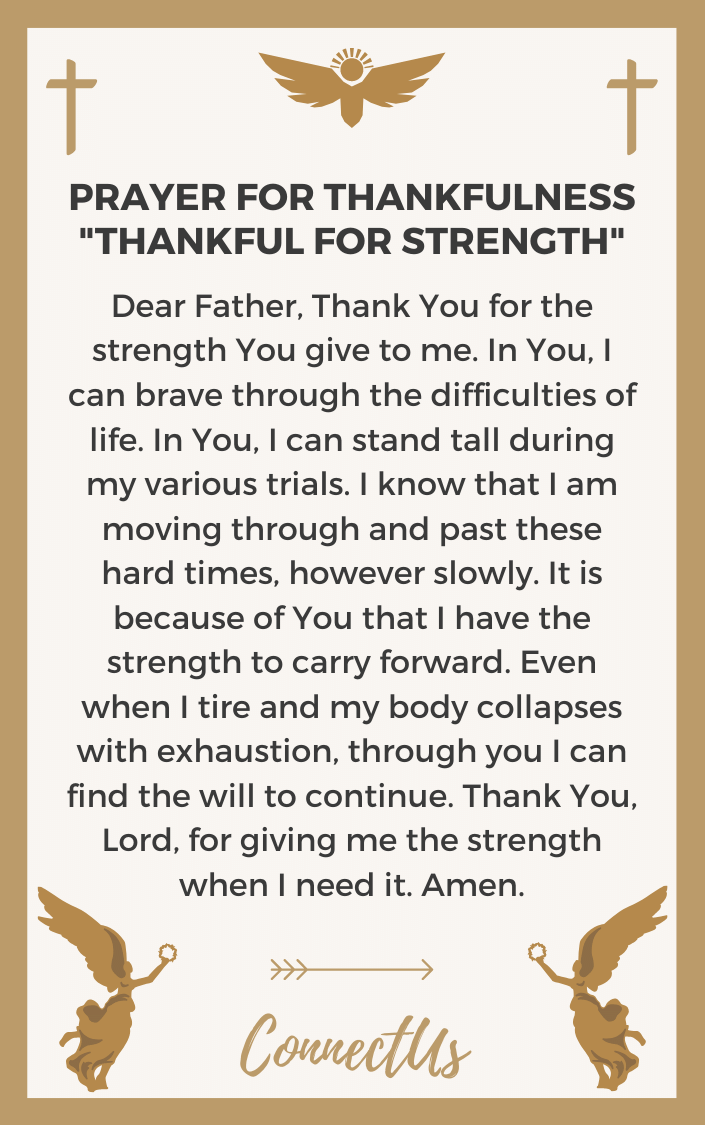 Thankful for Good Health Prayer
My God, Today, I am grateful for my good health. I can move to where I need to go, process with mental clarity, and communicate with ease. You have blessed me with a well-nourished and functional body. I can do what I will to my heart's content, and you, God, is who I have to thank for that. Illness and injuries come and go, but with your protection and care, I can recover in time. Thank you, Lord, for my continuing good health. Amen.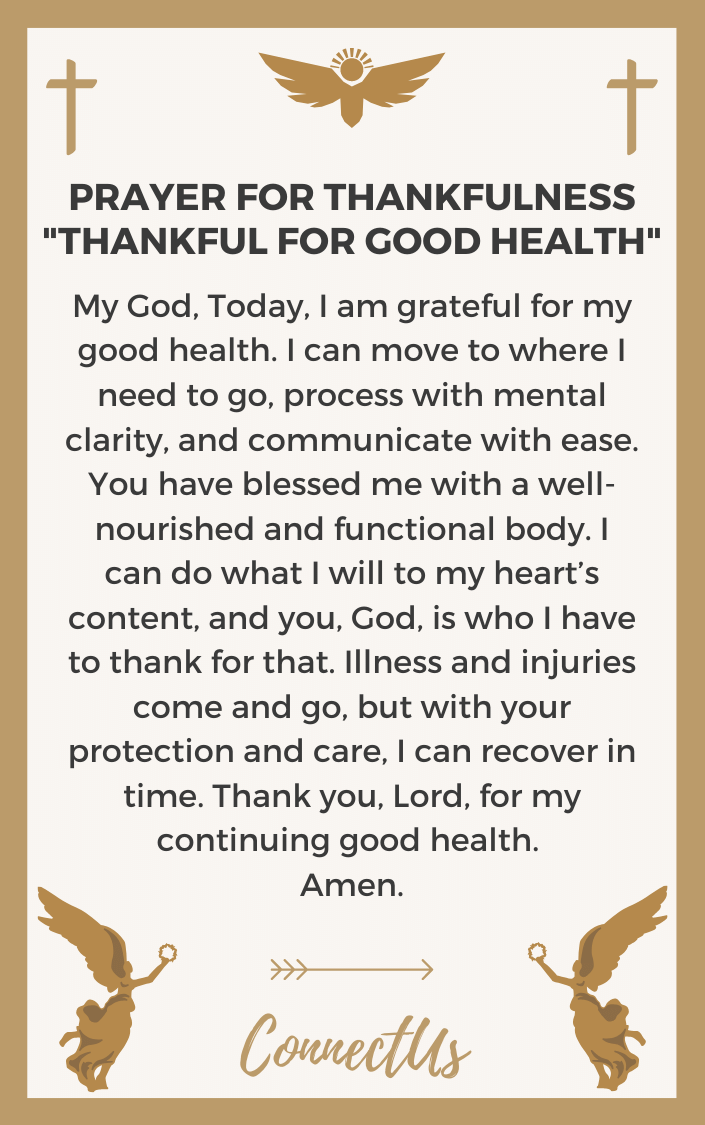 Thankful for Safety Prayer
Dear Father, I am here today, well, alive and safe. And so are my family and friends. This continued safety is all because of You. Indeed, troubles may lay ahead, just as there are troubles right now. In this broken world, that is something that will not go away. In this imperfect life, one must expect such troubles to come. But, oh God, I can smile, knowing that You are there. This world is in turmoil, but I will put my trust in Your plans, I will trust in You. Amen.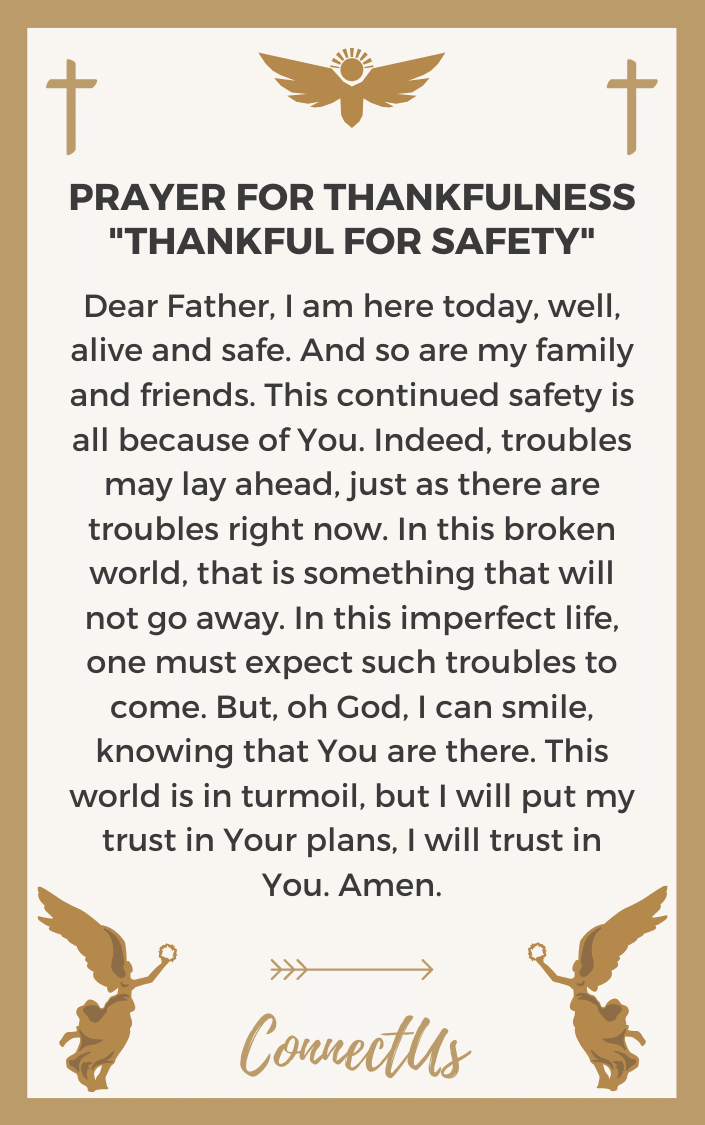 Thankful for God's Word Prayer
My God, Oh, Your Word is so crucial in our lives. I am always thankful that You instructed the Bible to be written all those years ago. It teaches us fundamental truths and helps guide us as we go about our lives. Surely, reading more of it will well equip us for life. And, in constant meditating, there is always so much more to notice and learn. You have blessed me, my God, with life-changing and empowering lessons I have learned and will continue to learn from your Holy Word. Amen.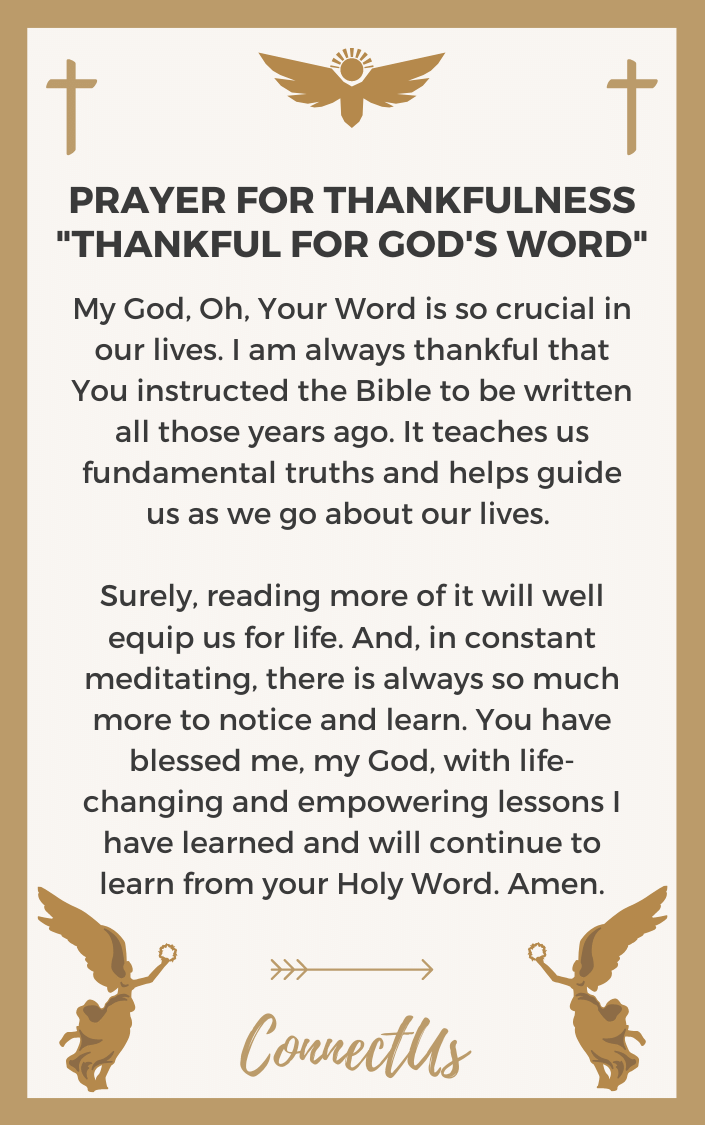 Thankful for Having God in My Life Prayer
My Promise-Keeping Father, Thank you for being in my life. I fully know that I am not doing this alone. You are there to share in my joys and troubles. I can feel Your love and support as I face the ups and downs of life. You give me peace of mind. In You, I feel satisfied with my life. I feel content in my current situation. You watch over my ways and You guide me. I have a bright future to look forward to, in this life, and most importantly, in the next with You. Amen.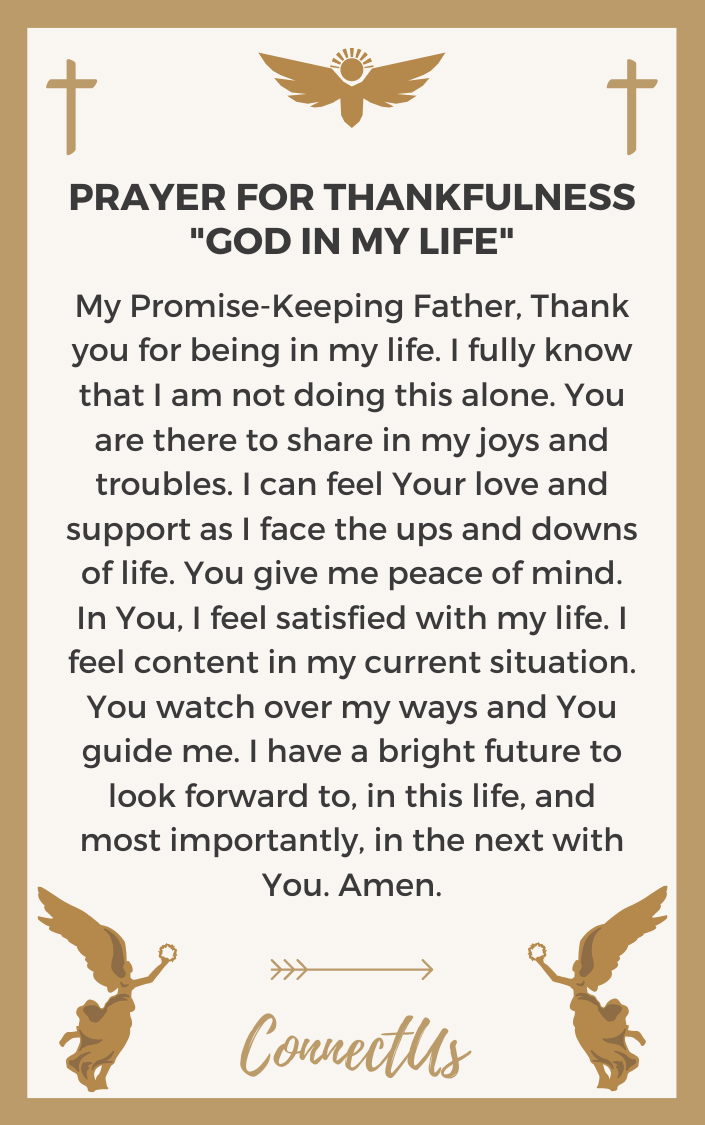 Thankful for True Love Prayer
Loving God, I am full of awe and gratefulness, for I have learned of the most precious kind of love. It is patience and kindness. It is loving without fail, without conditions. I did not find it in the proud one's eyes looking down on me, nor in their puffed-up chests. It is not in the hidden jealous sneers or the wrathful glare in someone's face. I learned true love when You bestowed it upon mankind. From You, I freely and consistently experience the ultimate kind of love. Because of You, I can learn to share the same with others. Amen.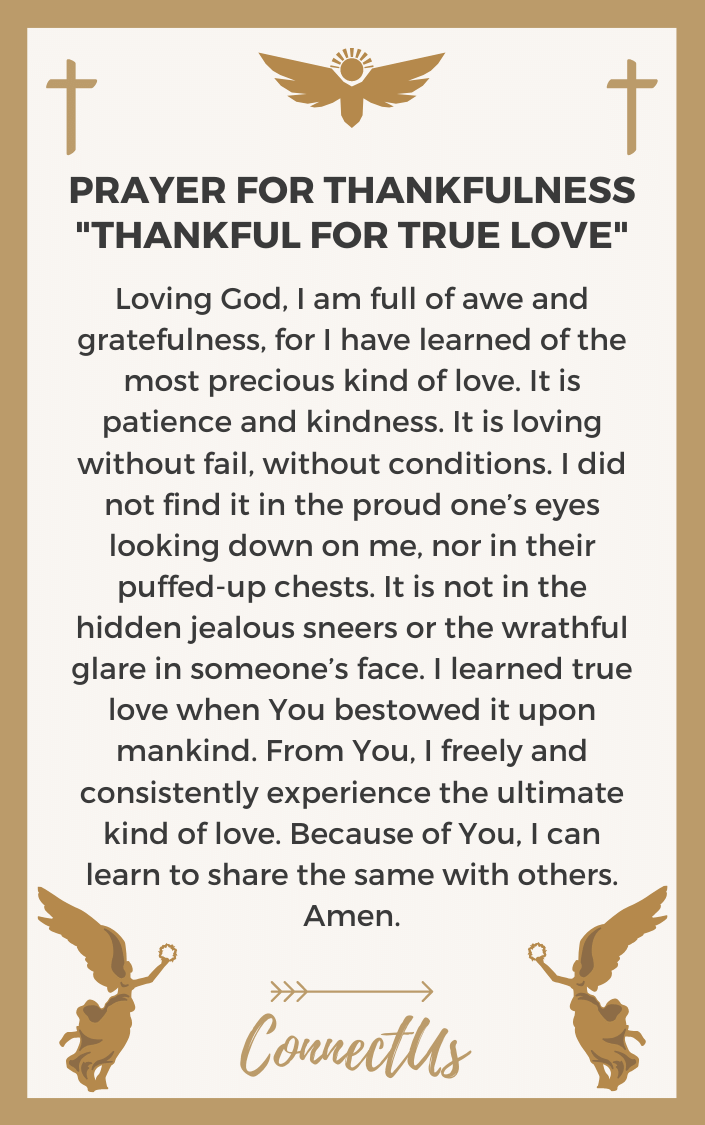 Most Popular Prayers by Topic
For Hard Times
For Financial Prosperity
For Physical Health
For Emotional Health
For Protection
For a Marriage
For Babies and Pregnancy
For Family
For Spiritual Warfare
For Spiritual Health
For a Death
For the Workplace
For Bedtime
Our 10 week prayer journal will guide you through your daily prayers and help you plan out your prayer week. It is completely free. You can
click here to get it now
.

Author Bio
Natalie Regoli is a child of God, devoted wife, and mother of two boys. She has a Master's Degree in Law from The University of Texas. Natalie has been published in several national journals and has been practicing law for 18 years.