Our prayer for our children is that they grow up to be lights in the world, living out and spreading the words of Jesus Christ. Here are 16 powerful prayers for a son along with printable images to use or share.
Prayer for a Transformed Mind
God Most High, I ask that You move strongly in my son's heart and mind. May he devote himself to worship and giving of himself wholly to You as a living and holy and acceptable sacrifice. Holy Spirit, please guide my son away from the behavior and customs of this world. May he submit himself to You to be transformed into a new person, by changing the way he thinks. May he learn Your good and pleasing and perfect will for him. Amen.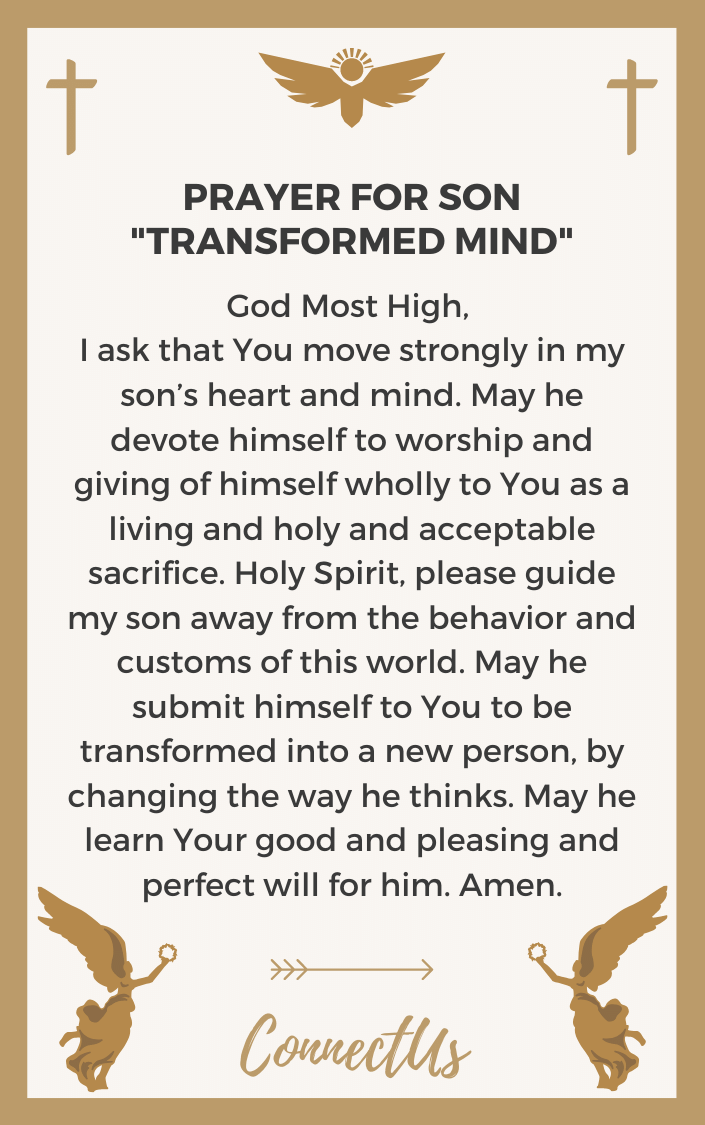 Prayer for Wise Choices
Oh Lord, my Shield, may Your Holy Spirit teach and influence my son in making wise choices for his life. May he be prudent in how he uses his time, giving priority to what is important, and not wasting his time on unprofitable or harmful activities. May he choose his friends with care, and may they make good choices in how they spend their time together. Most importantly, may he carve out time each day to spend with You. Amen.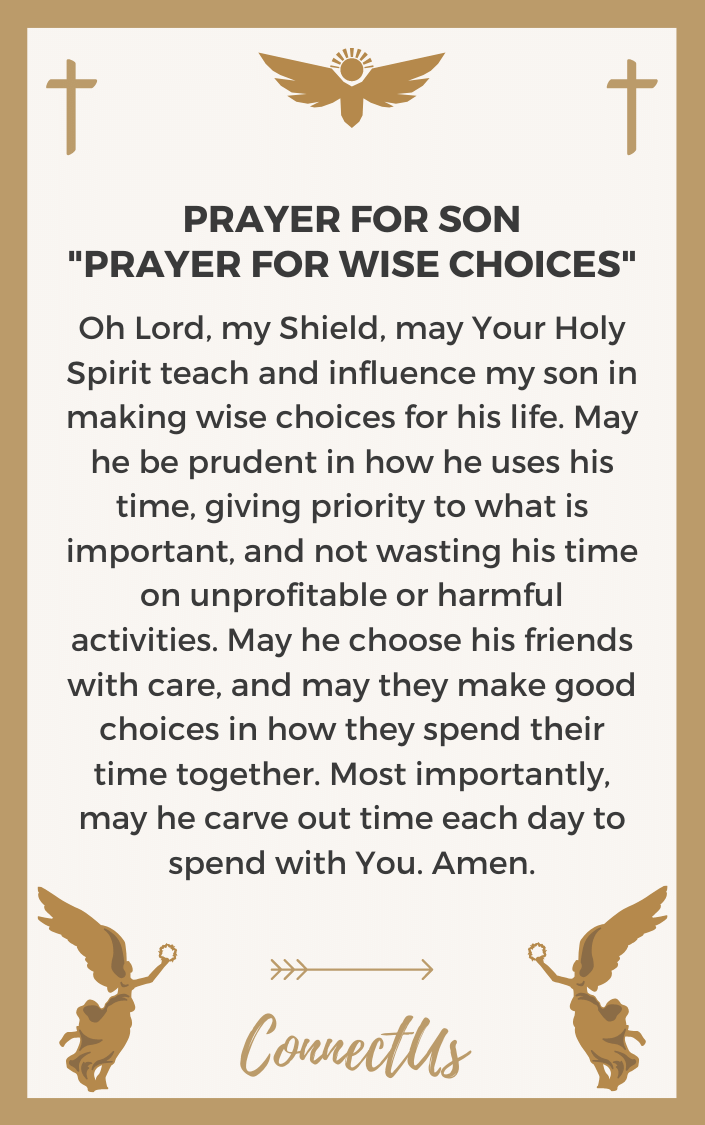 Prayer that My Son Will Walk Worthy of God
God of my fathers, please fill my son with the knowledge of Your will in all spiritual wisdom and understanding. May he walk in a manner worthy of You and please You in every way. May he be fruitful in his work for You, and may he grow in his knowledge of You. Please strengthen him with Your glorious might and power, so he will have all the patience and endurance he needs. May he joyfully live in gratitude to You. Amen.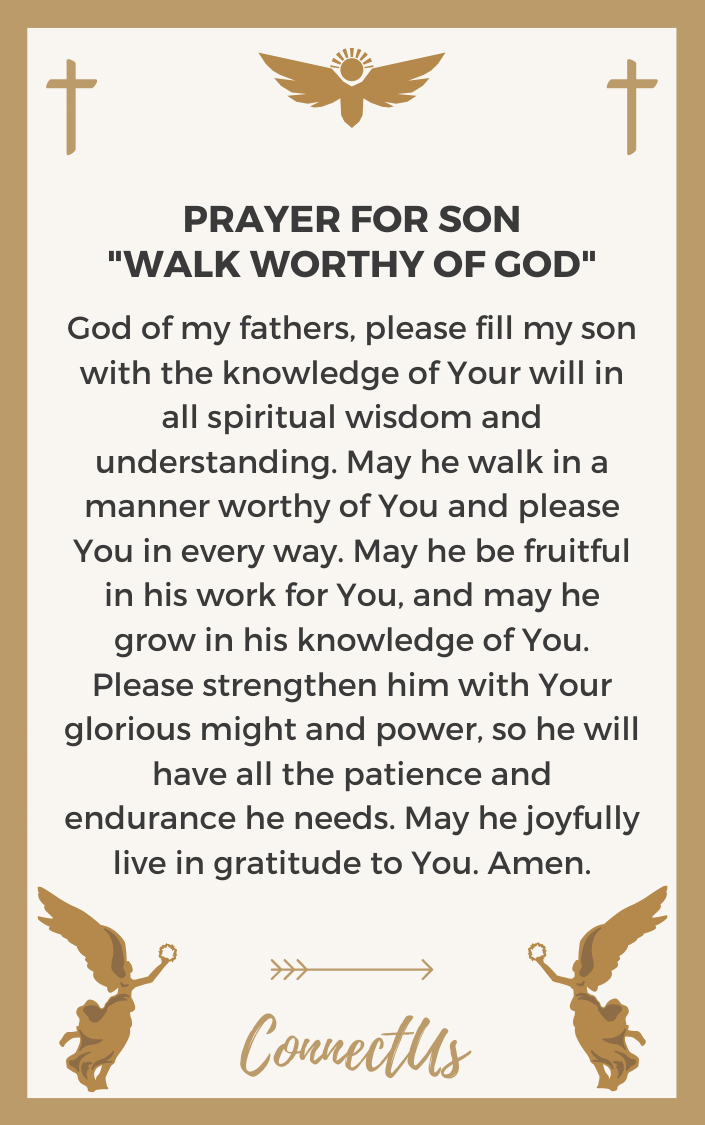 Prayer for Sexual Purity
Sovereign Lord, I come to You, pleading for my son to walk in sexual purity. May he set a guard over his eyes and mind so that he does not wander into pornography or into entertainment that devalues sexual relations and objectifies women. May he be careful in his dating relationships, in where they go and what they do, so they are not tempted beyond what they are able to resist. May he keep his mind and body pure for his future wife. Amen.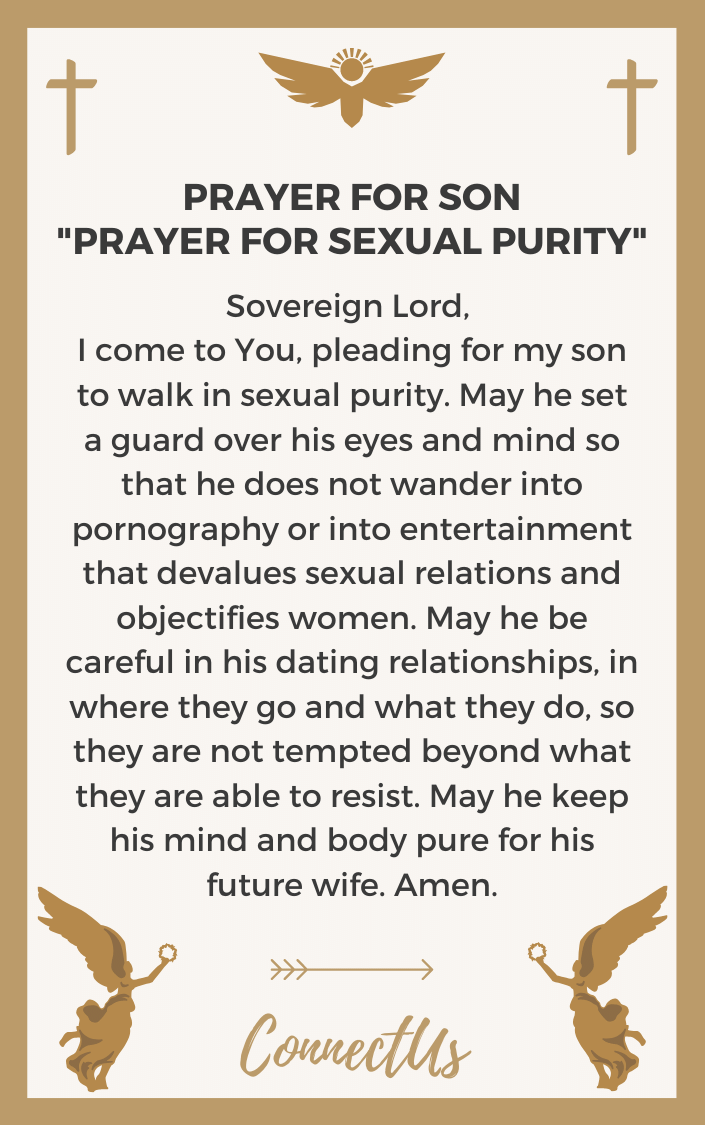 Prayer for Wisdom and Revelation
Glorious Father, please give my son a spirit of wisdom and revelation in his knowledge of You. May the eyes of his heart be enlightened, so he can comprehend and lay hold of the riches of his glorious inheritance in You. May he understand the surpassing greatness of Your power in him, the same mighty strength with which You raised Jesus from the dead. May he do nothing to quench or grieve Your Holy Spirit, but give You full sway in his life. Amen.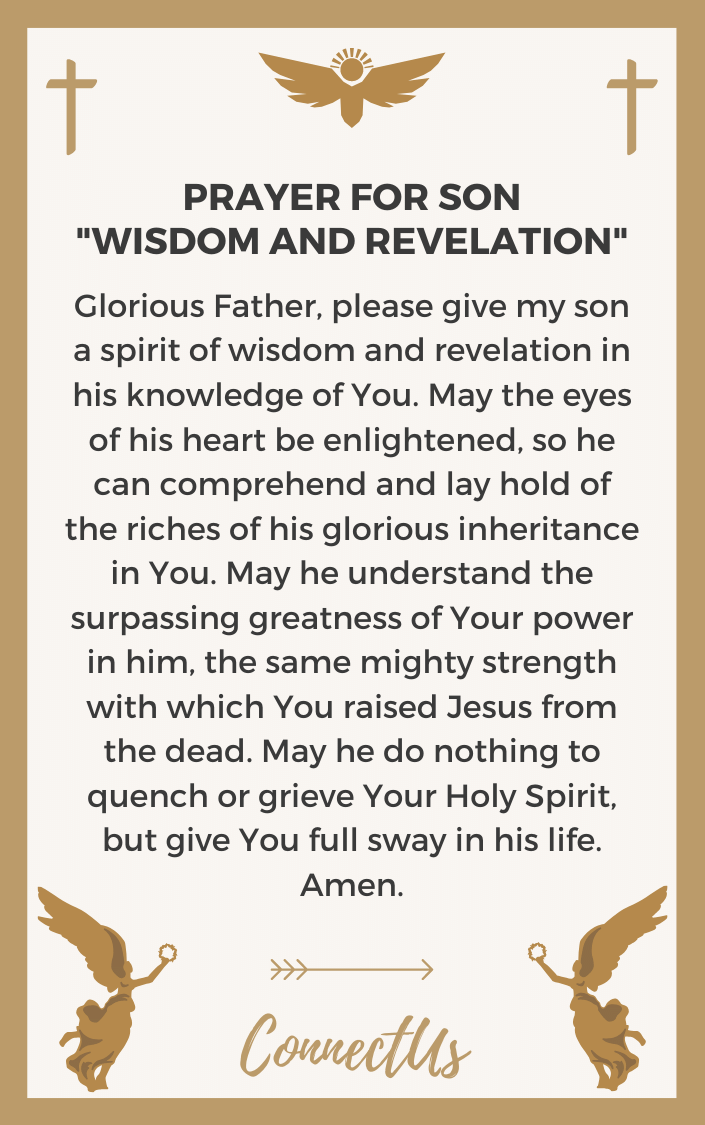 Prayer for Academic Excellence
Great and awesome God, please bless my son with discipline and focus in his studies. Give him insight and understanding as he is listening to his instructors and reading assigned materials to learn and retain the knowledge, and envision how it applies to life situations. Help him as he prepares for tests to know what and how to study, and to concentrate and remember the material he has learned. May he prepare papers and projects with diligence and excellence, and receive good scores to Your glory and honor. Amen.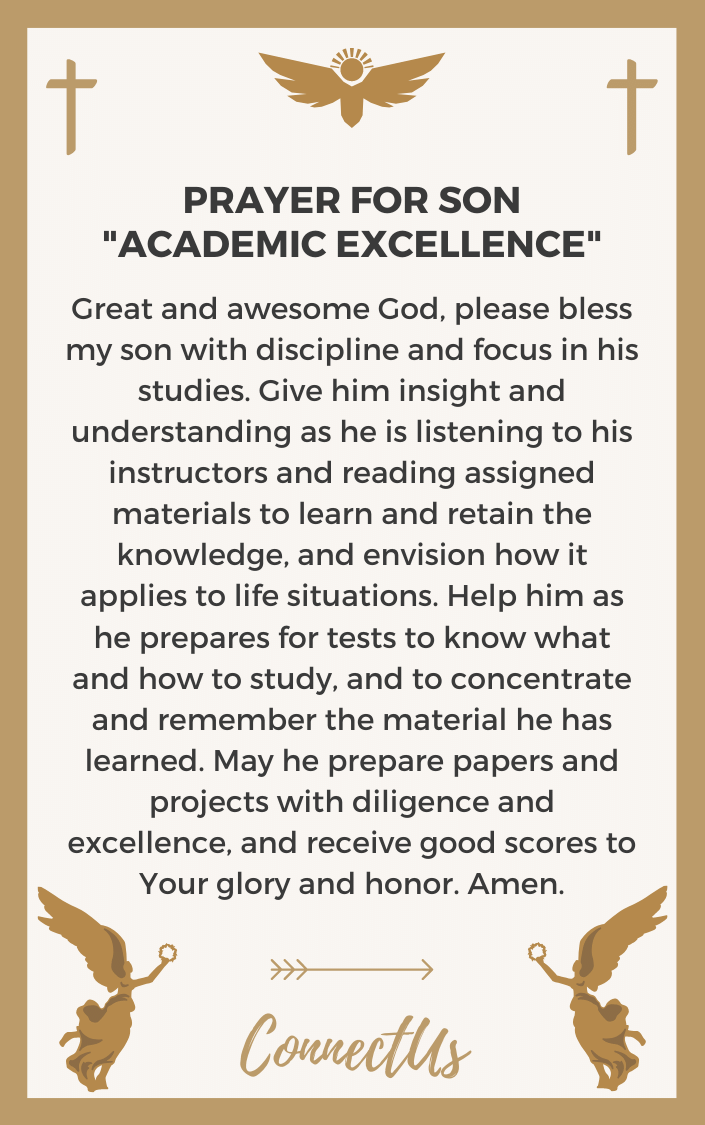 Empower My Son Prayer
O Father, Creator of everything, I pray that from Your unlimited, glorious resources, You would empower my son with inner strength through Your Spirit. May Christ make His home in my son's heart as he trusts in You. May his roots grow deep in Your love and keep him strong. May he have the power to understand how immeasurable Your love is, and be made complete with all the fullness of life and power that comes from You. Amen.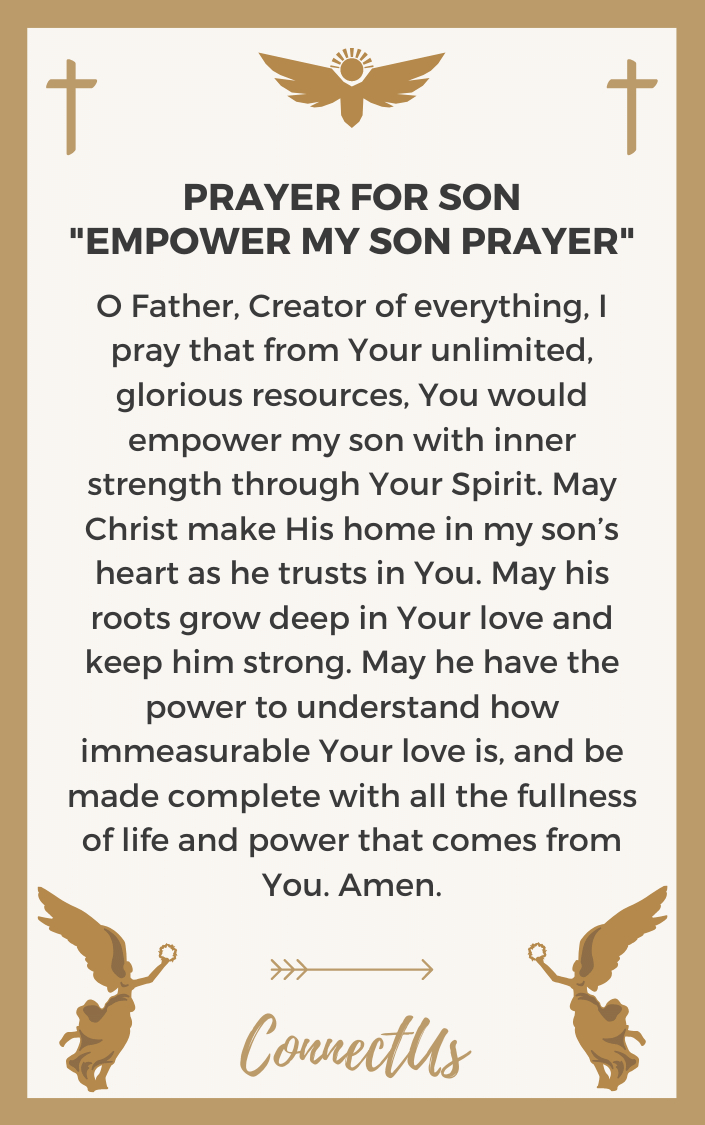 Prayer for Good Friends
God of Heaven, I intercede for my son. Lead him to a circle of friends who love You and have good morals, who are kind and considerate, who are disciplined in their habits, who have admirable priorities, and who share the same interests that my son enjoys. May they enjoy their time together and spur each other on to excellence, to love and good deeds. Help my son to be a good friend – a good listener, compassionate, and thoughtful of others' needs. Amen.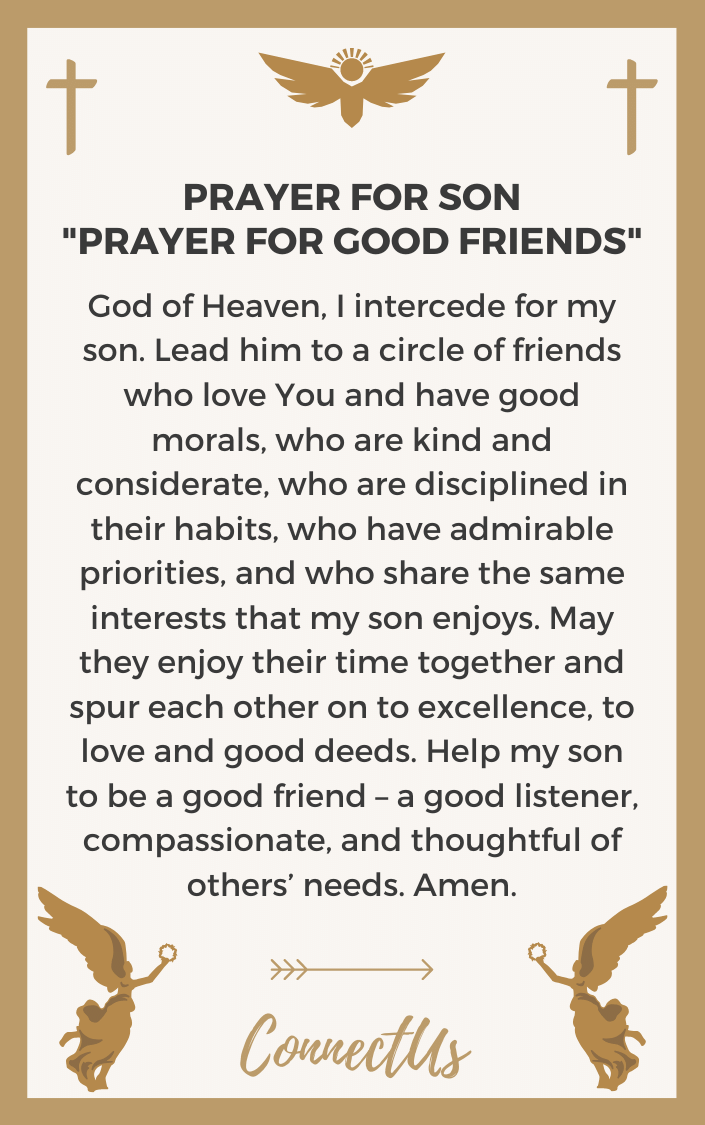 Prayer for Success in Future Career
Holy One, I bring my son before You, asking that You give him success in his future career. Help him now to develop habits such as insightful thinking, good time management, efficiency, courteousness, and problem-solving that will help him to be promoted through the ranks. Help him choose a career that fits his interests and abilities well and has a good future. May he use his earnings for Your church and to expand Your kingdom. Amen.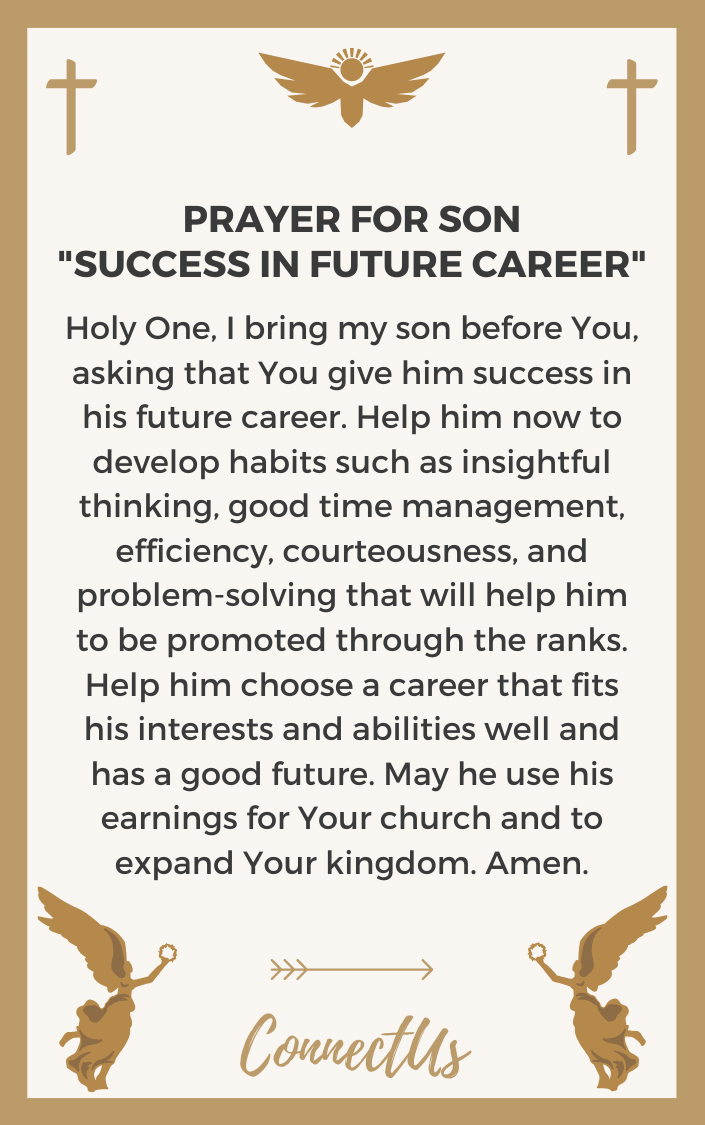 Prayer for My Son's Future Wife
My Loving God, please help my son find a godly, capable wife, with noble character. Lead him to a woman he can trust and who will greatly enrich his life, a woman who will bring him good, not harm, for all the days of his life. Bring him a wife who is energetic and who opens her arms to the needy, who is clothed with strength and dignity, and who speaks wisely. And Lord, help my son to be worthy of such a wife! Amen.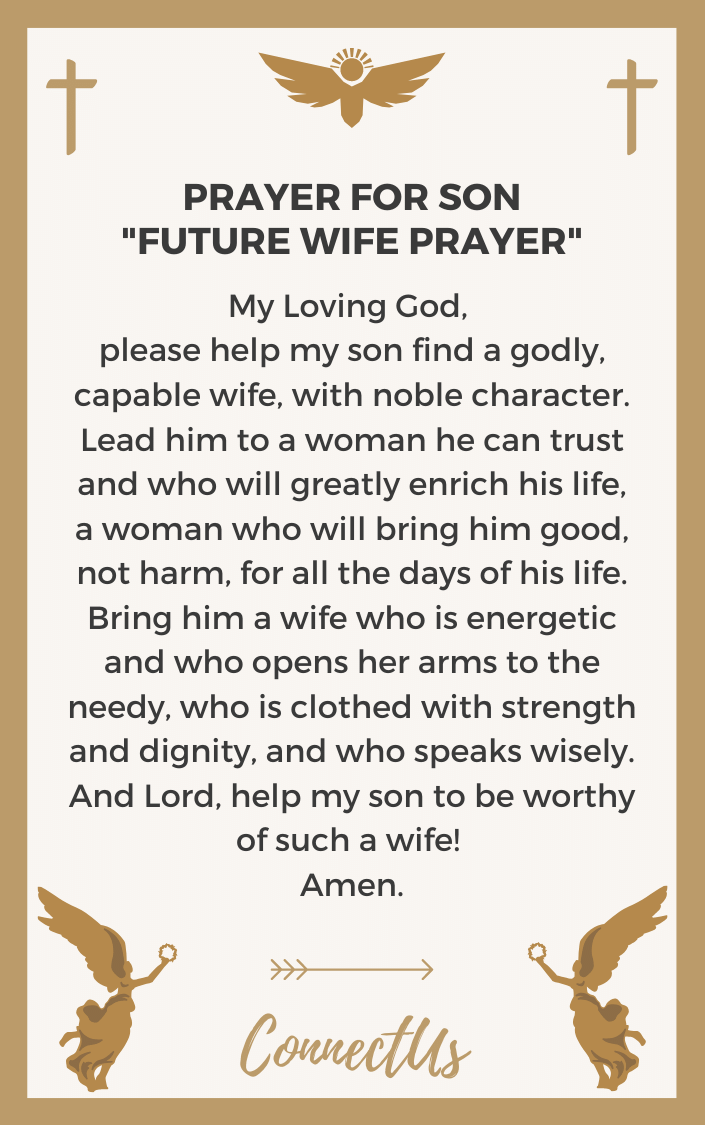 Prayer to Avoid Addictions
God of Peace, I come in intercession for my son, that he will avoid addictive behaviors. Protect him from spending time around individuals who engage in recreational drug use. Help him to make wise choices with regard to alcohol consumption, and to avoid smoking cigarettes and vaping. Help him to learn wise and healthy food choices, and avoid overeating or unhealthy eating patterns. Help him to avoid addictions to video games and other time-wasting pursuits. Yours is the kingdom and the power and the glory forever. Amen.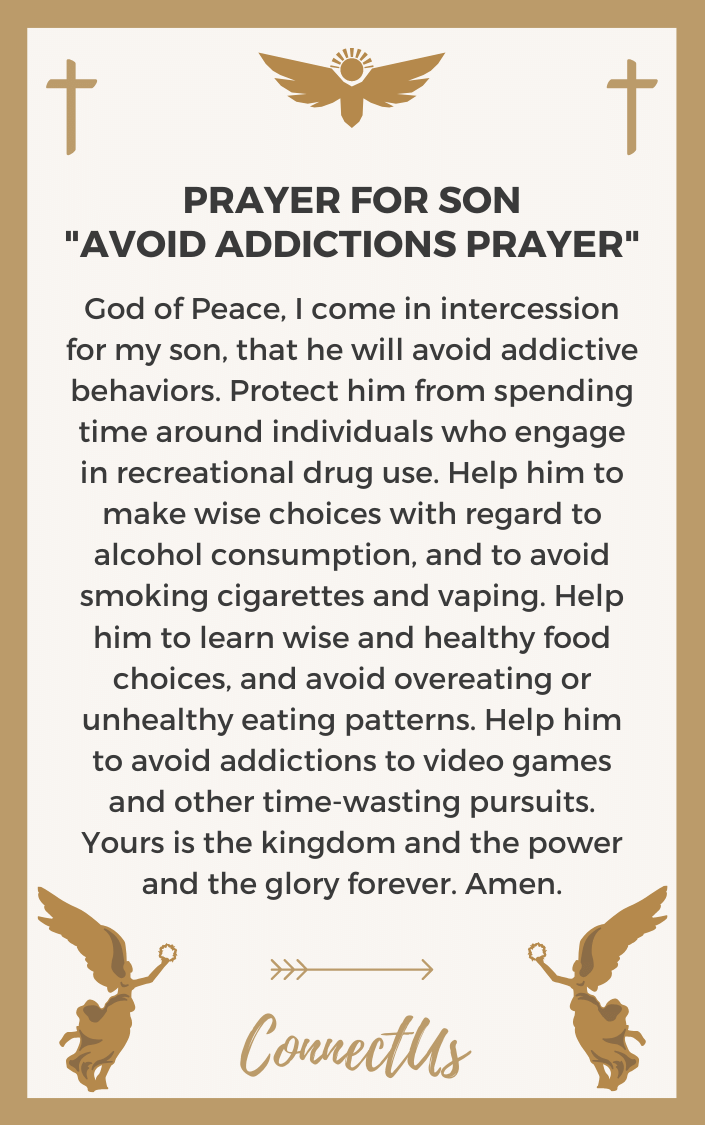 Prayer for My Son's Words
Abba Father, I pray for my son, that the words of his mouth would be pleasing to You. I pray that he will not swear, or use words that abuse or dishonor others. Let his conversations be gracious and seasoned with salt, and may he always respond appropriately and calmly, not in anger, no matter what others say. May his words be used to build others up and encourage them and bless them, and may his words lift You up and honor You. Amen.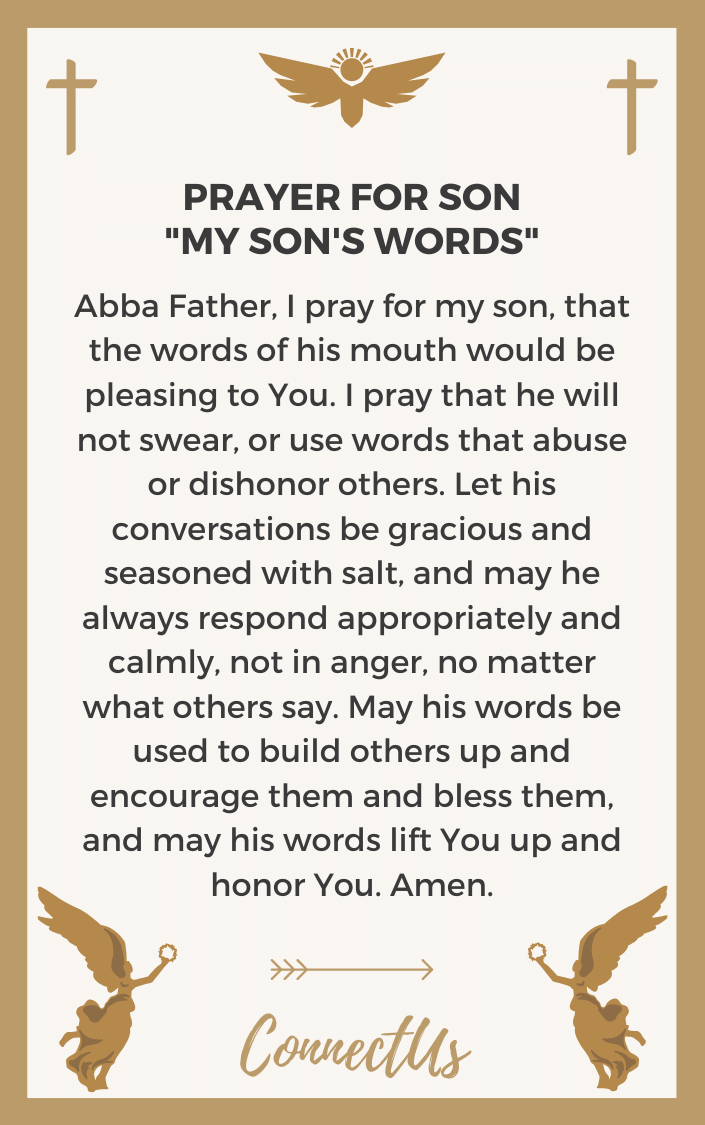 Prayer to Stand Firm Against Evil
My Lord, Judge of the earth, I pray that my son will be strong in Your mighty power, clothed with Your armor, so that he will stand firm against all strategies of the devil and the devious powers of this dark world. Help him resist the enemy in the time of evil, to ward off the fiery arrows of the devil and to use Your righteous Word to take back territory, to subdue the forces of evil, and to bring light to this world. Amen.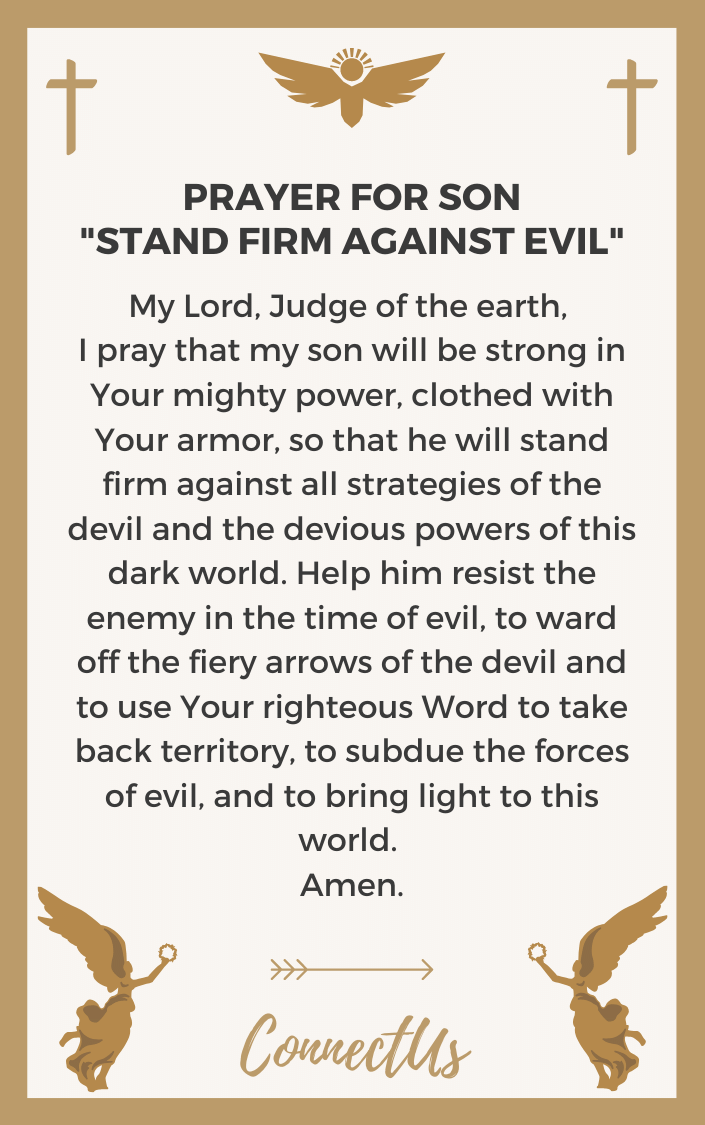 Prayer to Honor Authority
God, my Father, we pray that our son will obey and honor us, his parents, so that he will have a long life on the earth. Help us to remember to bring him up with the disciple and instruction that comes from You and set a good example of honoring authority. May our son also obey and honor his teachers and all other earthly authority with deep respect. May he work to please them all the time, not just when they're watching him. Amen.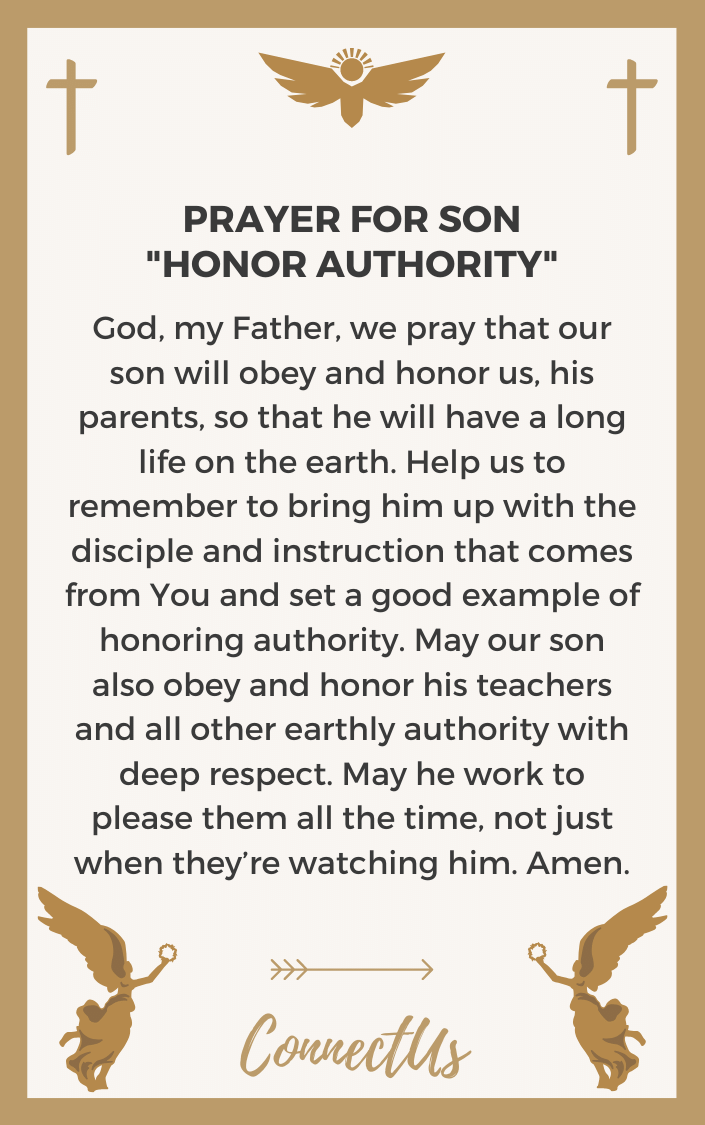 Prayer for a Good Temper
Oh God, Blessed and Only Ruler, in the same way that You are slow to anger, may my son be known for his good and kind temper. May he be quick to listen to what others say, may he not react rashly or in a hot temper, and may he be slow to anger. May he not be someone who stirs up strife, but one who calms disputes, and brings people to peace. May he rule his spirit with understanding and compassion. Amen.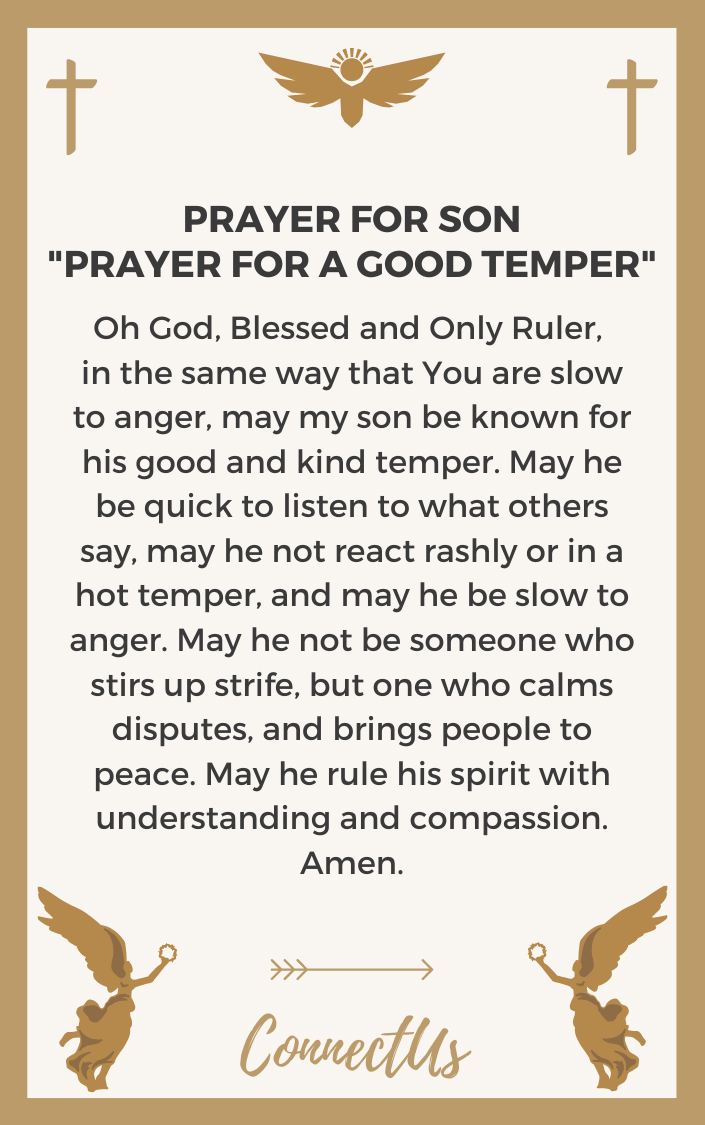 Prayer for Firmness Against Peer Pressure
Heavenly Father, I pray for my son in the Name of Jesus, the Way and the Truth and the Life. Please help my son to stand firm against peer pressure. When his friends and acquaintances engage in unhealthy, harmful, immoral, illegal, or addictive behaviors, help my son to walk away. When they engage in speech and actions that hurt or embarrass or dishonor others, help my son to defend the helpless and stand for justice. Amen.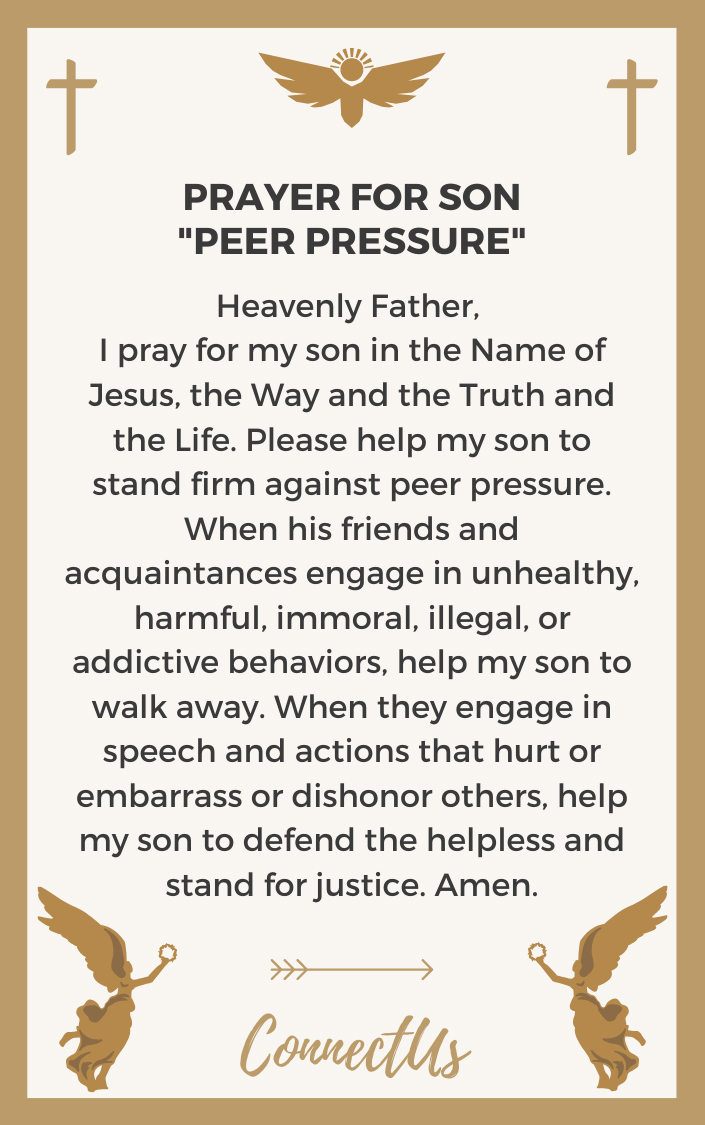 Most Popular Prayers by Topic
For Hard Times
For Financial Prosperity
For Physical Health
For Emotional Health
For Protection
For a Marriage
For Babies and Pregnancy
For Family
For Spiritual Warfare
For Spiritual Health
For a Death
For the Workplace
For Bedtime
Our 10 week prayer journal will guide you through your daily prayers and help you plan out your prayer week. It is completely free. You can
click here to get it now
.

Author Bio
Natalie Regoli is a child of God, devoted wife, and mother of two boys. She has a Master's Degree in Law from The University of Texas. Natalie has been published in several national journals and has been practicing law for 18 years.