The word "witness" appears 182 times throughout the books of the Bible. The graph below shows the locations of each appearance. It begins with Genesis in the top left and concludes with Revelation in the bottom right.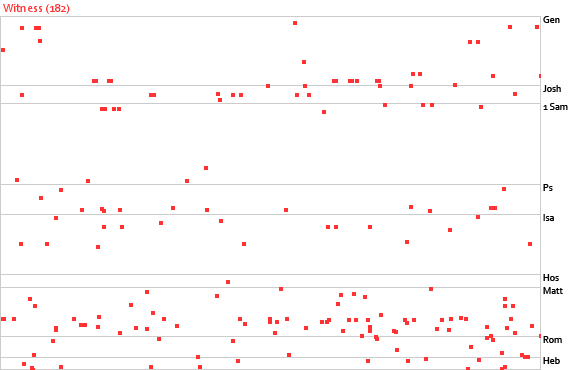 Here are the 20 most important Bible scriptures on witnessing.
1 Peter 3:15
But in your hearts honor Christ the Lord as holy, always being prepared to make a defense to anyone who asks you for a reason for the hope that is in you; yet do it with gentleness and respect.
Colossians 4:6
Let your speech always be gracious, seasoned with salt, so that you may know how you ought to answer each person.
Matthew 5:16
"In the same way, let your light shine before others, so that they may see your good works and give glory to your Father who is in heaven."
Romans 1:16
For I am not ashamed of the gospel, for it is the power of God for salvation to everyone who believes, to the Jew first and also to the Greek.
Acts 1:8
"But you will receive power when the Holy Spirit has come upon you, and you will be my witnesses in Jerusalem and in all Judea and Samaria, and to the end of the earth."
1 Corinthians 9:22
To the weak I became weak, that I might win the weak. I have become all things to all people, that by all means I might save some.
1 Peter 2:9
But you are a chosen race, a royal priesthood, a holy nation, a people for his own possession, that you may proclaim the excellencies of him who called you out of darkness into his marvelous light.
Colossians 1:28
Him we proclaim, warning everyone and teaching everyone with all wisdom, that we may present everyone mature in Christ.
Daniel 12:3
And those who are wise shall shine like the brightness of the sky above; and those who turn many to righteousness, like the stars forever and ever.
Galatians 6:9
And let us not grow weary of doing good, for in due season we will reap, if we do not give up.
Isaiah 40:10
Behold, the Lord God comes with might, and his arm rules for him; behold, his reward is with him, and his recompense before him.
Isaiah 43:10
"You are my witnesses," declares the Lord, "and my servant whom I have chosen, that you may know and believe me and understand that I am he. Before me no god was formed, nor shall there be any after me."
John 3:17
"For God did not send his Son into the world to condemn the world, but in order that the world might be saved through him."
Mark 1:5
And all the country of Judea and all Jerusalem were going out to him and were being baptized by him in the river Jordan, confessing their sins.
Mark 16:15
And he said to them, "Go into all the world and proclaim the gospel to the whole creation."
Mark 16:16
"Whoever believes and is baptized will be saved, but whoever does not believe will be condemned."
Romans 10:14
How then will they call on him in whom they have not believed? And how are they to believe in him of whom they have never heard? And how are they to hear without someone preaching?
Romans 15:13
May the God of hope fill you with all joy and peace in believing, so that by the power of the Holy Spirit you may abound in hope.
Romans 3:23
For all have sinned and fall short of the glory of God.
Romans 6:23
For the wages of sin is death, but the free gift of God is eternal life in Christ Jesus our Lord.
More Bible Verses that Will Move You
50 Most Powerful Scriptures on Faith
60 Transcendent Verses on Trust
50 Strong Scriptures on Perseverance
68 Powerful Verses on Forgiveness
40 Uplifting Scriptures on Patience
Add Our Infographic Below to Your Pinterest Board
Hit the pin button below to add our infographic, with all the verses, to one of your Pinterest boards.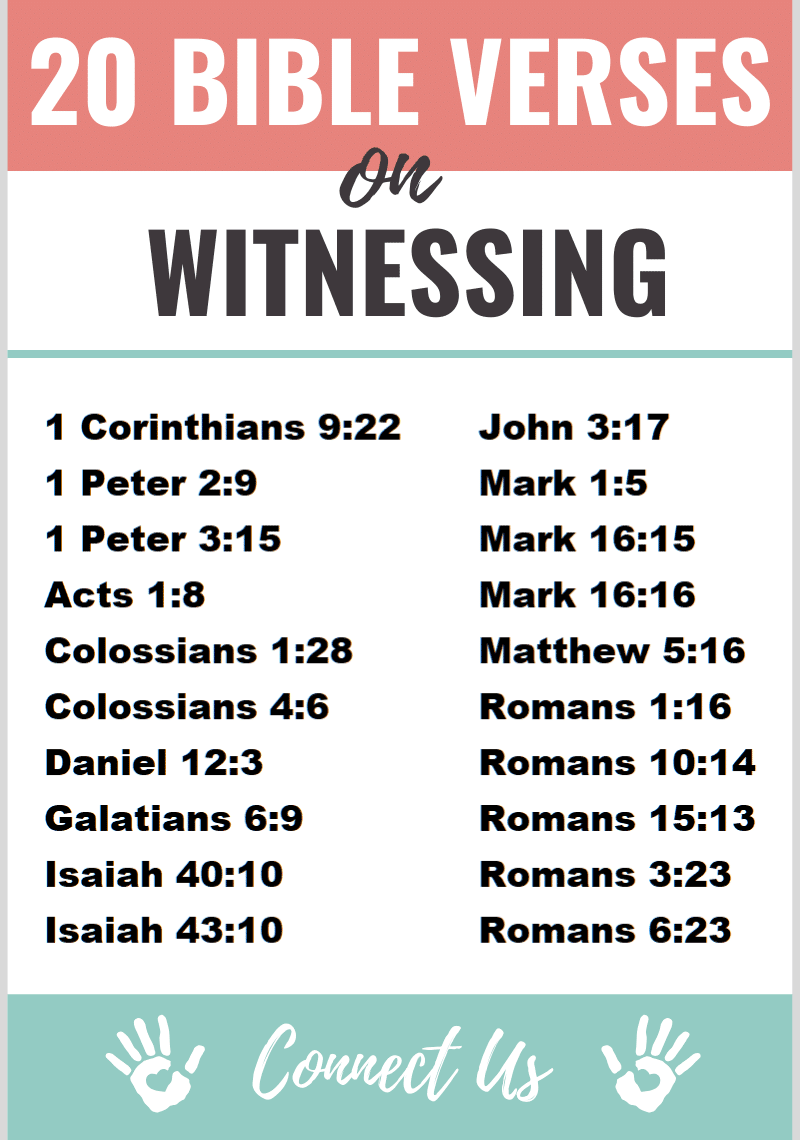 Author Bio
Natalie Regoli is a child of God, devoted wife, and mother of two boys. She has a Master's Degree in Law from The University of Texas. Natalie has been published in several national journals and has been practicing law for 18 years.