Life is full of ups and downs, and God is there for us in every single good and bad moment. Here are 20 powerful prayers for hard times along with printable images to use or share.
A Prayer for Hard Times
Lord God, You knew that this life would be difficult for us. If we are to follow You, we must pick up our cross and carry it. Nobody is a friend to the person carrying the cross. It will often be a lonely road. There will be numerous tribulations and difficult times. Though we do not know the whole story, we know that it ends with Your victory. May You help us always to rejoice in this, and take comfort in knowing that You have the final word. Amen.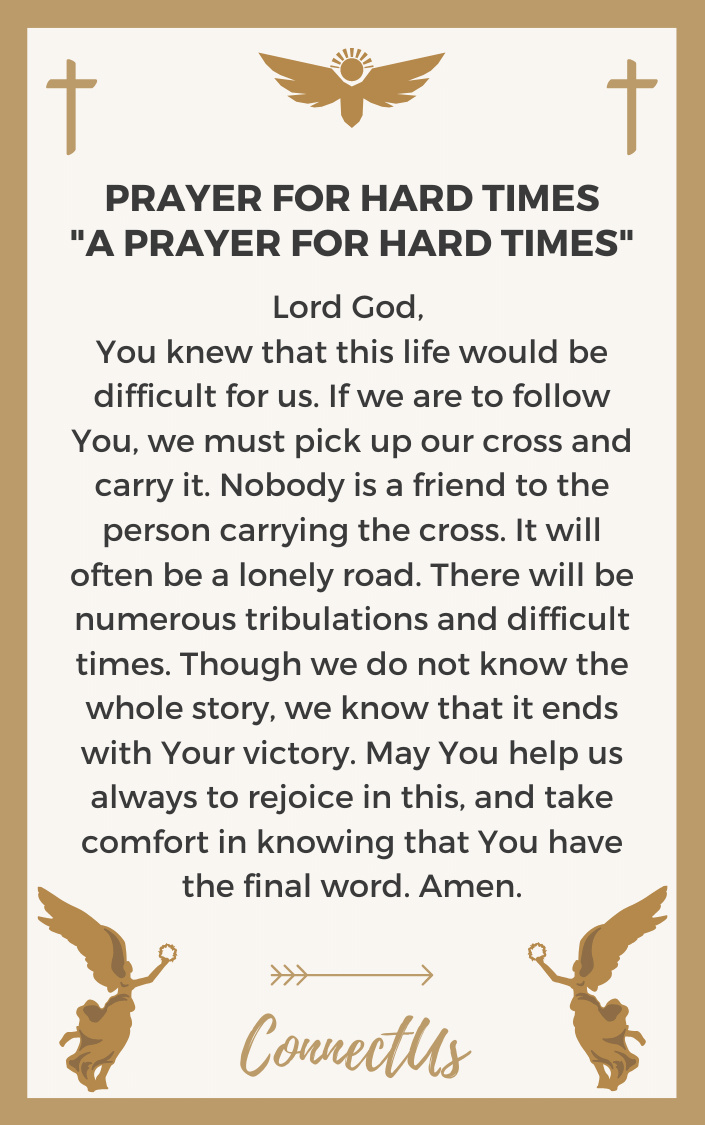 A Prayer for Strength in Hard Times
Lord Jesus, fear has come over me and paralyzed me. These are hard times. Although I know Your voice, I lack the strength to do what needs to be done. I do not want to succumb to fear. I am scared to approach You. Oh God of mercy, remove all fear and doubt. Uphold me and restore me to full strength, so that You can use me to advance the cause of Your kingdom, through Christ, our Savior. Amen.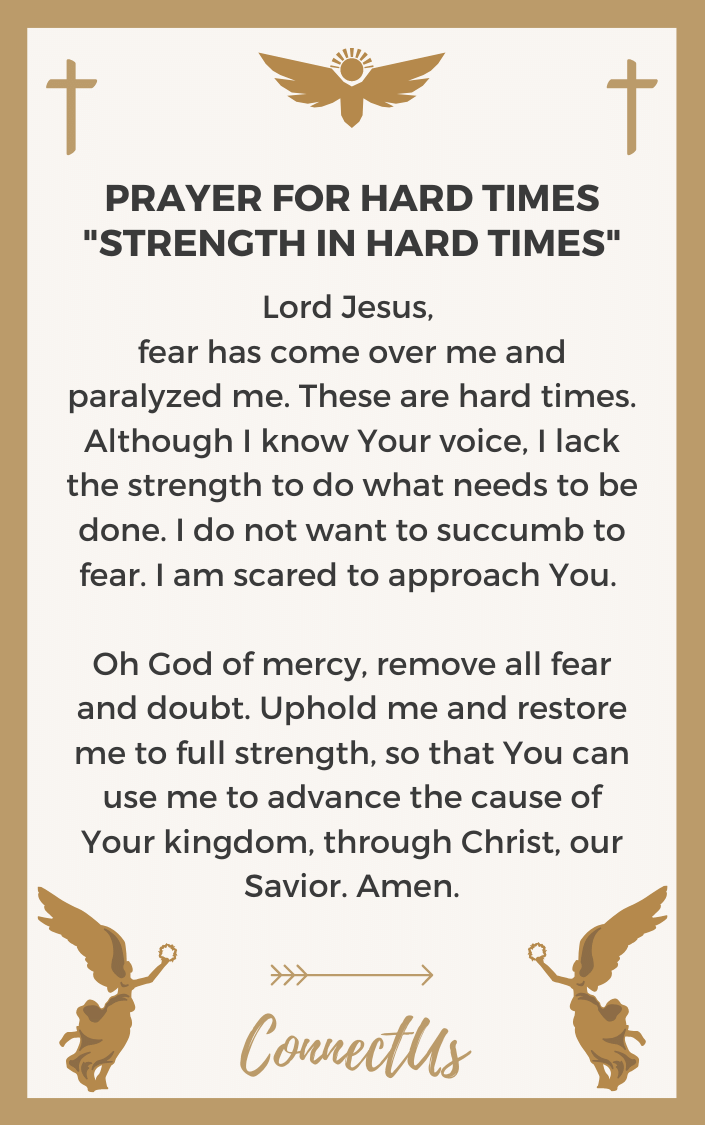 A Prayer for Strong Faith in Hard Times
Lord Jesus, the Gospels teach us that faith has infinite power. Even the faith of a mustard seed can move mountains and bring the dead back to life. In hard times we see the brokenness of the world. Our faith is often tested and it can become difficult to believe. Lord, I ask that You strengthen my faith. Purge all doubt from my heart, and open my eyes of faith to find my way out of these dark times. Amen.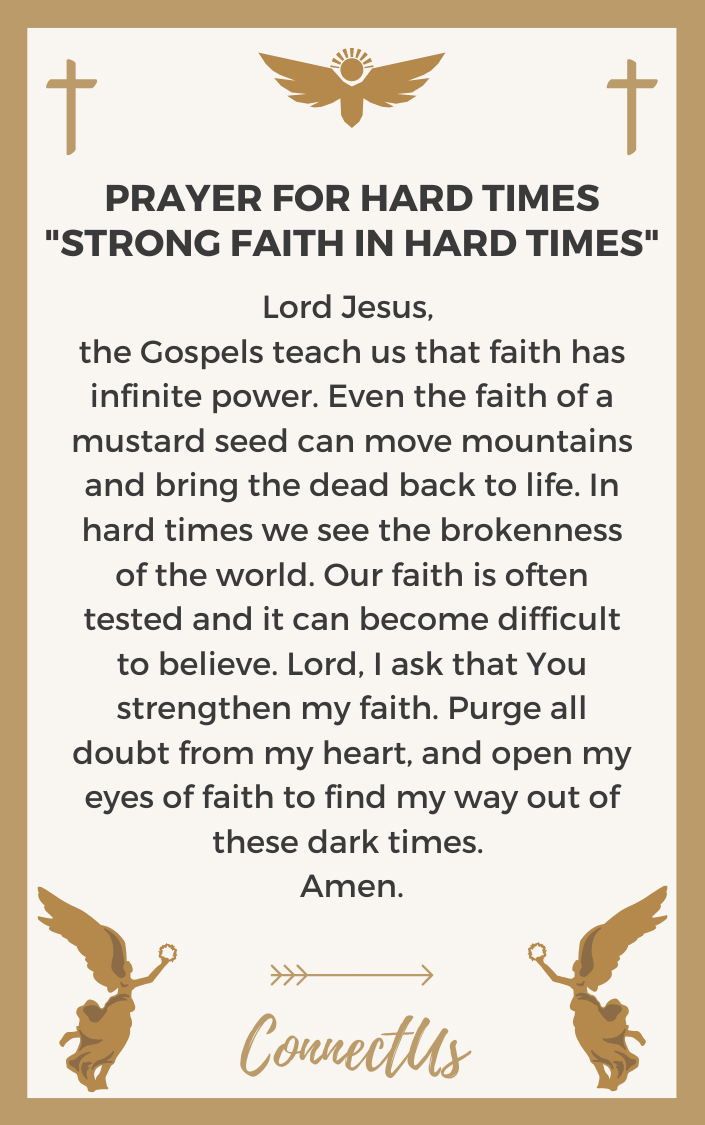 A Prayer for Courage in Hard Times
God Almighty, courage is a virtue that I am ashamed to say a sorely lack. So often I know the right thing to do, yet out of my cowardice and faithlessness, it goes left undone. Father, forgive me for this sin of unbelief. Give me courage in these difficult times, that I may be an ambassador for You and my Lord Jesus. Mercifully hear my prayer. Amen.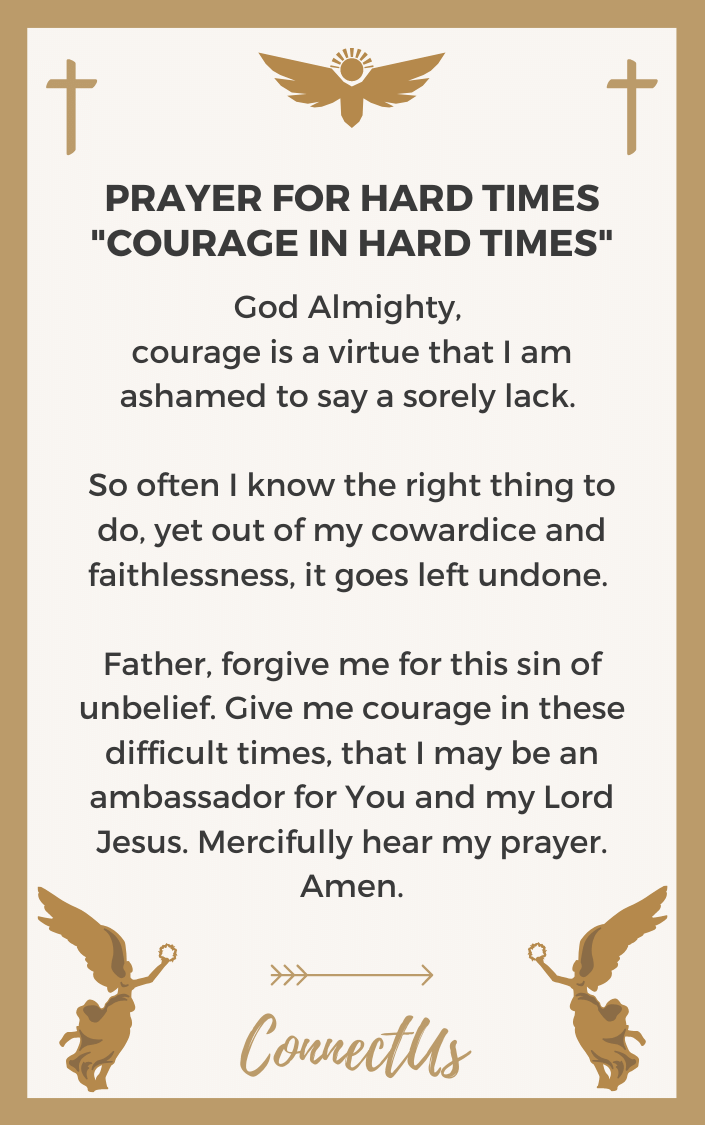 A Prayer to Weather Hard Financial Times
Most High God, the economy can instill the greatest fears. Money is tight everywhere now. Prices are climbing, and job security is not. I am scared that I will not be financially stable. Lord, You teach us that we cannot serve both God and money. Remove this idol from my life. Utterly destroy it. Let me rely on You alone so that I will endure these financial hardships with grace and humility. In Jesus' name. Amen.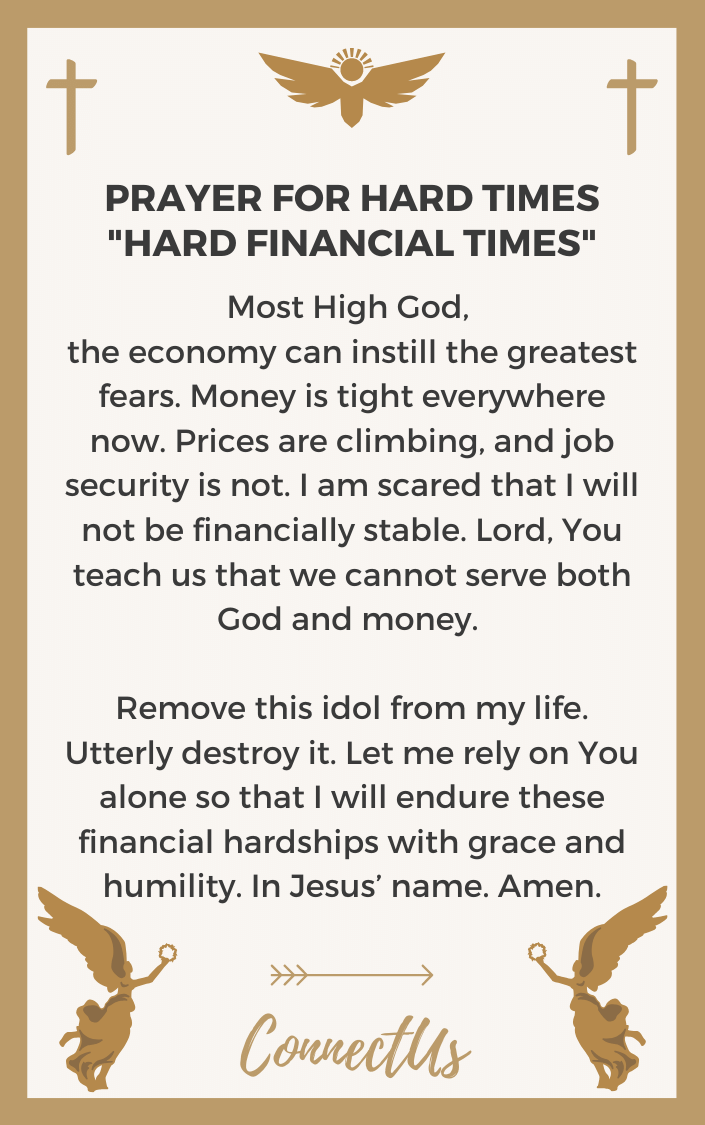 A Prayer for Difficult Financial Decisions
Lord Jesus, I am faced with a very difficult dilemma. I have to make a tough financial decision, and it could have dire consequences if I choose wrongly. Give me the wisdom I need to make sound decisions. Help me to invoke Godly principles according to Your word that Your servant may be well-equipped for every good work under the heavens. Through Christ, Your only begotten Son, my Lord. Amen.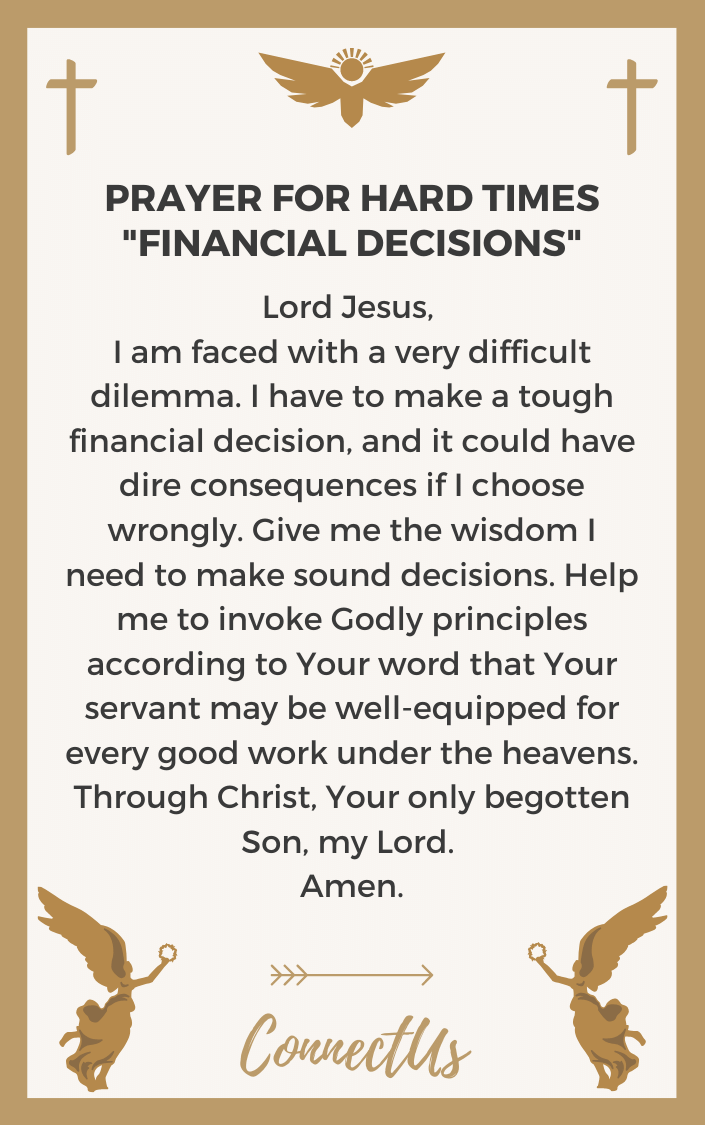 A Prayer for Peace in Hard Times
Almighty Father, it is always during difficult times that wicked people seek to take advantage of the vulnerable. Violent men/women rise and they inflict great destruction upon Your good creation. In Your mercy, knock these wicked people down and do not allow them to rise again. Allow peace to prosper in our lands so that we can bring these hard times to a true resolution. Amen.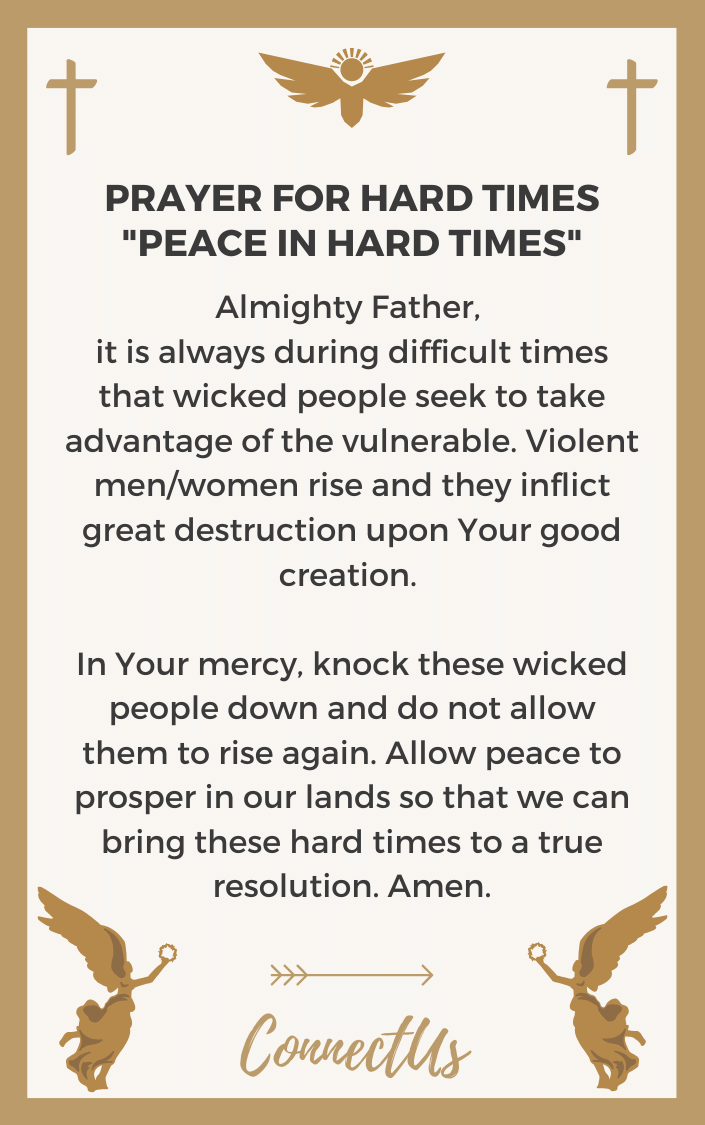 A Prayer for Peace with Hard Decisions
Father, with hard days come difficult choices. With difficult choices comes indecision. And with indecision comes folly. Hard decisions in hard times must be made, and they must be made decisively and without regret. Lord, I ask that You give me peace with the decisions I make. Do not allow me to linger on the past mistakes, but allow me to move forward so that I can make the best of the hand I am dealt for myself and my neighbor. Amen.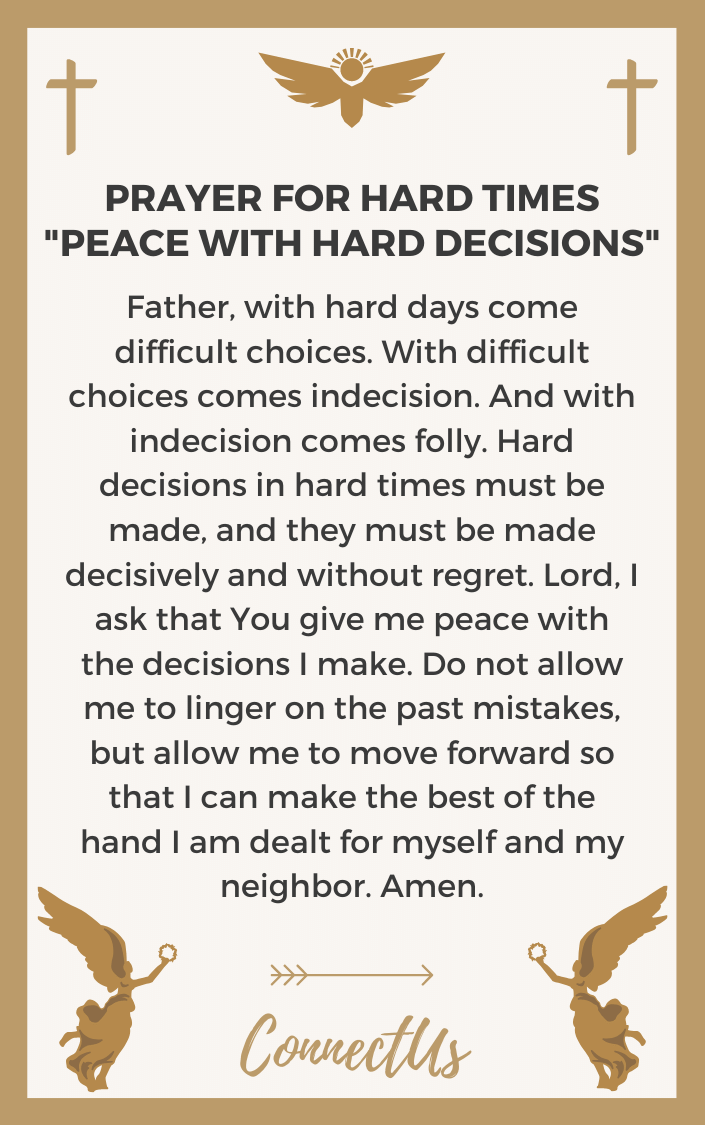 A Prayer for Hard Times with Family
Lord Jesus, it is a very hard time right now with my family. We are normally in harmony with one another, but now we are not at peace. There is tension, mistrust, and distress. Were it not for Your grace, I would have lost all hope. But You are a God of new beginnings. You create all things afresh by the power of Your holy word. Therefore, speak life and peace back into my family, and bring these hard times to a peaceful end. Amen.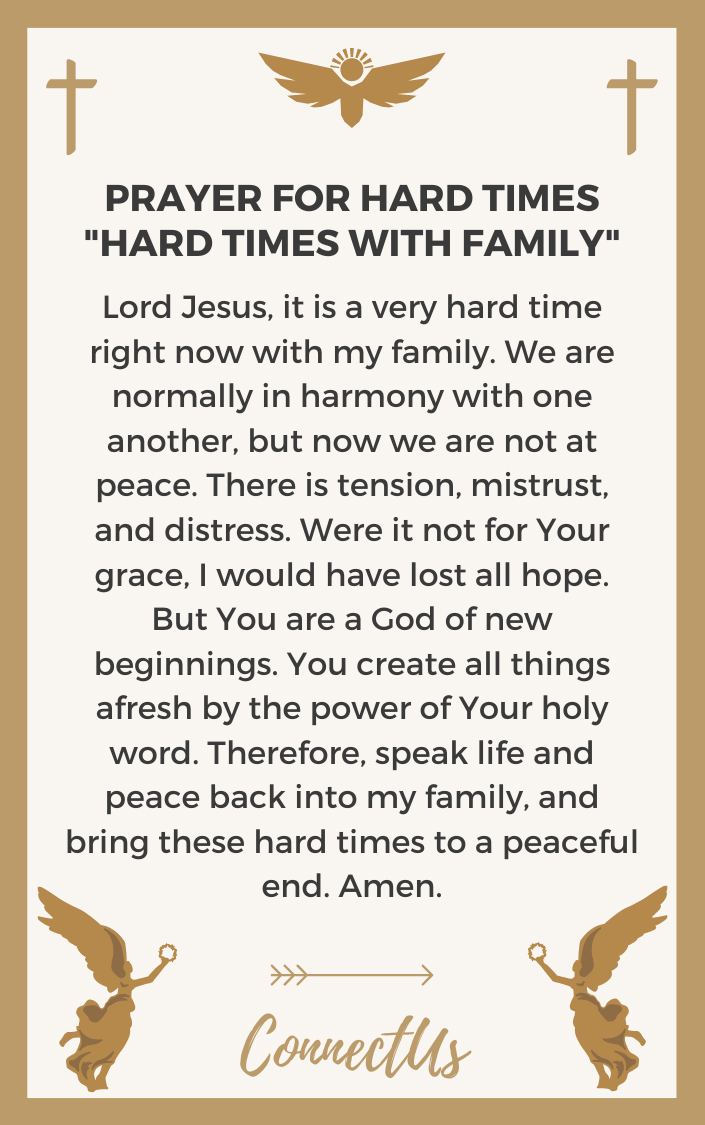 A Prayer for Family Member's Hard Times
Father, I come to Your throne to appeal to You on behalf of one of my beloved family members. They are going through a very difficult time, and they are unsure how to resolve the situation. Lord, You know what burdens his/her heart and You understand the pain they are experiencing. I ask that You bear his/her burdens. Bring people into his/her life to help guide her and uphold her, through Christ, our Lord. Amen.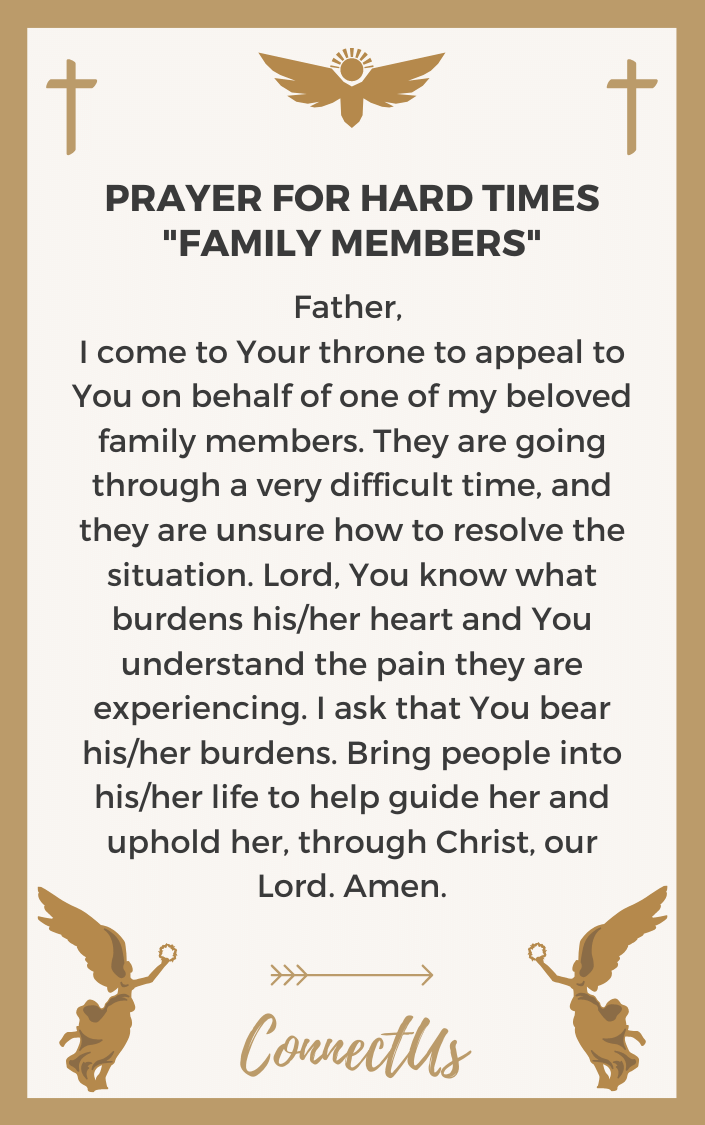 A Prayer for Faith in Trying Times
Lord Jesus, these are the times that test the faith of Your people. Like You teach in Your parable, so will grow in good soil, while others will be choked out. I ask that You continue to grant me the good soil of faith. Help me to continue to rely on You for all things. Let me always be quick to pray and ask for help, for You love to provide for us. Amen.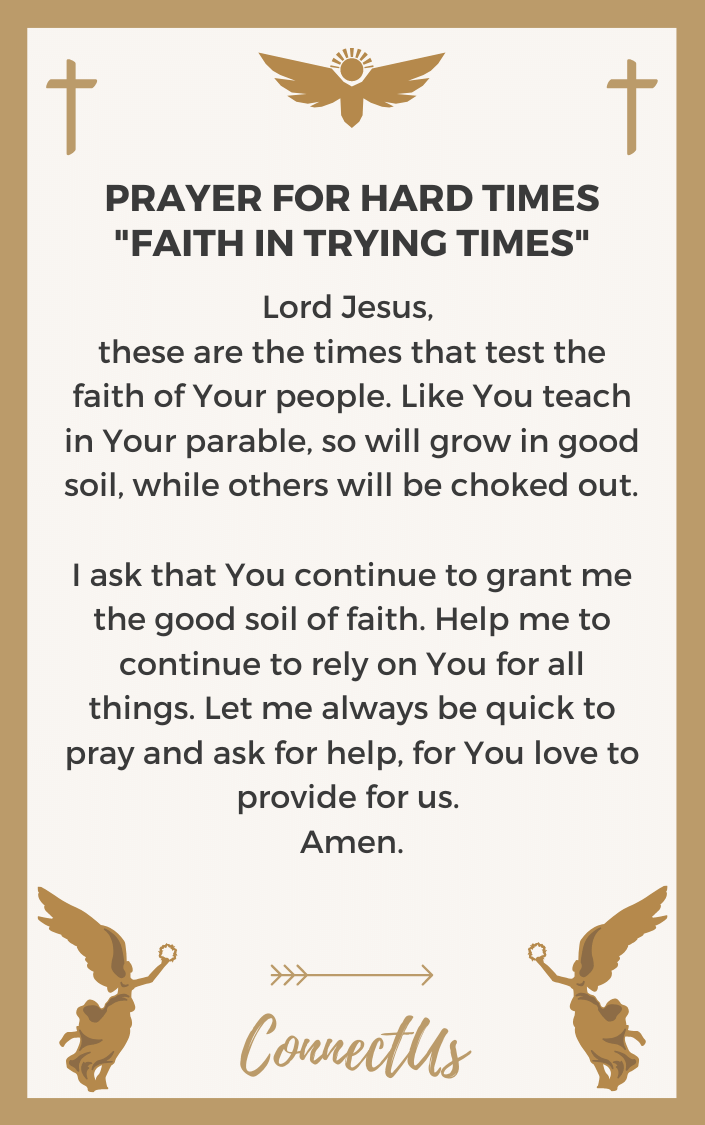 A Prayer for Faithful Deliverance from Difficulties
Faithful God, You led the Israelites out of Egypt through the red sea. You delivered Your people from their oppression by faithfulness to Your promises. You have promised us also that You would deliver all who call upon Your name. In this difficulty, I cry out to You. I invoke Your holy name to free us from these hard and trying circumstances, so that You may deliver Your servant once and for all. Amen.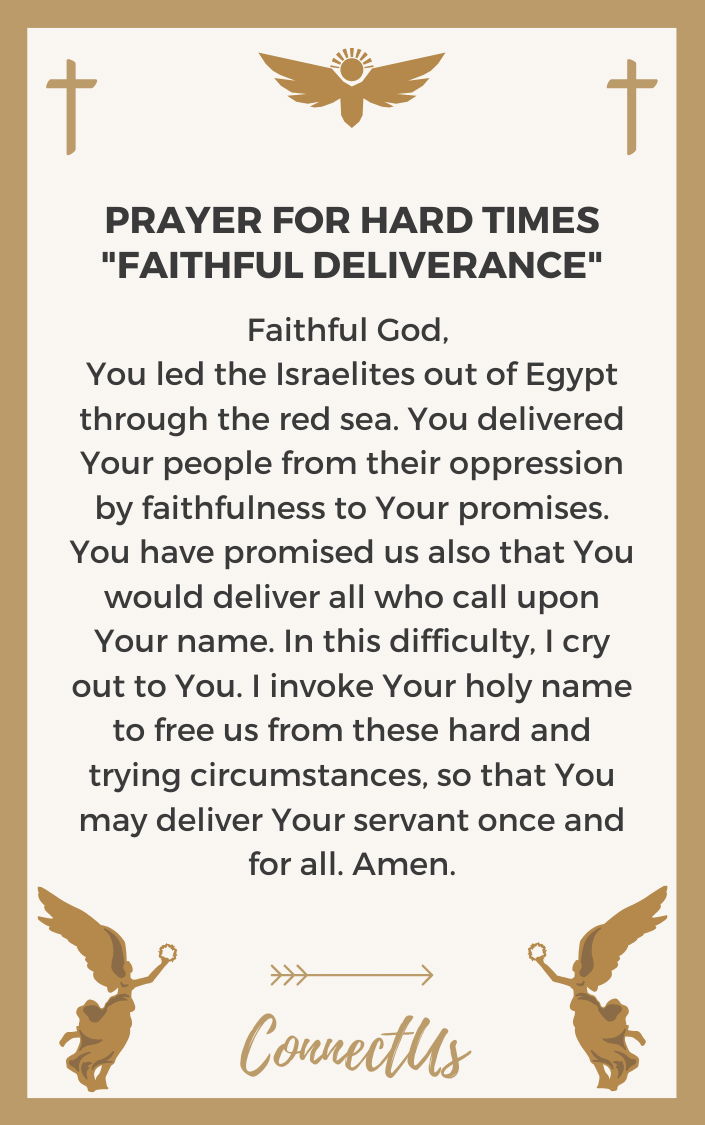 A Prayer for Faith of Others in Tribulation
Lord Jesus, we exist not as single individuals, but as members of communities. Faith and virtue are communal things, meant to be shared with others as we live out our vocations. Lord, in these tribulations we experience, I ask that You give all the gift of faith. Help everyone to focus not on their own merits, but upon Your providing hand, which bountifully gives us all things. For You are surely a just a giving God. Amen.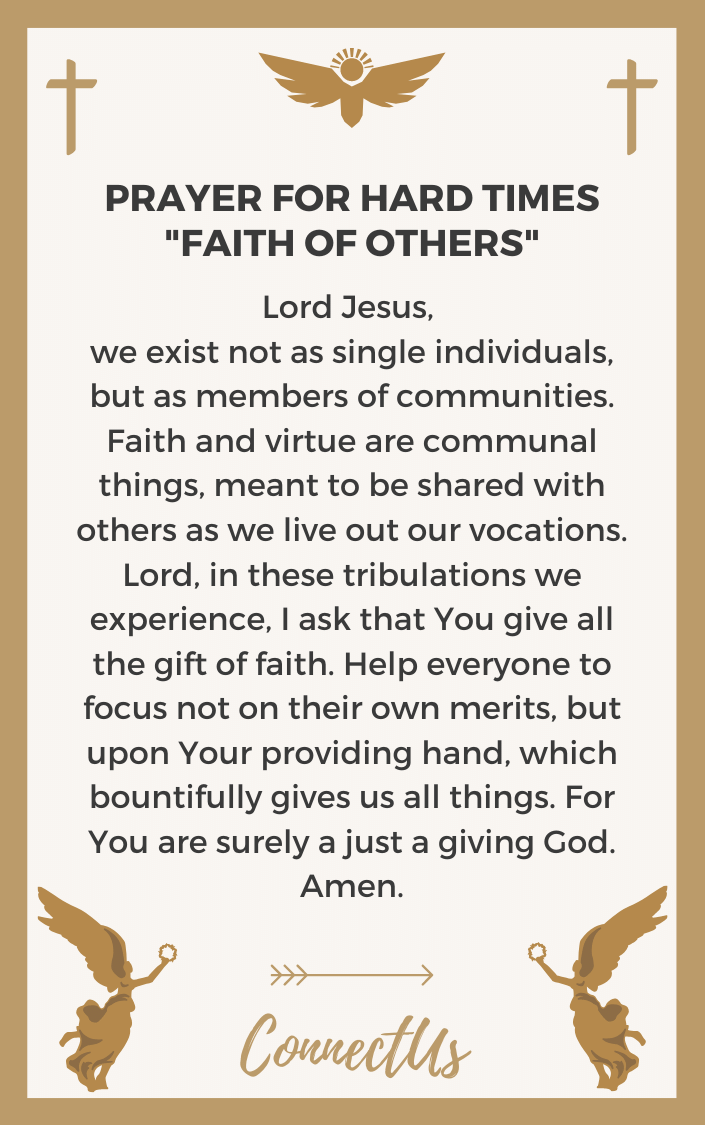 A Prayer for Hope in Hard Times
Lord of All, I would not be able to persevere through difficult periods of my life were it not for Your gift of hope. For if You have not risen from the grave, why does anything matter? Would we not be pitied above all men for our beliefs? Continue to impart unto us the hope and joy of Your salvation. Let our eyes ever gaze toward the horizon, confident in Your promise that You will come again to deliver us and end all misery. Amen.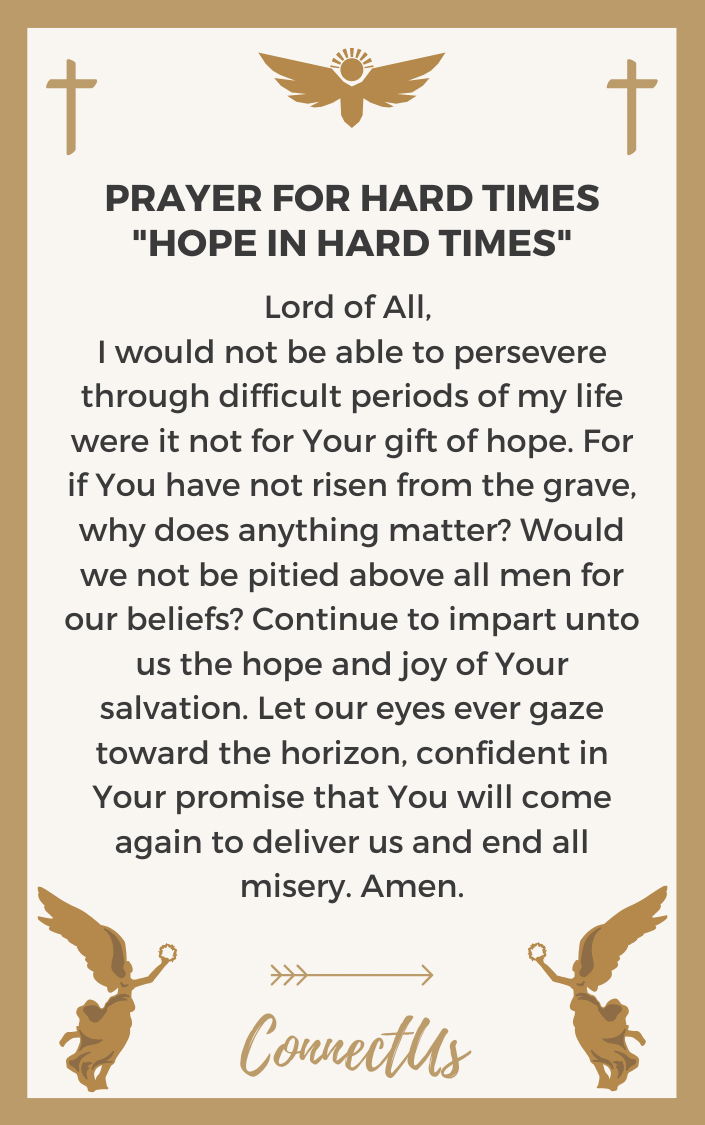 A Hopeful Prayer for Trials
Lord Jesus, You are our good shepherd, and we are Your sheep. Whatever calamity befalls upon Your flock, we know that You will keep us safe and secure. You fend off all danger. You feed us and restore our souls. During these trials and hard times, I ask that You continue to come and dwell with us through Your Spirit. Continue to shepherd us and keep us in Your pastures. Amen.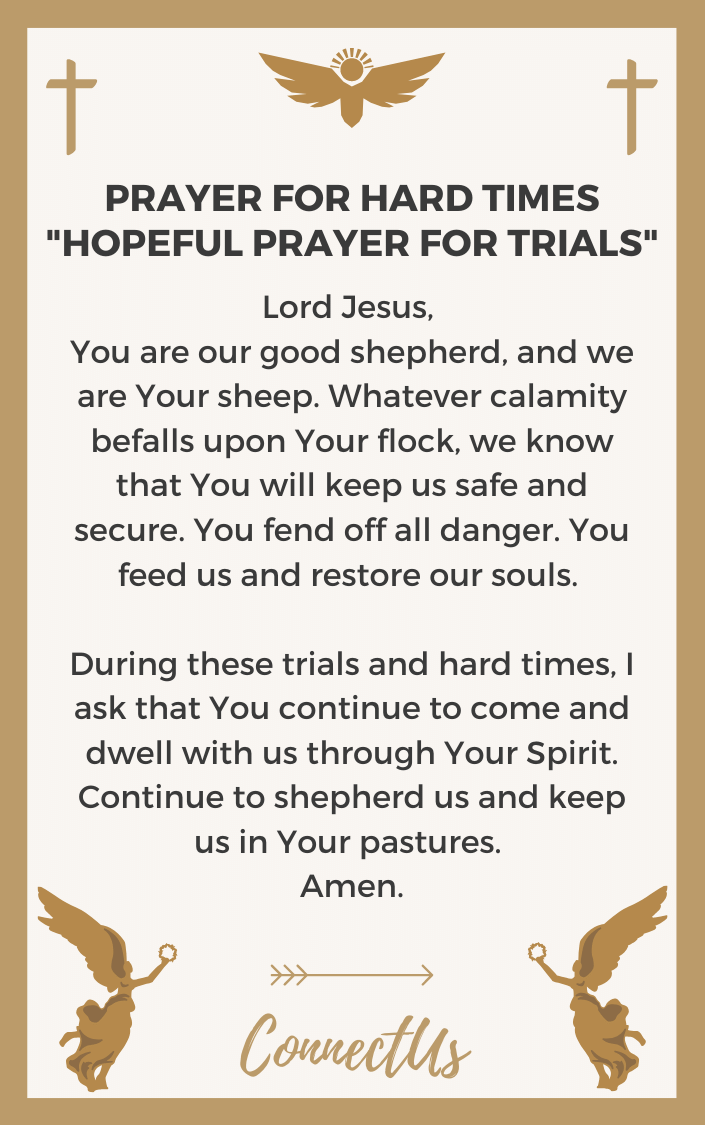 A Prayer for Trust in God in Tribulation
Father, as the foundations of the world crumble, many do not know where to turn. Because You have given me faith and enlightened me with Your gifts, I know where my treasure is. O Lord, help me to trust in You evermore. Let me pay no heed to gurus and charlatans who seek to rob me and destroy my faith. Lead me through the wilderness and into Your promised land. Amen.
A Prayer to Trust God's Promises in Hard Times
Lord, You are a good and gracious Savior. You are a God of promises and covenants. You do not let us walk aimlessly through difficult times, but You give us something in which to place our hope. Lord, help us to cling to Your promise of salvation and eternal life. Let us lift our eyes to Christ crucified for the life of the world. Let the earth shake and crumble so that the hard times may pass and Your throne can be established. Lord, in Your goodness, hear my prayer. Amen.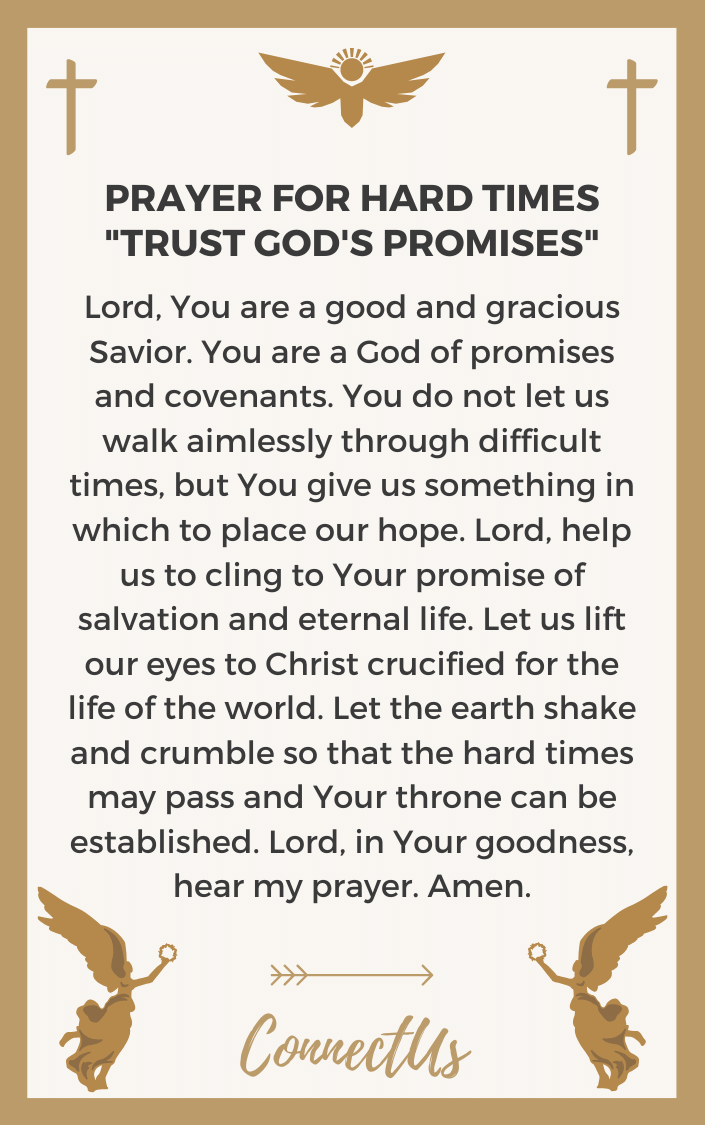 A Prayer for Perseverance in Hard Times
Father God, like any athlete in training, one has to be able to endure to finish the race and win the crown. Yet, this becomes very difficult as hard times test our faith and wear down our will to walk according to Your word. Lord, give Your saints the endurance and stamina to persevere through the most difficult days. Help us to rely not on bread alone, but on every word that proceeds from Your mouth. Amen.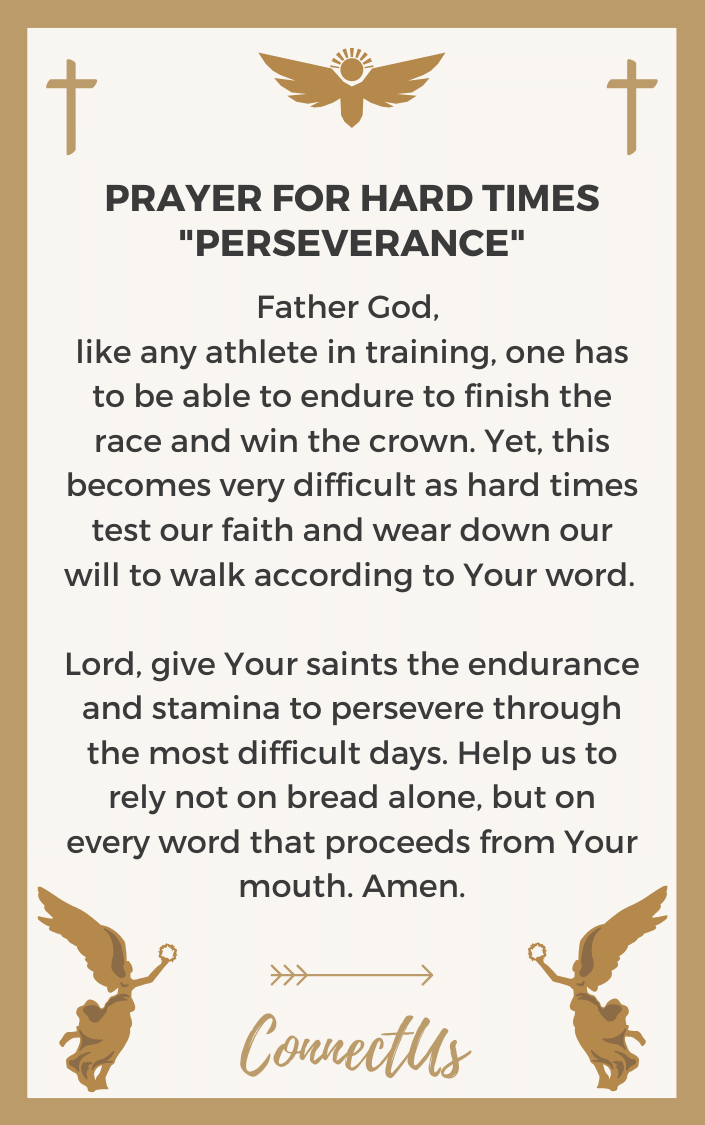 A Prayer for Determination in Trials
Lord God, the spiritual life is not for the soft natured. To make it to the end, the servant of God must be determined. Thus, I ask that You give me Your full armor and spiritual protection. Send a legion of Your Holy Angels to watch over and defend me from demons who lurk in life's most dark crevices. Give me an unwavering desire to seek after Your face, through Jesus, my Lord. Amen.
A Prayer for Endurance in Hard Times
Lord God, difficult times are the Devil's playground. Like a roaring lion, he lurks, waiting for the weak in spirit to make a misstep. He pounces on those without faith. He traps the unsuspecting with his cunning. O God, save us from the lion's jaws. Give us an enduring spirit, that we can become battle-hardened and ready to face the Devil in hard times. Amen.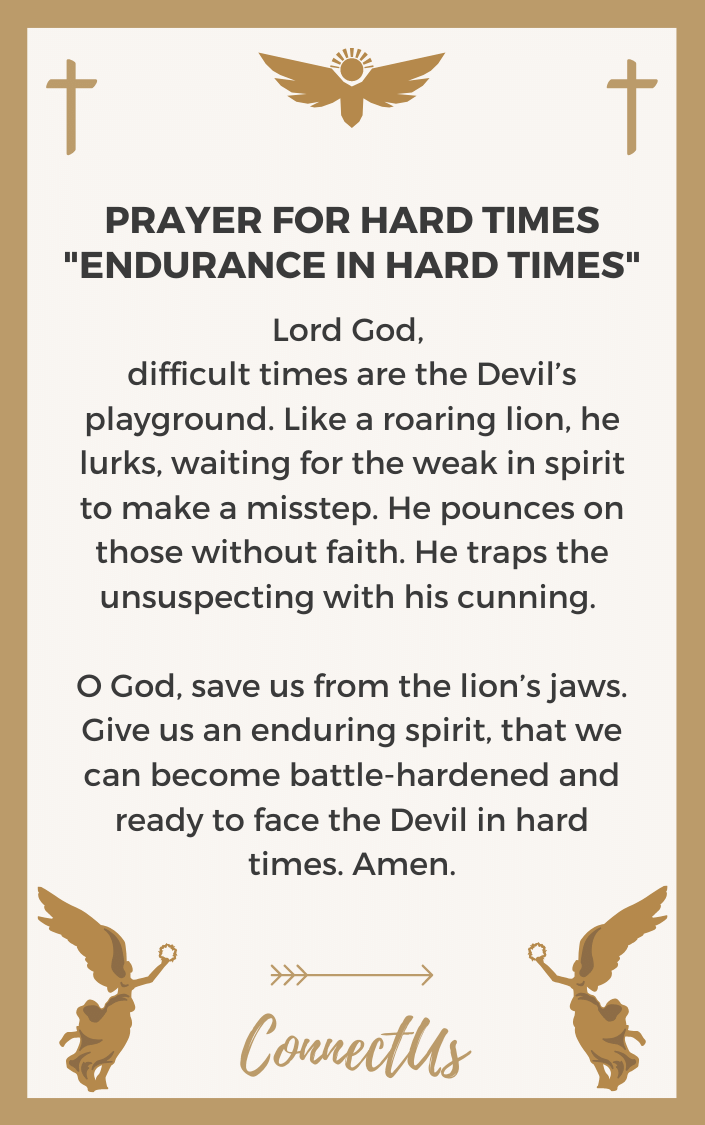 Most Popular Prayers by Topic
For Hard Times
For Financial Prosperity
For Physical Health
For Emotional Health
For Protection
For a Marriage
For Babies and Pregnancy
For Family
For Spiritual Warfare
For Spiritual Health
For a Death
For the Workplace
For Bedtime
Our 10 week prayer journal will guide you through your daily prayers and help you plan out your prayer week. It is completely free. You can
click here to get it now
.

Author Bio
Natalie Regoli is a child of God, devoted wife, and mother of two boys. She has a Master's Degree in Law from The University of Texas. Natalie has been published in several national journals and has been practicing law for 18 years.