The word "curse" occurs 194 times in the Bible. The infographic below identifies the points of each occurrence. This graphic presentation starts with Genesis in the top left and concludes with Revelation in the bottom right.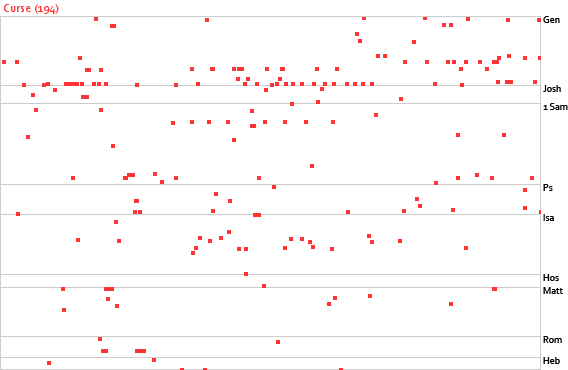 Here are the 20 strongest Bible scriptures on generational curses.
Genesis 3:17
And to Adam he said, "Because you have listened to the voice of your wife and have eaten of the tree of which I commanded you, 'You shall not eat of it,' cursed is the ground because of you; in pain you shall eat of it all the days of your life."
Romans 13:4
For he is God's servant for your good. But if you do wrong, be afraid, for he does not bear the sword in vain. For he is the servant of God, an avenger who carries out God's wrath on the wrongdoer.
Galatians 3:13
Christ redeemed us from the curse of the law by becoming a curse for us—for it is written, "Cursed is everyone who is hanged on a tree."
Psalm 84:11
For the Lord God is a sun and shield; the Lord bestows favor and honor. No good thing does he withhold from those who walk uprightly.
Judges 5:23
"Curse Meroz," says the angel of the Lord, "curse its inhabitants thoroughly, because they did not come to the help of the Lord, to the help of the Lord against the mighty."
1 Samuel 25:13
And David said to his men, "Every man strap on his sword!" And every man of them strapped on his sword. David also strapped on his sword. And about four hundred men went up after David, while two hundred remained with the baggage.
1 Timothy 5:8
But if anyone does not provide for his relatives, and especially for members of his household, he has denied the faith and is worse than an unbeliever.
2 Kings 5:27
Therefore the leprosy of Naaman shall cling to you and to your descendants forever. So he went out from his presence a leper, like snow.
Ezekiel 18:20
The soul who sins shall die. The son shall not suffer for the iniquity of the father, nor the father suffer for the iniquity of the son. The righteousness of the righteous shall be upon himself, and the wickedness of the wicked shall be upon himself.
Genesis 3:14
The Lord God said to the serpent, "Because you have done this, cursed are you above all livestock and above all beasts of the field; on your belly you shall go, and dust you shall eat all the days of your life."
Genesis 3:15
"I will put enmity between you and the woman, and between your offspring and her offspring; he shall bruise your head, and you shall bruise his heel."
Genesis 3:18
"Thorns and thistles it shall bring forth for you; and you shall eat the plants of the field."
Hebrews 13:8
Jesus Christ is the same yesterday and today and forever.
Judges 5:8
When new gods were chosen, then war was in the gates. Was shield or spear to be seen among forty thousand in Israel?
Luke 22:36
He said to them, "But now let the one who has a moneybag take it, and likewise a knapsack. And let the one who has no sword sell his cloak and buy one."
Numbers 22:6
Come now, curse this people for me, since they are too mighty for me. Perhaps I shall be able to defeat them and drive them from the land, for I know that he whom you bless is blessed, and he whom you curse is cursed.
Numbers 23:11
And Balak said to Balaam, "What have you done to me? I took you to curse my enemies, and behold, you have done nothing but bless them."
Proverbs 26:2
Like a sparrow in its flitting, like a swallow in its flying, a curse that is causeless does not alight.
Psalm 127:3
Behold, children are a heritage from the Lord, the fruit of the womb a reward.
Romans 12:19
Beloved, never avenge yourselves, but leave it to the wrath of God, for it is written, "Vengeance is mine, I will repay," says the Lord.
More Bible Verses that Will Move You
50 Most Powerful Scriptures on Faith
60 Transcendent Verses on Trust
50 Strong Scriptures on Perseverance
68 Powerful Verses on Forgiveness
40 Uplifting Scriptures on Patience
Add Our Infographic Below to Your Pinterest Board
Hit the pin button below to add our infographic, with all the verses, to one of your Pinterest boards.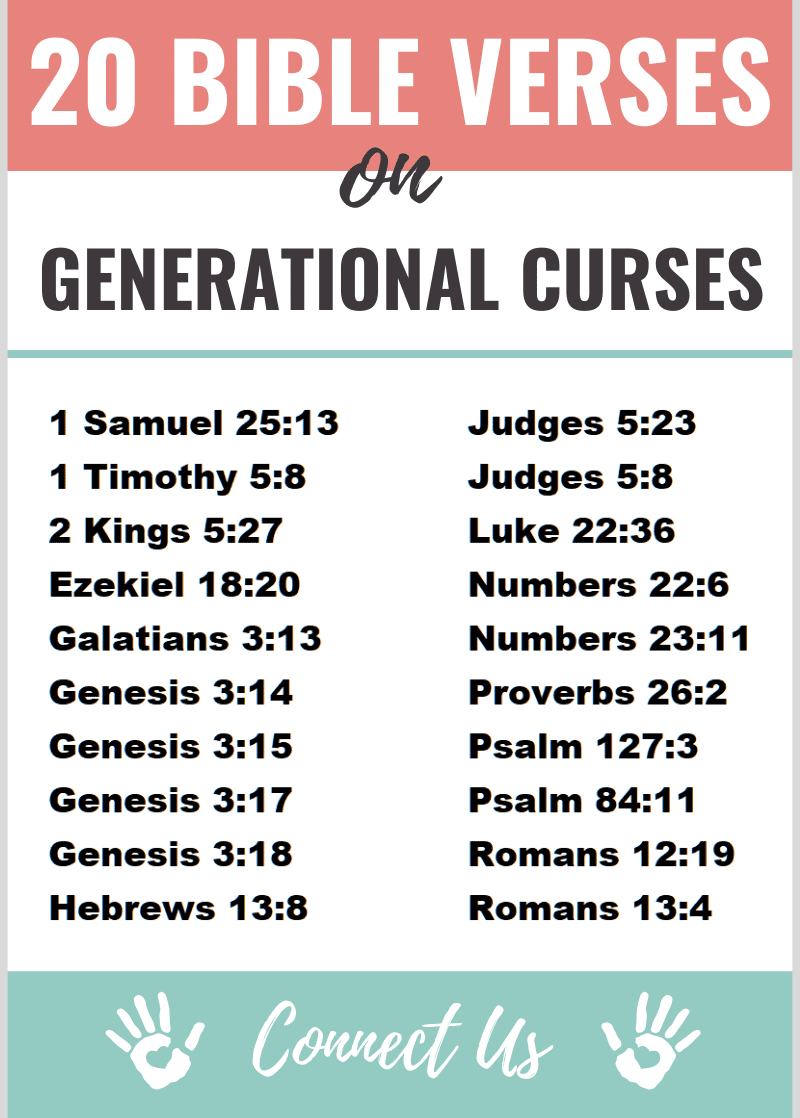 Author Bio
Natalie Regoli is a child of God, devoted wife, and mother of two boys. She has a Master's Degree in Law from The University of Texas. Natalie has been published in several national journals and has been practicing law for 18 years.