The word "sow" occurs 116 times in the Bible. The infographic below identifies the points of each occurrence. This graphic presentation starts with Genesis in the top left and concludes with Revelation in the bottom right.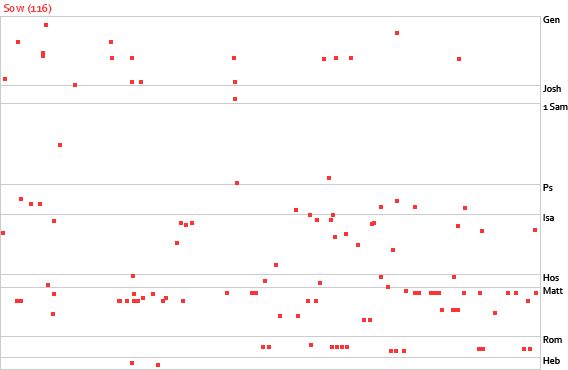 Here are the 25 most powerful Bible scriptures on sowing and reaping.
Galatians 6:7
Do not be deceived: God is not mocked, for whatever one sows, that will he also reap.
Luke 6:38
"Give, and it will be given to you. Good measure, pressed down, shaken together, running over, will be put into your lap. For with the measure you use it will be measured back to you."
2 Corinthians 9:6
The point is this: whoever sows sparingly will also reap sparingly, and whoever sows bountifully will also reap bountifully.
Proverbs 22:8
Whoever sows injustice will reap calamity, and the rod of his fury will fail.
Malachi 3:10
"Bring the full tithe into the storehouse, that there may be food in my house. And thereby put me to the test," says the Lord of hosts, "if I will not open the windows of heaven for you and pour down for you a blessing until there is no more need."
1 Corinthians 13:3
If I give away all I have, and if I deliver up my body to be burned, but have not love, I gain nothing.
2 Corinthians 8:12
For if the readiness is there, it is acceptable according to what a person has, not according to what he does not have.
2 Corinthians 9:7
Each one must give as he has decided in his heart, not reluctantly or under compulsion, for God loves a cheerful giver.
Ecclesiastes 3:1
For everything there is a season, and a time for every matter under heaven.
Galatians 6:6
One who is taught the word must share all good things with the one who teaches.
Galatians 6:8
For the one who sows to his own flesh will from the flesh reap corruption, but the one who sows to the Spirit will from the Spirit reap eternal life.
Galatians 6:9
And let us not grow weary of doing good, for in due season we will reap, if we do not give up.
Genesis 26:12
And Isaac sowed in that land and reaped in the same year a hundredfold. The Lord blessed him.
Haggai 2:8
"The silver is mine, and the gold is mine," declares the Lord of hosts.
Hosea 10:12
Sow for yourselves righteousness; reap steadfast love; break up your fallow ground, for it is the time to seek the Lord, that he may come and rain righteousness upon you.
Hosea 8:7
For they sow the wind, and they shall reap the whirlwind. The standing grain has no heads; it shall yield no flour; if it were to yield, strangers would devour it.
Job 4:8
As I have seen, those who plow iniquity and sow trouble reap the same.
John 3:16
For God so loved the world, that he gave his only Son, that whoever believes in him should not perish but have eternal life.
Luke 11:42
"But woe to you Pharisees! For you tithe mint and rue and every herb, and neglect justice and the love of God. These you ought to have done, without neglecting the others."
Proverbs 11:18
The wicked earns deceptive wages, but one who sows righteousness gets a sure reward.
Proverbs 28:20
A faithful man will abound with blessings, but whoever hastens to be rich will not go unpunished.
Psalm 126:5
Those who sow in tears shall reap with shouts of joy!
Psalm 24:1
A Psalm of David. The earth is the Lord's and the fullness thereof, the world and those who dwell therein.
Romans 11:35
Or who has given a gift to him that he might be repaid?
Romans 13:7
Pay to all what is owed to them: taxes to whom taxes are owed, revenue to whom revenue is owed, respect to whom respect is owed, honor to whom honor is owed.
More Bible Verses that Will Move You
50 Most Powerful Scriptures on Faith
60 Transcendent Verses on Trust
50 Strong Scriptures on Perseverance
68 Powerful Verses on Forgiveness
40 Uplifting Scriptures on Patience
Add Our Infographic Below to Your Pinterest Board
Hit the pin button below to add our infographic, with all the verses, to one of your Pinterest boards.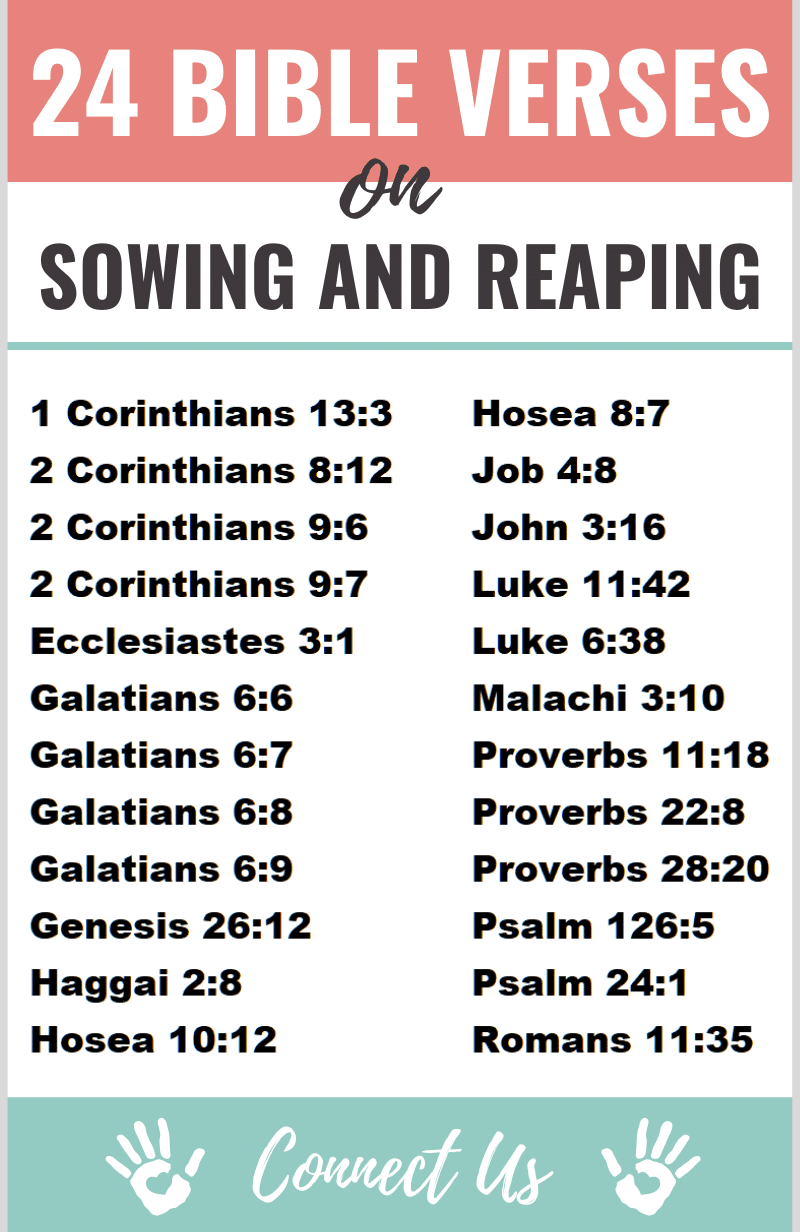 Author Bio
Natalie Regoli is a child of God, devoted wife, and mother of two boys. She has a Master's Degree in Law from The University of Texas. Natalie has been published in several national journals and has been practicing law for 18 years.