Life is full of ups and downs, and sometimes it is hard to meet the challenges we face head-on. Here are 25 uplifting prayers for encouragement along with printable images to use or share.
Prayer for Strength to Cope with Challenges
God my Advocate, please come alongside me with Your encouragement and strength as I cope with these daunting challenges. I'm feeling overwhelmed, but You are the restorer of my soul. I stand in faith that even though I sow in tears, I will reap with songs of joy. I praise You and thank You that blessing and prosperity will be mine when I fear You and walk in Your ways. Amen.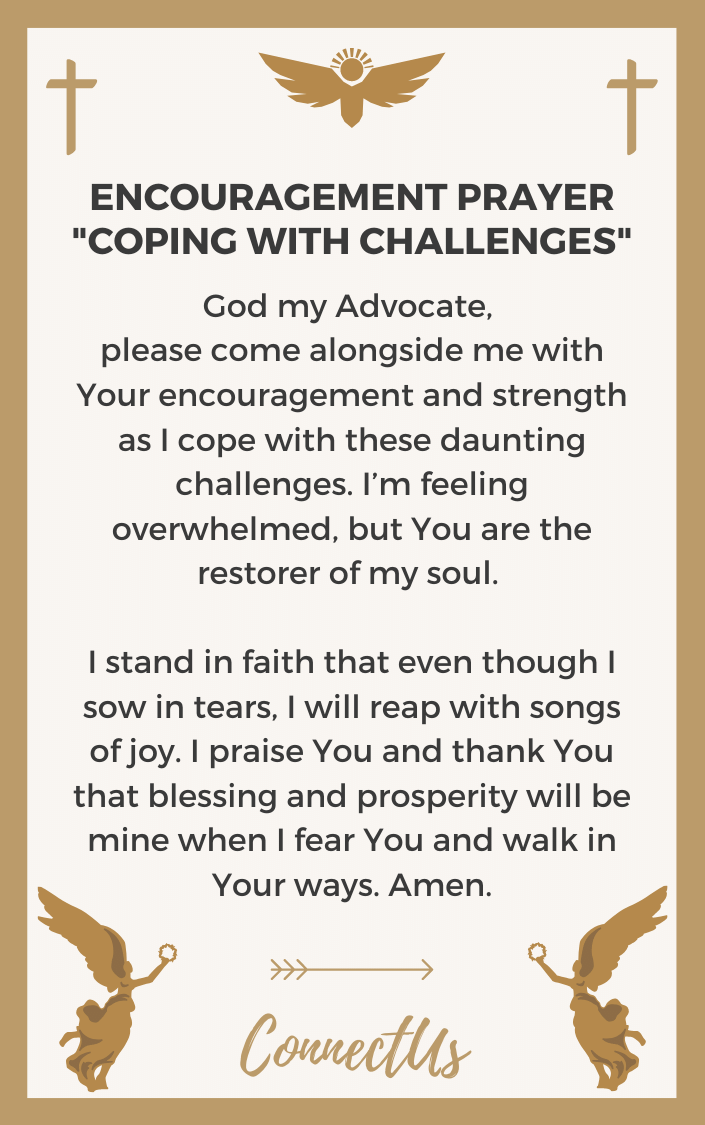 Prayer for Encouragement of God's Love and Truth
Lord of Hope, please encourage me with Your love and truth. I ask that You lift me out of despair and worry. In these dark times, please counsel and guide me with Your Word. Help me to rise above my circumstances and place my confidence in Your goodness and compassion. Holy Spirit, remind me that I can do all things through You, for You are my strength and my song. Amen.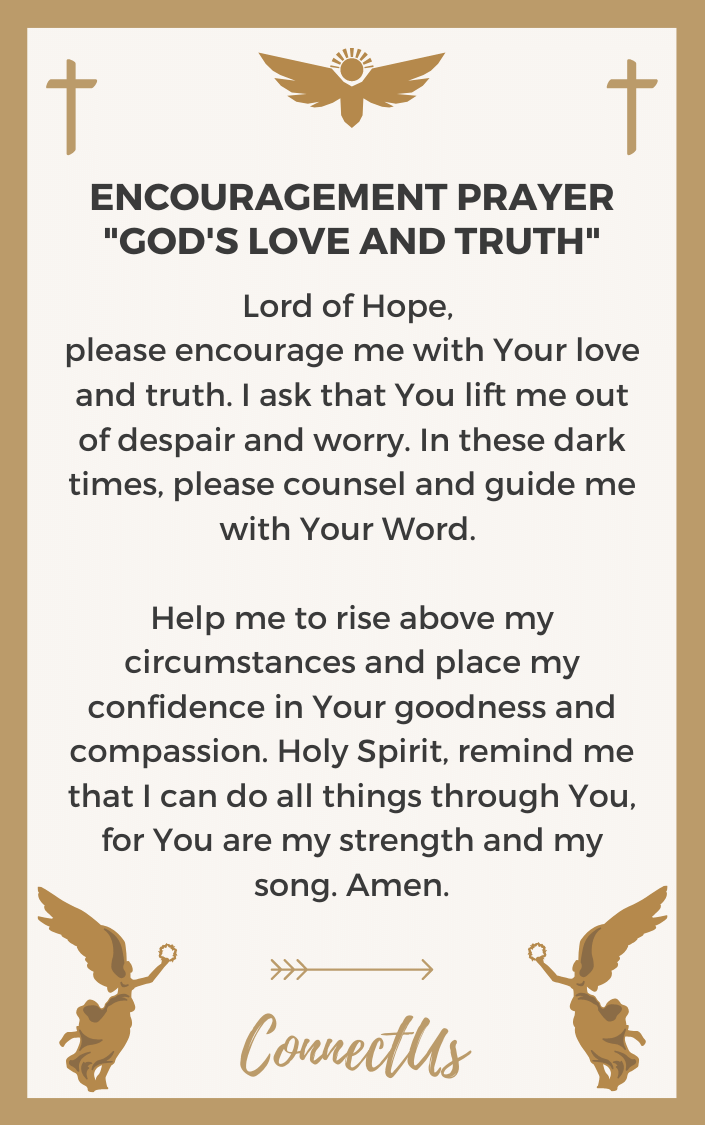 Prayer for Emboldening in Times of Fear
God my Champion, embolden me with the power of Your Holy Spirit when I am tempted to fear. Please strengthen me, help me, and hold me up with Your righteous right hand. These circumstances will not prevail against me, for You champion my cause. These troubles will be like grass that withers in the heat of the sun, for Your hand of blessing rests on me. Amen.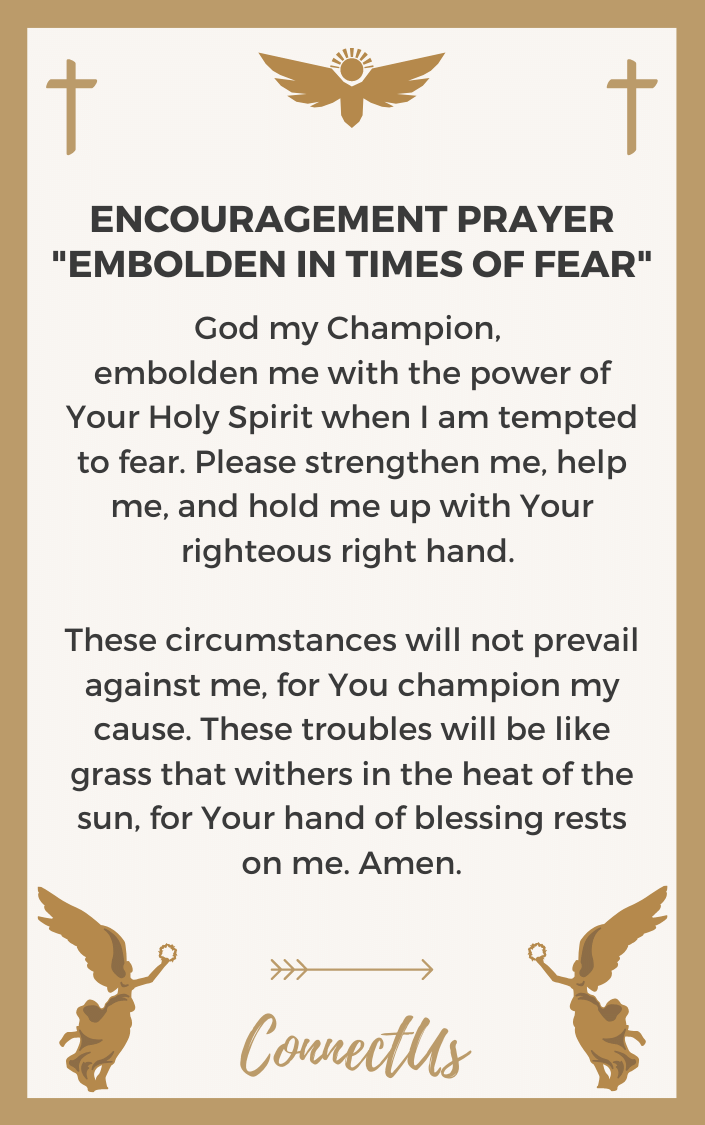 Prayer When Weary
Lifter of my Soul, come to me now with Your consolation and support. I am tired and worn out, feeling like I can't go on. Oh my Lord, please renew my strength as I wait on You. May I rise up on wings like eagles. Out of the depths, I cry to You; hear my voice and be attentive to my plea for help. In Your Word and Your mercy, I place my hope. Come to me now, my God of loving devotion. Amen.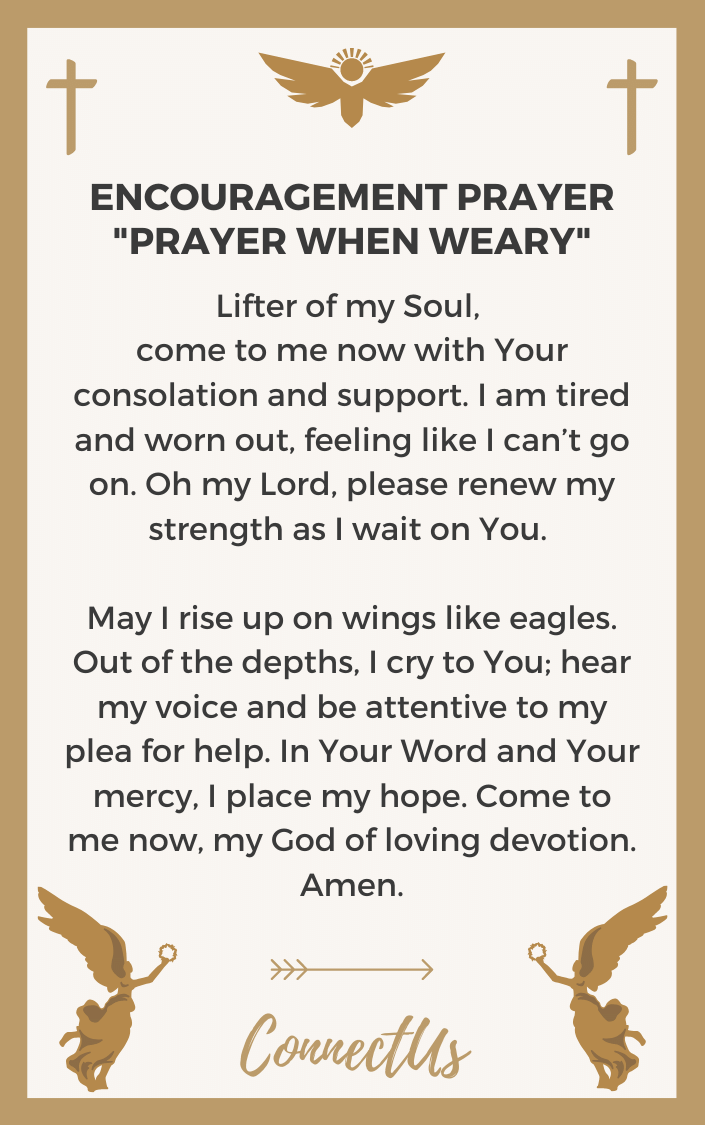 Prayer for Encouragement When Experiencing a Trial
God my Support, I confess that this fiery trial took me by surprise, and I almost lost my footing. Jesus, please rally to my side as I remember that I share in Your sufferings and will ultimately be overjoyed by the revelation of Your glory. Holy Spirit, please remind me that this trial is producing endurance in me, which is developing my character and building up my hope. How blessed I am to have You with me in the fire. Amen.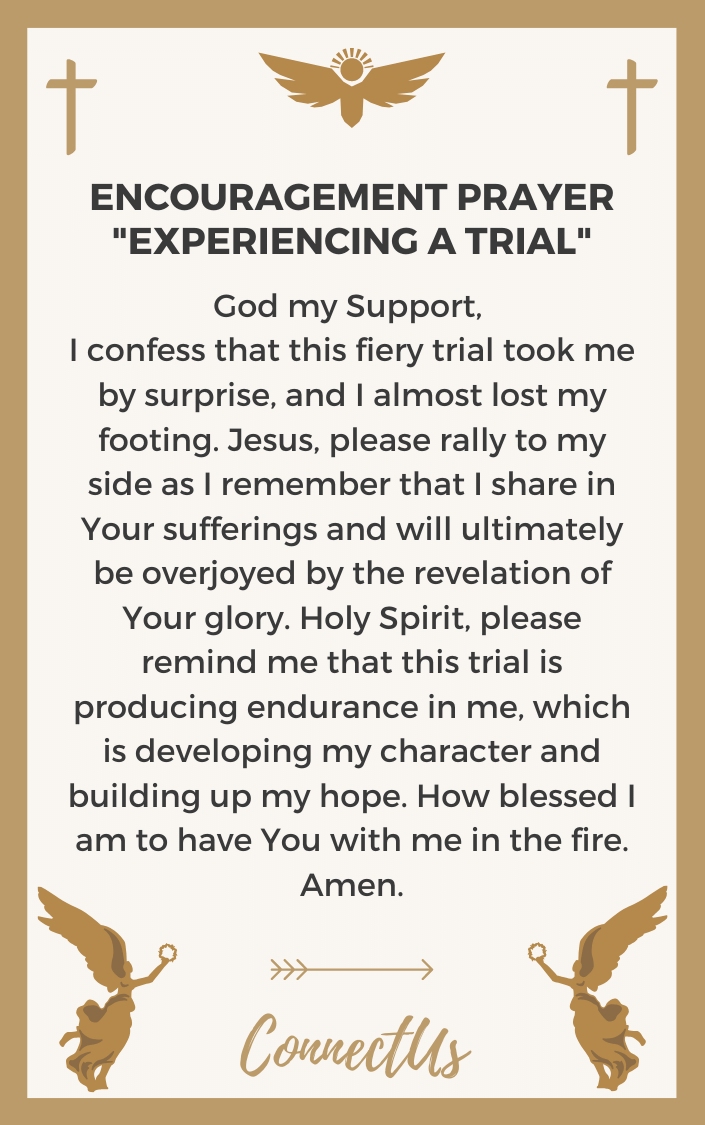 Prayer for Support in a Difficult Situation
God of Favor, I ask that You lend me Your support and buoy me up as I am confronted with this difficult situation. I am grateful that You, my God, go with me, and You fight for me against all that comes up against me, and You give me the victory. I will be still and quiet my soul, and put my hope in You, both now and forever. Bless me with Your favor. Amen.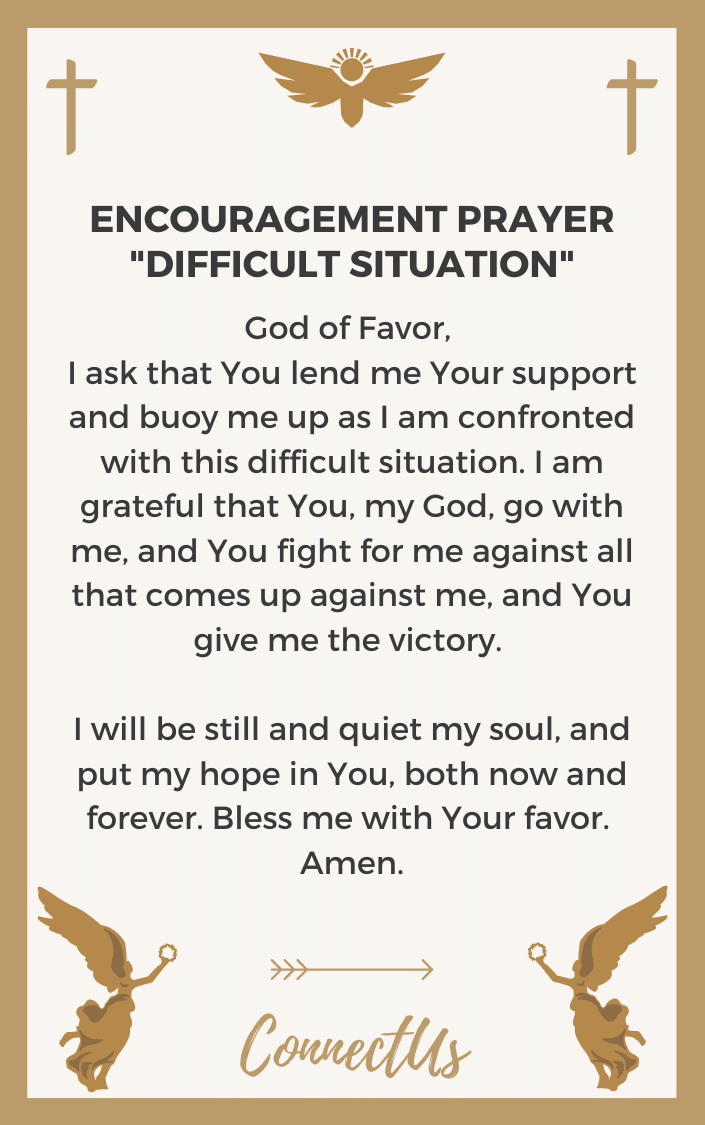 Prayer for God's Grace in Weakness
God my Confidence, You know that I'm going through a time of weakness right now, and I'm not able to accomplish what I would like to do. Lord, I pray for Your grace, for I know it will be sufficient. I pray for Your power to rest on me and be perfected in my weakness. For Your sake, I delight in my own lack of strength, I delight in hardship and difficulty, for when I am weak in and of myself, I am strong in You. Amen.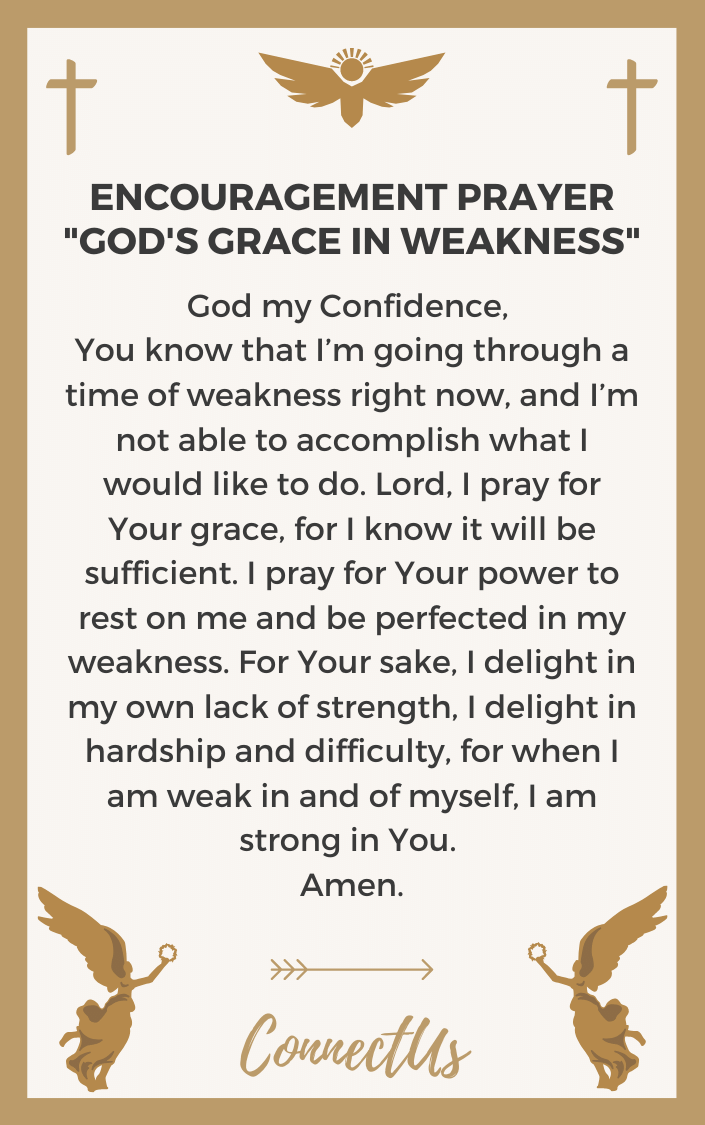 Prayer When Carrying a Heavy Load
Loving Savior, I pray that You will bear me up under this heavy load I'm carrying. You said for all who are weary and heavily burdened to come to You, and so I receive Your rest now. I thank You that You give power to the faint, and strength to the one who is powerless. I know You will have compassion on Your servant. Amen.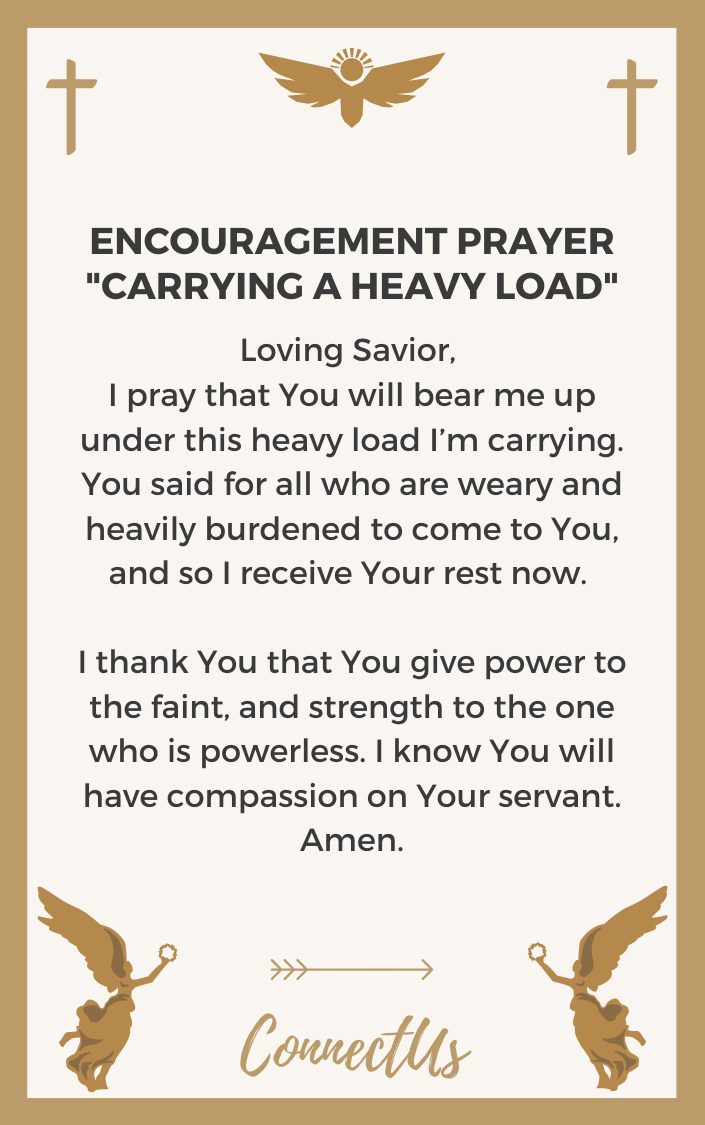 Prayer When Suffering Illness
God my Healer, I am suffering illness and I feel low in my spirit. I pray that You will revitalize both my body and my soul. Even if my body and my heart may fail, You are the strength of my heart and my portion forever. I thank You that on the day that I cry out to You, You hear me and answer me. You embolden me and strengthen my soul. Amen.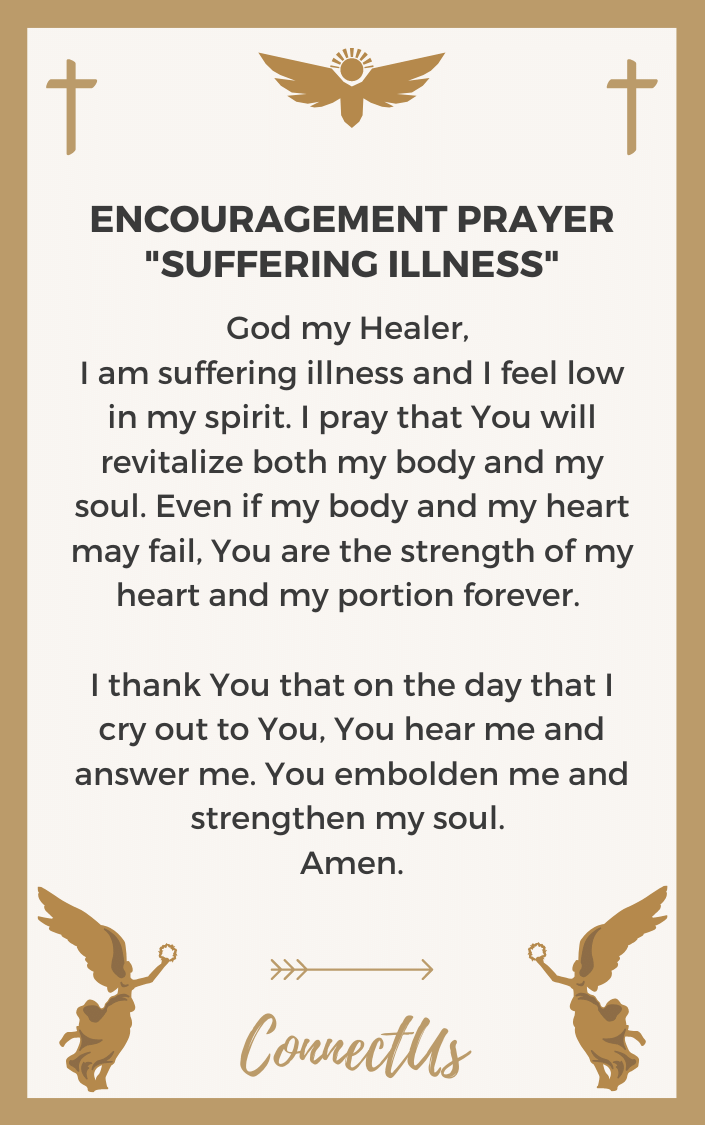 Prayer for the Joy of the Lord
Lord of Justice, I stand in grief before You, weeping for my sin and how I fall short of Your commands. And yet I thank You that when I confess my sins, You are faithful and just to forgive my sins. I ask for Your joy, for that is my strength. I center my thoughts and my meditations on You, on Your love, on Your grace, and on Your Holy Spirit's work in me. Amen.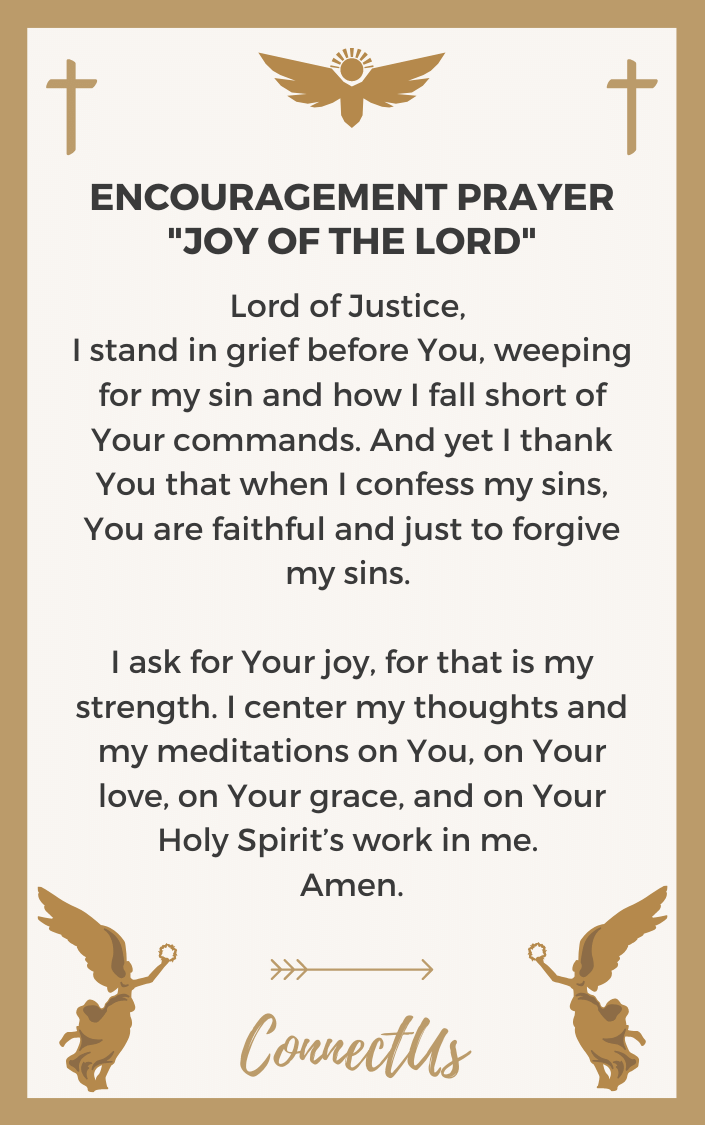 Prayer for Encouragement When Facing Temptation
Righteous Lord, I know Your desire for me is to live a holy and pure life, and I share that desire; however, right now I'm being strongly tempted to sin. Jesus, I am encouraged by knowing that You were also tempted when You walked the earth as a man, and You persevered. Lord, I thank You for providing a way of escape from temptation. Amen.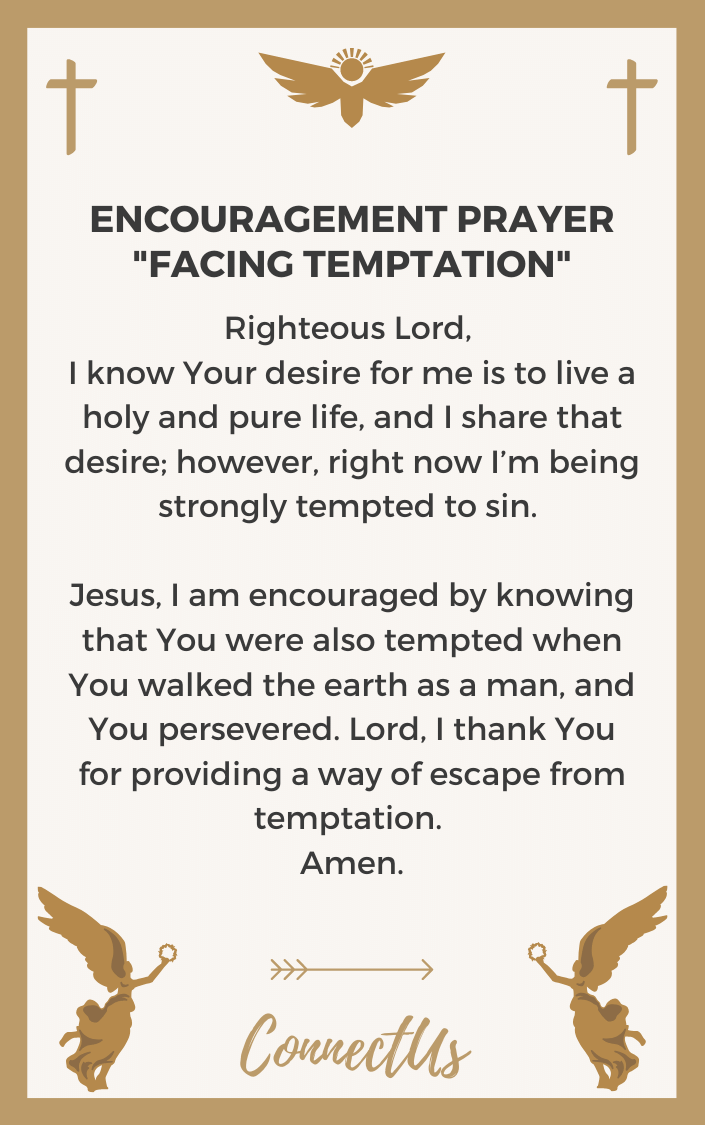 Prayer in a Time of Mourning
God of Comfort, I pray for Your consolation as I grieve the loss of my loved one. Lord, I miss my dear one immensely, but I find confidence in knowing that when the spirits of Your children leave their bodies, they are at home with You. Blessed are the dead that die in the Lord. Father, please minister comfort and lift up my soul, for my heart is heavy. Amen.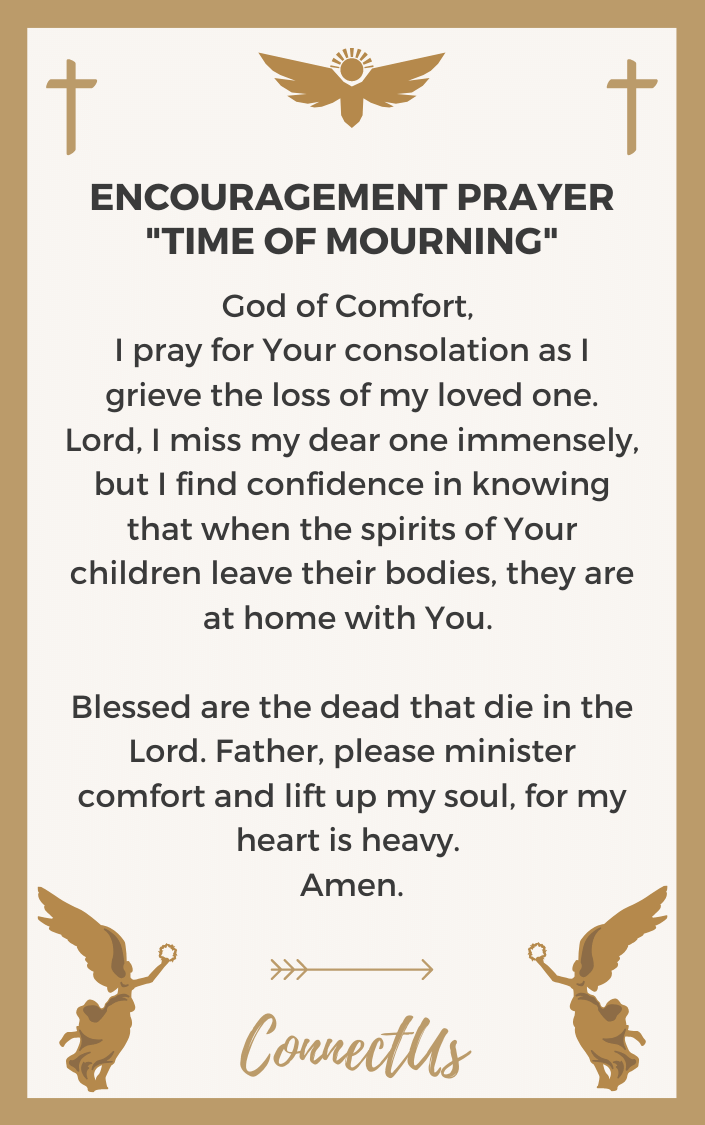 Prayer after a Setback
Faithful Lord, You know how dejected and lost I feel after this setback. I was certain that we were on the road to victory, and now this. Lord, please extend Your right hand and help me. Fulfill Your purpose for me. Don't abandon the work You started in me. Lord, please motivate me with the confidence I need right now. Your loving devotion endures forever. Amen.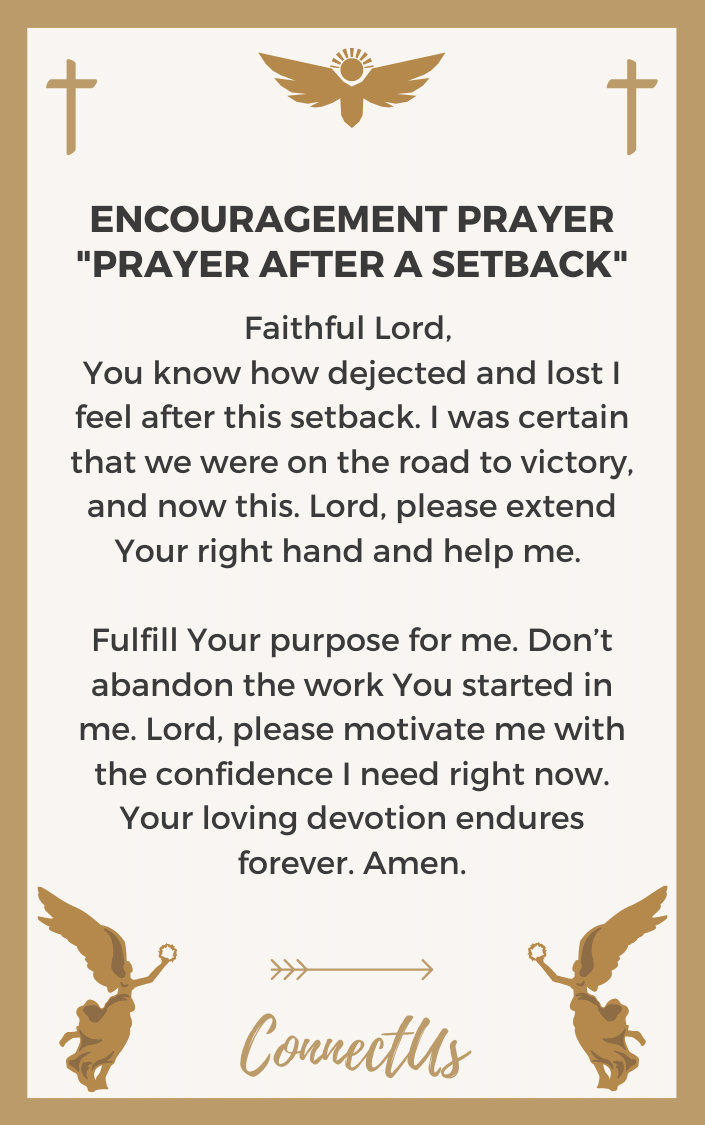 Prayer for Encouragement Through Financial Issues
Jehovah-Jireh, my Provider, I need Your guidance and encouragement as I work through these financial issues. Lord, I know You uphold justice for the poor and defend the cause of the needy. Please lift my spirits now, and remind me that there is light at the end of this tunnel. My eyes are fixed on You, O God my Lord, and in You I take hope. Amen.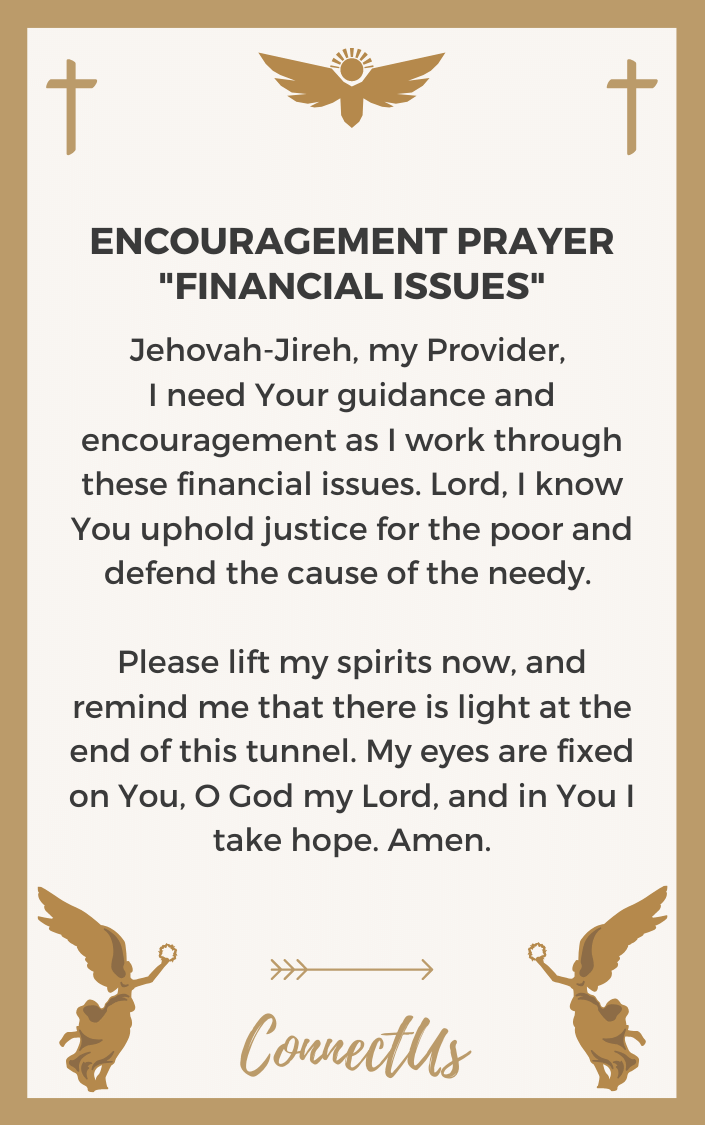 Prayer when Going Through Relationship Issues
God of Loving Devotion, You know the issues I'm having in this relationship. I need Your reassurance and Your advocacy at this time. Guide me in how to direct my behaviors and words to help mend this fence, for I know it is Your will that I live at peace with everyone, as much as I am able. Lord Jesus, I am encouraged by studying Your example when You lived among us. Amen.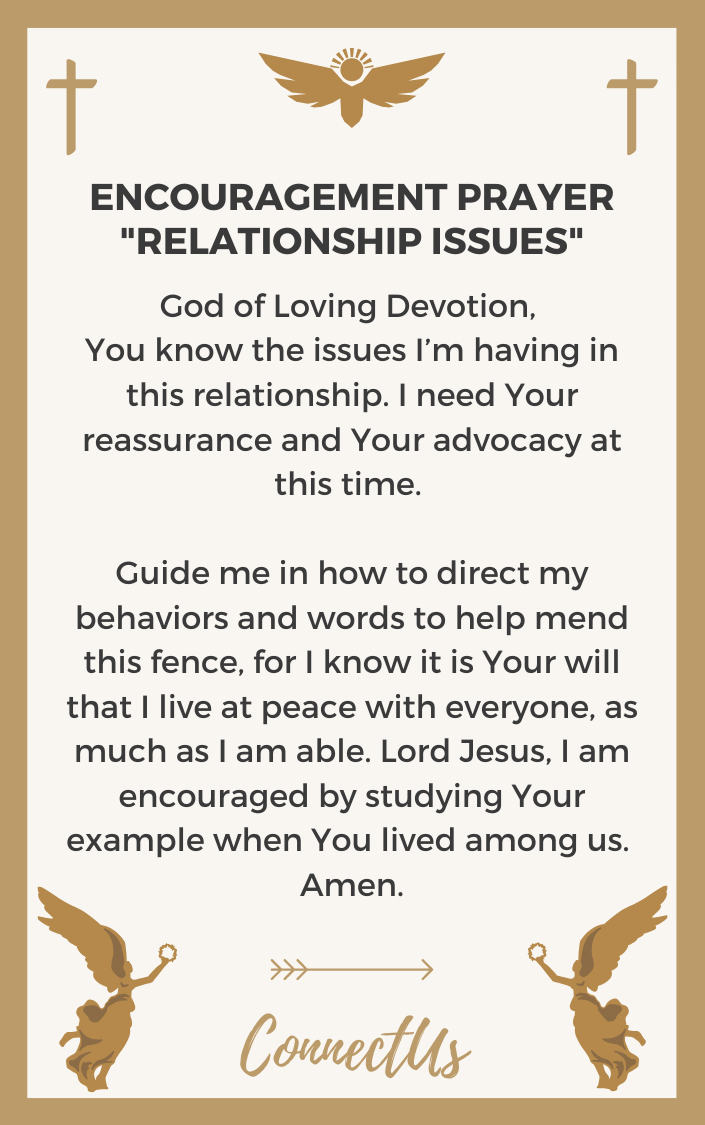 Prayer for Hope When Unemployed
My God of Consolation, I am so discouraged now because I have no employment and no income. Please minister to me with consolation and hope. I bless You, Lord, for You daily carry my burdens, and I am confident that You will supply all my needs, and You will lead me to a good-paying and satisfying job. O God, You are awesome! You give strength and power to Your people. Amen.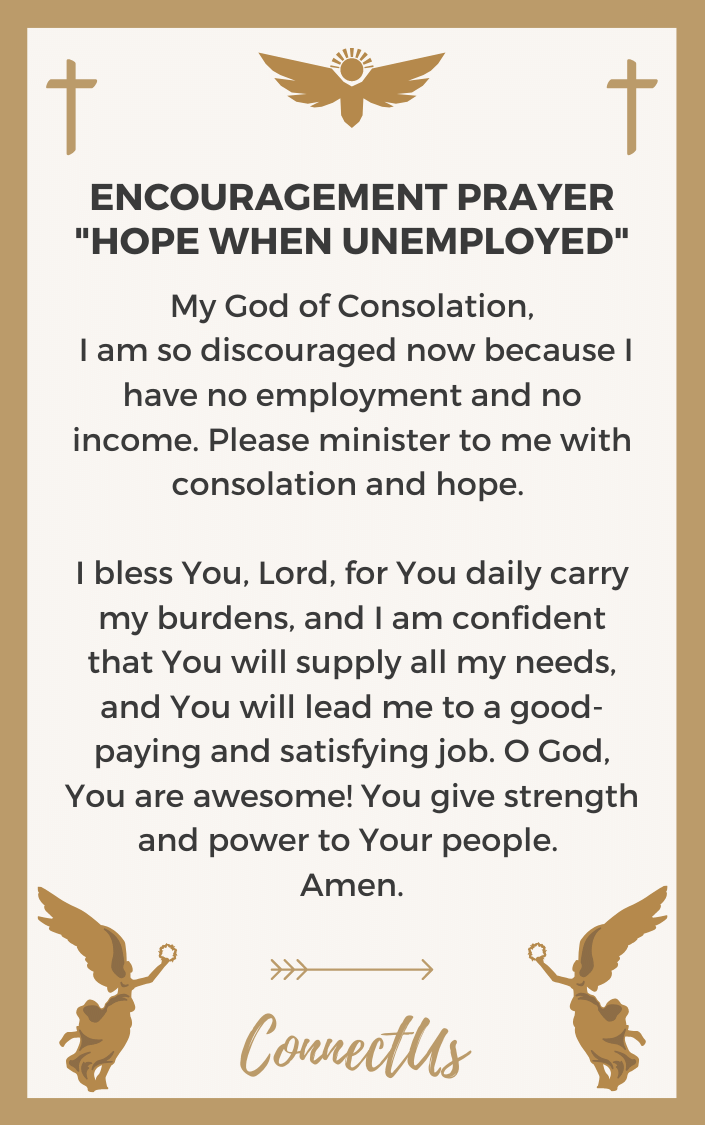 Prayer When Dealing with Parenting Challenges
O God of Infinite Wisdom, You know the challenges I have with my children. I pray for Your support and Your inspiration as I deal with behaviors, and try to keep them on the right track and do what I can to help them progress academically and spiritually and emotionally and socially. Invigorate me, I pray, and guide me with the wisdom of Your Holy Spirit. Amen.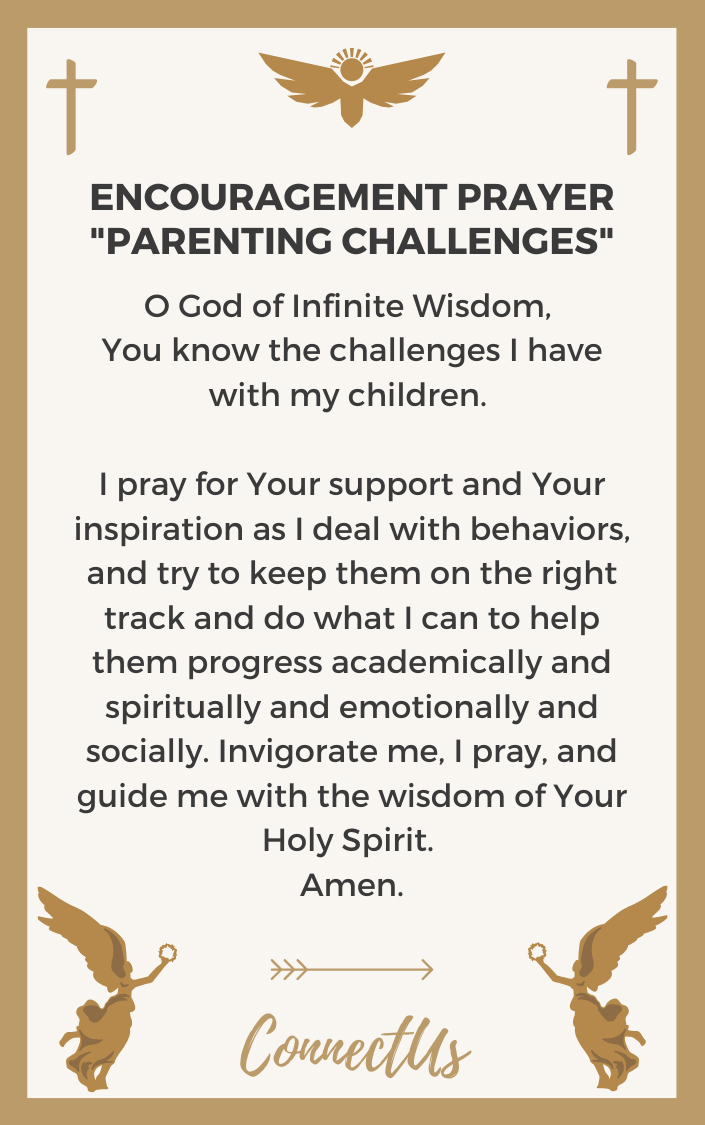 Prayer for Encouragement in Following Healthy Life Choices
Lord, You are my source of everything I need. I pray now for Your encouragement and motivation as I press forward in following healthy life choices. You know my struggles with weight management and unhealthy eating patterns and a sedentary lifestyle. Please cheer me on as I endeavor to make wise choices and follow through on them. I rejoice before You Lord, knowing You will help me conquer my bad habits. Amen.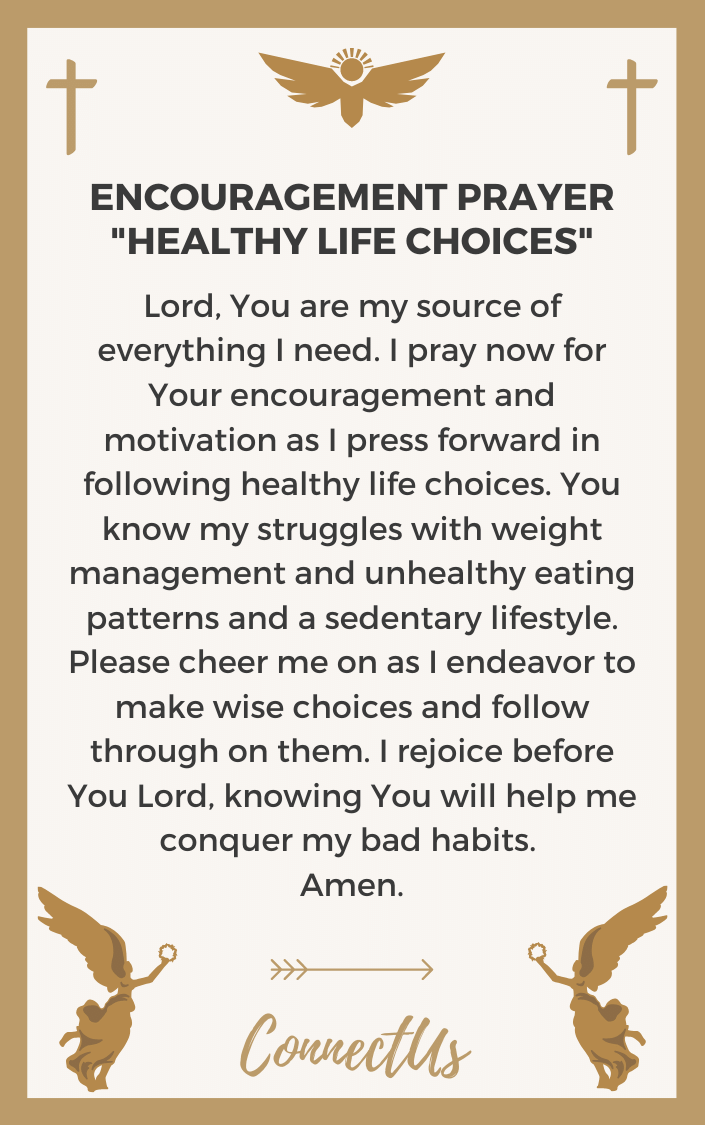 Prayer to Stiffen My Resolve
God of Majesty, I'm finding myself second-guessing my decisions, even when they were made after prayer and careful and insightful assessment. Lord, please strengthen my resolve to follow through on the path You set before me. I am thankful that You go before me, and You exert Your strength on my behalf. Blessed be my God who rides upon the highest heavens, whose mighty voice resounds through the universe. Amen.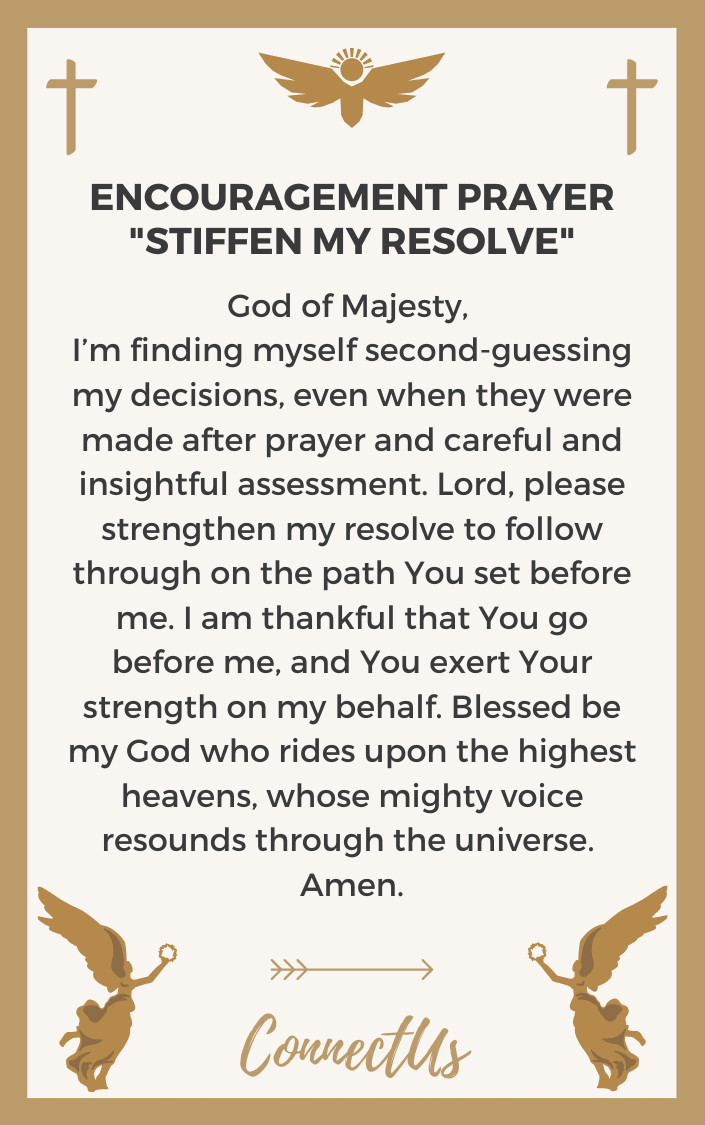 Prayer When Discouraged at Work
God of Abundance, You know how discouraged I am at my workplace. I feel like I'm not going anywhere. I need Your motivation right now. Please light a fire under me to do my work heartily, with my whole being, working in Your Name and not for people, giving thanks to You. I know that You will lead me to a position of prosperity. Amen.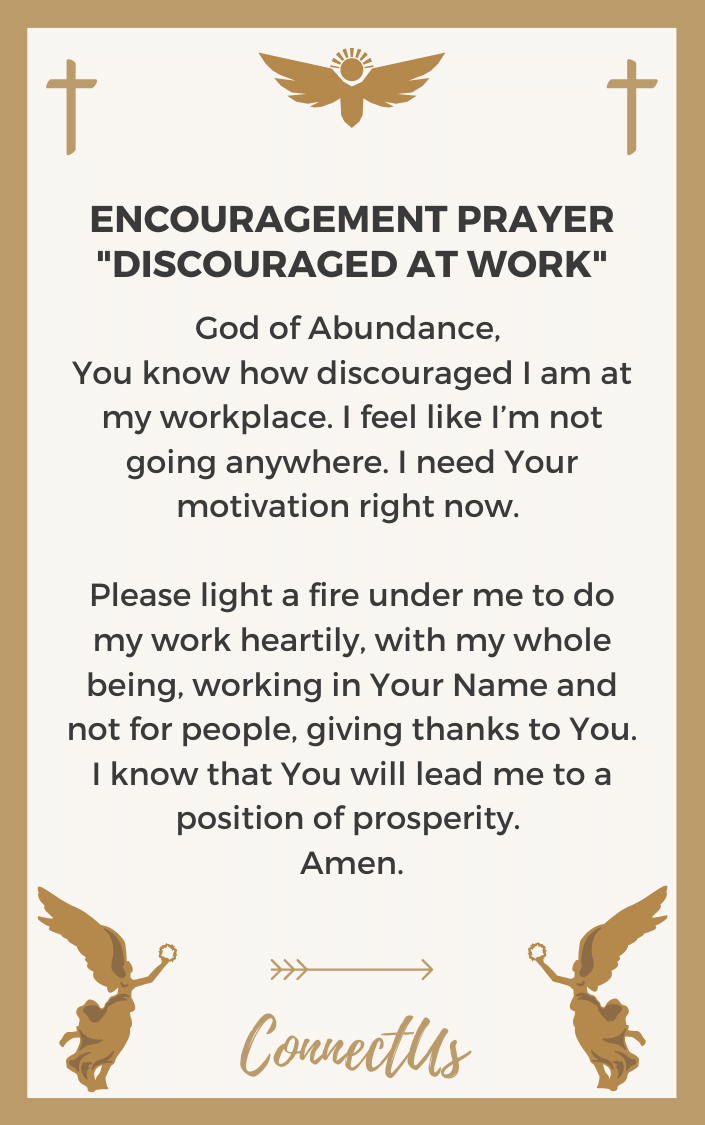 Prayer for Strength to Persevere
O Father, You are the refresher of the weary, and I need Your strength and inspiration to persevere toward the goal You have set before me. Help me to run with endurance, and to fix my gaze on Jesus, the Author and Perfecter of my faith, so that I don't grow weary and lose heart. Father, please strengthen my limp hands and weak knees. Amen.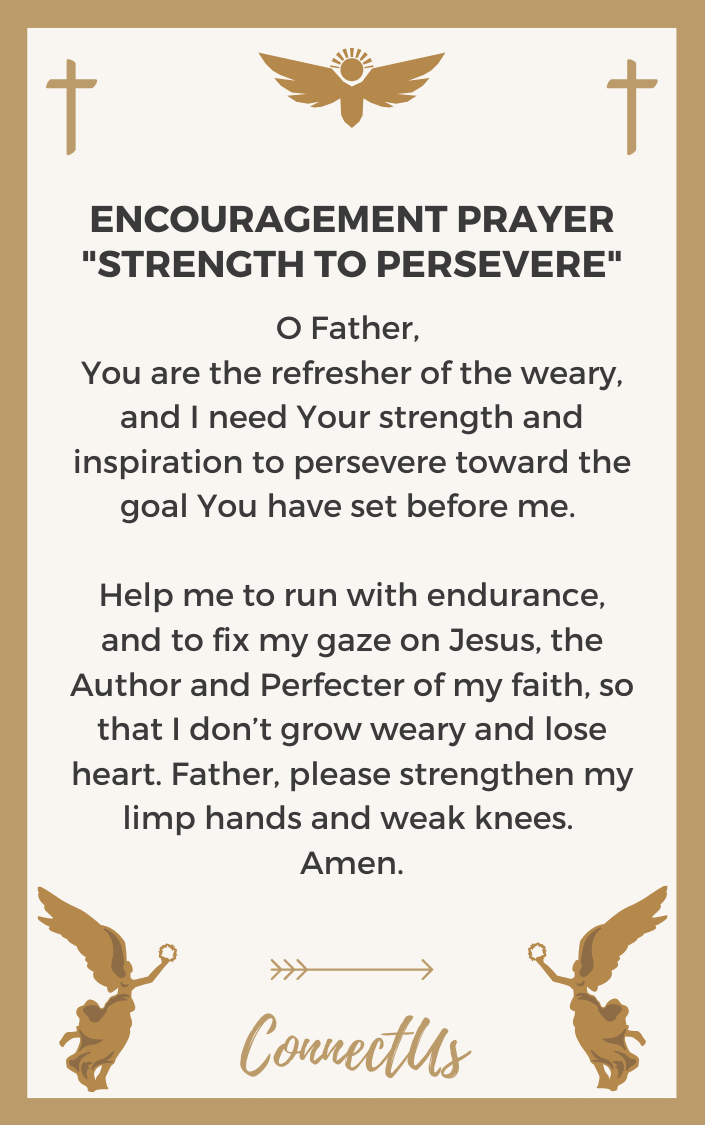 Prayer for Affirmation in My Identity
Abba, Father, I am blessed that You are my Abba, my Daddy, and my identity rests in You, for I am Your child and I have sweet and blessed intimacy in You. And now, dear Father, You know I often short-circuit myself with self-doubt, self-loathing, and self-condemnation. Lift my eyes to You, the One who rides on the clouds, and revitalize my mind and spirit with Your truth. Amen.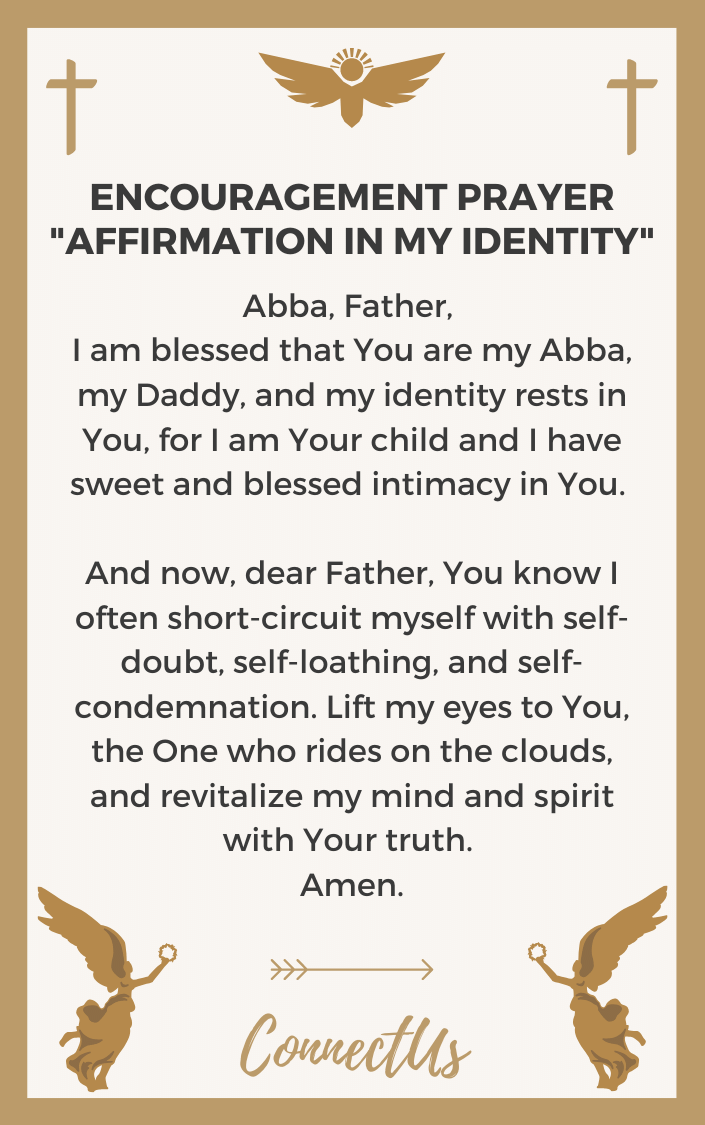 Prayer for Support and Encouragement in Breaking Addictions
Lord, my Chain-Breaker, please flood me right now with Your support and encouragement as I move forward in breaking these addictions that are ruining my health, my relationships, and my career. Rally to my aid, O Lord my strength, and lead me out of this prison and into a place of peace and stability. I celebrate every day of freedom with joy in You. Amen.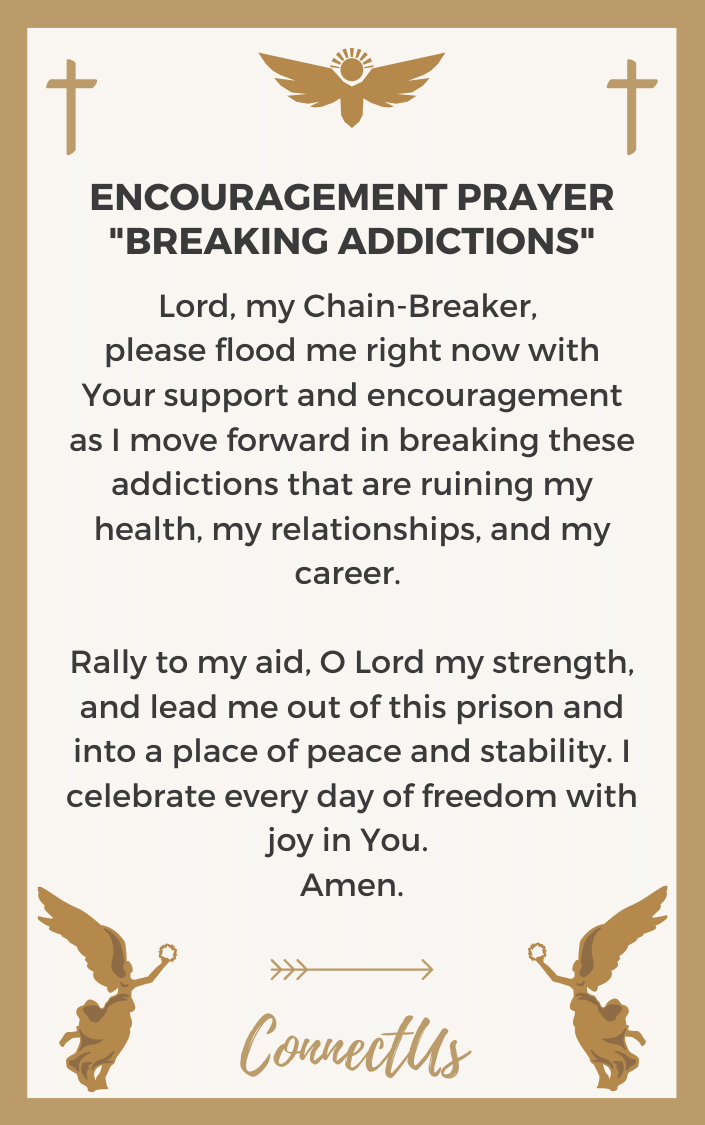 Prayer to Spur on in Spiritual Disciplines
Lord, You are the defender of the weak, and I confess that I am often weak and lack focus in attending to the spiritual disciplines of prayer, fasting, and meditating on Your Word. Spur me on in this most important pursuit, send Your rain and refresh my soul as I spend time in delighting in You. I rejoice before You in Your holy habitation. Amen.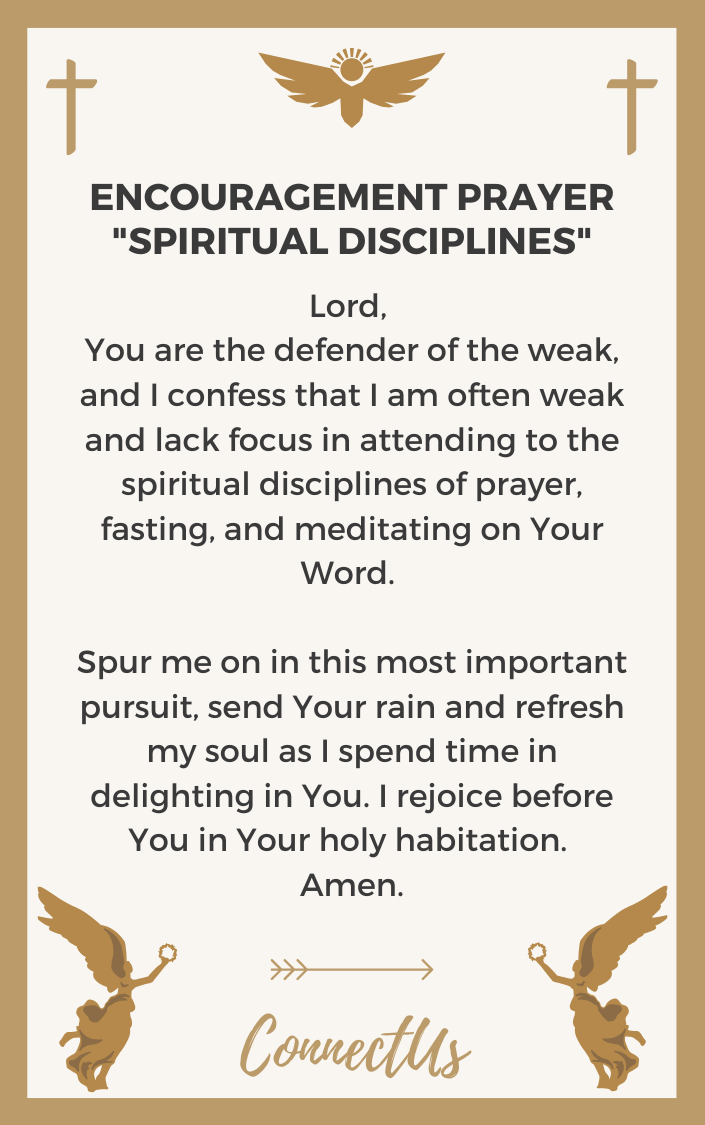 Prayer to Lift up from Negative Thought Patterns
My God of Deliverance, please lift me up and out of these negative thought patterns of hopelessness, discouragement, depression, and grumbling. Refresh and renew my mind with the truth of Your Word over all my circumstances. Remind and encourage me that when I rest in You, that You turn my test into a testimony. As smoke is blown away, You will drive these problems out, and I will rejoice before You. Amen.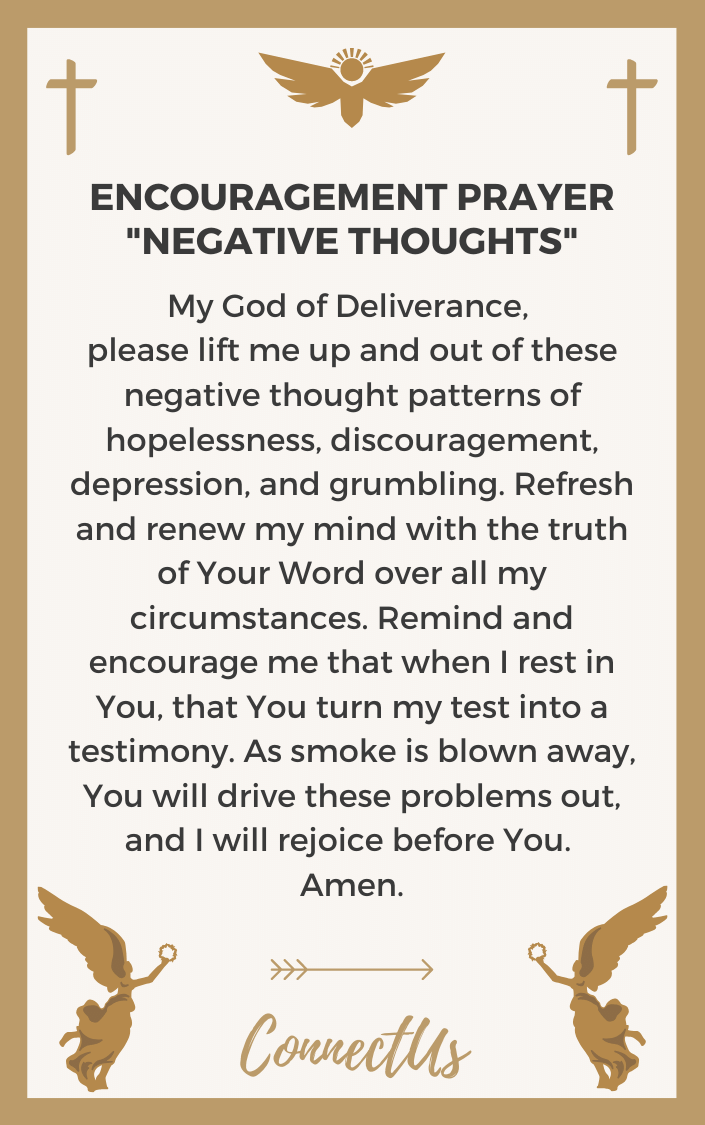 Most Popular Prayers by Topic
For Hard Times
For Financial Prosperity
For Physical Health
For Emotional Health
For Protection
For a Marriage
For Babies and Pregnancy
For Family
For Spiritual Warfare
For Spiritual Health
For a Death
For the Workplace
For Bedtime
Our 10 week prayer journal will guide you through your daily prayers and help you plan out your prayer week. It is completely free. You can
click here to get it now
.

Author Bio
Natalie Regoli is a child of God, devoted wife, and mother of two boys. She has a Master's Degree in Law from The University of Texas. Natalie has been published in several national journals and has been practicing law for 18 years.