Here are the 30 best Bible scriptures on anointing.
1 John 2:27
But the anointing that you received from him abides in you, and you have no need that anyone should teach you. But as his anointing teaches you about everything, and is true, and is no lie—just as it has taught you, abide in him.
1 John 2:20
But you have been anointed by the Holy One, and you all have knowledge.
Luke 4:18
The Spirit of the Lord is upon me, because he has anointed me to proclaim good news to the poor. He has sent me to proclaim liberty to the captives and recovering of sight to the blind, to set at liberty those who are oppressed.
James 5:14
Is anyone among you sick? Let him call for the elders of the church, and let them pray over him, anointing him with oil in the name of the Lord.
Luke 7:46
"You did not anoint my head with oil, but she has anointed my feet with ointment."
1 Kings 19:16
And Jehu the son of Nimshi you shall anoint to be king over Israel, and Elisha the son of Shaphat of Abel-meholah you shall anoint to be prophet in your place.
1 Samuel 16:13
Then Samuel took the horn of oil and anointed him in the midst of his brothers. And the Spirit of the Lord rushed upon David from that day forward. And Samuel rose up and went to Ramah.
2 Corinthians 1:21
And it is God who establishes us with you in Christ, and has anointed us.
Acts 4:27
For truly in this city there were gathered together against your holy servant Jesus, whom you anointed, both Herod and Pontius Pilate, along with the Gentiles and the peoples of Israel.
Daniel 10:3
I ate no delicacies, no meat or wine entered my mouth, nor did I anoint myself at all, for the full three weeks.
Daniel 9:24
Seventy weeks are decreed about your people and your holy city, to finish the transgression, to put an end to sin, and to atone for iniquity, to bring in everlasting righteousness, to seal both vision and prophet, and to anoint a most holy place.
Exodus 40:10
"You shall also anoint the altar of burnt offering and all its utensils, and consecrate the altar, so that the altar may become most holy."
Exodus 40:9
"Then you shall take the anointing oil and anoint the tabernacle and all that is in it, and consecrate it and all its furniture, so that it may become holy."
Genesis 28:18
So early in the morning Jacob took the stone that he had put under his head and set it up for a pillar and poured oil on the top of it.
Genesis 31:13
"I am the God of Bethel, where you anointed a pillar and made a vow to me. Now arise, go out from this land and return to the land of your kindred."
Hebrews 1:9
You have loved righteousness and hated wickedness; therefore God, your God, has anointed you with the oil of gladness beyond your companions.
Isaiah 45:1
Thus says the Lord to his anointed, to Cyrus, whose right hand I have grasped, to subdue nations before him and to loose the belts of kings, to open doors before him that gates may not be closed.
Isaiah 61:1
The Spirit of the Lord God is upon me, because the Lord has anointed me to bring good news to the poor; he has sent me to bind up the brokenhearted, to proclaim liberty to the captives, and the opening of the prison to those who are bound.
Isaiah 61:3
To grant to those who mourn in Zion— to give them a beautiful headdress instead of ashes, the oil of gladness instead of mourning, the garment of praise instead of a faint spirit; that they may be called oaks of righteousness, the planting of the Lord, that he may be glorified.
Leviticus 8:10
Then Moses took the anointing oil and anointed the tabernacle and all that was in it, and consecrated them.
Leviticus 8:11
And he sprinkled some of it on the altar seven times, and anointed the altar and all its utensils and the basin and its stand, to consecrate them.
Leviticus 8:12
And he poured some of the anointing oil on Aaron's head and anointed him to consecrate him.
Luke 10:34
He went to him and bound up his wounds, pouring on oil and wine. Then he set him on his own animal and brought him to an inn and took care of him.
Luke 23:56
Then they returned and prepared spices and ointments. On the Sabbath they rested according to the commandment.
Luke 7:37
And behold, a woman of the city, who was a sinner, when she learned that he was reclining at table in the Pharisee's house, brought an alabaster flask of ointment.
Mark 6:13
And they cast out many demons and anointed with oil many who were sick and healed them.
Matthew 26:12
"In pouring this ointment on my body, she has done it to prepare me for burial."
Proverbs 21:20
Precious treasure and oil are in a wise man's dwelling, but a foolish man devours it.
Psalm 20:6
Now I know that the Lord saves his anointed; he will answer him from his holy heaven with the saving might of his right hand.
Song of Solomon 1:3
Your anointing oils are fragrant; your name is oil poured out; therefore virgins love you.
More Bible Verses that Will Move You
50 Most Powerful Scriptures on Faith
60 Transcendent Verses on Trust
50 Strong Scriptures on Perseverance
68 Powerful Verses on Forgiveness
40 Uplifting Scriptures on Patience
Add Our Infographic Below to Your Pinterest Board
Hit the pin button below to add our infographic, with all the verses, to one of your Pinterest boards.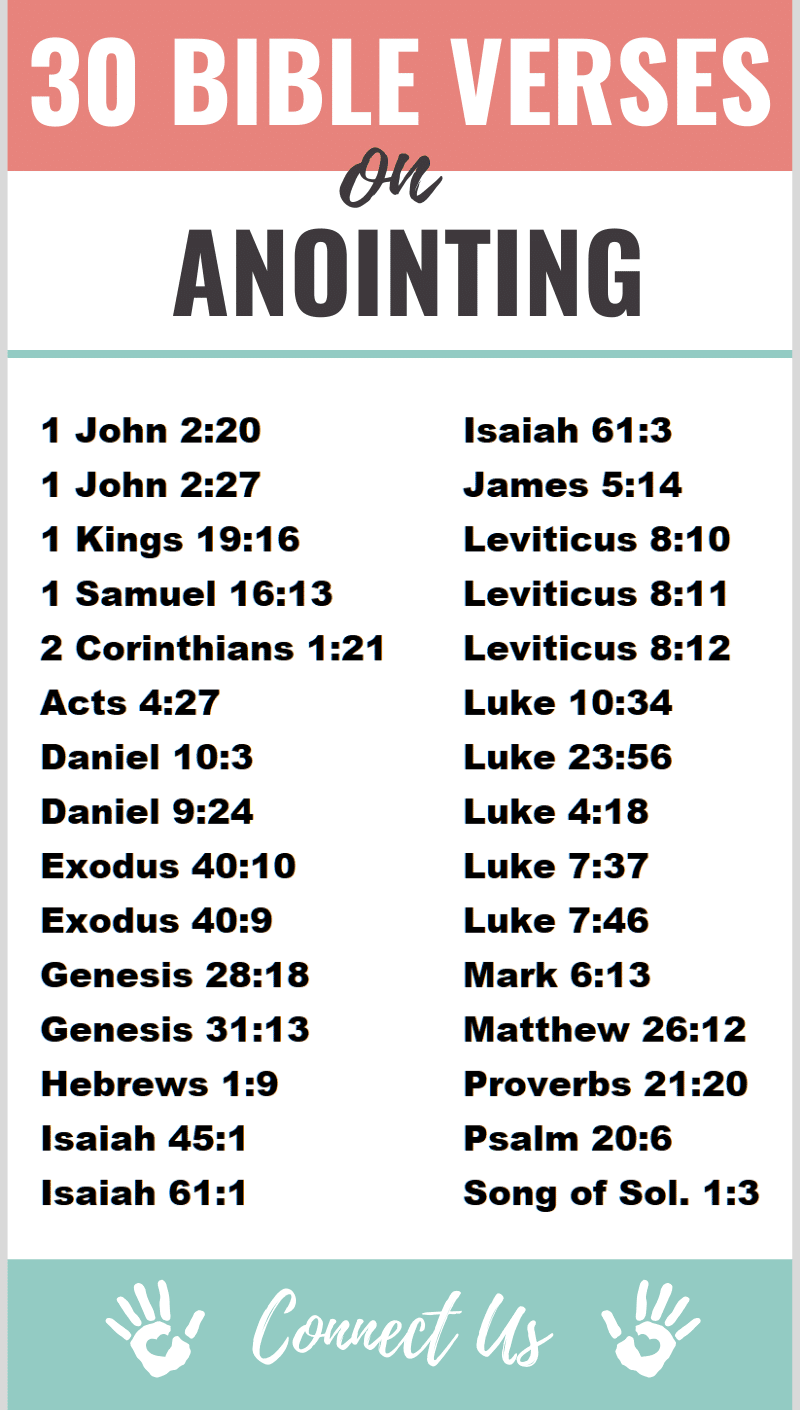 Author Bio
Natalie Regoli is a child of God, devoted wife, and mother of two boys. She has a Masters Degree in Law from The University of Texas. Natalie has been published in several national journals and has been practicing law for 18 years. If you would like to reach out to contact Natalie, then go here to
send her a message
.