The word "wife" occurs 395 times in the Bible. The infographic below identifies the points of each occurrence. This graphic presentation starts with Genesis in the top left and concludes with Revelation in the bottom right.
Here are the 30 best Bible scriptures on finding a wife.
Proverbs 18:22
He who finds a wife finds a good thing and obtains favor from the Lord.
Psalm 37:4
Delight yourself in the Lord, and he will give you the desires of your heart.
Proverbs 19:14
House and wealth are inherited from fathers, but a prudent wife is from the Lord.
Genesis 2:18
Then the Lord God said, "It is not good that the man should be alone; I will make him a helper fit for him."
Proverbs 12:4
An excellent wife is the crown of her husband, but she who brings shame is like rottenness in his bones.
1 Corinthians 7:2
But because of the temptation to sexual immorality, each man should have his own wife and each woman her own husband.
1 Corinthians 7:3
The husband should give to his wife her conjugal rights, and likewise the wife to her husband.
1 Corinthians 7:39
A wife is bound to her husband as long as he lives. But if her husband dies, she is free to be married to whom she wishes, only in the Lord.
1 Corinthians 7:8
To the unmarried and the widows I say that it is good for them to remain single as I am.
1 Peter 3:7
Likewise, husbands, live with your wives in an understanding way, showing honor to the woman as the weaker vessel, since they are heirs with you of the grace of life, so that your prayers may not be hindered.
1 Peter 4:8
Above all, keep loving one another earnestly, since love covers a multitude of sins.
2 Corinthians 6:14
Do not be unequally yoked with unbelievers. For what partnership has righteousness with lawlessness? Or what fellowship has light with darkness?
Ephesians 5:21
Submitting to one another out of reverence for Christ.
Ephesians 5:22
Wives, submit to your own husbands, as to the Lord.
Ephesians 5:25
Husbands, love your wives, as Christ loved the church and gave himself up for her.
Ephesians 5:3
But sexual immorality and all impurity or covetousness must not even be named among you, as is proper among saints.
Ephesians 5:33
However, let each one of you love his wife as himself, and let the wife see that she respects her husband.
Genesis 2:24
Therefore a man shall leave his father and his mother and hold fast to his wife, and they shall become one flesh.
Genesis 24:67
Then Isaac brought her into the tent of Sarah his mother and took Rebekah, and she became his wife, and he loved her. So Isaac was comforted after his mother's death.
Hebrews 13:4
Let marriage be held in honor among all, and let the marriage bed be undefiled, for God will judge the sexually immoral and adulterous.
James 1:5
If any of you lacks wisdom, let him ask God, who gives generously to all without reproach, and it will be given him.
Luke 1:37
For nothing will be impossible with God.
Matthew 19:5
"And said, 'Therefore a man shall leave his father and his mother and hold fast to his wife, and the two shall become one flesh?'"
Matthew 5:28
"But I say to you that everyone who looks at a woman with lustful intent has already committed adultery with her in his heart."
Proverbs 14:1
The wisest of women builds her house, but folly with her own hands tears it down.
Proverbs 21:9
It is better to live in a corner of the housetop than in a house shared with a quarrelsome wife.
Proverbs 3:5
Trust in the Lord with all your heart, and do not lean on your own understanding.
Proverbs 31:10
An excellent wife who can find? She is far more precious than jewels.
Proverbs 31:26
She opens her mouth with wisdom, and the teaching of kindness is on her tongue.
Psalm 128:3
Your wife will be like a fruitful vine within your house; your children will be like olive shoots around your table.
More Bible Verses that Will Move You
50 Most Powerful Scriptures on Faith
60 Transcendent Verses on Trust
50 Strong Scriptures on Perseverance
68 Powerful Verses on Forgiveness
40 Uplifting Scriptures on Patience
Add Our Infographic Below to Your Pinterest Board
Hit the pin button below to add our infographic, with all the verses, to one of your Pinterest boards.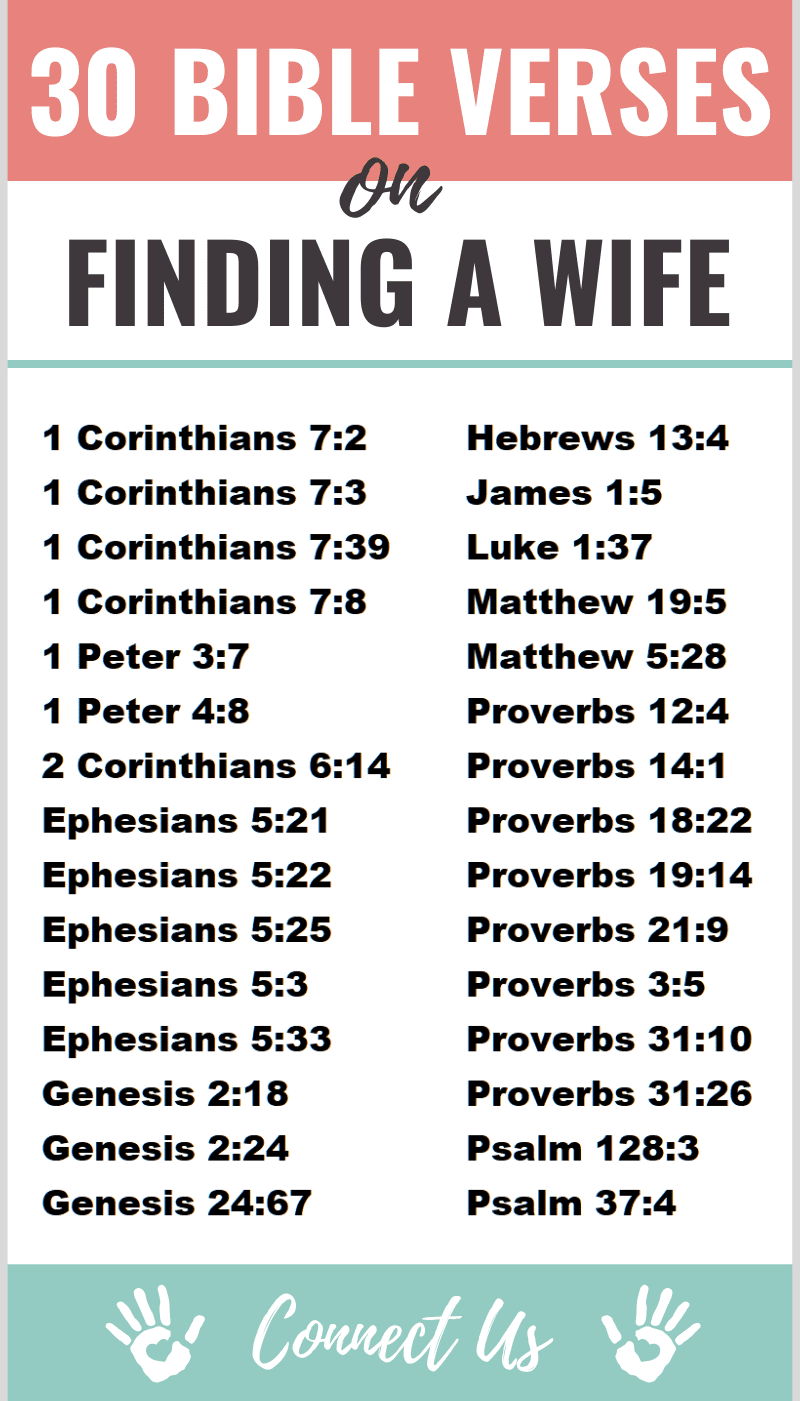 Author Bio
Natalie Regoli is a child of God, devoted wife, and mother of two boys. She has a Masters Degree in Law from The University of Texas. Natalie has been published in several national journals and has been practicing law for 18 years. If you would like to reach out to contact Natalie, then go here to
send her a message
.