Here are the 30 best Bible scriptures on fire of the Holy Spirit.
Matthew 3:11
I baptize you with water for repentance, but he who is coming after me is mightier than I, whose sandals I am not worthy to carry. He will baptize you with the Holy Spirit and fire.
Acts 1:8
"But you will receive power when the Holy Spirit has come upon you, and you will be my witnesses in Jerusalem and in all Judea and Samaria, and to the end of the earth."
Acts 2:3
And divided tongues as of fire appeared to them and rested on each one of them.
Luke 3:16
John answered them all, saying, I baptize you with water, but he who is mightier than I is coming, the strap of whose sandals I am not worthy to untie. He will baptize you with the Holy Spirit and with fire.
1 Thessalonians 5:19
Do not quench the Spirit.
1 Corinthians 12:13
For in one Spirit we were all baptized into one body—Jews or Greeks, slaves or free—and all were made to drink of one Spirit.
Acts 1:5
For John baptized with water, but you will be baptized with the Holy Spirit not many days from now.
Acts 19:6
And when Paul had laid his hands on them, the Holy Spirit came on them, and they began speaking in tongues and prophesying.
Acts 2:39
For the promise is for you and for your children and for all who are far off, everyone whom the Lord our God calls to himself.
Acts 2:4
And they were all filled with the Holy Spirit and began to speak in other tongues as the Spirit gave them utterance.
Ephesians 4:30
And do not grieve the Holy Spirit of God, by whom you were sealed for the day of redemption.
Ephesians 5:18
And do not get drunk with wine, for that is debauchery, but be filled with the Spirit.
John 14:16
"And I will ask the Father, and he will give you another Helper, to be with you forever."
John 14:17
"Even the Spirit of truth, whom the world cannot receive, because it neither sees him nor knows him. You know him, for he dwells with you and will be in you."
John 14:26
"But the Helper, the Holy Spirit, whom the Father will send in my name, he will teach you all things and bring to your remembrance all that I have said to you."
John 15:26
"But when the Helper comes, whom I will send to you from the Father, the Spirit of truth, who proceeds from the Father, he will bear witness about me."
John 16:13
"When the Spirit of truth comes, he will guide you into all the truth, for he will not speak on his own authority, but whatever he hears he will speak, and he will declare to you the things that are to come."
John 16:14
"He will glorify me, for he will take what is mine and declare it to you."
John 16:7
"Nevertheless, I tell you the truth: it is to your advantage that I go away, for if I do not go away, the Helper will not come to you. But if I go, I will send him to you."
John 16:8
"And when he comes, he will convict the world concerning sin and righteousness and judgment."
John 3:16
For God so loved the world, that he gave his only Son, that whoever believes in him should not perish but have eternal life.
John 3:34
For he whom God has sent utters the words of God, for he gives the Spirit without measure.
John 3:8
"The wind blows where it wishes, and you hear its sound, but you do not know where it comes from or where it goes. So it is with everyone who is born of the Spirit."
Luke 24:49
"And behold, I am sending the promise of my Father upon you. But stay in the city until you are clothed with power from on high."
Revelation 4:5
From the throne came flashes of lightning, and rumblings and peals of thunder, and before the throne were burning seven torches of fire, which are the seven spirits of God.
Romans 5:5
And hope does not put us to shame, because God's love has been poured into our hearts through the Holy Spirit who has been given to us.
Romans 8:11
If the Spirit of him who raised Jesus from the dead dwells in you, he who raised Christ Jesus from the dead will also give life to your mortal bodies through his Spirit who dwells in you.
Romans 8:14
For all who are led by the Spirit of God are sons of God.
Romans 8:16
The Spirit himself bears witness with our spirit that we are children of God.
Titus 3:5
He saved us, not because of works done by us in righteousness, but according to his own mercy, by the washing of regeneration and renewal of the Holy Spirit.
More Bible Verses that Will Move You
50 Most Powerful Scriptures on Faith
60 Transcendent Verses on Trust
50 Strong Scriptures on Perseverance
68 Powerful Verses on Forgiveness
40 Uplifting Scriptures on Patience
Add Our Infographic Below to Your Pinterest Board
Hit the pin button below to add our infographic, with all the verses, to one of your Pinterest boards.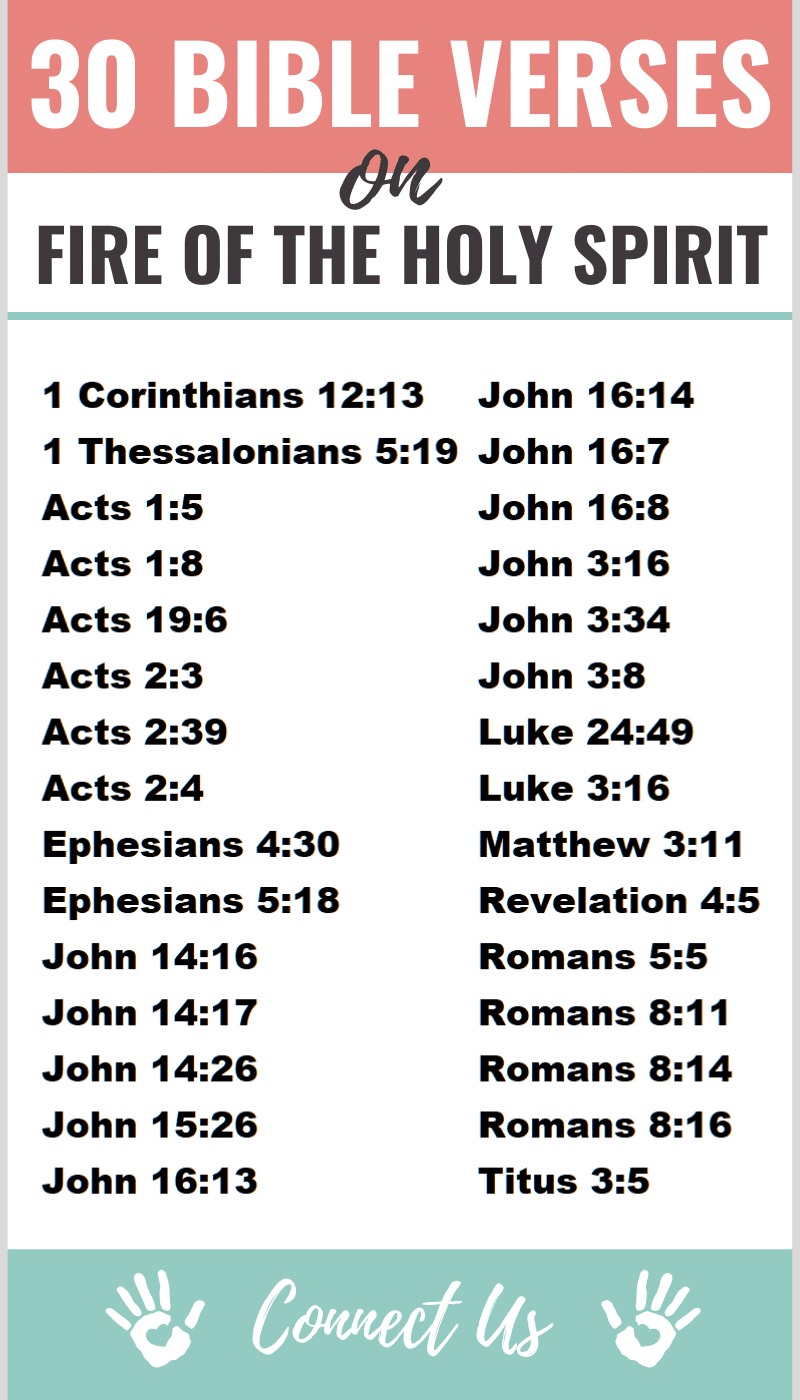 Author Bio
Natalie Regoli is a child of God, devoted wife, and mother of two boys. She has a Masters Degree in Law from The University of Texas. Natalie has been published in several national journals and has been practicing law for 18 years. If you would like to reach out to contact Natalie, then go here to
send her a message
.