The word "servant" occurs 1,068 times in the Bible. The infographic below identifies the points of each occurrence. This graphic presentation starts with Genesis in the top left and concludes with Revelation in the bottom right.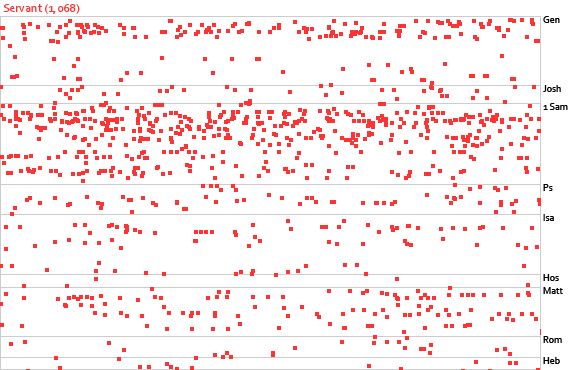 Here are the 30 most compelling Bible scriptures on being a servant.
John 12:26
"If anyone serves me, he must follow me; and where I am, there will my servant be also. If anyone serves me, the Father will honor him."
Galatians 5:13
For you were called to freedom, brothers. Only do not use your freedom as an opportunity for the flesh, but through love serve one another.
Mark 10:45
"For even the Son of Man came not to be served but to serve, and to give his life as a ransom for many."
John 13:16
"Truly, truly, I say to you, a servant is not greater than his master, nor is a messenger greater than the one who sent him."
Colossians 3:12
Put on then, as God's chosen ones, holy and beloved, compassionate hearts, kindness, humility, meekness, and patience.
1 Peter 4:10
As each has received a gift, use it to serve one another, as good stewards of God's varied grace.
1 Peter 5:5
Likewise, you who are younger, be subject to the elders. Clothe yourselves, all of you, with humility toward one another, for "God opposes the proud but gives grace to the humble."
1 Timothy 4:12
Let no one despise you for your youth, but set the believers an example in speech, in conduct, in love, in faith, in purity.
2 Corinthians 4:5
For what we proclaim is not ourselves, but Jesus Christ as Lord, with ourselves as your servants for Jesus' sake.
2 Timothy 2:15
Do your best to present yourself to God as one approved, a worker who has no need to be ashamed, rightly handling the word of truth.
Ephesians 2:10
For we are his workmanship, created in Christ Jesus for good works, which God prepared beforehand, that we should walk in them.
Galatians 1:10
For am I now seeking the approval of man, or of God? Or am I trying to please man? If I were still trying to please man, I would not be a servant of Christ.
Galatians 2:20
I have been crucified with Christ. It is no longer I who live, but Christ who lives in me. And the life I now live in the flesh I live by faith in the Son of God, who loved me and gave himself for me.
John 15:15
"No longer do I call you servants, for the servant does not know what his master is doing; but I have called you friends, for all that I have heard from my Father I have made known to you."
John 3:30
"He must increase, but I must decrease."
John 4:34
Jesus said to them, "My food is to do the will of him who sent me and to accomplish his work."
Luke 14:23
"And the master said to the servant, 'Go out to the highways and hedges and compel people to come in, that my house may be filled.'"
Luke 22:27
"For who is the greater, one who reclines at table or one who serves? Is it not the one who reclines at table? But I am among you as the one who serves."
Mark 9:35
And he sat down and called the twelve. And he said to them, "If anyone would be first, he must be last of all and servant of all."
Matthew 20:26
"It shall not be so among you. But whoever would be great among you must be your servant."
Matthew 20:28
"Even as the Son of Man came not to be served but to serve, and to give his life as a ransom for many."
Matthew 23:11
"The greatest among you shall be your servant."
Matthew 25:21
"His master said to him, 'Well done, good and faithful servant. You have been faithful over a little; I will set you over much. Enter into the joy of your master.'"
Matthew 6:24
"No one can serve two masters, for either he will hate the one and love the other, or he will be devoted to the one and despise the other. You cannot serve God and money."
Philippians 2:5
Have this mind among yourselves, which is yours in Christ Jesus.
Philippians 2:7
But made himself nothing, taking the form of a servant, being born in the likeness of men.
Philippians 4:13
I can do all things through him who strengthens me.
Proverbs 11:25
Whoever brings blessing will be enriched, and one who waters will himself be watered.
Psalm 119:125
I am your servant; give me understanding, that I may know your testimonies!
Romans 13:4
For he is God's servant for your good. But if you do wrong, be afraid, for he does not bear the sword in vain. For he is the servant of God, an avenger who carries out God's wrath on the wrongdoer.
More Bible Verses that Will Move You
50 Most Powerful Scriptures on Faith
60 Transcendent Verses on Trust
50 Strong Scriptures on Perseverance
68 Powerful Verses on Forgiveness
40 Uplifting Scriptures on Patience
Add Our Infographic Below to Your Pinterest Board
Hit the pin button below to add our infographic, with all the verses, to one of your Pinterest boards.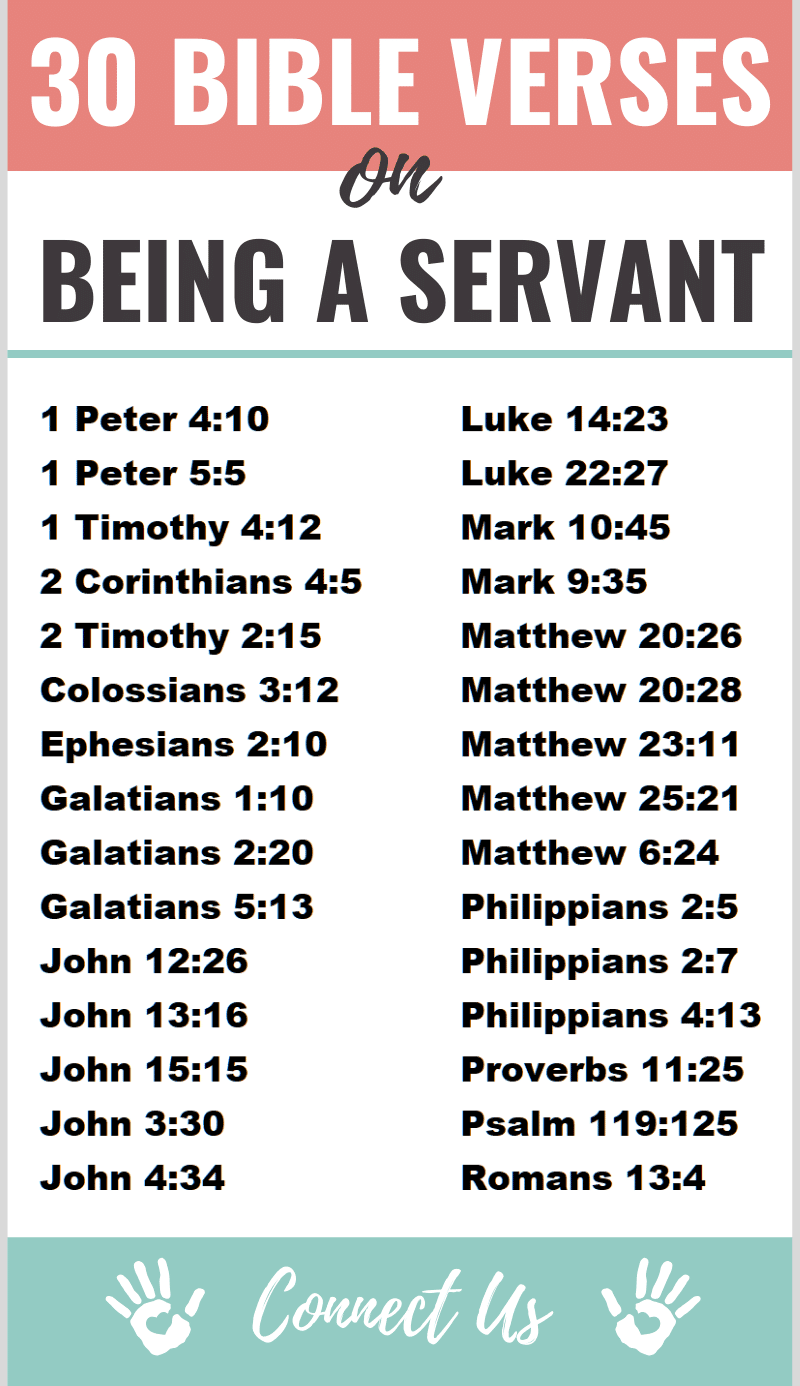 Author Bio
Natalie Regoli is a child of God, devoted wife, and mother of two boys. She has a Master's Degree in Law from The University of Texas. Natalie has been published in several national journals and has been practicing law for 18 years.