Here are the 30 most compelling Bible scriptures on missionary work.
Mark 16:15
And he said to them, "Go into all the world and proclaim the gospel to the whole creation."
Acts 6:4
But we will devote ourselves to prayer and to the ministry of the word.
1 Timothy 4:12
Let no one despise you for your youth, but set the believers an example in speech, in conduct, in love, in faith, in purity.
Acts 1:8
But you will receive power when the Holy Spirit has come upon you, and you will be my witnesses in Jerusalem and in all Judea and Samaria, and to the end of the earth."
Psalm 96:3
Declare his glory among the nations, his marvelous works among all the peoples!
1 Peter 3:15
But in your hearts honor Christ the Lord as holy, always being prepared to make a defense to anyone who asks you for a reason for the hope that is in you; yet do it with gentleness and respect.
1 Peter 4:10
As each has received a gift, use it to serve one another, as good stewards of God's varied grace.
2 Timothy 2:2
And what you have heard from me in the presence of many witnesses entrust to faithful men who will be able to teach others also.
Acts 13:2
While they were worshiping the Lord and fasting, the Holy Spirit said, "Set apart for me Barnabas and Saul for the work to which I have called them."
Acts 13:47
For so the Lord has commanded us, saying, "I have made you a light for the Gentiles, that you may bring salvation to the ends of the earth."
Acts 2:38
And Peter said to them, "Repent and be baptized every one of you in the name of Jesus Christ for the forgiveness of your sins, and you will receive the gift of the Holy Spirit."
Colossians 3:23
Whatever you do, work heartily, as for the Lord and not for men.
Ephesians 5:1
Therefore be imitators of God, as beloved children.
Isaiah 49:6
He says: "It is too light a thing that you should be my servant to raise up the tribes of Jacob and to bring back the preserved of Israel; I will make you as a light for the nations, that my salvation may reach to the end of the earth."
Isaiah 52:7
How beautiful upon the mountains are the feet of him who brings good news, who publishes peace, who brings good news of happiness, who publishes salvation, who says to Zion, "Your God reigns."
Isaiah 6:8
And I heard the voice of the Lord saying, "Whom shall I send, and who will go for us?" Then I said, "Here am I! Send me."
James 2:26
For as the body apart from the spirit is dead, so also faith apart from works is dead.
Jeremiah 29:11
"For I know the plans I have for you," declares the Lord, "plans for welfare and not for evil, to give you a future and a hope."
Joel 2:27
You shall know that I am in the midst of Israel, and that I am the Lord your God and there is none else. And my people shall never again be put to shame.
John 1:12
But to all who did receive him, who believed in his name, he gave the right to become children of God.
John 16:33
"I have said these things to you, that in me you may have peace. In the world you will have tribulation. But take heart; I have overcome the world."
John 20:21
Jesus said to them again, "Peace be with you. As the Father has sent me, even so I am sending you."
John 3:16
For God so loved the world, that he gave his only Son, that whoever believes in him should not perish but have eternal life.
John 3:3
Jesus answered him, "Truly, truly, I say to you, unless one is born again he cannot see the kingdom of God."
Matthew 24:14
"And this gospel of the kingdom will be proclaimed throughout the whole world as a testimony to all nations, and then the end will come."
Matthew 28:19
"Go therefore and make disciples of all nations, baptizing them in the name of the Father and of the Son and of the Holy Spirit."
Revelation 14:6
Then I saw another angel flying directly overhead, with an eternal gospel to proclaim to those who dwell on earth, to every nation and tribe and language and people.
Romans 10:13
For "everyone who calls on the name of the Lord will be saved."
Romans 10:14
How then will they call on him in whom they have not believed? And how are they to believe in him of whom they have never heard? And how are they to hear without someone preaching?
Romans 8:28
And we know that for those who love God all things work together for good, for those who are called according to his purpose.
More Bible Verses that Will Move You
50 Most Powerful Scriptures on Faith
60 Transcendent Verses on Trust
50 Strong Scriptures on Perseverance
68 Powerful Verses on Forgiveness
40 Uplifting Scriptures on Patience
Add Our Infographic Below to Your Pinterest Board
Hit the pin button below to add our infographic, with all the verses, to one of your Pinterest boards.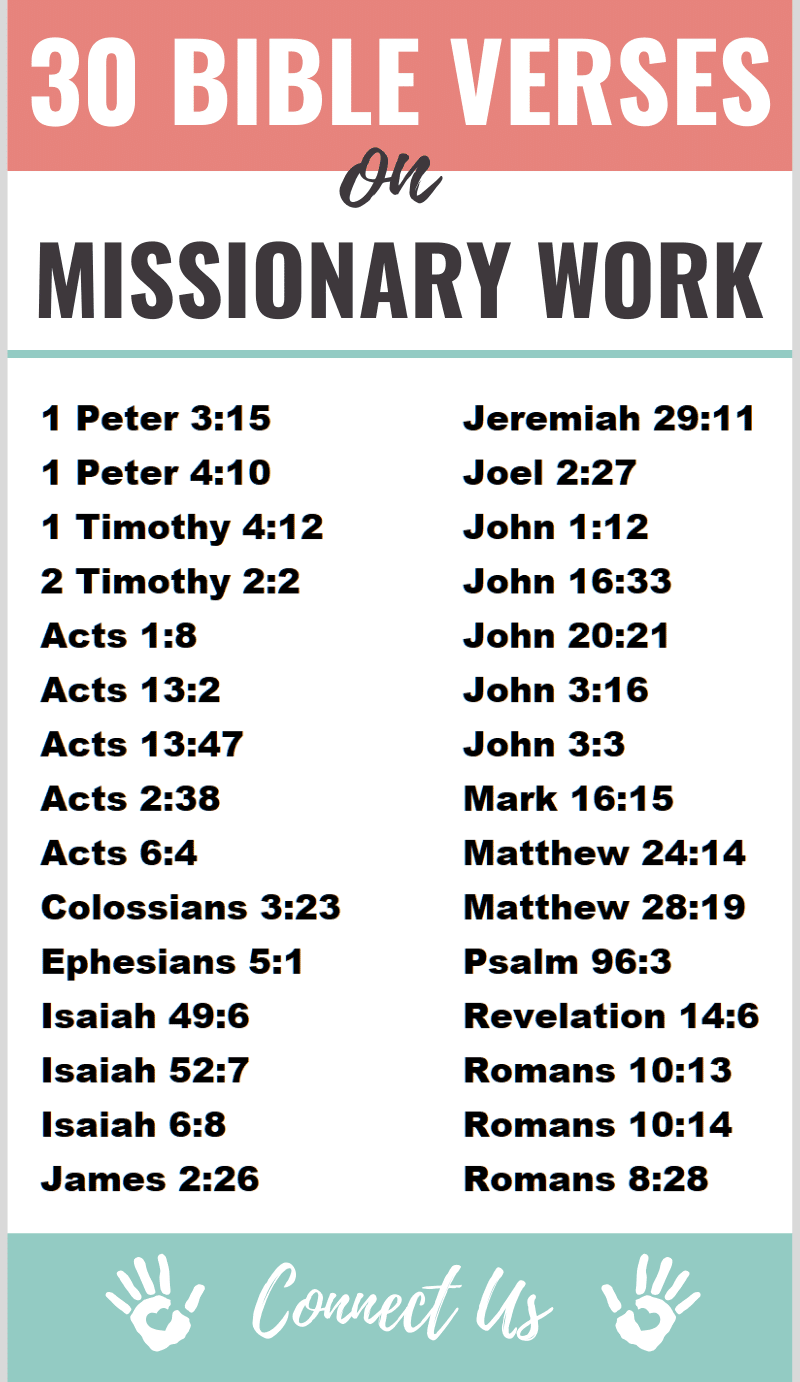 Author Bio
Natalie Regoli is a child of God, devoted wife, and mother of two boys. She has a Masters Degree in Law from The University of Texas. Natalie has been published in several national journals and has been practicing law for 18 years. If you would like to reach out to contact Natalie, then go here to
send her a message
.