Here are the 30 most compelling Bible scriptures on serving others.
1 Peter 4:10
As each has received a gift, use it to serve one another, as good stewards of God's varied grace.
Acts 20:35
In all things I have shown you that by working hard in this way we must help the weak and remember the words of the Lord Jesus, how he himself said, "It is more blessed to give than to receive."
Matthew 20:28
"Even as the Son of Man came not to be served but to serve, and to give his life as a ransom for many."
Luke 6:38
"Give, and it will be given to you. Good measure, pressed down, shaken together, running over, will be put into your lap. For with the measure you use it will be measured back to you."
Mark 9:35
And he sat down and called the twelve. And he said to them, "If anyone would be first, he must be last of all and servant of all."
1 Corinthians 9:19
For though I am free from all, I have made myself a servant to all, that I might win more of them.
1 John 3:17
But if anyone has the world's goods and sees his brother in need, yet closes his heart against him, how does God's love abide in him?
1 John 3:18
Little children, let us not love in word or talk but in deed and in truth.
1 Samuel 12:24
Only fear the Lord and serve him faithfully with all your heart. For consider what great things he has done for you.
2 Chronicles 15:7
"But you, take courage! Do not let your hands be weak, for your work shall be rewarded."
Deuteronomy 15:11
For there will never cease to be poor in the land. Therefore I command you, "You shall open wide your hand to your brother, to the needy and to the poor, in your land."
Ephesians 2:10
For we are his workmanship, created in Christ Jesus for good works, which God prepared beforehand, that we should walk in them.
Galatians 5:13
For you were called to freedom, brothers. Only do not use your freedom as an opportunity for the flesh, but through love serve one another.
Galatians 6:2
Bear one another's burdens, and so fulfill the law of Christ.
Galatians 6:9
And let us not grow weary of doing good, for in due season we will reap, if we do not give up.
Hebrews 13:16
Do not neglect to do good and to share what you have, for such sacrifices are pleasing to God.
Hebrews 6:10
For God is not unjust so as to overlook your work and the love that you have shown for his name in serving the saints, as you still do.
John 15:12
"This is my commandment, that you love one another as I have loved you."
Mark 10:45
"For even the Son of Man came not to be served but to serve, and to give his life as a ransom for many."
Matthew 23:11
"The greatest among you shall be your servant."
Matthew 25:40
"And the King will answer them, 'Truly, I say to you, as you did it to one of the least of these my brothers, you did it to me.''
Matthew 5:16
"In the same way, let your light shine before others, so that they may see your good works and give glory to your Father who is in heaven."
Matthew 5:42
"Give to the one who begs from you, and do not refuse the one who would borrow from you."
Philippians 2:4
Let each of you look not only to his own interests, but also to the interests of others.
Proverbs 11:25
Whoever brings blessing will be enriched, and one who waters will himself be watered.
Proverbs 14:21
Whoever despises his neighbor is a sinner, but blessed is he who is generous to the poor.
Proverbs 19:17
Whoever is generous to the poor lends to the Lord, and he will repay him for his deed.
Proverbs 22:9
Whoever has a bountiful eye will be blessed, for he shares his bread with the poor.
Romans 12:1
I appeal to you therefore, brothers, by the mercies of God, to present your bodies as a living sacrifice, holy and acceptable to God, which is your spiritual worship.
Romans 15:1
We who are strong have an obligation to bear with the failings of the weak, and not to please ourselves.
More Bible Verses that Will Move You
50 Most Powerful Scriptures on Faith
60 Transcendent Verses on Trust
50 Strong Scriptures on Perseverance
68 Powerful Verses on Forgiveness
40 Uplifting Scriptures on Patience
Add Our Infographic Below to Your Pinterest Board
Hit the pin button below to add our infographic, with all the verses, to one of your Pinterest boards.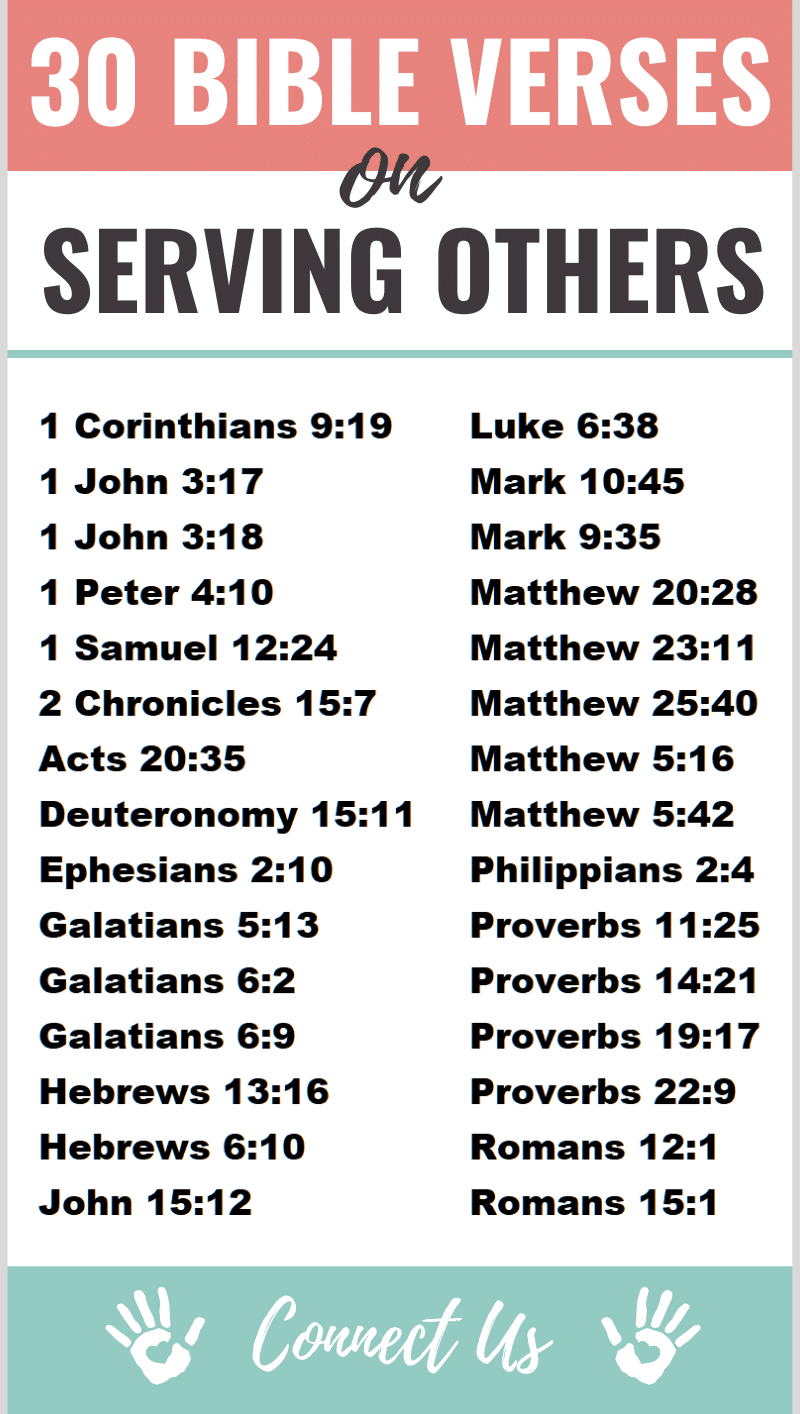 Author Bio
Natalie Regoli is a child of God, devoted wife, and mother of two boys. She has a Master's Degree in Law from The University of Texas. Natalie has been published in several national journals and has been practicing law for 18 years.