Here are the 30 most encouraging Bible scriptures on being a good wife.
1 Peter 3:1
Likewise, wives, be subject to your own husbands, so that even if some do not obey the word, they may be won without a word by the conduct of their wives.
Proverbs 18:22
He who finds a wife finds a good thing and obtains favor from the Lord.
Ephesians 5:33
However, let each one of you love his wife as himself, and let the wife see that she respects her husband.
Proverbs 12:4
An excellent wife is the crown of her husband, but she who brings shame is like rottenness in his bones.
1 Peter 3:7
Likewise, husbands, live with your wives in an understanding way, showing honor to the woman as the weaker vessel, since they are heirs with you of the grace of life, so that your prayers may not be hindered.
1 Corinthians 11:3
But I want you to understand that the head of every man is Christ, the head of a wife is her husband, and the head of Christ is God.
1 Corinthians 11:9
Neither was man created for woman, but woman for man.
1 Peter 3:4
But let your adorning be the hidden person of the heart with the imperishable beauty of a gentle and quiet spirit, which in God's sight is very precious.
1 Peter 3:5
For this is how the holy women who hoped in God used to adorn themselves, by submitting to their own husbands.
1 Timothy 2:11
Let a woman learn quietly with all submissiveness.
1 Timothy 5:14
So I would have younger widows marry, bear children, manage their households, and give the adversary no occasion for slander.
1 Timothy 5:8
But if anyone does not provide for his relatives, and especially for members of his household, he has denied the faith and is worse than an unbeliever.
Colossians 3:18
Wives, submit to your husbands, as is fitting in the Lord.
Ephesians 5:21
Submitting to one another out of reverence for Christ.
Ephesians 5:22
Wives, submit to your own husbands, as to the Lord.
Ephesians 5:24
Now as the church submits to Christ, so also wives should submit in everything to their husbands.
Ephesians 5:25
Husbands, love your wives, as Christ loved the church and gave himself up for her.
Hebrews 13:4
Let marriage be held in honor among all, and let the marriage bed be undefiled, for God will judge the sexually immoral and adulterous.
James 1:19
Know this, my beloved brothers: let every person be quick to hear, slow to speak, slow to anger.
Philippians 2:3
Do nothing from rivalry or conceit, but in humility count others more significant than yourselves.
Philippians 4:13
I can do all things through him who strengthens me.
Proverbs 14:1
The wisest of women builds her house, but folly with her own hands tears it down.
Proverbs 19:14
House and wealth are inherited from fathers, but a prudent wife is from the Lord.
Proverbs 21:9
It is better to live in a corner of the housetop than in a house shared with a quarrelsome wife.
Proverbs 22:6
Train up a child in the way he should go; even when he is old he will not depart from it.
Proverbs 25:24
It is better to live in a corner of the housetop than in a house shared with a quarrelsome wife.
Proverbs 31:10
An excellent wife who can find? She is far more precious than jewels.
Proverbs 31:12
She does him good, and not harm, all the days of her life.
Romans 12:21
Do not be overcome by evil, but overcome evil with good.
Titus 2:5
To be self-controlled, pure, working at home, kind, and submissive to their own husbands, that the word of God may not be reviled.
More Bible Verses that Will Move You
50 Most Powerful Scriptures on Faith
60 Transcendent Verses on Trust
50 Strong Scriptures on Perseverance
68 Powerful Verses on Forgiveness
40 Uplifting Scriptures on Patience
Add Our Infographic Below to Your Pinterest Board
Hit the pin button below to add our infographic, with all the verses, to one of your Pinterest boards.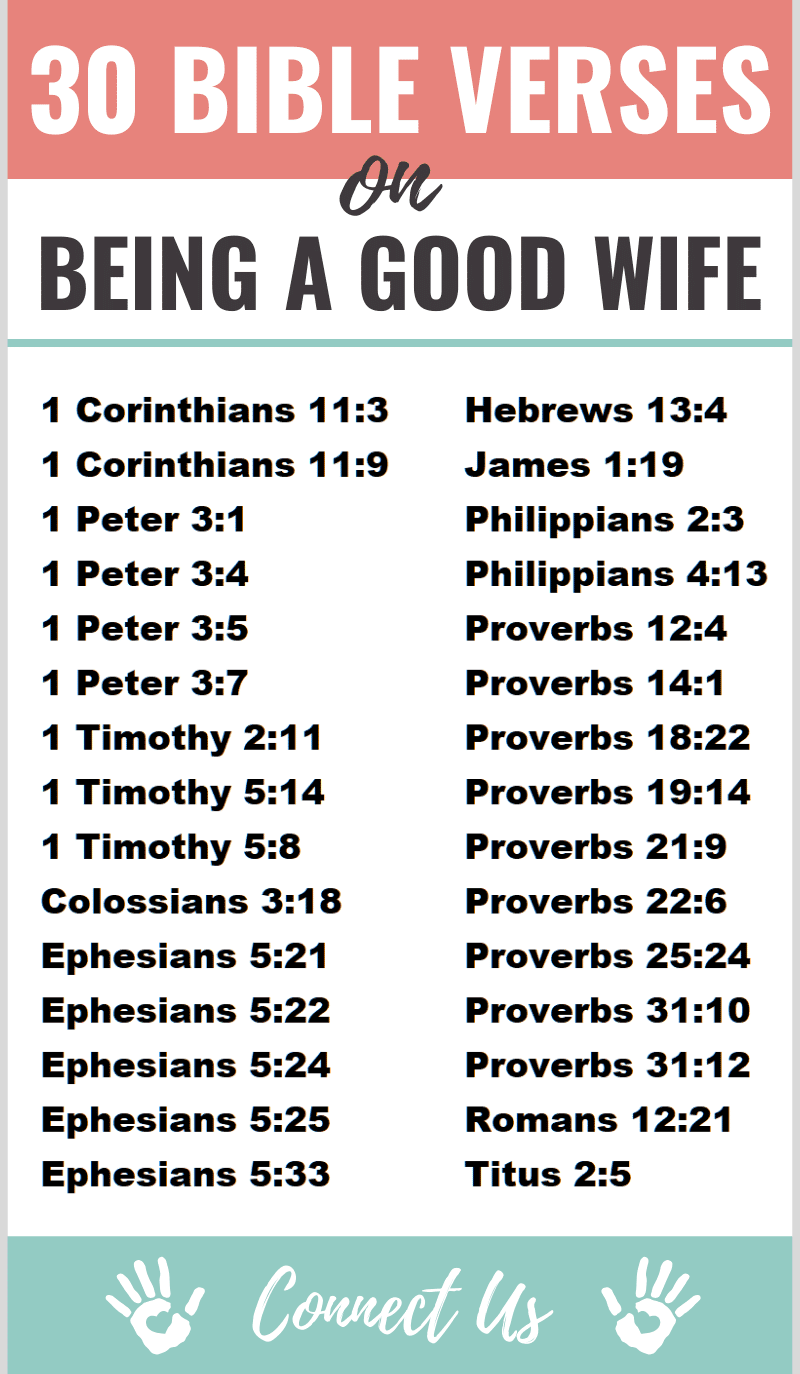 Author Bio
Natalie Regoli is a child of God, devoted wife, and mother of two boys. She has a Master's Degree in Law from The University of Texas. Natalie has been published in several national journals and has been practicing law for 18 years.