Here are the 30 most encouraging Bible scriptures on determination.
Philippians 4:13
I can do all things through him who strengthens me.
2 Timothy 4:7
I have fought the good fight, I have finished the race, I have kept the faith.
Jeremiah 29:11
"For I know the plans I have for you," declares the Lord, "plans for welfare and not for evil, to give you a future and a hope."
Romans 15:4
For whatever was written in former days was written for our instruction, that through endurance and through the encouragement of the Scriptures we might have hope.
Hebrews 12:1
Therefore, since we are surrounded by so great a cloud of witnesses, let us also lay aside every weight, and sin which clings so closely, and let us run with endurance the race that is set before us.
1 Corinthians 2:2
For I decided to know nothing among you except Jesus Christ and him crucified.
1 Peter 2:2
Like newborn infants, long for the pure spiritual milk, that by it you may grow up into salvation.
1 Thessalonians 3:8
For now we live, if you are standing fast in the Lord.
2 Thessalonians 3:13
As for you, brothers, do not grow weary in doing good.
2 Timothy 1:12
Which is why I suffer as I do. But I am not ashamed, for I know whom I have believed, and I am convinced that he is able to guard until that Day what has been entrusted to me.
Daniel 1:8
But Daniel resolved that he would not defile himself with the king's food, or with the wine that he drank. Therefore he asked the chief of the eunuchs to allow him not to defile himself.
Esther 4:16
Go, gather all the Jews to be found in Susa, and hold a fast on my behalf, and do not eat or drink for three days, night or day. I and my young women will also fast as you do. Then I will go to the king, though it is against the law, and if I perish, I perish.
Galatians 6:9
And let us not grow weary of doing good, for in due season we will reap, if we do not give up.
Hebrews 4:12
For the word of God is living and active, sharper than any two-edged sword, piercing to the division of soul and of spirit, of joints and of marrow, and discerning the thoughts and intentions of the heart.
Isaiah 50:7
But the Lord God helps me; therefore I have not been disgraced; therefore I have set my face like a flint, and I know that I shall not be put to shame.
John 12:48
"The one who rejects me and does not receive my words has a judge; the word that I have spoken will judge him on the last day."
John 6:63
"It is the Spirit who gives life; the flesh is no help at all. The words that I have spoken to you are spirit and life."
John 7:17
"If anyone's will is to do God's will, he will know whether the teaching is from God or whether I am speaking on my own authority."
John 8:32
"And you will know the truth, and the truth will set you free."
John 8:47
"Whoever is of God hears the words of God. The reason why you do not hear them is that you are not of God."
John 8:58
Jesus said to them, "Truly, truly, I say to you, before Abraham was, I am."
Luke 1:37
"For nothing will be impossible with God."
Luke 9:51
When the days drew near for him to be taken up, he set his face to go to Jerusalem.
Luke 9:62
Jesus said to him, "No one who puts his hand to the plow and looks back is fit for the kingdom of God."
Matthew 22:29
But Jesus answered them, "You are wrong, because you know neither the Scriptures nor the power of God."
Matthew 4:4
But he answered, "It is written, 'Man shall not live by bread alone, but by every word that comes from the mouth of God.'"
Philippians 3:10
That I may know him and the power of his resurrection, and may share his sufferings, becoming like him in his death.
Proverbs 16:3
Commit your work to the Lord, and your plans will be established.
Psalm 27:14
Wait for the Lord; be strong, and let your heart take courage; wait for the Lord!
Romans 12:11
Do not be slothful in zeal, be fervent in spirit, serve the Lord.
More Bible Verses that Will Move You
50 Most Powerful Scriptures on Faith
60 Transcendent Verses on Trust
50 Strong Scriptures on Perseverance
68 Powerful Verses on Forgiveness
40 Uplifting Scriptures on Patience
Add Our Infographic Below to Your Pinterest Board
Hit the pin button below to add our infographic, with all the verses, to one of your Pinterest boards.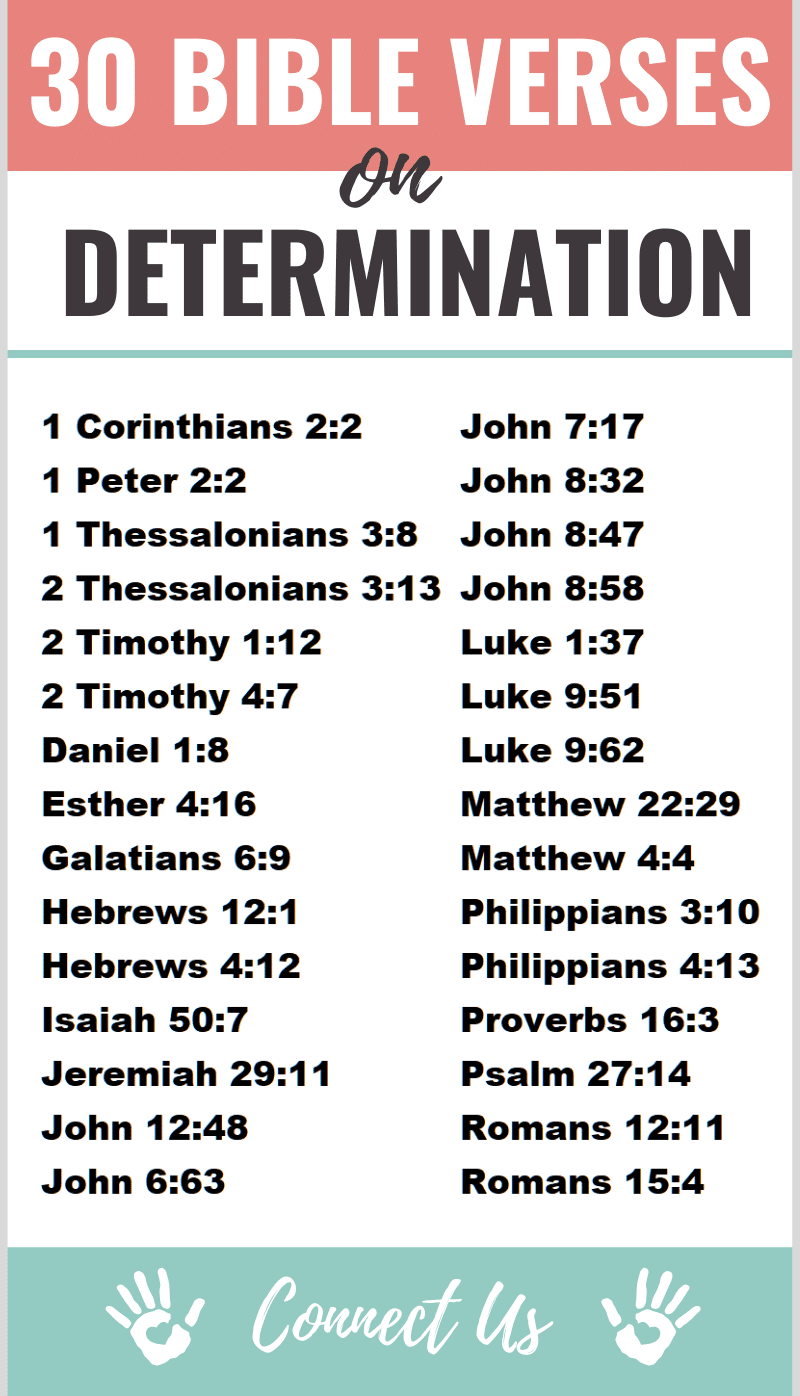 Author Bio
Natalie Regoli is a child of God, devoted wife, and mother of two boys. She has a Master's Degree in Law from The University of Texas. Natalie has been published in several national journals and has been practicing law for 18 years.