Here are the 30 most encouraging Bible scriptures on self discipline.
Hebrews 12:11
For the moment all discipline seems painful rather than pleasant, but later it yields the peaceful fruit of righteousness to those who have been trained by it.
Proverbs 25:28
A man without self-control is like a city broken into and left without walls.
2 Timothy 1:7
For God gave us a spirit not of fear but of power and love and self-control.
1 Corinthians 9:27
But I discipline my body and keep it under control, lest after preaching to others I myself should be disqualified.
Proverbs 13:4
The soul of the sluggard craves and gets nothing, while the soul of the diligent is richly supplied.
1 Corinthians 10:13
No temptation has overtaken you that is not common to man. God is faithful, and he will not let you be tempted beyond your ability, but with the temptation he will also provide the way of escape, that you may be able to endure it.
1 Corinthians 9:25
Every athlete exercises self-control in all things. They do it to receive a perishable wreath, but we an imperishable.
1 Peter 4:7
The end of all things is at hand; therefore be self-controlled and sober-minded for the sake of your prayers.
2 Chronicles 15:7
But you, take courage! Do not let your hands be weak, for your work shall be rewarded.
Ephesians 6:4
Fathers, do not provoke your children to anger, but bring them up in the discipline and instruction of the Lord.
Galatians 5:13
For you were called to freedom, brothers. Only do not use your freedom as an opportunity for the flesh, but through love serve one another.
Galatians 5:23
Gentleness, self-control; against such things there is no law.
Hebrews 12:1
Therefore, since we are surrounded by so great a cloud of witnesses, let us also lay aside every weight, and sin which clings so closely, and let us run with endurance the race that is set before us.
Hebrews 13:5
Keep your life free from love of money, and be content with what you have, for he has said, "I will never leave you nor forsake you."
Philippians 4:13
I can do all things through him who strengthens me.
Proverbs 12:1
Whoever loves discipline loves knowledge, but he who hates reproof is stupid.
Proverbs 13:18
Poverty and disgrace come to him who ignores instruction, but whoever heeds reproof is honored.
Proverbs 13:24
Whoever spares the rod hates his son, but he who loves him is diligent to discipline him.
Proverbs 15:32
Whoever ignores instruction despises himself, but he who listens to reproof gains intelligence.
Proverbs 15:5
A fool despises his father's instruction, but whoever heeds reproof is prudent.
Proverbs 16:32
Whoever is slow to anger is better than the mighty, and he who rules his spirit than he who takes a city.
Proverbs 18:9
Whoever is slack in his work is a brother to him who destroys.
Proverbs 22:6
Train up a child in the way he should go; even when he is old he will not depart from it.
Proverbs 29:15
The rod and reproof give wisdom, but a child left to himself brings shame to his mother.
Proverbs 29:17
Discipline your son, and he will give you rest; he will give delight to your heart.
Romans 12:2
Do not be conformed to this world, but be transformed by the renewal of your mind, that by testing you may discern what is the will of God, what is good and acceptable and perfect.
Romans 8:13
For if you live according to the flesh you will die, but if by the Spirit you put to death the deeds of the body, you will live.
Romans 8:18
For I consider that the sufferings of this present time are not worth comparing with the glory that is to be revealed to us.
Titus 1:8
But hospitable, a lover of good, self-controlled, upright, holy, and disciplined.
Titus 2:12
Training us to renounce ungodliness and worldly passions, and to live self-controlled, upright, and godly lives in the present age.
More Bible Verses that Will Move You
50 Most Powerful Scriptures on Faith
60 Transcendent Verses on Trust
50 Strong Scriptures on Perseverance
68 Powerful Verses on Forgiveness
40 Uplifting Scriptures on Patience
Add Our Infographic Below to Your Pinterest Board
Hit the pin button below to add our infographic, with all the verses, to one of your Pinterest boards.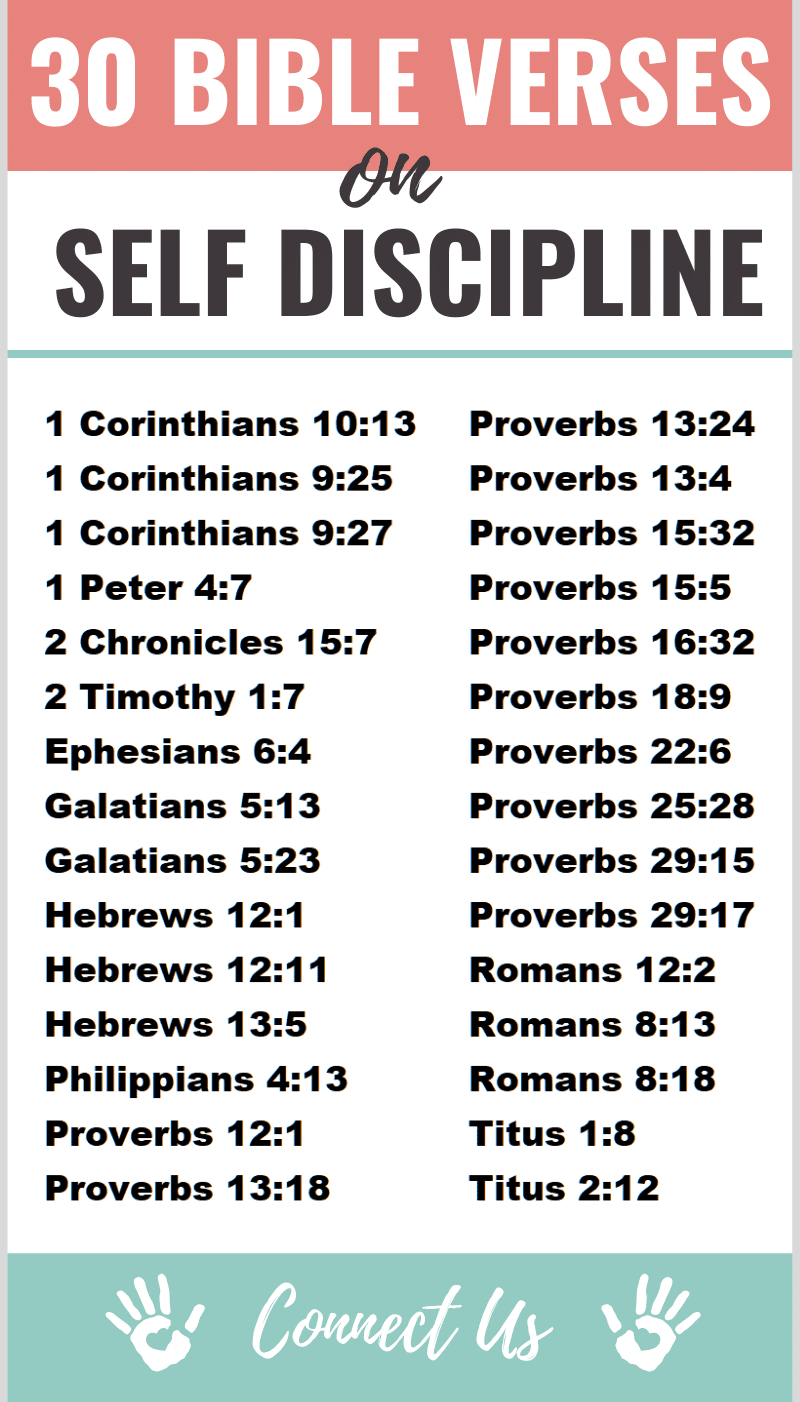 Author Bio
Natalie Regoli is a child of God, devoted wife, and mother of two boys. She has a Masters Degree in Law from The University of Texas. Natalie has been published in several national journals and has been practicing law for 18 years.