Here are the 30 most important Bible scriptures on conflict.
Proverbs 15:1
A soft answer turns away wrath, but a harsh word stirs up anger.
Ephesians 4:26
Be angry and do not sin; do not let the sun go down on your anger.
Matthew 5:9
"Blessed are the peacemakers, for they shall be called sons of God."
1 John 1:9
If we confess our sins, he is faithful and just to forgive us our sins and to cleanse us from all unrighteousness.
Colossians 3:13
Bearing with one another and, if one has a complaint against another, forgiving each other; as the Lord has forgiven you, so you also must forgive.
1 Timothy 3:15
If I delay, you may know how one ought to behave in the household of God, which is the church of the living God, a pillar and buttress of the truth.
1 Timothy 6:10
For the love of money is a root of all kinds of evils. It is through this craving that some have wandered away from the faith and pierced themselves with many pangs.
Ecclesiastes 3:8
A time to love, and a time to hate; a time for war, and a time for peace.
Ephesians 4:15
Rather, speaking the truth in love, we are to grow up in every way into him who is the head, into Christ.
Ephesians 4:31
Let all bitterness and wrath and anger and clamor and slander be put away from you, along with all malice.
Ephesians 4:32
Be kind to one another, tenderhearted, forgiving one another, as God in Christ forgave you.
Hebrews 12:15
See to it that no one fails to obtain the grace of God; that no "root of bitterness" springs up and causes trouble, and by it many become defiled.
James 1:19
Know this, my beloved brothers: let every person be quick to hear, slow to speak, slow to anger.
James 4:6
But he gives more grace. Therefore it says, "God opposes the proud, but gives grace to the humble."
James 5:16
Therefore, confess your sins to one another and pray for one another, that you may be healed. The prayer of a righteous person has great power as it is working.
John 14:26
"But the Helper, the Holy Spirit, whom the Father will send in my name, he will teach you all things and bring to your remembrance all that I have said to you."
John 7:24
"Do not judge by appearances, but judge with right judgment."
Leviticus 19:18
"You shall not take vengeance or bear a grudge against the sons of your own people, but you shall love your neighbor as yourself: I am the Lord."
Luke 17:3
"Pay attention to yourselves! If your brother sins, rebuke him, and if he repents, forgive him."
Matthew 18:15
"If your brother sins against you, go and tell him his fault, between you and him alone. If he listens to you, you have gained your brother."
Matthew 18:16
"But if he does not listen, take one or two others along with you, that every charge may be established by the evidence of two or three witnesses."
Matthew 5:24
"Leave your gift there before the altar and go. First be reconciled to your brother, and then come and offer your gift."
Matthew 6:24
"No one can serve two masters, for either he will hate the one and love the other, or he will be devoted to the one and despise the other. You cannot serve God and money."
Philippians 2:4
Let each of you look not only to his own interests, but also to the interests of others.
Proverbs 10:12
Hatred stirs up strife, but love covers all offenses.
Proverbs 15:18
A hot-tempered man stirs up strife, but he who is slow to anger quiets contention.
Proverbs 16:18
Pride goes before destruction, and a haughty spirit before a fall.
Proverbs 25:26
Like a muddied spring or a polluted fountain is a righteous man who gives way before the wicked.
Romans 12:18
If possible, so far as it depends on you, live peaceably with all.
Romans 8:7
For the mind that is set on the flesh is hostile to God, for it does not submit to God's law; indeed, it cannot.
More Bible Verses that Will Move You
50 Most Powerful Scriptures on Faith
60 Transcendent Verses on Trust
50 Strong Scriptures on Perseverance
68 Powerful Verses on Forgiveness
40 Uplifting Scriptures on Patience
Add Our Infographic Below to Your Pinterest Board
Hit the pin button below to add our infographic, with all the verses, to one of your Pinterest boards.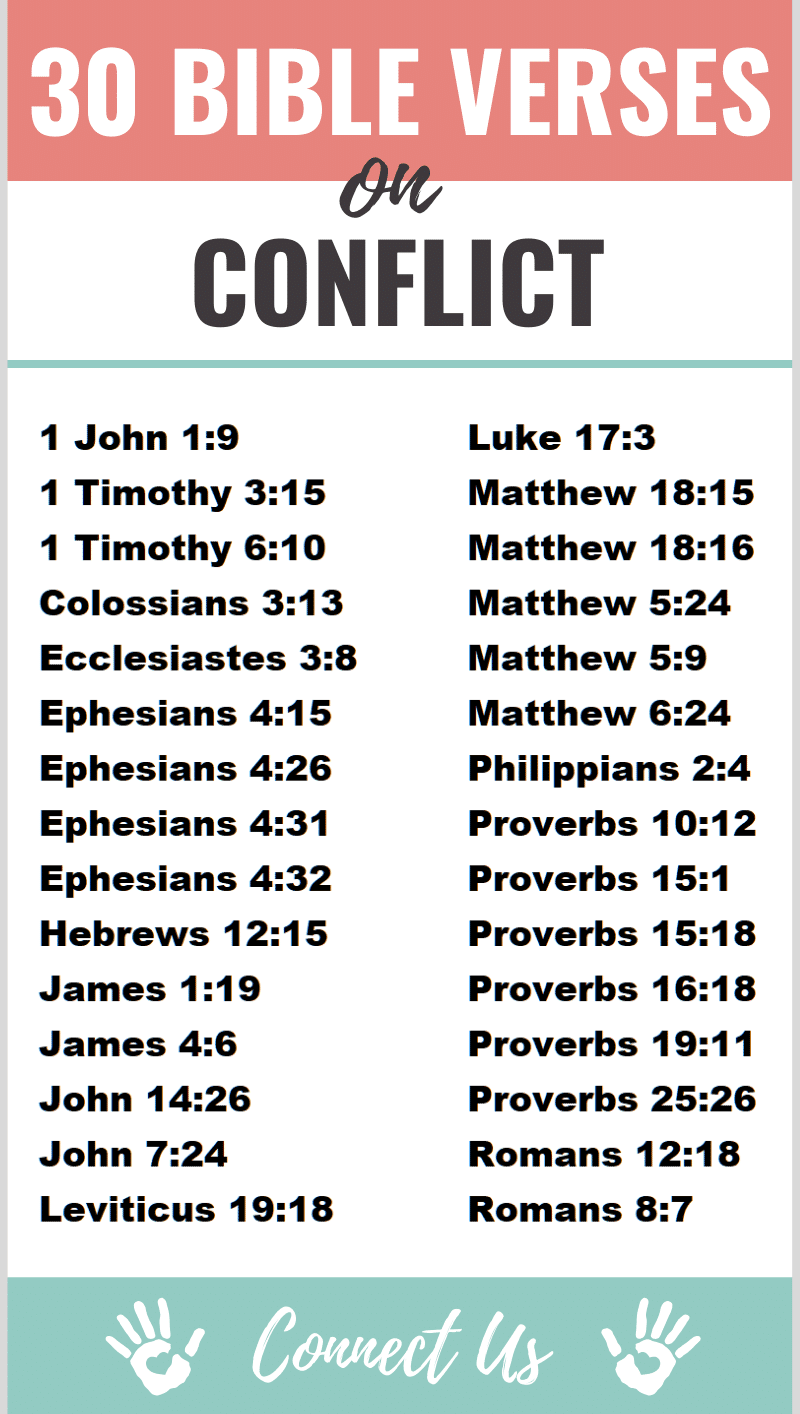 Author Bio
Natalie Regoli is a child of God, devoted wife, and mother of two boys. She has a Master's Degree in Law from The University of Texas. Natalie has been published in several national journals and has been practicing law for 18 years.