Here are the 30 most important bible scriptures on consistency.
1 Corinthians 15:58
Therefore, my beloved brothers, be steadfast, immovable, always abounding in the work of the Lord, knowing that in the Lord your labor is not in vain.
Galatians 6:9
And let us not grow weary of doing good, for in due season we will reap, if we do not give up.
Luke 16:13
"No servant can serve two masters, for either he will hate the one and love the other, or he will be devoted to the one and despise the other. You cannot serve God and money."
Matthew 5:37
"Let what you say be simply 'Yes' or 'No'; anything more than this comes from evil."
1 Corinthians 10:21
You cannot drink the cup of the Lord and the cup of demons. You cannot partake of the table of the Lord and the table of demons.
1 Corinthians 14:20
Brothers, do not be children in your thinking. Be infants in evil, but in your thinking be mature.
1 John 2:27
But the anointing that you received from him abides in you, and you have no need that anyone should teach you. But as his anointing teaches you about everything, and is true, and is no lie—just as it has taught you, abide in him.
2 Timothy 2:2
And what you have heard from me in the presence of many witnesses entrust to faithful men who will be able to teach others also.
2 Timothy 3:16
All Scripture is breathed out by God and profitable for teaching, for reproof, for correction, and for training in righteousness.
Colossians 1:17
And he is before all things, and in him all things hold together.
Daniel 6:10
When Daniel knew that the document had been signed, he went to his house where he had windows in his upper chamber open toward Jerusalem. He got down on his knees three times a day and prayed and gave thanks before his God, as he had done previously.
Ephesians 4:1
I therefore, a prisoner for the Lord, urge you to walk in a manner worthy of the calling to which you have been called.
Galatians 3:28
There is neither Jew nor Greek, there is neither slave nor free, there is no male and female, for you are all one in Christ Jesus.
Hebrews 10:23
Let us hold fast the confession of our hope without wavering, for he who promised is faithful.
Hebrews 13:8
Jesus Christ is the same yesterday and today and forever.
James 1:17
Every good gift and every perfect gift is from above, coming down from the Father of lights with whom there is no variation or shadow due to change.
James 1:4
And let steadfastness have its full effect, that you may be perfect and complete, lacking in nothing.
James 5:12
But above all, my brothers, do not swear, either by heaven or by earth or by any other oath, but let your "yes" be yes and your "no" be no, so that you may not fall under condemnation.
John 10:35
"If he called them gods to whom the word of God came—and Scripture cannot be broken."
John 14:6
Jesus said to him, "I am the way, and the truth, and the life. No one comes to the Father except through me."
John 5:38
"And you do not have his word abiding in you, for you do not believe the one whom he has sent."
John 8:31
So Jesus said to the Jews who had believed in him, "If you abide in my word, you are truly my disciples."
Malachi 3:6
"For I the Lord do not change; therefore you, O children of Jacob, are not consumed."
Matthew 6:24
"No one can serve two masters, for either he will hate the one and love the other, or he will be devoted to the one and despise the other. You cannot serve God and money."
Nehemiah 5:9
So I said, "The thing that you are doing is not good. Ought you not to walk in the fear of our God to prevent the taunts of the nations our enemies?"
Numbers 23:19
God is not man, that he should lie, or a son of man, that he should change his mind. Has he said, and will he not do it? Or has he spoken, and will he not fulfill it?
Philippians 1:27
Only let your manner of life be worthy of the gospel of Christ, so that whether I come and see you or am absent, I may hear of you that you are standing firm in one spirit, with one mind striving side by side for the faith of the gospel.
Psalm 89:34
I will not violate my covenant or alter the word that went forth from my lips.
Romans 14:22
The faith that you have, keep between yourself and God. Blessed is the one who has no reason to pass judgment on himself for what he approves.
Zephaniah 1:12
"At that time I will search Jerusalem with lamps, and I will punish the men who are complacent, those who say in their hearts, 'The Lord will not do good, nor will he do ill.'"

More Bible Verses that Will Move You
50 Most Powerful Scriptures on Faith
60 Transcendent Verses on Trust
50 Strong Scriptures on Perseverance
68 Powerful Verses on Forgiveness
40 Uplifting Scriptures on Patience
Add Our Infographic Below to Your Pinterest Board
Hit the pin button below to add our infographic, with all the verses, to one of your Pinterest boards.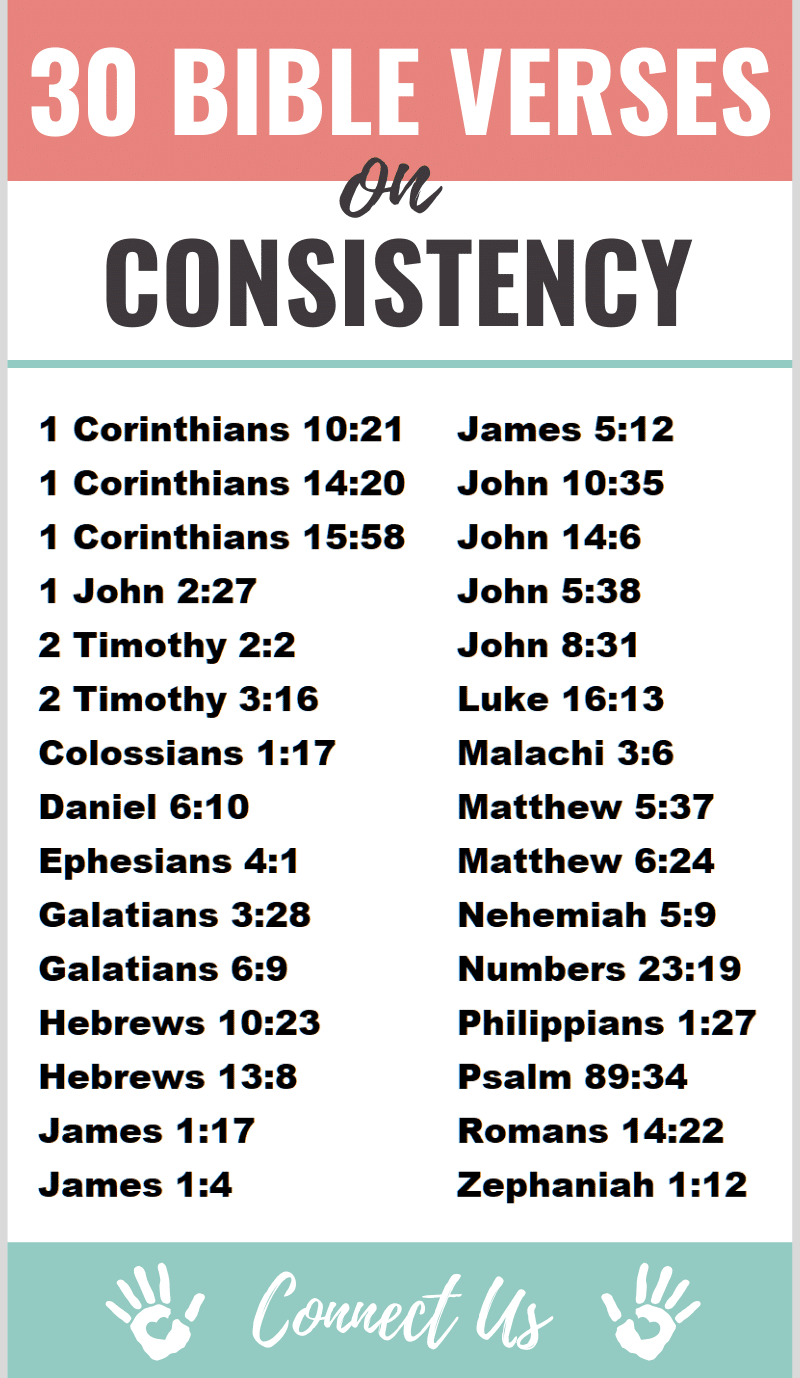 Author Bio
Natalie Regoli is a child of God, devoted wife, and mother of two boys. She has a Master's Degree in Law from The University of Texas. Natalie has been published in several national journals and has been practicing law for 18 years.