The word "jealousy" is found 42 times in the Old and New Testament. The image below reveals the locations of each occurrence. This cool graph starts with Genesis in the top left and ends with Revelation in the bottom right.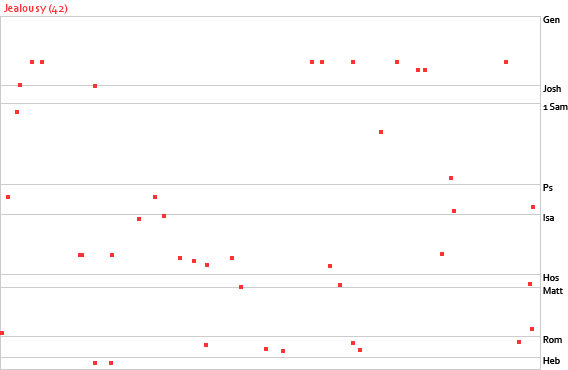 Here are the 30 most important Bible scriptures on jealousy.
James 3:16
For where jealousy and selfish ambition exist, there will be disorder and every vile practice.
Proverbs 27:4
Wrath is cruel, anger is overwhelming, but who can stand before jealousy?
1 Corinthians 3:3
For you are still of the flesh. For while there is jealousy and strife among you, are you not of the flesh and behaving only in a human way?
Exodus 20:17
"You shall not covet your neighbor's house; you shall not covet your neighbor's wife, or his male servant, or his female servant, or his ox, or his donkey, or anything that is your neighbor's."
Romans 12:2
Do not be conformed to this world, but be transformed by the renewal of your mind, that by testing you may discern what is the will of God, what is good and acceptable and perfect.
1 Corinthians 10:22
Shall we provoke the Lord to jealousy? Are we stronger than he?
1 Corinthians 13:4
Love is patient and kind; love does not envy or boast; it is not arrogant.
1 Peter 2:11
Beloved, I urge you as sojourners and exiles to abstain from the passions of the flesh, which wage war against your soul.
2 Corinthians 11:2
For I feel a divine jealousy for you, since I betrothed you to one husband, to present you as a pure virgin to Christ.
2 Peter 3:9
The Lord is not slow to fulfill his promise as some count slowness, but is patient toward you, not wishing that any should perish, but that all should reach repentance.
2 Timothy 2:22
So flee youthful passions and pursue righteousness, faith, love, and peace, along with those who call on the Lord from a pure heart.
Acts 5:17
But the high priest rose up, and all who were with him (that is, the party of the Sadducees), and filled with jealousy.
Acts 7:9
And the patriarchs, jealous of Joseph, sold him into Egypt; but God was with him.
Deuteronomy 4:24
For the Lord your God is a consuming fire, a jealous God.
Ecclesiastes 4:4
Then I saw that all toil and all skill in work come from a man's envy of his neighbor. This also is vanity and a striving after wind.
Exodus 34:14
For you shall worship no other god, for the Lord, whose name is Jealous, is a jealous God.
Galatians 5:21
Envy, drunkenness, orgies, and things like these. I warn you, as I warned you before, that those who do such things will not inherit the kingdom of God.
Galatians 6:4
But let each one test his own work, and then his reason to boast will be in himself alone and not in his neighbor.
Hebrews 13:5
Keep your life free from love of money, and be content with what you have, for he has said, "I will never leave you nor forsake you."
Job 5:2
Surely vexation kills the fool, and jealousy slays the simple.
John 8:6
This they said to test him, that they might have some charge to bring against him. Jesus bent down and wrote with his finger on the ground.
Matthew 5:22
"But I say to you that everyone who is angry with his brother will be liable to judgment; whoever insults his brother will be liable to the council; and whoever says, 'You fool!' will be liable to the hell of fire."
Matthew 5:28
"But I say to you that everyone who looks at a woman with lustful intent has already committed adultery with her in his heart."
Nahum 1:2
The Lord is a jealous and avenging God; the Lord is avenging and wrathful; the Lord takes vengeance on his adversaries and keeps wrath for his enemies.
Philippians 2:3
Do nothing from rivalry or conceit, but in humility count others more significant than yourselves.
Proverbs 14:30
A tranquil heart gives life to the flesh, but envy makes the bones rot.
Proverbs 19:5
A false witness will not go unpunished, and he who breathes out lies will not escape.
Proverbs 6:34
For jealousy makes a man furious, and he will not spare when he takes revenge.
Psalm 79:5
How long, O Lord? Will you be angry forever? Will your jealousy burn like fire?
Song of Solomon 8:6
Set me as a seal upon your heart, as a seal upon your arm, for love is strong as death, jealousy is fierce as the grave. Its flashes are flashes of fire, the very flame of the Lord.
More Bible Verses that Will Move You
50 Most Powerful Scriptures on Faith
60 Transcendent Verses on Trust
50 Strong Scriptures on Perseverance
68 Powerful Verses on Forgiveness
40 Uplifting Scriptures on Patience
Add Our Infographic Below to Your Pinterest Board
Hit the pin button below to add our infographic, with all the verses, to one of your Pinterest boards.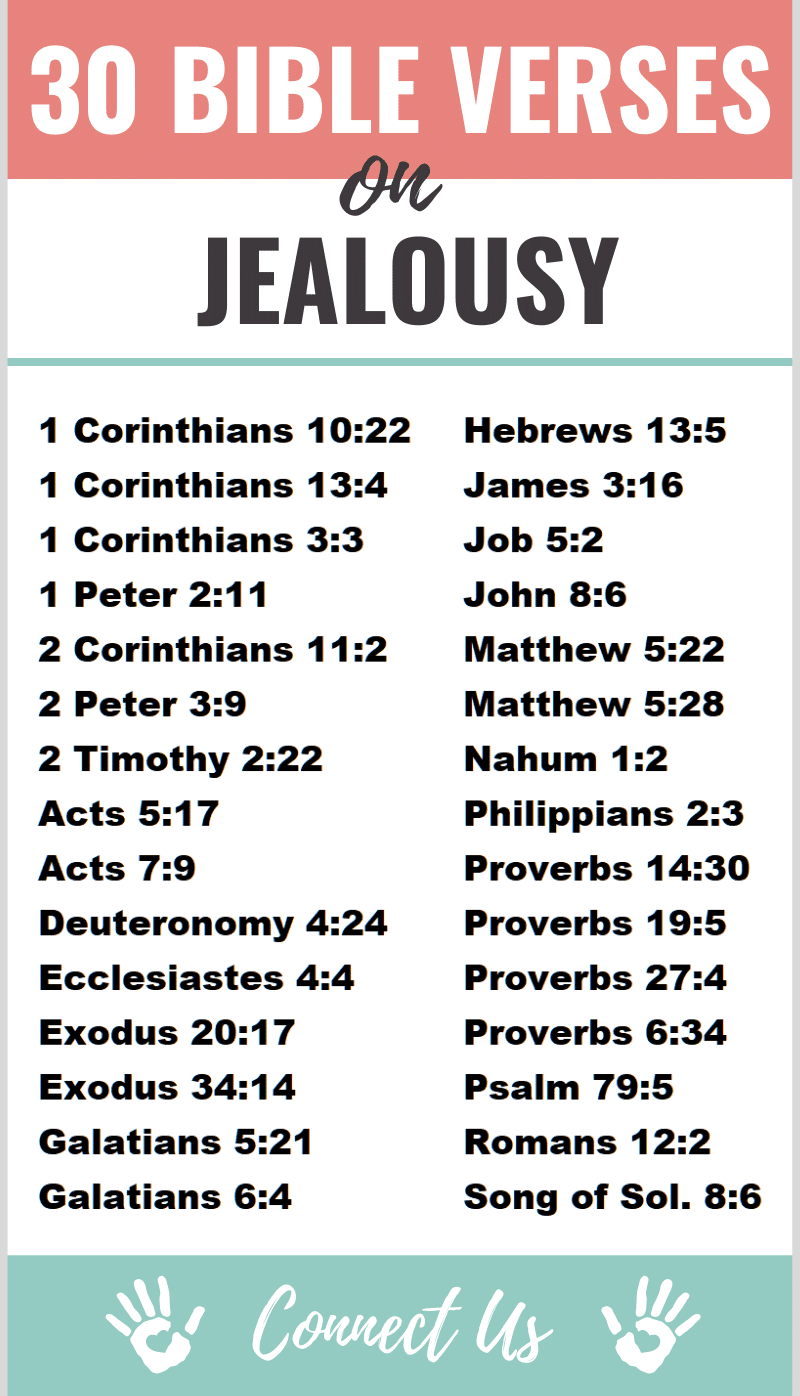 Author Bio
Natalie Regoli is a child of God, devoted wife, and mother of two boys. She has a Masters Degree in Law from The University of Texas. Natalie has been published in several national journals and has been practicing law for 18 years. If you would like to reach out to contact Natalie, then go here to
send her a message
.