The word "sacrifice" occurs 309 times in the Bible. The infographic below identifies the points of each occurrence. This graphic presentation starts with Genesis in the top left and concludes with Revelation in the bottom right.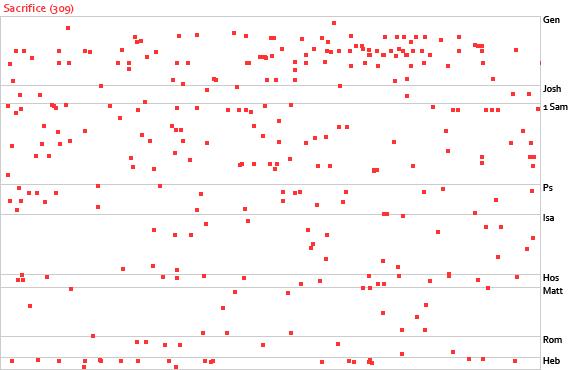 Here are the 30 most important Bible scriptures on sacrifice.
Hebrews 13:16
Do not neglect to do good and to share what you have, for such sacrifices are pleasing to God.
Romans 5:8
But God shows his love for us in that while we were still sinners, Christ died for us.
John 3:16
For God so loved the world, that he gave his only Son, that whoever believes in him should not perish but have eternal life.
Hosea 6:6
"For I desire steadfast love and not sacrifice, the knowledge of God rather than burnt offerings."
Romans 12:1
I appeal to you therefore, brothers, by the mercies of God, to present your bodies as a living sacrifice, holy and acceptable to God, which is your spiritual worship.
1 John 2:2
He is the propitiation for our sins, and not for ours only but also for the sins of the whole world.
1 Kings 13:2
And the man cried against the altar by the word of the Lord and said, "O altar, altar, thus says the Lord: 'Behold, a son shall be born to the house of David, Josiah by name, and he shall sacrifice on you the priests of the high places who make offerings on you, and human bones shall be burned on you.'"
1 Samuel 15:22
And Samuel said, "Has the Lord as great delight in burnt offerings and sacrifices, as in obeying the voice of the Lord? Behold, to obey is better than sacrifice, and to listen than the fat of rams."
2 Peter 3:9
The Lord is not slow to fulfill his promise as some count slowness, but is patient toward you, not wishing that any should perish, but that all should reach repentance.
2 Samuel 24:24
But the king said to Araunah, "No, but I will buy it from you for a price. I will not offer burnt offerings to the Lord my God that cost me nothing." So David bought the threshing floor and the oxen for fifty shekels of silver.
Ephesians 5:2
And walk in love, as Christ loved us and gave himself up for us, a fragrant offering and sacrifice to God.
Galatians 2:20
I have been crucified with Christ. It is no longer I who live, but Christ who lives in me. And the life I now live in the flesh I live by faith in the Son of God, who loved me and gave himself for me.
Genesis 22:2
He said, "Take your son, your only son Isaac, whom you love, and go to the land of Moriah, and offer him there as a burnt offering on one of the mountains of which I shall tell you."
Hebrews 10:14
For by a single offering he has perfected for all time those who are being sanctified.
Hebrews 10:26
For if we go on sinning deliberately after receiving the knowledge of the truth, there no longer remains a sacrifice for sins.
Hebrews 13:15
Through him then let us continually offer up a sacrifice of praise to God, that is, the fruit of lips that acknowledge his name.
John 1:14
And the Word became flesh and dwelt among us, and we have seen his glory, glory as of the only Son from the Father, full of grace and truth.
John 1:29
The next day he saw Jesus coming toward him, and said, "Behold, the Lamb of God, who takes away the sin of the world!"
John 14:6
Jesus said to him, "I am the way, and the truth, and the life. No one comes to the Father except through me."
John 15:13
"Greater love has no one than this, that someone lay down his life for his friends."
Leviticus 17:11
"For the life of the flesh is in the blood, and I have given it for you on the altar to make atonement for your souls, for it is the blood that makes atonement by the life."
Mark 10:45
"For even the Son of Man came not to be served but to serve, and to give his life as a ransom for many."
Matthew 9:13
"Go and learn what this means, 'I desire mercy, and not sacrifice.' For I came not to call the righteous, but sinners."
Philippians 2:17
Even if I am to be poured out as a drink offering upon the sacrificial offering of your faith, I am glad and rejoice with you all.
Philippians 2:4
Let each of you look not only to his own interests, but also to the interests of others.
Proverbs 21:3
To do righteousness and justice is more acceptable to the Lord than sacrifice.
Psalm 40:6
In sacrifice and offering you have not delighted, but you have given me an open ear. Burnt offering and sin offering you have not required.
Psalm 51:17
The sacrifices of God are a broken spirit; a broken and contrite heart, O God, you will not despise.
Romans 3:25
Whom God put forward as a propitiation by his blood, to be received by faith. This was to show God's righteousness, because in his divine forbearance he had passed over former sins.
Titus 2:14
Who gave himself for us to redeem us from all lawlessness and to purify for himself a people for his own possession who are zealous for good works.
More Bible Verses that Will Move You
50 Most Powerful Scriptures on Faith
60 Transcendent Verses on Trust
50 Strong Scriptures on Perseverance
68 Powerful Verses on Forgiveness
40 Uplifting Scriptures on Patience
Add Our Infographic Below to Your Pinterest Board
Hit the pin button below to add our infographic, with all the verses, to one of your Pinterest boards.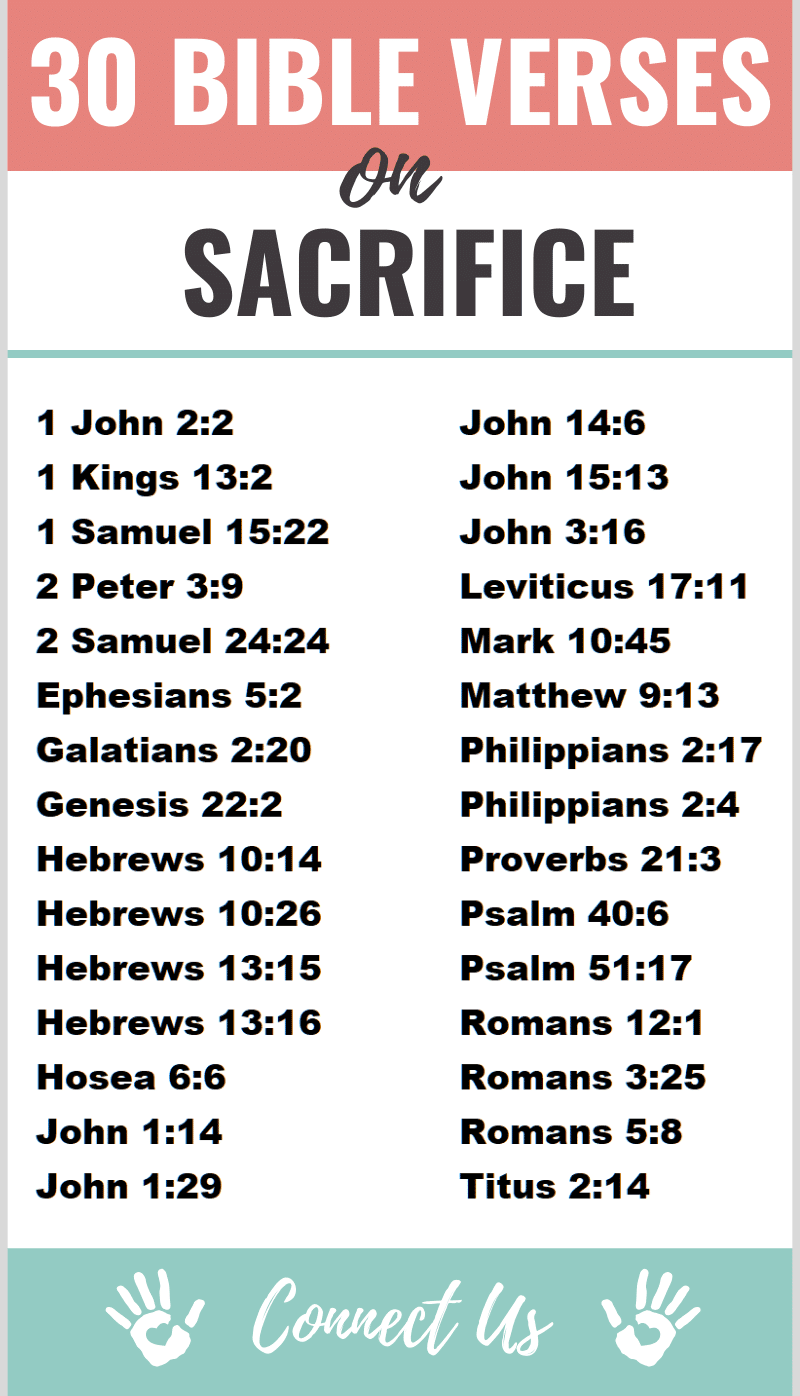 Author Bio
Natalie Regoli is a child of God, devoted wife, and mother of two boys. She has a Masters Degree in Law from The University of Texas. Natalie has been published in several national journals and has been practicing law for 18 years. If you would like to reach out to contact Natalie, then go here to
send her a message
.