The word tongues is found 34 times in the Old and New Testament. The image below reveals the locations of each occurrence. This cool graph starts with Genesis in the top left and ends with Revelation in the bottom right.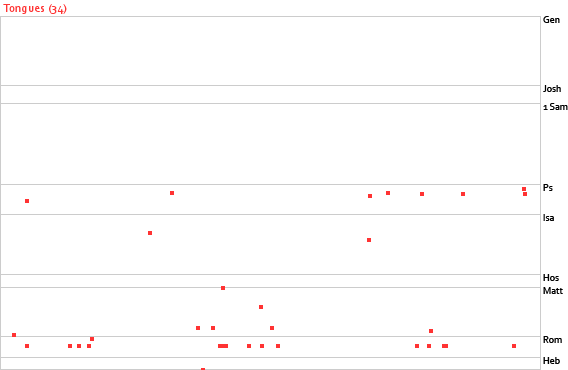 Here are the 30 most important Bible scriptures on speaking in tongues.
Acts 2:4
And they were all filled with the Holy Spirit and began to speak in other tongues as the Spirit gave them utterance.
Mark 16:17
"And these signs will accompany those who believe: in my name they will cast out demons; they will speak in new tongues."
1 Corinthians 14:2
For one who speaks in a tongue speaks not to men but to God; for no one understands him, but he utters mysteries in the Spirit.
1 Corinthians 14:23
If, therefore, the whole church comes together and all speak in tongues, and outsiders or unbelievers enter, will they not say that you are out of your minds?
Acts 19:6
And when Paul had laid his hands on them, the Holy Spirit came on them, and they began speaking in tongues and prophesying.
1 Corinthians 12:10
To another the working of miracles, to another prophecy, to another the ability to distinguish between spirits, to another various kinds of tongues, to another the interpretation of tongues.
1 Corinthians 12:11
All these are empowered by one and the same Spirit, who apportions to each one individually as he wills.
1 Corinthians 12:28
And God has appointed in the church first apostles, second prophets, third teachers, then miracles, then gifts of healing, helping, administrating, and various kinds of tongues.
1 Corinthians 12:30
Do all possess gifts of healing? Do all speak with tongues? Do all interpret?
1 Corinthians 13:1
If I speak in the tongues of men and of angels, but have not love, I am a noisy gong or a clanging cymbal.
1 Corinthians 13:8
Love never ends. As for prophecies, they will pass away; as for tongues, they will cease; as for knowledge, it will pass away.
1 Corinthians 14:1
Pursue love, and earnestly desire the spiritual gifts, especially that you may prophesy.
1 Corinthians 14:13
Therefore, one who speaks in a tongue should pray for the power to interpret.
1 Corinthians 14:14
For if I pray in a tongue, my spirit prays but my mind is unfruitful.
1 Corinthians 14:18
I thank God that I speak in tongues more than all of you.
1 Corinthians 14:19
Nevertheless, in church I would rather speak five words with my mind in order to instruct others, than ten thousand words in a tongue.
1 Corinthians 14:22
Thus tongues are a sign not for believers but for unbelievers, while prophecy is a sign not for unbelievers but for believers.
1 Corinthians 14:27
If any speak in a tongue, let there be only two or at most three, and each in turn, and let someone interpret.
1 Corinthians 14:39
So, my brothers, earnestly desire to prophesy, and do not forbid speaking in tongues.
1 Corinthians 14:4
The one who speaks in a tongue builds up himself, but the one who prophesies builds up the church.
Acts 10:46
For they were hearing them speaking in tongues and extolling God. Then Peter declared.
Acts 11:15
As I began to speak, the Holy Spirit fell on them just as on us at the beginning.
Acts 2:11
Both Jews and proselytes, Cretans and Arabians—we hear them telling in our own tongues the mighty works of God.
Acts 2:3
And divided tongues as of fire appeared to them and rested on each one of them.
Acts 2:6
And at this sound the multitude came together, and they were bewildered, because each one was hearing them speak in his own language.
Acts 2:8
And how is it that we hear, each of us in his own native language?
Galatians 5:22
But the fruit of the Spirit is love, joy, peace, patience, kindness, goodness, faithfulness.
Isaiah 28:11
For by people of strange lips and with a foreign tongue the Lord will speak to this people.
Jude 1:20
But you, beloved, building yourselves up in your most holy faith and praying in the Holy Spirit.
Romans 8:26
Likewise the Spirit helps us in our weakness. For we do not know what to pray for as we ought, but the Spirit himself intercedes for us with groanings too deep for words.
More Bible Verses that Will Move You
50 Most Powerful Scriptures on Faith
60 Transcendent Verses on Trust
50 Strong Scriptures on Perseverance
68 Powerful Verses on Forgiveness
40 Uplifting Scriptures on Patience
Add Our Infographic Below to Your Pinterest Board
Hit the pin button below to add our infographic, with all the verses, to one of your Pinterest boards.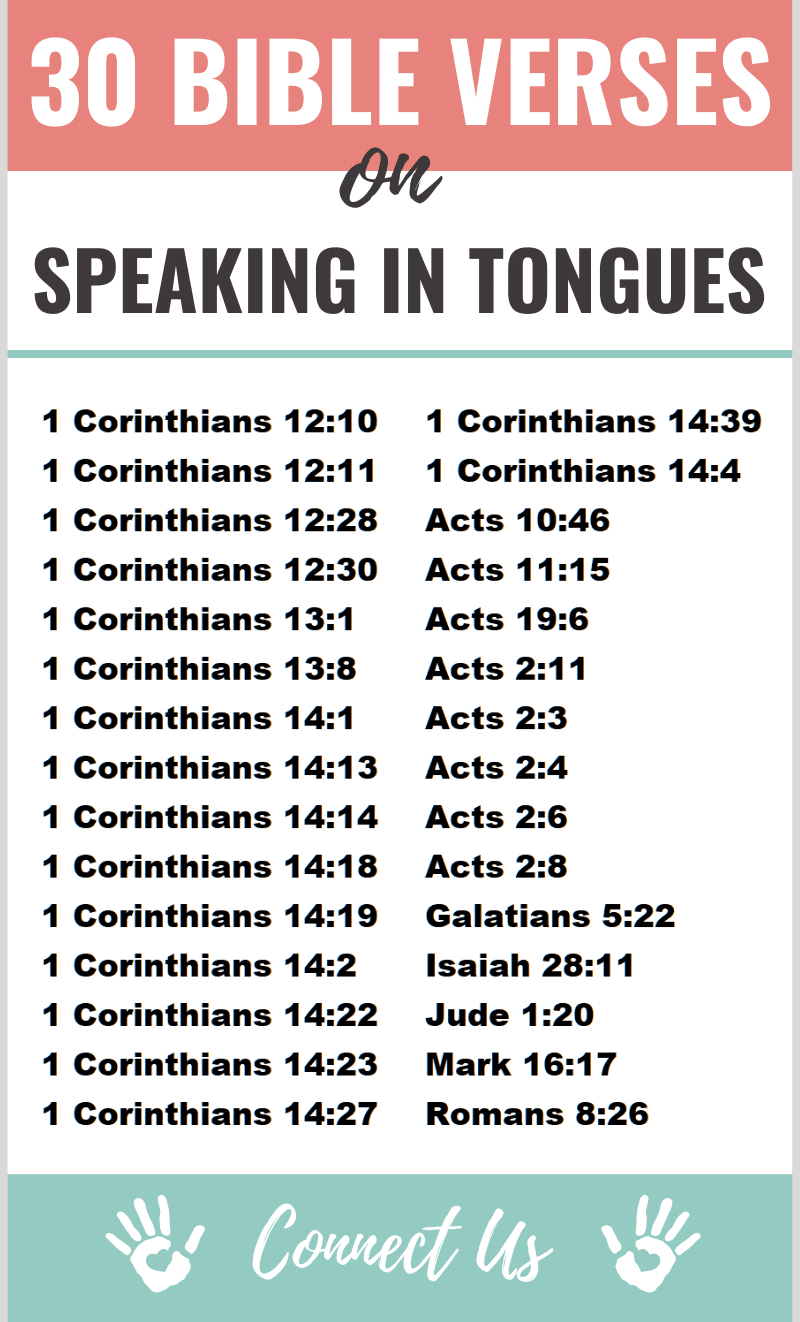 Author Bio
Natalie Regoli is a child of God, devoted wife, and mother of two boys. She has a Master's Degree in Law from The University of Texas. Natalie has been published in several national journals and has been practicing law for 18 years.