The word "steal" appears 35 times throughout the books of the Bible. The graph below shows the locations of each appearance. It begins with Genesis in the top left and concludes with Revelation in the bottom right.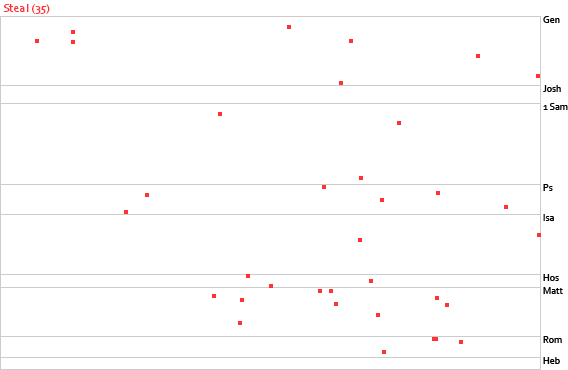 Here are the 30 most important Bible scriptures on stealing.
Ephesians 4:28
Let the thief no longer steal, but rather let him labor, doing honest work with his own hands, so that he may have something to share with anyone in need.
Exodus 20:15
"You shall not steal."
Leviticus 19:11
"You shall not steal; you shall not deal falsely; you shall not lie to one another."
Proverbs 10:2
Treasures gained by wickedness do not profit, but righteousness delivers from death.
Exodus 22:7
"If a man gives to his neighbor money or goods to keep safe, and it is stolen from the man's house, then, if the thief is found, he shall pay double."
1 Corinthians 6:10
Nor thieves, nor the greedy, nor drunkards, nor revilers, nor swindlers will inherit the kingdom of God.
1 Timothy 6:10
For the love of money is a root of all kinds of evils. It is through this craving that some have wandered away from the faith and pierced themselves with many pangs.
Deuteronomy 24:7
If a man is found stealing one of his brothers of the people of Israel, and if he treats him as a slave or sells him, then that thief shall die. So you shall purge the evil from your midst.
Deuteronomy 5:19
"And you shall not steal."
Exodus 21:16
"Whoever steals a man and sells him, and anyone found in possession of him, shall be put to death."
Hosea 4:2
There is swearing, lying, murder, stealing, and committing adultery; they break all bounds, and bloodshed follows bloodshed.
Isaiah 61:8
"For I the Lord love justice; I hate robbery and wrong; I will faithfully give them their recompense, and I will make an everlasting covenant with them."
Jeremiah 2:26
As a thief is shamed when caught, so the house of Israel shall be shamed: they, their kings, their officials, their priests, and their prophets.
John 10:10
"The thief comes only to steal and kill and destroy. I came that they may have life and have it abundantly."
Leviticus 19:13
"You shall not oppress your neighbor or rob him. The wages of a hired servant shall not remain with you all night until the morning."
Leviticus 6:2
"If anyone sins and commits a breach of faith against the Lord by deceiving his neighbor in a matter of deposit or security, or through robbery, or if he has oppressed his neighbor."
Luke 18:20
"You know the commandments: 'Do not commit adultery, Do not murder, Do not steal, Do not bear false witness, Honor your father and mother.'"
Luke 19:8
And Zacchaeus stood and said to the Lord, "Behold, Lord, the half of my goods I give to the poor. And if I have defrauded anyone of anything, I restore it fourfold."
Malachi 3:8
"Will man rob God? Yet you are robbing me. But you say, 'How have we robbed you?' In your tithes and contributions."
Mark 10:19
"You know the commandments: 'Do not murder, Do not commit adultery, Do not steal, Do not bear false witness, Do not defraud, Honor your father and mother.'"
Matthew 19:18
He said to him, "Which ones?" And Jesus said, "You shall not murder, You shall not commit adultery, You shall not steal, You shall not bear false witness.
Matthew 6:19
"Do not lay up for yourselves treasures on earth, where moth and rust destroy and where thieves break in and steal."
Matthew 7:7
"Ask, and it will be given to you; seek, and you will find; knock, and it will be opened to you."
Proverbs 11:1
A false balance is an abomination to the Lord, but a just weight is his delight.
Proverbs 12:22
Lying lips are an abomination to the Lord, but those who act faithfully are his delight.
Psalm 109:2
For wicked and deceitful mouths are opened against me, speaking against me with lying tongues.
Psalm 62:10
Put no trust in extortion; set no vain hopes on robbery; if riches increase, set not your heart on them.
Romans 13:7
Pay to all what is owed to them: taxes to whom taxes are owed, revenue to whom revenue is owed, respect to whom respect is owed, honor to whom honor is owed.
Romans 13:9
For the commandments, "You shall not commit adultery, You shall not murder, You shall not steal, You shall not covet," and any other commandment, are summed up in this word: "You shall love your neighbor as yourself."
Romans 2:21
You then who teach others, do you not teach yourself? While you preach against stealing, do you steal?
More Bible Verses that Will Move You
50 Most Powerful Scriptures on Faith
60 Transcendent Verses on Trust
50 Strong Scriptures on Perseverance
68 Powerful Verses on Forgiveness
40 Uplifting Scriptures on Patience
Add Our Infographic Below to Your Pinterest Board
Hit the pin button below to add our infographic, with all the verses, to one of your Pinterest boards.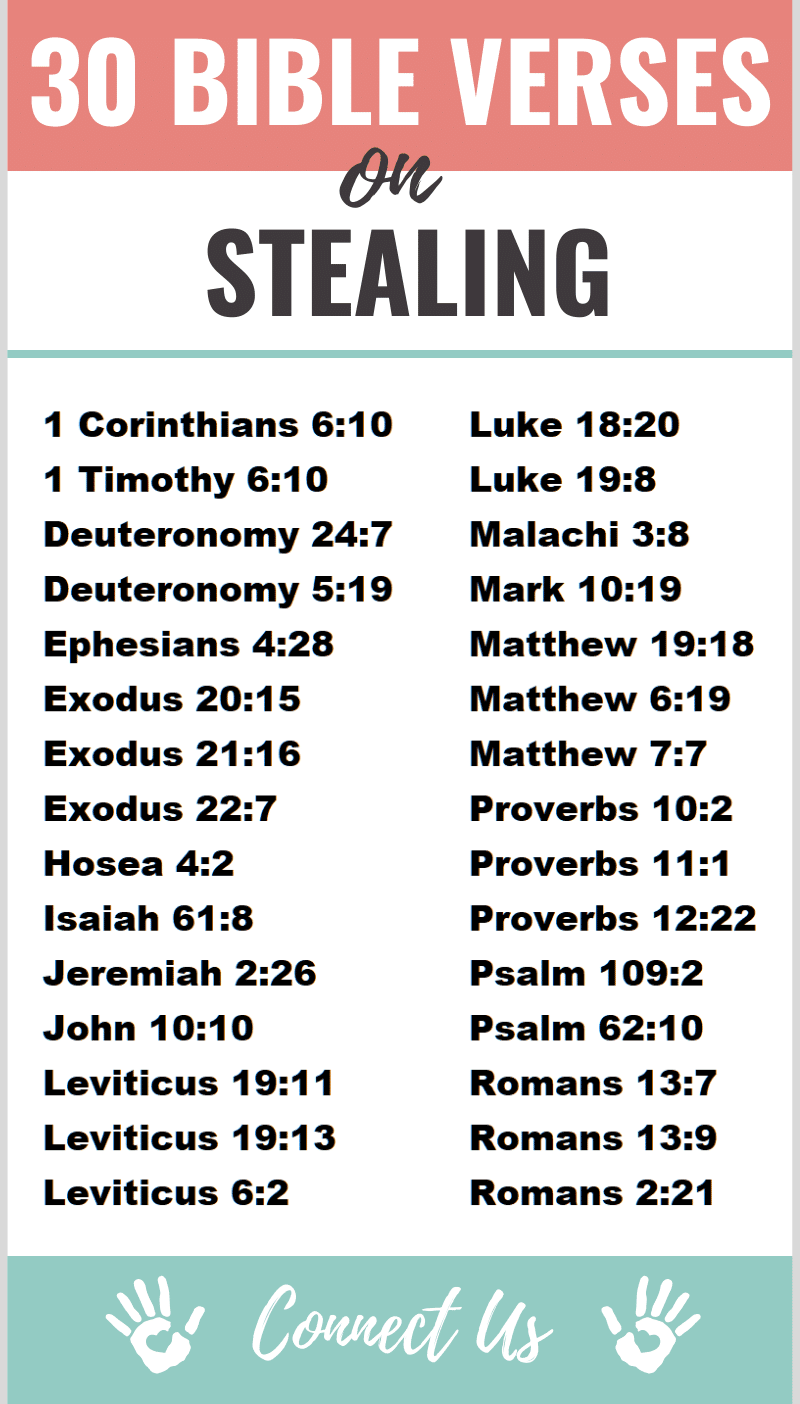 Author Bio
Natalie Regoli is a child of God, devoted wife, and mother of two boys. She has a Masters Degree in Law from The University of Texas. Natalie has been published in several national journals and has been practicing law for 18 years. If you would like to reach out to contact Natalie, then go here to
send her a message
.