Here are the 30 most meaningful Bible scriptures on hospitality.
Hebrews 13:2
Do not neglect to show hospitality to strangers, for thereby some have entertained angels unawares.
1 Peter 4:9
Show hospitality to one another without grumbling.
Romans 12:13
Contribute to the needs of the saints and seek to show hospitality.
Leviticus 19:34
"You shall treat the stranger who sojourns with you as the native among you, and you shall love him as yourself, for you were strangers in the land of Egypt: I am the Lord your God."
Titus 1:8
But hospitable, a lover of good, self-controlled, upright, holy, and disciplined.
1 Peter 4:11
Whoever speaks, as one who speaks oracles of God; whoever serves, as one who serves by the strength that God supplies—in order that in everything God may be glorified through Jesus Christ. To him belong glory and dominion forever and ever. Amen.
1 Timothy 3:2
Therefore an overseer must be above reproach, the husband of one wife, sober-minded, self-controlled, respectable, hospitable, able to teach.
1 Timothy 5:10
And having a reputation for good works: if she has brought up children, has shown hospitality, has washed the feet of the saints, has cared for the afflicted, and has devoted herself to every good work.
2 Kings 4:8
One day Elisha went on to Shunem, where a wealthy woman lived, who urged him to eat some food. So whenever he passed that way, he would turn in there to eat food.
3 John 1:5
Beloved, it is a faithful thing you do in all your efforts for these brothers, strangers as they are.
Acts 16:15
And after she was baptized, and her household as well, she urged us, saying, "If you have judged me to be faithful to the Lord, come to my house and stay." And she prevailed upon us.
Acts 28:2
The native people showed us unusual kindness, for they kindled a fire and welcomed us all, because it had begun to rain and was cold.
Ephesians 6:7
Rendering service with a good will as to the Lord and not to man.
Exodus 22:21
"You shall not wrong a sojourner or oppress him, for you were sojourners in the land of Egypt."
Exodus 23:9
"You shall not oppress a sojourner. You know the heart of a sojourner, for you were sojourners in the land of Egypt."
Galatians 5:13
For you were called to freedom, brothers. Only do not use your freedom as an opportunity for the flesh, but through love serve one another.
Galatians 6:10
So then, as we have opportunity, let us do good to everyone, and especially to those who are of the household of faith.
Genesis 24:31
He said, "Come in, O blessed of the Lord. Why do you stand outside? For I have prepared the house and a place for the camels."
Hebrews 13:16
Do not neglect to do good and to share what you have, for such sacrifices are pleasing to God.
Isaiah 58:7
"Is it not to share your bread with the hungry and bring the homeless poor into your house; when you see the naked, to cover him, and not to hide yourself from your own flesh?"
Job 31:32
The sojourner has not lodged in the street; I have opened my doors to the traveler.
Leviticus 19:10
"And you shall not strip your vineyard bare, neither shall you gather the fallen grapes of your vineyard. You shall leave them for the poor and for the sojourner: I am the Lord your God."
Leviticus 19:33
"When a stranger sojourns with you in your land, you shall not do him wrong."
Leviticus 24:22
"You shall have the same rule for the sojourner and for the native, for I am the Lord your God."
Luke 10:38
Now as they went on their way, Jesus entered a village. And a woman named Martha welcomed him into her house.
Mark 9:41
"For truly, I say to you, whoever gives you a cup of water to drink because you belong to Christ will by no means lose his reward."
Matthew 25:40
"And the King will answer them, 'Truly, I say to you, as you did it to one of the least of these my brothers, you did it to me.'"
Proverbs 31:20
She opens her hand to the poor and reaches out her hands to the needy.
Romans 16:2
That you may welcome her in the Lord in a way worthy of the saints, and help her in whatever she may need from you, for she has been a patron of many and of myself as well.
Romans 16:23
Gaius, who is host to me and to the whole church, greets you. Erastus, the city treasurer, and our brother Quartus, greet you.
More Bible Verses that Will Move You
50 Most Powerful Scriptures on Faith
60 Transcendent Verses on Trust
50 Strong Scriptures on Perseverance
68 Powerful Verses on Forgiveness
40 Uplifting Scriptures on Patience
Add Our Infographic Below to Your Pinterest Board
Hit the pin button below to add our infographic, with all the verses, to one of your Pinterest boards.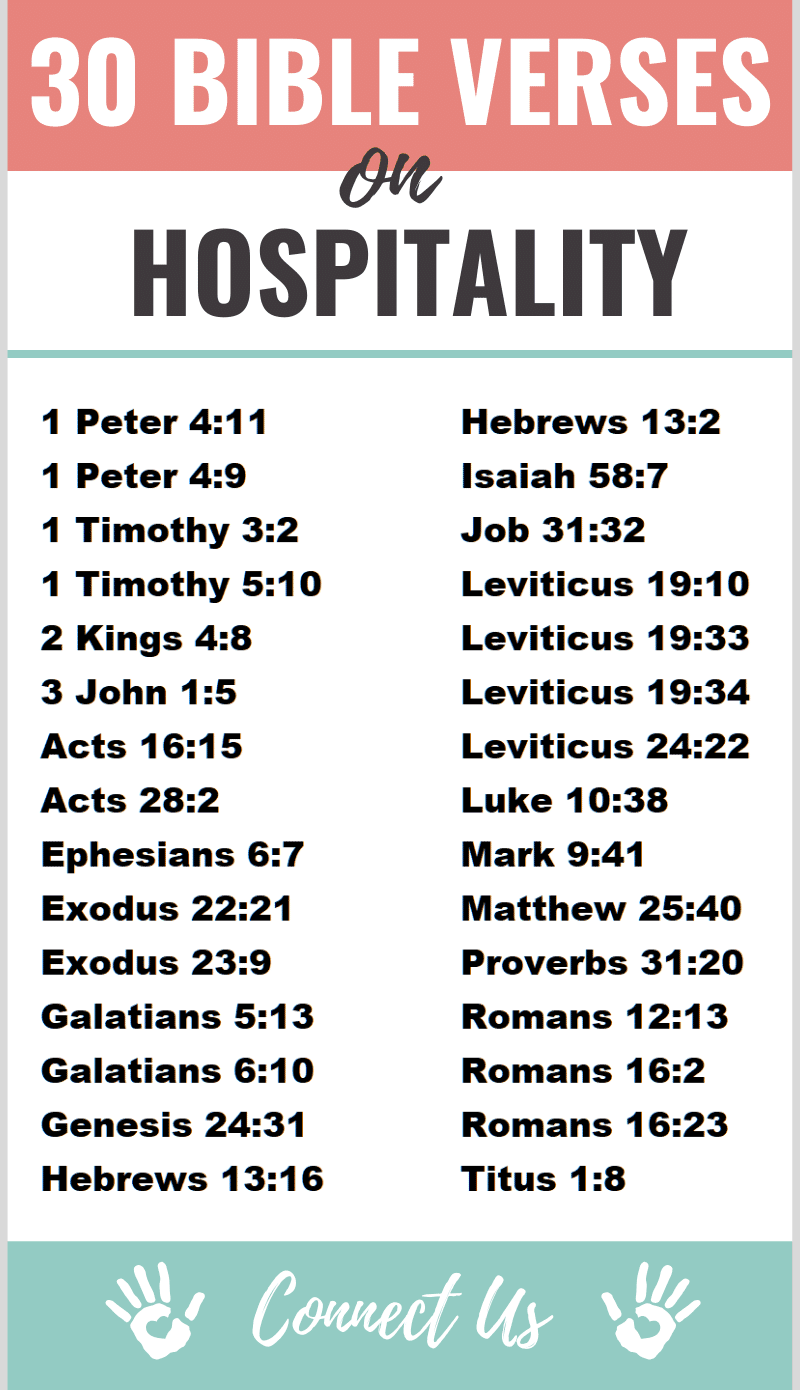 Author Bio
Natalie Regoli is a child of God, devoted wife, and mother of two boys. She has a Master's Degree in Law from The University of Texas. Natalie has been published in several national journals and has been practicing law for 18 years.