Here are the 30 most powerful Bible scriptures on relying on God.
Isaiah 41:13
"For I, the Lord your God, hold your right hand; it is I who say to you, 'Fear not, I am the one who helps you.'"
Philippians 4:6
Do not be anxious about anything, but in everything by prayer and supplication with thanksgiving let your requests be made known to God.
Psalm 18:2
The Lord is my rock and my fortress and my deliverer, my God, my rock, in whom I take refuge, my shield, and the horn of my salvation, my stronghold.
1 Corinthians 10:13
No temptation has overtaken you that is not common to man. God is faithful, and he will not let you be tempted beyond your ability, but with the temptation he will also provide the way of escape, that you may be able to endure it.
Romans 12:2
Do not be conformed to this world, but be transformed by the renewal of your mind, that by testing you may discern what is the will of God, what is good and acceptable and perfect.
1 Peter 4:7
The end of all things is at hand; therefore be self-controlled and sober-minded for the sake of your prayers.
1 Peter 5:7
Casting all your anxieties on him, because he cares for you.
2 Corinthians 1:9
Indeed, we felt that we had received the sentence of death. But that was to make us rely not on ourselves but on God who raises the dead.
Amos 8:11
"Behold, the days are coming," declares the Lord God, "when I will send a famine on the land— not a famine of bread, nor a thirst for water, but of hearing the words of the Lord."
Deuteronomy 31:6
Be strong and courageous. Do not fear or be in dread of them, for it is the Lord your God who goes with you. He will not leave you or forsake you.
Ecclesiastes 9:11
Again I saw that under the sun the race is not to the swift, nor the battle to the strong, nor bread to the wise, nor riches to the intelligent, nor favor to those with knowledge, but time and chance happen to them all.
Hebrews 13:8
Jesus Christ is the same yesterday and today and forever.
Hebrews 9:27
And just as it is appointed for man to die once, and after that comes judgment.
Isaiah 26:4
Trust in the Lord forever, for the Lord God is an everlasting rock.
Isaiah 41:10
"Fear not, for I am with you; be not dismayed, for I am your God; I will strengthen you, I will help you, I will uphold you with my righteous right hand."
Isaiah 57:15
For thus says the One who is high and lifted up, who inhabits eternity, whose name is Holy: "I dwell in the high and holy place, and also with him who is of a contrite and lowly spirit, to revive the spirit of the lowly, and to revive the heart of the contrite."
James 1:17
Every good gift and every perfect gift is from above, coming down from the Father of lights with whom there is no variation or shadow due to change.
James 4:14
Yet you do not know what tomorrow will bring. What is your life? For you are a mist that appears for a little time and then vanishes.
Jeremiah 17:7
Blessed is the man who trusts in the Lord, whose trust is the Lord.
Jeremiah 29:11
"For I know the plans I have for you," declares the Lord, "plans for welfare and not for evil, to give you a future and a hope."
John 10:10
"The thief comes only to steal and kill and destroy. I came that they may have life and have it abundantly."
John 11:26
"And everyone who lives and believes in me shall never die. Do you believe this?"
John 14:16
"And I will ask the Father, and he will give you another Helper, to be with you forever."
John 16:13
"When the Spirit of truth comes, he will guide you into all the truth, for he will not speak on his own authority, but whatever he hears he will speak, and he will declare to you the things that are to come."
John 5:24
"Truly, truly, I say to you, whoever hears my word and believes him who sent me has eternal life. He does not come into judgment, but has passed from death to life."
Malachi 3:6
"For I the Lord do not change; therefore you, O children of Jacob, are not consumed."
Mark 16:16
"Whoever believes and is baptized will be saved, but whoever does not believe will be condemned."
Psalm 34:19
Many are the afflictions of the righteous, but the Lord delivers him out of them all.
Romans 8:11
If the Spirit of him who raised Jesus from the dead dwells in you, he who raised Christ Jesus from the dead will also give life to your mortal bodies through his Spirit who dwells in you.
Romans 8:37
No, in all these things we are more than conquerors through him who loved us.
More Bible Verses that Will Move You
50 Most Powerful Scriptures on Faith
60 Transcendent Verses on Trust
50 Strong Scriptures on Perseverance
68 Powerful Verses on Forgiveness
40 Uplifting Scriptures on Patience
Add Our Infographic Below to Your Pinterest Board
Hit the pin button below to add our infographic, with all the verses, to one of your Pinterest boards.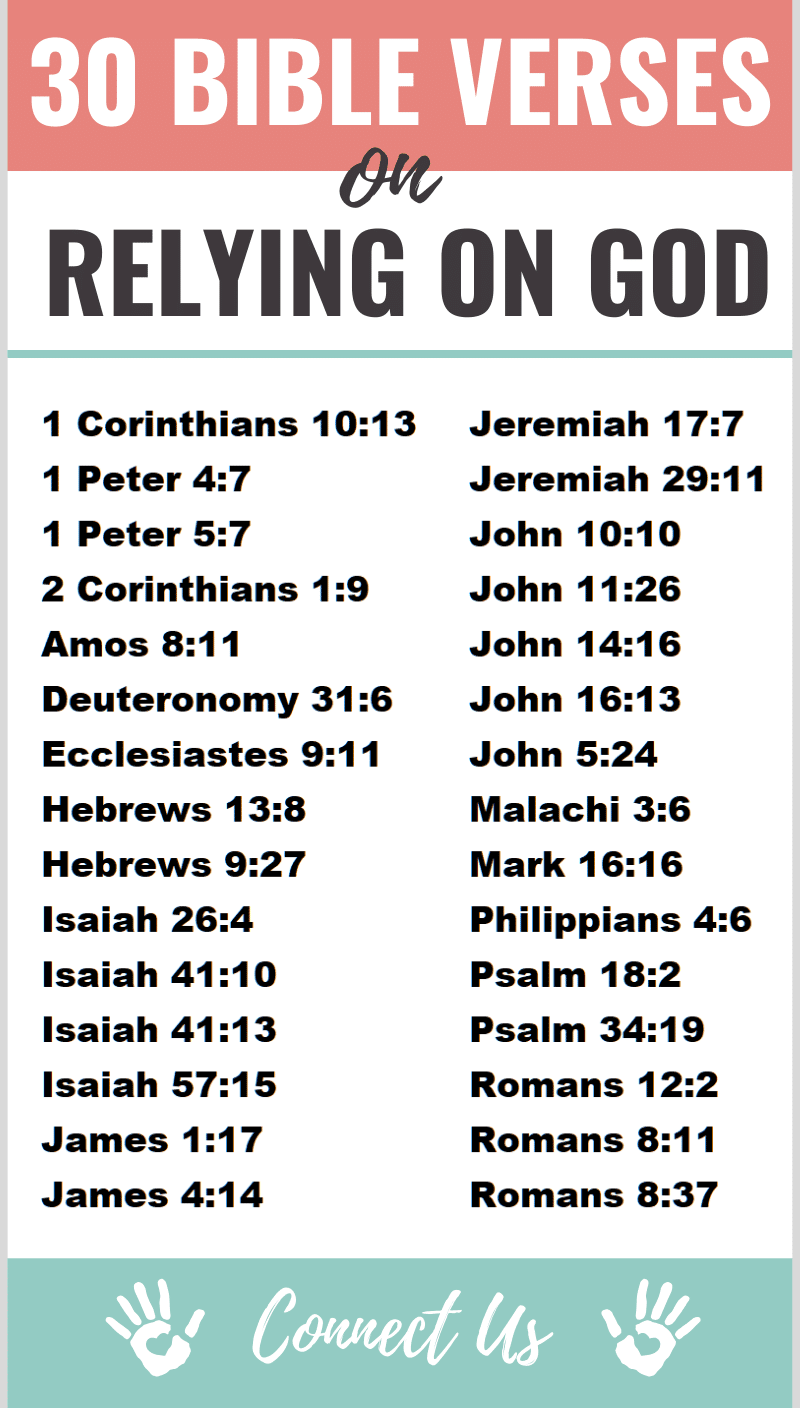 Author Bio
Natalie Regoli is a child of God, devoted wife, and mother of two boys. She has a Masters Degree in Law from The University of Texas. Natalie has been published in several national journals and has been practicing law for 18 years.