Here are the 30 most powerful Bible scriptures on generosity.
Acts 20:35
In all things I have shown you that by working hard in this way we must help the weak and remember the words of the Lord Jesus, how he himself said, "It is more blessed to give than to receive."
Luke 6:38
"Give, and it will be given to you. Good measure, pressed down, shaken together, running over, will be put into your lap. For with the measure you use it will be measured back to you."
Proverbs 19:17
Whoever is generous to the poor lends to the Lord, and he will repay him for his deed.
Matthew 6:21
"For where your treasure is, there your heart will be also."
2 Corinthians 9:6
The point is this: whoever sows sparingly will also reap sparingly, and whoever sows bountifully will also reap bountifully.
1 John 3:17
But if anyone has the world's goods and sees his brother in need, yet closes his heart against him, how does God's love abide in him?
2 Corinthians 8:12
For if the readiness is there, it is acceptable according to what a person has, not according to what he does not have.
2 Corinthians 8:7
But as you excel in everything—in faith, in speech, in knowledge, in all earnestness, and in our love for you—see that you excel in this act of grace also.
2 Corinthians 9:10
He who supplies seed to the sower and bread for food will supply and multiply your seed for sowing and increase the harvest of your righteousness.
2 Corinthians 9:11
You will be enriched in every way to be generous in every way, which through us will produce thanksgiving to God.
2 Corinthians 9:13
By their approval of this service, they will glorify God because of your submission flowing from your confession of the gospel of Christ, and the generosity of your contribution for them and for all others.
2 Corinthians 9:7
Each one must give as he has decided in his heart, not reluctantly or under compulsion, for God loves a cheerful giver.
2 Corinthians 9:8
And God is able to make all grace abound to you, so that having all sufficiency in all things at all times, you may abound in every good work.
Acts 2:45
And they were selling their possessions and belongings and distributing the proceeds to all, as any had need.
Deuteronomy 8:18
You shall remember the Lord your God, for it is he who gives you power to get wealth, that he may confirm his covenant that he swore to your fathers, as it is this day.
Galatians 6:2
Bear one another's burdens, and so fulfill the law of Christ.
Hebrews 13:16
Do not neglect to do good and to share what you have, for such sacrifices are pleasing to God.
Isaiah 32:8
But he who is noble plans noble things, and on noble things he stands.
John 3:16
For God so loved the world, that he gave his only Son, that whoever believes in him should not perish but have eternal life.
Luke 12:33
"Sell your possessions, and give to the needy. Provide yourselves with moneybags that do not grow old, with a treasure in the heavens that does not fail, where no thief approaches and no moth destroys."
Luke 6:30
"Give to everyone who begs from you, and from one who takes away your goods do not demand them back."
Malachi 3:10
"Bring the full tithe into the storehouse, that there may be food in my house. And thereby put me to the test," says the Lord of hosts, "if I will not open the windows of heaven for you and pour down for you a blessing until there is no more need."
Matthew 10:42
"And whoever gives one of these little ones even a cup of cold water because he is a disciple, truly, I say to you, he will by no means lose his reward."
Proverbs 11:24
One gives freely, yet grows all the richer; another withholds what he should give, and only suffers want.
Proverbs 11:25
Whoever brings blessing will be enriched, and one who waters will himself be watered.
Proverbs 21:13
Whoever closes his ear to the cry of the poor will himself call out and not be answered.
Proverbs 22:9
Whoever has a bountiful eye will be blessed, for he shares his bread with the poor.
Proverbs 28:27
Whoever gives to the poor will not want, but he who hides his eyes will get many a curse.
Psalm 112:5
It is well with the man who deals generously and lends; who conducts his affairs with justice.
Psalm 37:26
He is ever lending generously, and his children become a blessing.
More Bible Verses that Will Move You
50 Most Powerful Scriptures on Faith
60 Transcendent Verses on Trust
50 Strong Scriptures on Perseverance
68 Powerful Verses on Forgiveness
40 Uplifting Scriptures on Patience
Add Our Infographic Below to Your Pinterest Board
Hit the pin button below to add our infographic, with all the verses, to one of your Pinterest boards.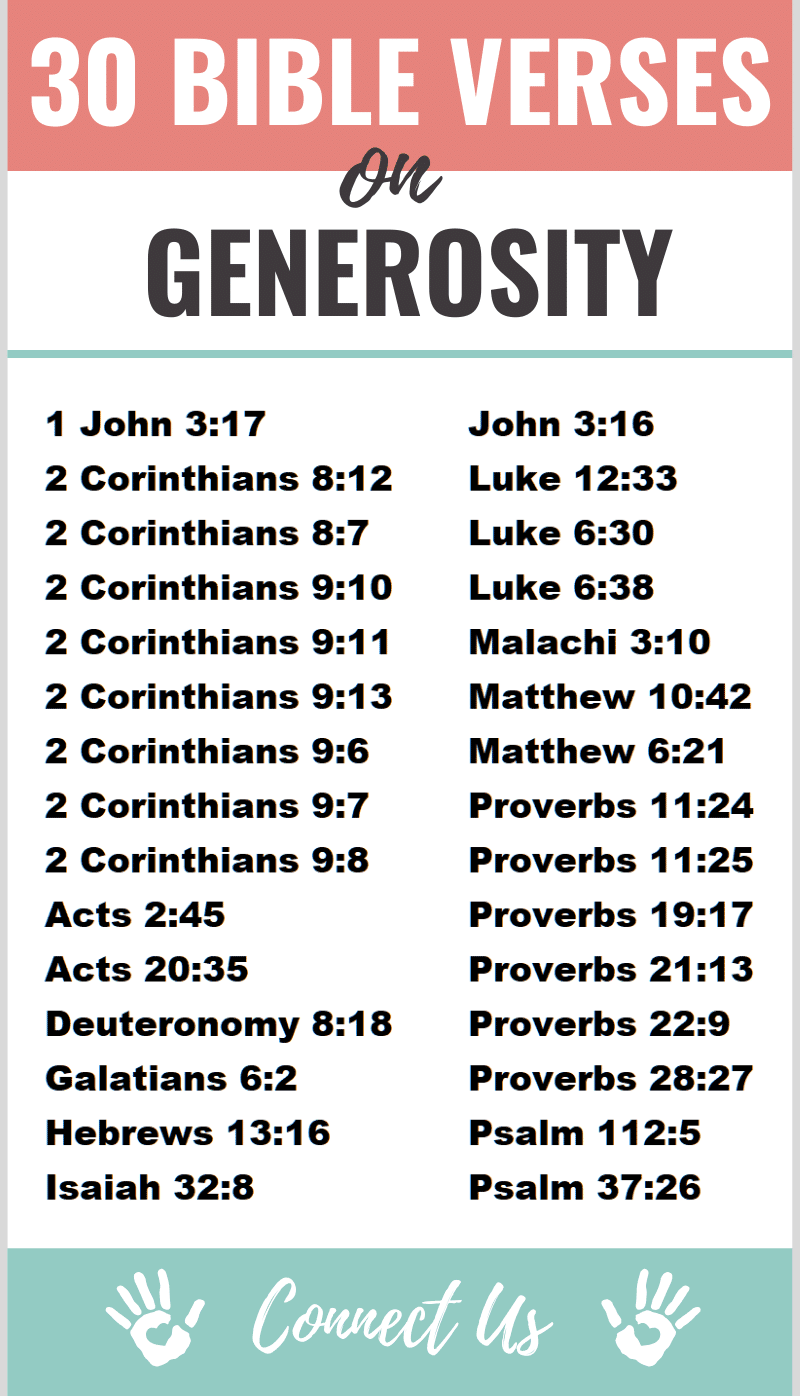 Author Bio
Natalie Regoli is a child of God, devoted wife, and mother of two boys. She has a Master's Degree in Law from The University of Texas. Natalie has been published in several national journals and has been practicing law for 18 years.