Here are the 30 most powerful Bible scriptures on procrastination.
Proverbs 13:4
The soul of the sluggard craves and gets nothing, while the soul of the diligent is richly supplied.
Proverbs 12:24
The hand of the diligent will rule, while the slothful will be put to forced labor.
Proverbs 20:4
The sluggard does not plow in the autumn; he will seek at harvest and have nothing.
Proverbs 27:1
Do not boast about tomorrow, for you do not know what a day may bring.
James 4:17
So whoever knows the right thing to do and fails to do it, for him it is sin.
1 Corinthians 14:40
But all things should be done decently and in order.
1 Thessalonians 5:2
For you yourselves are fully aware that the day of the Lord will come like a thief in the night.
2 Timothy 4:2
Preach the word; be ready in season and out of season; reprove, rebuke, and exhort, with complete patience and teaching.
Colossians 4:5
Walk in wisdom toward outsiders, making the best use of the time.
Ecclesiastes 11:4
He who observes the wind will not sow, and he who regards the clouds will not reap.
Ecclesiastes 9:10
Whatever your hand finds to do, do it with your might, for there is no work or thought or knowledge or wisdom in Sheol, to which you are going.
Ezekiel 12:28
Therefore say to them, Thus says the Lord God: None of my words will be delayed any longer, but the word that I speak will be performed, declares the Lord God."
Galatians 6:9
And let us not grow weary of doing good, for in due season we will reap, if we do not give up.
Hebrews 12:11
For the moment all discipline seems painful rather than pleasant, but later it yields the peaceful fruit of righteousness to those who have been trained by it.
Hosea 10:12
Sow for yourselves righteousness; reap steadfast love; break up your fallow ground, for it is the time to seek the Lord, that he may come and rain righteousness upon you.
John 9:4
"We must work the works of him who sent me while it is day; night is coming, when no one can work."
Luke 12:35
"Stay dressed for action and keep your lamps burning."
Luke 12:40
"You also must be ready, for the Son of Man is coming at an hour you do not expect."
Matthew 6:33
"But seek first the kingdom of God and his righteousness, and all these things will be added to you."
Philippians 4:13
I can do all things through him who strengthens me.
Proverbs 10:4
A slack hand causes poverty, but the hand of the diligent makes rich.
Proverbs 10:5
He who gathers in summer is a prudent son, but he who sleeps in harvest is a son who brings shame.
Proverbs 12:25
Anxiety in a man's heart weighs him down, but a good word makes him glad.
Proverbs 14:23
In all toil there is profit, but mere talk tends only to poverty.
Proverbs 18:9
Whoever is slack in his work is a brother to him who destroys.
Proverbs 20:13
Love not sleep, lest you come to poverty; open your eyes, and you will have plenty of bread.
Proverbs 3:28
Do not say to your neighbor, "Go, and come again, tomorrow I will give it"—when you have it with you.
Proverbs 5:23
He dies for lack of discipline, and because of his great folly he is led astray.
Psalm 119:60
I hasten and do not delay to keep your commandments.
Psalm 90:12
So teach us to number our days that we may get a heart of wisdom.
More Bible Verses that Will Move You
50 Most Powerful Scriptures on Faith
60 Transcendent Verses on Trust
50 Strong Scriptures on Perseverance
68 Powerful Verses on Forgiveness
40 Uplifting Scriptures on Patience
Add Our Infographic Below to Your Pinterest Board
Hit the pin button below to add our infographic, with all the verses, to one of your Pinterest boards.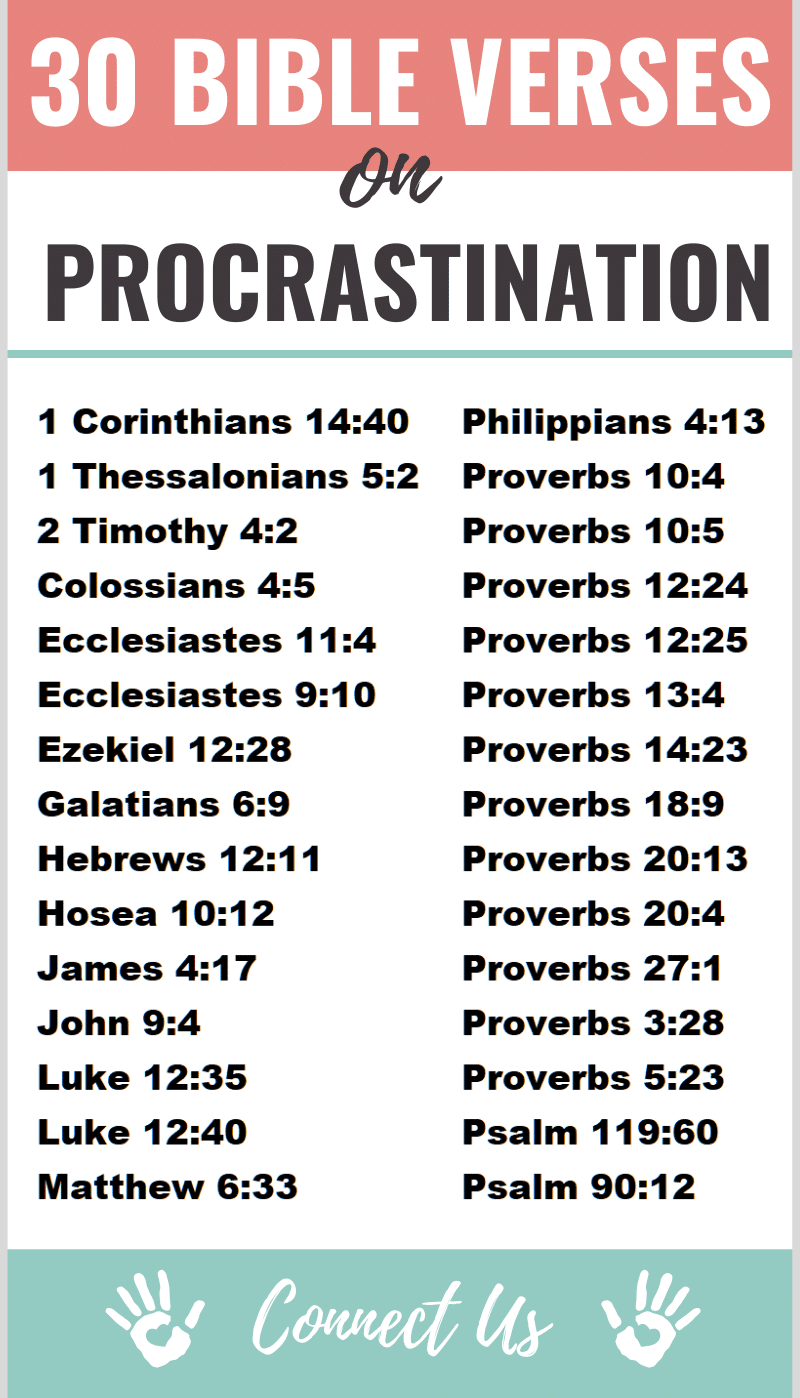 Author Bio
Natalie Regoli is a child of God, devoted wife, and mother of two boys. She has a Master's Degree in Law from The University of Texas. Natalie has been published in several national journals and has been practicing law for 18 years.