Here are the 30 most powerful Bible scriptures on responsibility.
Galatians 6:5
For each will have to bear his own load.
1 Timothy 5:8
But if anyone does not provide for his relatives, and especially for members of his household, he has denied the faith and is worse than an unbeliever.
1 Corinthians 3:8
He who plants and he who waters are one, and each will receive his wages according to his labor.
Proverbs 22:6
Train up a child in the way he should go; even when he is old he will not depart from it.
Ezekiel 18:20
The soul who sins shall die. The son shall not suffer for the iniquity of the father, nor the father suffer for the iniquity of the son. The righteousness of the righteous shall be upon himself, and the wickedness of the wicked shall be upon himself.
1 Corinthians 13:11
When I was a child, I spoke like a child, I thought like a child, I reasoned like a child. When I became a man, I gave up childish ways.
1 John 1:9
If we confess our sins, he is faithful and just to forgive us our sins and to cleanse us from all unrighteousness.
2 Corinthians 5:10
For we must all appear before the judgment seat of Christ, so that each one may receive what is due for what he has done in the body, whether good or evil.
2 Timothy 1:7
For God gave us a spirit not of fear but of power and love and self-control.
Colossians 3:23
Whatever you do, work heartily, as for the Lord and not for men.
Ephesians 6:4
Fathers, do not provoke your children to anger, but bring them up in the discipline and instruction of the Lord.
Galatians 6:2
Bear one another's burdens, and so fulfill the law of Christ.
Galatians 6:7
Do not be deceived: God is not mocked, for whatever one sows, that will he also reap.
Genesis 16:5
And Sarai said to Abram, "May the wrong done to me be on you! I gave my servant to your embrace, and when she saw that she had conceived, she looked on me with contempt. May the Lord judge between you and me!"
Genesis 3:12
The man said, "The woman whom you gave to be with me, she gave me fruit of the tree, and I ate."
Genesis 3:13
Then the Lord God said to the woman, "What is this that you have done?" The woman said, "The serpent deceived me, and I ate."
James 4:17
So whoever knows the right thing to do and fails to do it, for him it is sin.
James 4:7
Submit yourselves therefore to God. Resist the devil, and he will flee from you.
John 12:48
"The one who rejects me and does not receive my words has a judge; the word that I have spoken will judge him on the last day."
John 15:22
"If I had not come and spoken to them, they would not have been guilty of sin, but now they have no excuse for their sin."
Luke 12:48
"But the one who did not know, and did what deserved a beating, will receive a light beating. Everyone to whom much was given, of him much will be required, and from him to whom they entrusted much, they will demand the more."
Luke 16:10
"One who is faithful in a very little is also faithful in much, and one who is dishonest in a very little is also dishonest in much."
Matthew 12:37
"For by your words you will be justified, and by your words you will be condemned."
Matthew 27:24
So when Pilate saw that he was gaining nothing, but rather that a riot was beginning, he took water and washed his hands before the crowd, saying, "I am innocent of this man's blood; see to it yourselves."
Proverbs 25:26
Like a muddied spring or a polluted fountain is a righteous man who gives way before the wicked.
Proverbs 28:13
Whoever conceals his transgressions will not prosper, but he who confesses and forsakes them will obtain mercy.
Proverbs 6:6
Go to the ant, O sluggard; consider her ways, and be wise.
Romans 12:3
For by the grace given to me I say to everyone among you not to think of himself more highly than he ought to think, but to think with sober judgment, each according to the measure of faith that God has assigned.
Romans 14:1
As for the one who is weak in faith, welcome him, but not to quarrel over opinions.
Romans 14:12
So then each of us will give an account of himself to God.
More Bible Verses that Will Move You
50 Most Powerful Scriptures on Faith
60 Transcendent Verses on Trust
50 Strong Scriptures on Perseverance
68 Powerful Verses on Forgiveness
40 Uplifting Scriptures on Patience
Add Our Infographic Below to Your Pinterest Board
Hit the pin button below to add our infographic, with all the verses, to one of your Pinterest boards.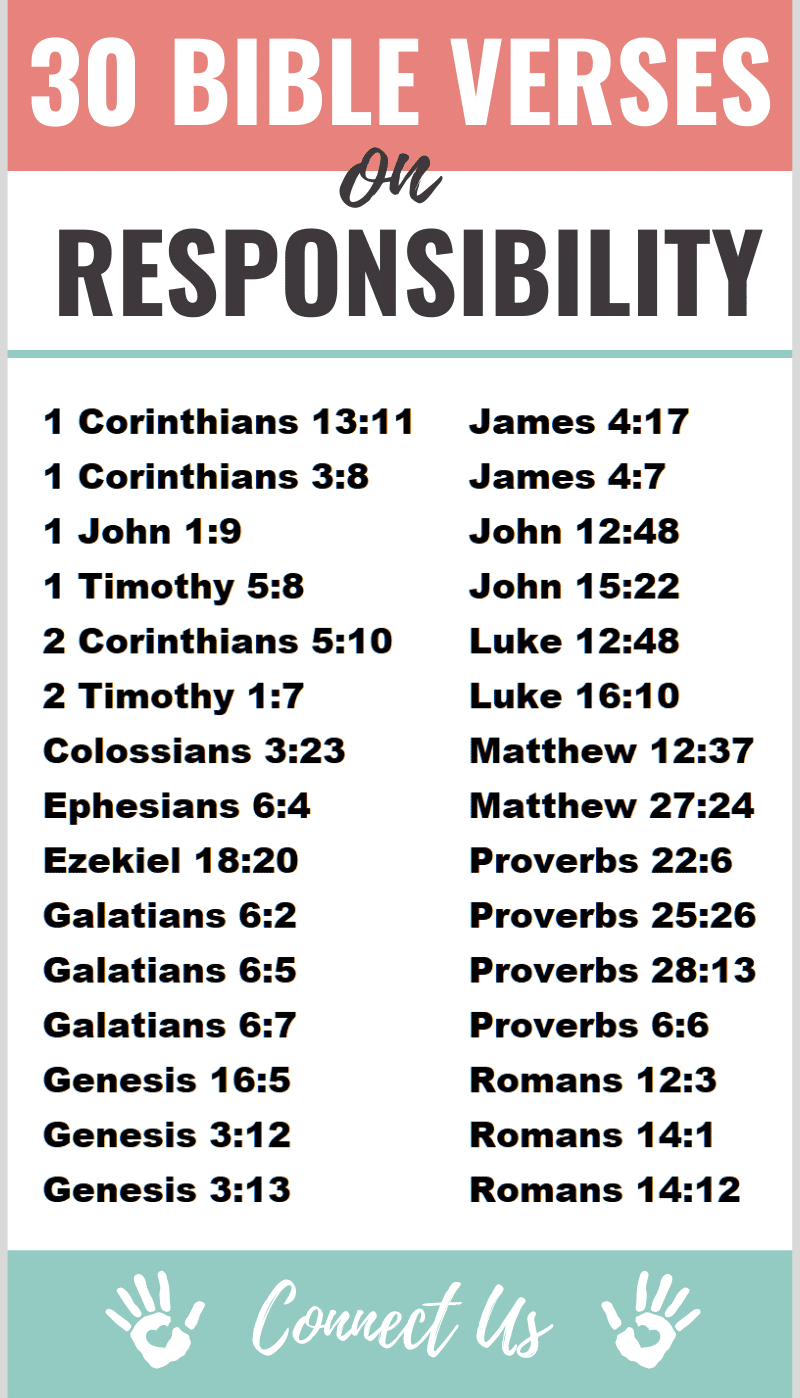 Author Bio
Natalie Regoli is a child of God, devoted wife, and mother of two boys. She has a Master's Degree in Law from The University of Texas. Natalie has been published in several national journals and has been practicing law for 18 years.