Here are the 30 most powerful Bible scriptures on spiritual growth.
2 Peter 3:18
But grow in the grace and knowledge of our Lord and Savior Jesus Christ. To him be the glory both now and to the day of eternity. Amen.
Philippians 1:6
And I am sure of this, that he who began a good work in you will bring it to completion at the day of Jesus Christ.
Matthew 5:6
"Blessed are those who hunger and thirst for righteousness, for they shall be satisfied."
Colossians 1:10
So as to walk in a manner worthy of the Lord, fully pleasing to him, bearing fruit in every good work and increasing in the knowledge of God.
1 Peter 2:2
Like newborn infants, long for the pure spiritual milk, that by it you may grow up into salvation.
1 Corinthians 11:1
Be imitators of me, as I am of Christ.
1 Corinthians 13:11
When I was a child, I spoke like a child, I thought like a child, I reasoned like a child. When I became a man, I gave up childish ways.
1 Corinthians 14:20
Brothers, do not be children in your thinking. Be infants in evil, but in your thinking be mature.
1 Corinthians 2:6
Yet among the mature we do impart wisdom, although it is not a wisdom of this age or of the rulers of this age, who are doomed to pass away.
1 Corinthians 3:8
He who plants and he who waters are one, and each will receive his wages according to his labor.
1 Thessalonians 3:12
And may the Lord make you increase and abound in love for one another and for all, as we do for you.
1 Timothy 4:7
Have nothing to do with irreverent, silly myths. Rather train yourself for godliness.
2 Corinthians 3:18
And we all, with unveiled face, beholding the glory of the Lord, are being transformed into the same image from one degree of glory to another. For this comes from the Lord who is the Spirit.
2 Corinthians 5:17
Therefore, if anyone is in Christ, he is a new creation. The old has passed away; behold, the new has come.
2 Thessalonians 1:3
We ought always to give thanks to God for you, brothers, as is right, because your faith is growing abundantly, and the love of every one of you for one another is increasing.
2 Timothy 2:15
Do your best to present yourself to God as one approved, a worker who has no need to be ashamed, rightly handling the word of truth.
Acts 17:11
Now these Jews were more noble than those in Thessalonica; they received the word with all eagerness, examining the Scriptures daily to see if these things were so.
Colossians 3:16
Let the word of Christ dwell in you richly, teaching and admonishing one another in all wisdom, singing psalms and hymns and spiritual songs, with thankfulness in your hearts to God.
Ephesians 4:13
Until we all attain to the unity of the faith and of the knowledge of the Son of God, to mature manhood, to the measure of the stature of the fullness of Christ.
Ephesians 4:15
Rather, speaking the truth in love, we are to grow up in every way into him who is the head, into Christ.
Hebrews 5:14
But solid food is for the mature, for those who have their powers of discernment trained by constant practice to distinguish good from evil.
Hebrews 6:1
Therefore let us leave the elementary doctrine of Christ and go on to maturity, not laying again a foundation of repentance from dead works and of faith toward God.
James 1:2
Count it all joy, my brothers, when you meet trials of various kinds.
John 15:5
"I am the vine; you are the branches. Whoever abides in me and I in him, he it is that bears much fruit, for apart from me you can do nothing."
Luke 2:40
"And the child grew and became strong, filled with wisdom. And the favor of God was upon him."
Luke 2:52
And Jesus increased in wisdom and in stature and in favor with God and man.
Matthew 5:48
"You therefore must be perfect, as your heavenly Father is perfect."
Philippians 2:13
For it is God who works in you, both to will and to work for his good pleasure.
Philippians 4:13
I can do all things through him who strengthens me.
Romans 8:29
For those whom he foreknew he also predestined to be conformed to the image of his Son, in order that he might be the firstborn among many brothers.
More Bible Verses that Will Move You
50 Most Powerful Scriptures on Faith
60 Transcendent Verses on Trust
50 Strong Scriptures on Perseverance
68 Powerful Verses on Forgiveness
40 Uplifting Scriptures on Patience
Add Our Infographic Below to Your Pinterest Board
Hit the pin button below to add our infographic, with all the verses, to one of your Pinterest boards.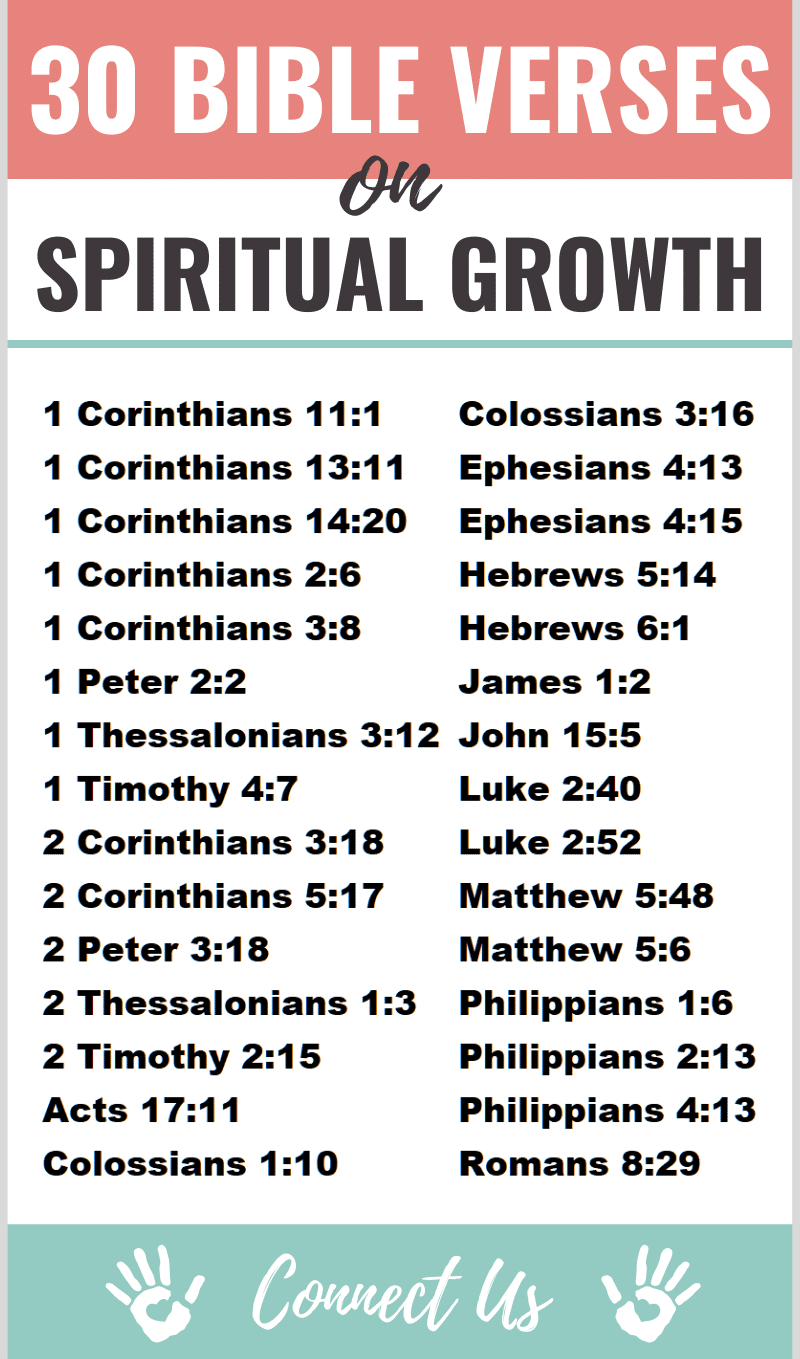 Author Bio
Natalie Regoli is a child of God, devoted wife, and mother of two boys. She has a Master's Degree in Law from The University of Texas. Natalie has been published in several national journals and has been practicing law for 18 years.