Here are the 30 most transcendent Bible scriptures on reverence.
Hebrews 12:28
Therefore let us be grateful for receiving a kingdom that cannot be shaken, and thus let us offer to God acceptable worship, with reverence and awe.
1 Peter 2:17
Honor everyone. Love the brotherhood. Fear God. Honor the emperor.
Hebrews 5:7
In the days of his flesh, Jesus offered up prayers and supplications, with loud cries and tears, to him who was able to save him from death, and he was heard because of his reverence.
Leviticus 26:2
"You shall keep my Sabbaths and reverence my sanctuary: I am the Lord."
Proverbs 1:7
The fear of the Lord is the beginning of knowledge; fools despise wisdom and instruction.
1 Peter 2:21
For to this you have been called, because Christ also suffered for you, leaving you an example, so that you might follow in his steps.
1 Peter 3:15
But in your hearts honor Christ the Lord as holy, always being prepared to make a defense to anyone who asks you for a reason for the hope that is in you; yet do it with gentleness and respect.
1 Peter 3:2
When they see your respectful and pure conduct.
1 Samuel 12:14
If you will fear the Lord and serve him and obey his voice and not rebel against the commandment of the Lord, and if both you and the king who reigns over you will follow the Lord your God, it will be well.
1 Samuel 12:24
Only fear the Lord and serve him faithfully with all your heart. For consider what great things he has done for you.
2 Corinthians 7:1
Since we have these promises, beloved, let us cleanse ourselves from every defilement of body and spirit, bringing holiness to completion in the fear of God.
2 Timothy 3:4
Treacherous, reckless, swollen with conceit, lovers of pleasure rather than lovers of God.
Acts 24:14
But this I confess to you, that according to the Way, which they call a sect, I worship the God of our fathers, believing everything laid down by the Law and written in the Prophets.
Ephesians 5:21
Submitting to one another out of reverence for Christ.
Ephesians 5:33
However, let each one of you love his wife as himself, and let the wife see that she respects her husband.
Exodus 20:12
"Honor your father and your mother, that your days may be long in the land that the Lord your God is giving you."
Exodus 3:5
Then he said, "Do not come near; take your sandals off your feet, for the place on which you are standing is holy ground."
Hebrews 12:9
Besides this, we have had earthly fathers who disciplined us and we respected them. Shall we not much more be subject to the Father of spirits and live?
Leviticus 19:30
"You shall keep my Sabbaths and reverence my sanctuary: I am the Lord."
Leviticus 19:32
"You shall stand up before the gray head and honor the face of an old man, and you shall fear your God: I am the Lord."
Matthew 15:8
"'This people honors me with their lips, but their heart is far from me."
Matthew 2:2
Saying, "Where is he who has been born king of the Jews? For we saw his star when it rose and have come to worship him."
Philippians 2:12
Therefore, my beloved, as you have always obeyed, so now, not only as in my presence but much more in my absence, work out your own salvation with fear and trembling.
Philippians 2:3
Do nothing from rivalry or conceit, but in humility count others more significant than yourselves.
Proverbs 9:10
The fear of the Lord is the beginning of wisdom, and the knowledge of the Holy One is insight.
Psalm 111:10
The fear of the Lord is the beginning of wisdom; all those who practice it have a good understanding. His praise endures forever!
Psalm 89:7
A God greatly to be feared in the council of the holy ones, and awesome above all who are around him?
Psalm 95:6
Oh come, let us worship and bow down; let us kneel before the Lord, our Maker!
Revelation 19:4
And the twenty-four elders and the four living creatures fell down and worshiped God who was seated on the throne, saying, "Amen. Hallelujah!"
Romans 12:10
Love one another with brotherly affection. Outdo one another in showing honor.
More Bible Verses that Will Move You
50 Most Powerful Scriptures on Faith
60 Transcendent Verses on Trust
50 Strong Scriptures on Perseverance
68 Powerful Verses on Forgiveness
40 Uplifting Scriptures on Patience
Add Our Infographic Below to Your Pinterest Board
Hit the pin button below to add our infographic, with all the verses, to one of your Pinterest boards.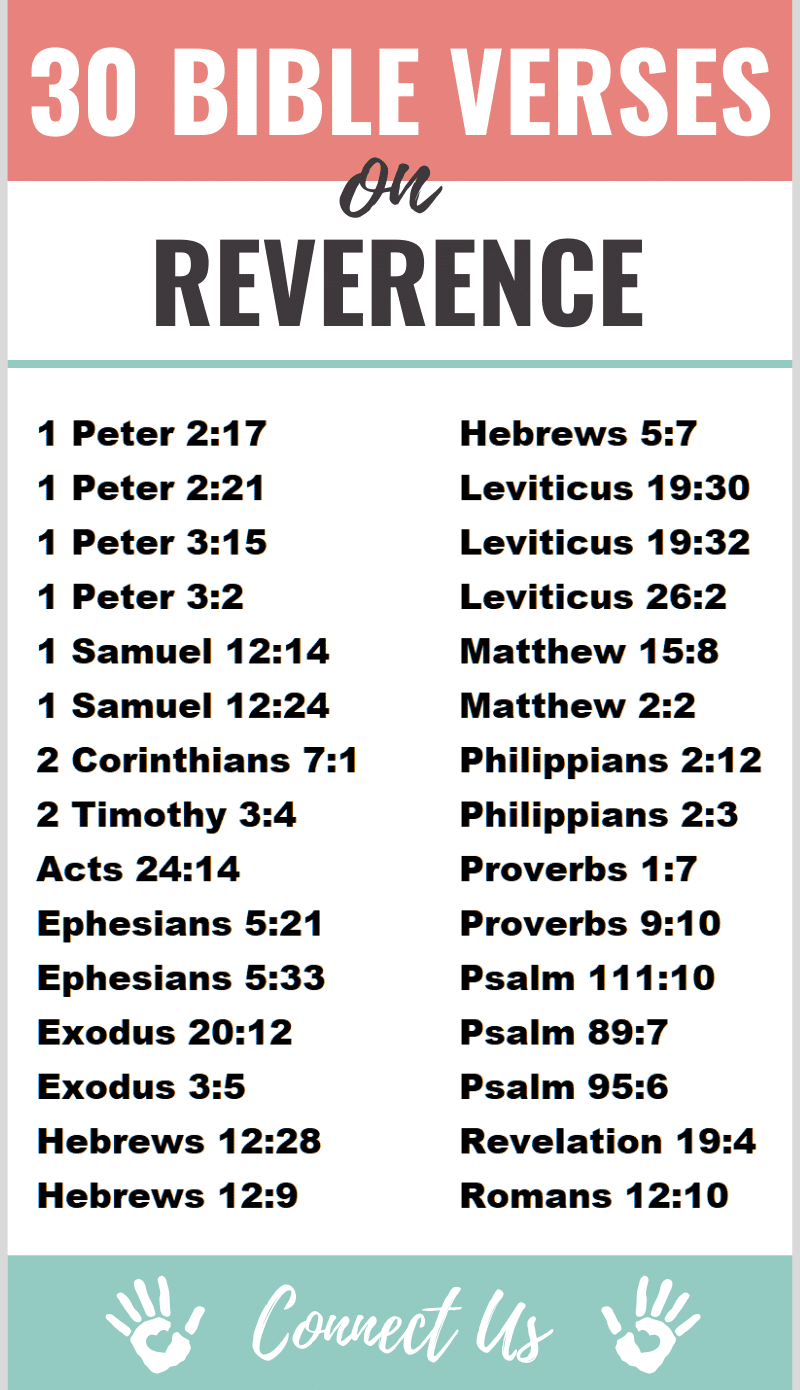 Author Bio
Natalie Regoli is a child of God, devoted wife, and mother of two boys. She has a Master's Degree in Law from The University of Texas. Natalie has been published in several national journals and has been practicing law for 18 years.