The word "righteousness" appears 284 times throughout the books of the Bible. The graph below shows the locations of each appearance. It begins with Genesis in the top left and concludes with Revelation in the bottom right.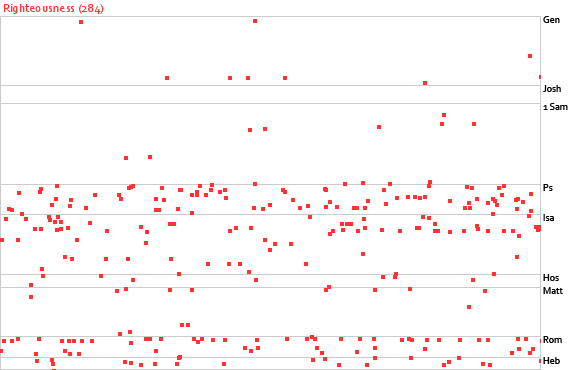 Here are the 30 most transcendent Bible scriptures on righteousness.
1 John 2:29
If you know that he is righteous, you may be sure that everyone who practices righteousness has been born of him.
1 John 3:7
Little children, let no one deceive you. Whoever practices righteousness is righteous, as he is righteous.
Psalm 106:3
Blessed are they who observe justice, who do righteousness at all times!
1 Peter 3:14
But even if you should suffer for righteousness' sake, you will be blessed. Have no fear of them, nor be troubled.
Matthew 5:20
"For I tell you, unless your righteousness exceeds that of the scribes and Pharisees, you will never enter the kingdom of heaven."
1 Corinthians 1:30
And because of him you are in Christ Jesus, who became to us wisdom from God, righteousness and sanctification and redemption.
1 John 1:9
If we confess our sins, he is faithful and just to forgive us our sins and to cleanse us from all unrighteousness.
1 John 5:18
We know that everyone who has been born of God does not keep on sinning, but he who was born of God protects him, and the evil one does not touch him.
1 Peter 2:24
He himself bore our sins in his body on the tree, that we might die to sin and live to righteousness. By his wounds you have been healed.
1 Peter 3:12
For the eyes of the Lord are on the righteous, and his ears are open to their prayer. But the face of the Lord is against those who do evil.
1 Peter 5:10
And after you have suffered a little while, the God of all grace, who has called you to his eternal glory in Christ, will himself restore, confirm, strengthen, and establish you.
2 Corinthians 5:21
For our sake he made him to be sin who knew no sin, so that in him we might become the righteousness of God.
2 Timothy 2:22
So flee youthful passions and pursue righteousness, faith, love, and peace, along with those who call on the Lord from a pure heart.
2 Timothy 3:16
All Scripture is breathed out by God and profitable for teaching, for reproof, for correction, and for training in righteousness.
Genesis 15:6
And he believed the Lord, and he counted it to him as righteousness.
Isaiah 64:6
We have all become like one who is unclean, and all our righteous deeds are like a polluted garment. We all fade like a leaf, and our iniquities, like the wind, take us away.
James 1:4
And let steadfastness have its full effect, that you may be perfect and complete, lacking in nothing.
Matthew 5:6
"Blessed are those who hunger and thirst for righteousness, for they shall be satisfied."
Matthew 6:33
"But seek first the kingdom of God and his righteousness, and all these things will be added to you."
Philippians 1:11
Filled with the fruit of righteousness that comes through Jesus Christ, to the glory and praise of God.
Philippians 3:9
And be found in him, not having a righteousness of my own that comes from the law, but that which comes through faith in Christ, the righteousness from God that depends on faith.
Proverbs 11:5
The righteousness of the blameless keeps his way straight, but the wicked falls by his own wickedness.
Proverbs 12:28
In the path of righteousness is life, and in its pathway there is no death.
Proverbs 13:6
Righteousness guards him whose way is blameless, but sin overthrows the wicked.
Proverbs 21:3
To do righteousness and justice is more acceptable to the Lord than sacrifice.
Romans 1:17
For in it the righteousness of God is revealed from faith for faith, as it is written, "The righteous shall live by faith."
Romans 10:4
For Christ is the end of the law for righteousness to everyone who believes.
Romans 3:10
As it is written: "None is righteous, no, not one."
Romans 4:3
For what does the Scripture say? "Abraham believed God, and it was counted to him as righteousness."
Romans 5:17
For if, because of one man's trespass, death reigned through that one man, much more will those who receive the abundance of grace and the free gift of righteousness reign in life through the one man Jesus Christ.
More Bible Verses that Will Move You
50 Most Powerful Scriptures on Faith
60 Transcendent Verses on Trust
50 Strong Scriptures on Perseverance
68 Powerful Verses on Forgiveness
40 Uplifting Scriptures on Patience
Add Our Infographic Below to Your Pinterest Board
Hit the pin button below to add our infographic, with all the verses, to one of your Pinterest boards.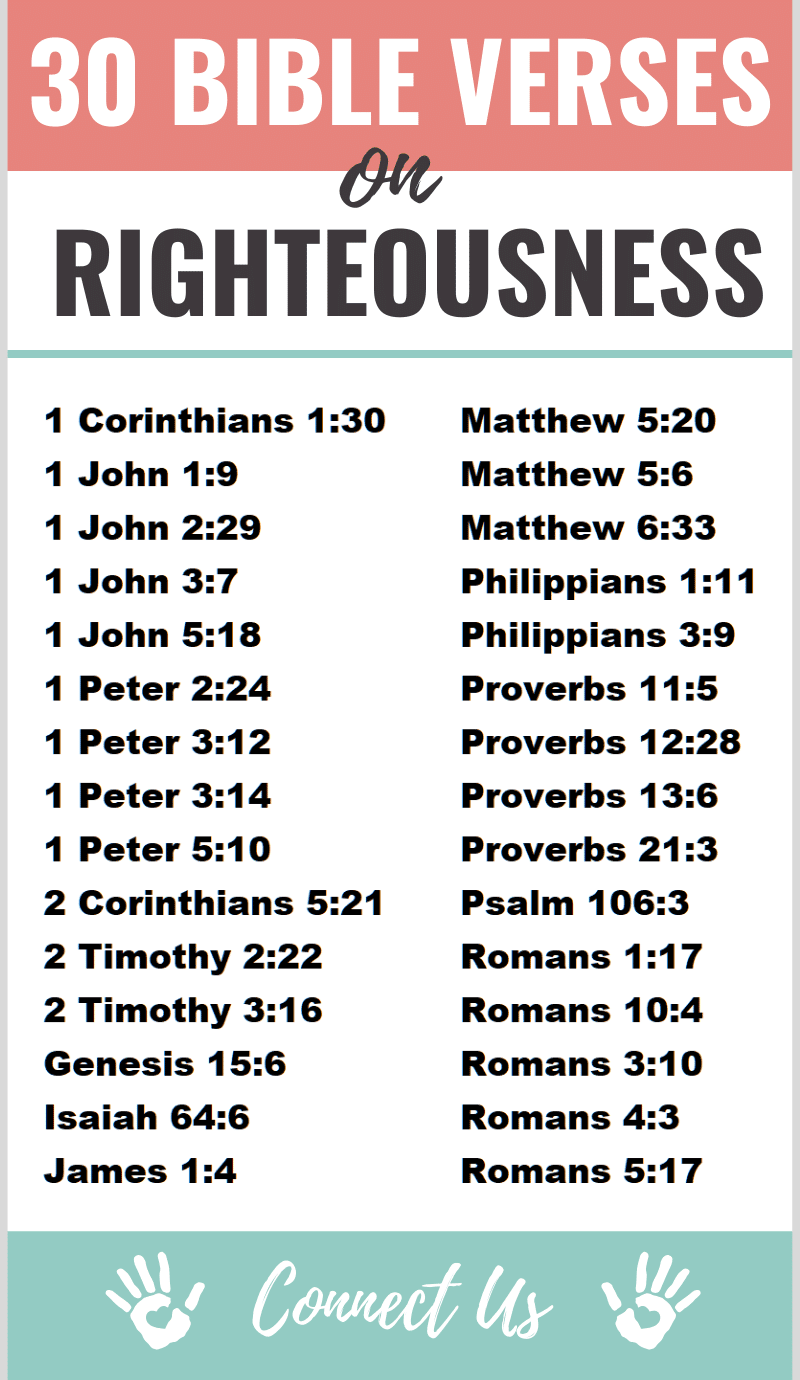 Author Bio
Natalie Regoli is a child of God, devoted wife, and mother of two boys. She has a Master's Degree in Law from The University of Texas. Natalie has been published in several national journals and has been practicing law for 18 years.