The word "reject" appears 85 times throughout the books of the Bible. The graph below shows the locations of each appearance. It begins with Genesis in the top left and concludes with Revelation in the bottom right.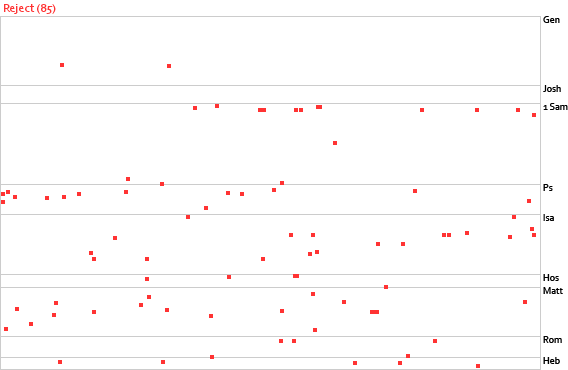 Here are the 30 most uplifting Bible scriptures on rejection.
John 15:18
"If the world hates you, know that it has hated me before it hated you."
1 Peter 2:4
As you come to him, a living stone rejected by men but in the sight of God chosen and precious.
Psalm 27:10
For my father and my mother have forsaken me, but the Lord will take me in.
2 Corinthians 12:9
But he said to me, "My grace is sufficient for you, for my power is made perfect in weakness." Therefore I will boast all the more gladly of my weaknesses, so that the power of Christ may rest upon me.
Psalm 94:14
For the Lord will not forsake his people; he will not abandon his heritage.
1 Corinthians 2:14
The natural person does not accept the things of the Spirit of God, for they are folly to him, and he is not able to understand them because they are spiritually discerned.
1 Corinthians 3:16
Do you not know that you are God's temple and that God's Spirit dwells in you?
1 Peter 5:7
Casting all your anxieties on him, because he cares for you.
1 Peter 5:8
Be sober-minded; be watchful. Your adversary the devil prowls around like a roaring lion, seeking someone to devour.
Deuteronomy 14:2
For you are a people holy to the Lord your God, and the Lord has chosen you to be a people for his treasured possession, out of all the peoples who are on the face of the earth.
Hebrews 13:5
Keep your life free from love of money, and be content with what you have, for he has said, "I will never leave you nor forsake you."
Isaiah 41:9
You whom I took from the ends of the earth, and called from its farthest corners, saying to you, "You are my servant, I have chosen you and not cast you off."
Isaiah 49:15
"Can a woman forget her nursing child, that she should have no compassion on the son of her womb? Even these may forget, yet I will not forget you."
Isaiah 49:16
"Behold, I have engraved you on the palms of my hands; your walls are continually before me."
Isaiah 53:3
He was despised and rejected by men; a man of sorrows, and acquainted with grief; and as one from whom men hide their faces he was despised, and we esteemed him not.
James 2:13
For judgment is without mercy to one who has shown no mercy. Mercy triumphs over judgment.
Jeremiah 30:17
"For I will restore health to you, and your wounds I will heal," declares the Lord, "because they have called you an outcast: 'It is Zion, for whom no one cares!'"
John 1:11
He came to his own, and his own people did not receive him.
Leviticus 26:11
"I will make my dwelling among you, and my soul shall not abhor you."
Luke 10:16
"The one who hears you hears me, and the one who rejects you rejects me, and the one who rejects me rejects him who sent me."
Matthew 10:34
"Do not think that I have come to bring peace to the earth. I have not come to bring peace, but a sword."
Matthew 21:42
Jesus said to them, "Have you never read in the Scriptures: "'The stone that the builders rejected has become the cornerstone; this was the Lord's doing, and it is marvelous in our eyes?'"
Philippians 4:19
And my God will supply every need of yours according to his riches in glory in Christ Jesus.
Proverbs 16:3
Commit your work to the Lord, and your plans will be established.
Psalm 118:22
The stone that the builders rejected has become the cornerstone.
Psalm 37:4
Delight yourself in the Lord, and he will give you the desires of your heart.
Romans 15:13
May the God of hope fill you with all joy and peace in believing, so that by the power of the Holy Spirit you may abound in hope.
Romans 15:7
Therefore welcome one another as Christ has welcomed you, for the glory of God.
Romans 8:1
There is therefore now no condemnation for those who are in Christ Jesus.
Romans 8:31
What then shall we say to these things? If God is for us, who can be against us?
More Bible Verses that Will Move You
50 Most Powerful Scriptures on Faith
60 Transcendent Verses on Trust
50 Strong Scriptures on Perseverance
68 Powerful Verses on Forgiveness
40 Uplifting Scriptures on Patience
Add Our Infographic Below to Your Pinterest Board
Hit the pin button below to add our infographic, with all the verses, to one of your Pinterest boards.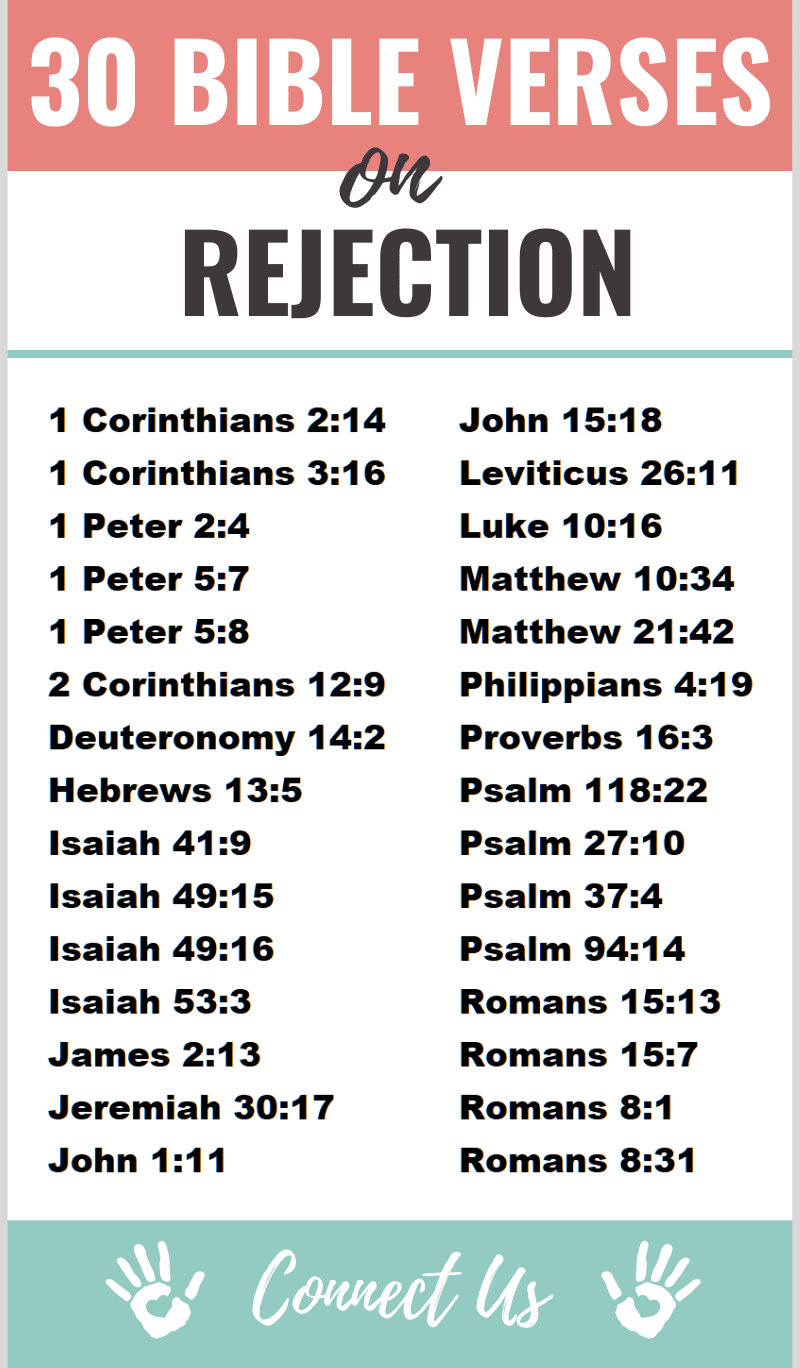 Author Bio
Natalie Regoli is a child of God, devoted wife, and mother of two boys. She has a Master's Degree in Law from The University of Texas. Natalie has been published in several national journals and has been practicing law for 18 years.