Here are the 35 best Bible scriptures on meditation.
Joshua 1:8
This Book of the Law shall not depart from your mouth, but you shall meditate on it day and night, so that you may be careful to do according to all that is written in it. For then you will make your way prosperous, and then you will have good success.
Psalm 19:14
Let the words of my mouth and the meditation of my heart be acceptable in your sight, O Lord, my rock and my redeemer.
Psalm 1:2
But his delight is in the law of the Lord, and on his law he meditates day and night.
Psalm 119:15
I will meditate on your precepts and fix my eyes on your ways.
Psalm 104:34
May my meditation be pleasing to him, for I rejoice in the Lord.
1 Timothy 4:15
Practice these things, immerse yourself in them, so that all may see your progress.
2 Corinthians 5:17
Therefore, if anyone is in Christ, he is a new creation. The old has passed away; behold, the new has come.
Genesis 24:63
And Isaac went out to meditate in the field toward evening. And he lifted up his eyes and saw, and behold, there were camels coming.
Isaiah 26:3
You keep him in perfect peace whose mind is stayed on you, because he trusts in you.
John 14:6
Jesus said to him, "I am the way, and the truth, and the life. No one comes to the Father except through me."
Matthew 6:6
"But when you pray, go into your room and shut the door and pray to your Father who is in secret. And your Father who sees in secret will reward you."
Philippians 4:13
I can do all things through him who strengthens me.
Philippians 4:8
Finally, brothers, whatever is true, whatever is honorable, whatever is just, whatever is pure, whatever is lovely, whatever is commendable, if there is any excellence, if there is anything worthy of praise, think about these things.
Psalm 119:11
I have stored up your word in my heart, that I might not sin against you.
Psalm 119:148
My eyes are awake before the watches of the night, that I may meditate on your promise.
Psalm 119:23
Even though princes sit plotting against me, your servant will meditate on your statutes.
Psalm 119:48
I will lift up my hands toward your commandments, which I love, and I will meditate on your statutes.
Psalm 119:55
I remember your name in the night, O Lord, and keep your law.
Psalm 119:59
When I think on my ways, I turn my feet to your testimonies.
Psalm 119:78
Let the insolent be put to shame, because they have wronged me with falsehood; as for me, I will meditate on your precepts.
Psalm 119:97
Oh how I love your law! It is my meditation all the day.
Psalm 119:99
I have more understanding than all my teachers, for your testimonies are my meditation.
Psalm 139:17
How precious to me are your thoughts, O God! How vast is the sum of them!
Psalm 143:5
I remember the days of old; I meditate on all that you have done; I ponder the work of your hands.
Psalm 145:5
On the glorious splendor of your majesty, and on your wondrous works, I will meditate.
Psalm 39:3
My heart became hot within me. As I mused, the fire burned; then I spoke with my tongue.
Psalm 4:4
Be angry, and do not sin; ponder in your own hearts on your beds, and be silent. Selah.
Psalm 46:10
"Be still, and know that I am God. I will be exalted among the nations, I will be exalted in the earth!"
Psalm 49:3
My mouth shall speak wisdom; the meditation of my heart shall be understanding.
Psalm 63:6
When I remember you upon my bed, and meditate on you in the watches of the night.
Psalm 77:11
I will remember the deeds of the Lord; yes, I will remember your wonders of old.
Psalm 77:12
I will ponder all your work, and meditate on your mighty deeds.
Romans 10:17
So faith comes from hearing, and hearing through the word of Christ.
Romans 12:2
Do not be conformed to this world, but be transformed by the renewal of your mind, that by testing you may discern what is the will of God, what is good and acceptable and perfect.
Romans 5:8
But God shows his love for us in that while we were still sinners, Christ died for us.
More Bible Verses that Will Move You
50 Most Powerful Scriptures on Faith
60 Transcendent Verses on Trust
50 Strong Scriptures on Perseverance
68 Powerful Verses on Forgiveness
40 Uplifting Scriptures on Patience
Add Our Infographic Below to Your Pinterest Board
Hit the pin button below to add our infographic, with all the verses, to one of your Pinterest boards.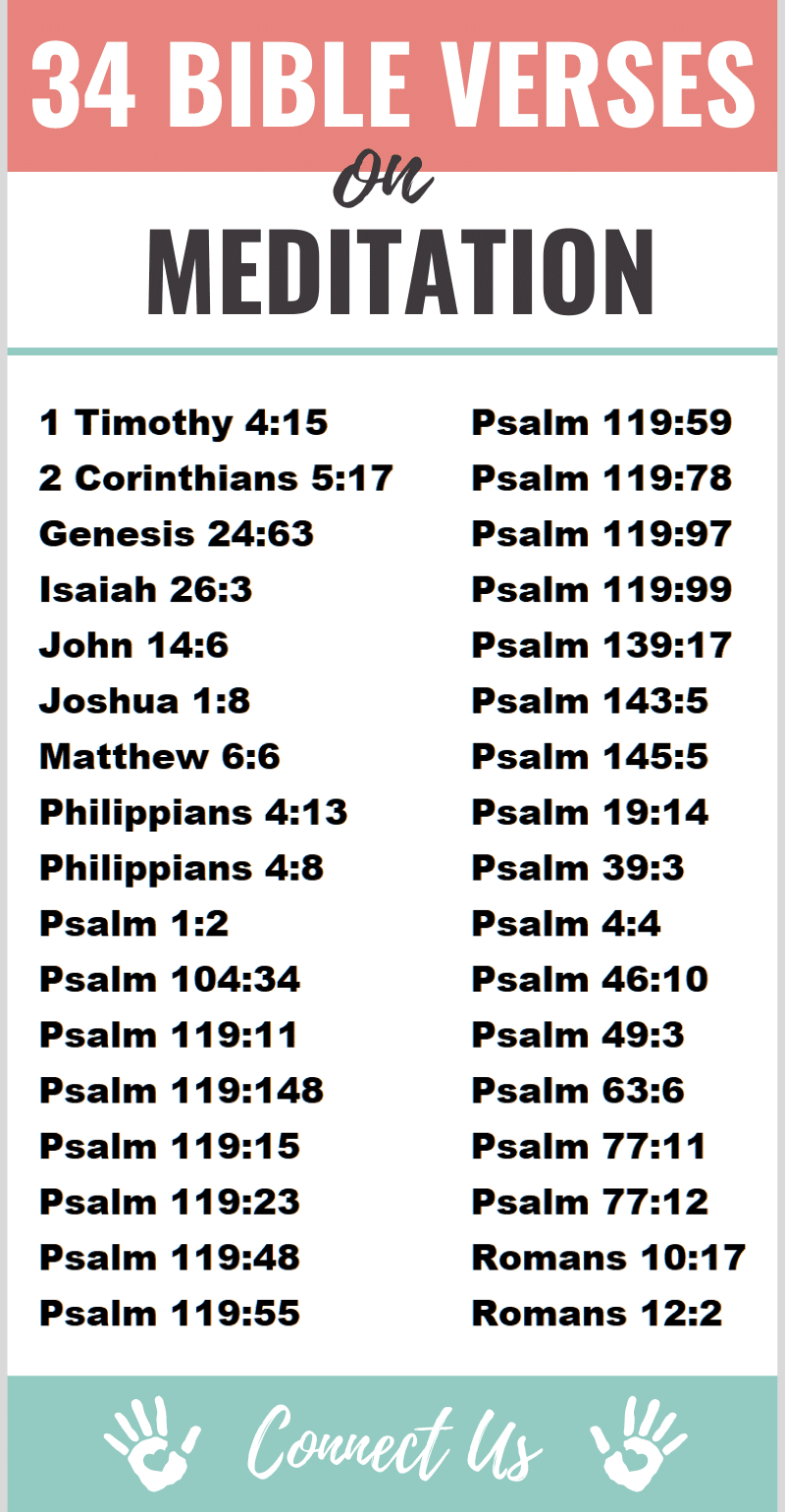 Author Bio
Natalie Regoli is a child of God, devoted wife, and mother of two boys. She has a Masters Degree in Law from The University of Texas. Natalie has been published in several national journals and has been practicing law for 18 years. If you would like to reach out to contact Natalie, then go here to
send her a message
.