The word "resurrection" appears 56 times throughout the books of the Bible. The graph below shows the locations of each appearance. It begins with Genesis in the top left and concludes with Revelation in the bottom right.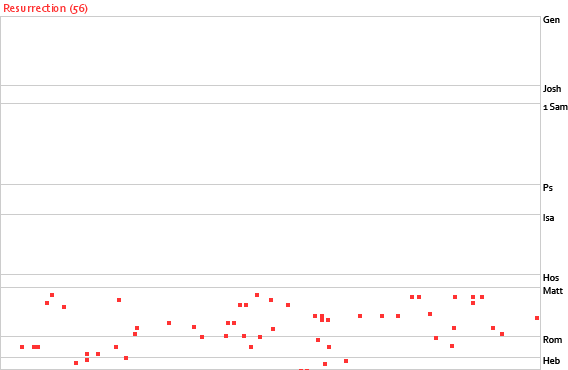 Here are the 35 most powerful Bible scriptures on Easter.
1 Peter 1:3
Blessed be the God and Father of our Lord Jesus Christ! According to his great mercy, he has caused us to be born again to a living hope through the resurrection of Jesus Christ from the dead.
John 3:16
For God so loved the world, that he gave his only Son, that whoever believes in him should not perish but have eternal life.
Acts 12:4
And when he had seized him, he put him in prison, delivering him over to four squads of soldiers to guard him, intending after the Passover to bring him out to the people.
Romans 5:8
But God shows his love for us in that while we were still sinners, Christ died for us.
Romans 4:25
Who was delivered up for our trespasses and raised for our justification.
1 Corinthians 15:17
And if Christ has not been raised, your faith is futile and you are still in your sins.
1 Corinthians 15:20
But in fact Christ has been raised from the dead, the firstfruits of those who have fallen asleep.
1 Corinthians 15:4
That he was buried, that he was raised on the third day in accordance with the Scriptures.
1 Corinthians 5:7
Cleanse out the old leaven that you may be a new lump, as you really are unleavened. For Christ, our Passover lamb, has been sacrificed.
1 Corinthians 6:14
And God raised the Lord and will also raise us up by his power.
2 Corinthians 5:17
Therefore, if anyone is in Christ, he is a new creation. The old has passed away; behold, the new has come.
Acts 3:15
And you killed the Author of life, whom God raised from the dead. To this we are witnesses.
Acts 4:33
And with great power the apostles were giving their testimony to the resurrection of the Lord Jesus, and great grace was upon them all.
Ephesians 1:20
That he worked in Christ when he raised him from the dead and seated him at his right hand in the heavenly places.
Isaiah 26:19
Your dead shall live; their bodies shall rise. You who dwell in the dust, awake and sing for joy! For your dew is a dew of light, and the earth will give birth to the dead.
Isaiah 53:5
But he was wounded for our transgressions; he was crushed for our iniquities; upon him was the chastisement that brought us peace, and with his stripes we are healed.
Job 19:25
For I know that my Redeemer lives, and at the last he will stand upon the earth.
John 11:25
Jesus said to her, "I am the resurrection and the life. Whoever believes in me, though he die, yet shall he live."
John 17:9
"I am praying for them. I am not praying for the world but for those whom you have given me, for they are yours."
John 19:30
When Jesus had received the sour wine, he said, "It is finished," and he bowed his head and gave up his spirit.
John 20:1
Now on the first day of the week Mary Magdalene came to the tomb early, while it was still dark, and saw that the stone had been taken away from the tomb.
Luke 23:46
Then Jesus, calling out with a loud voice, said, "Father, into your hands I commit my spirit!" And having said this he breathed his last.
Mark 16:6
And he said to them, "Do not be alarmed. You seek Jesus of Nazareth, who was crucified. He has risen; he is not here. See the place where they laid him."
Mark 16:9
Now when he rose early on the first day of the week, he appeared first to Mary Magdalene, from whom he had cast out seven demons.
Mark 9:9
And as they were coming down the mountain, he charged them to tell no one what they had seen, until the Son of Man had risen from the dead.
Matthew 28:6
He is not here, for he has risen, as he said. Come, see the place where he lay.
Psalm 16:10
For you will not abandon my soul to Sheol, or let your holy one see corruption.
Romans 1:4
And was declared to be the Son of God in power according to the Spirit of holiness by his resurrection from the dead, Jesus Christ our Lord.
Romans 10:9
Because, if you confess with your mouth that Jesus is Lord and believe in your heart that God raised him from the dead, you will be saved.
Romans 12:10
Love one another with brotherly affection. Outdo one another in showing honor.
Romans 5:11
More than that, we also rejoice in God through our Lord Jesus Christ, through whom we have now received reconciliation.
Romans 6:4
We were buried therefore with him by baptism into death, in order that, just as Christ was raised from the dead by the glory of the Father, we too might walk in newness of life.
Romans 6:9
We know that Christ, being raised from the dead, will never die again; death no longer has dominion over him.
Romans 8:34
Who is to condemn? Christ Jesus is the one who died—more than that, who was raised—who is at the right hand of God, who indeed is interceding for us.
Zechariah 9:9
Rejoice greatly, O daughter of Zion! Shout aloud, O daughter of Jerusalem! Behold, your king is coming to you; righteous and having salvation is he, humble and mounted on a donkey, on a colt, the foal of a donkey.
More Bible Verses that Will Move You
50 Most Powerful Scriptures on Faith
60 Transcendent Verses on Trust
50 Strong Scriptures on Perseverance
68 Powerful Verses on Forgiveness
40 Uplifting Scriptures on Patience
Add Our Infographic Below to Your Pinterest Board
Hit the pin button below to add our infographic, with all the verses, to one of your Pinterest boards.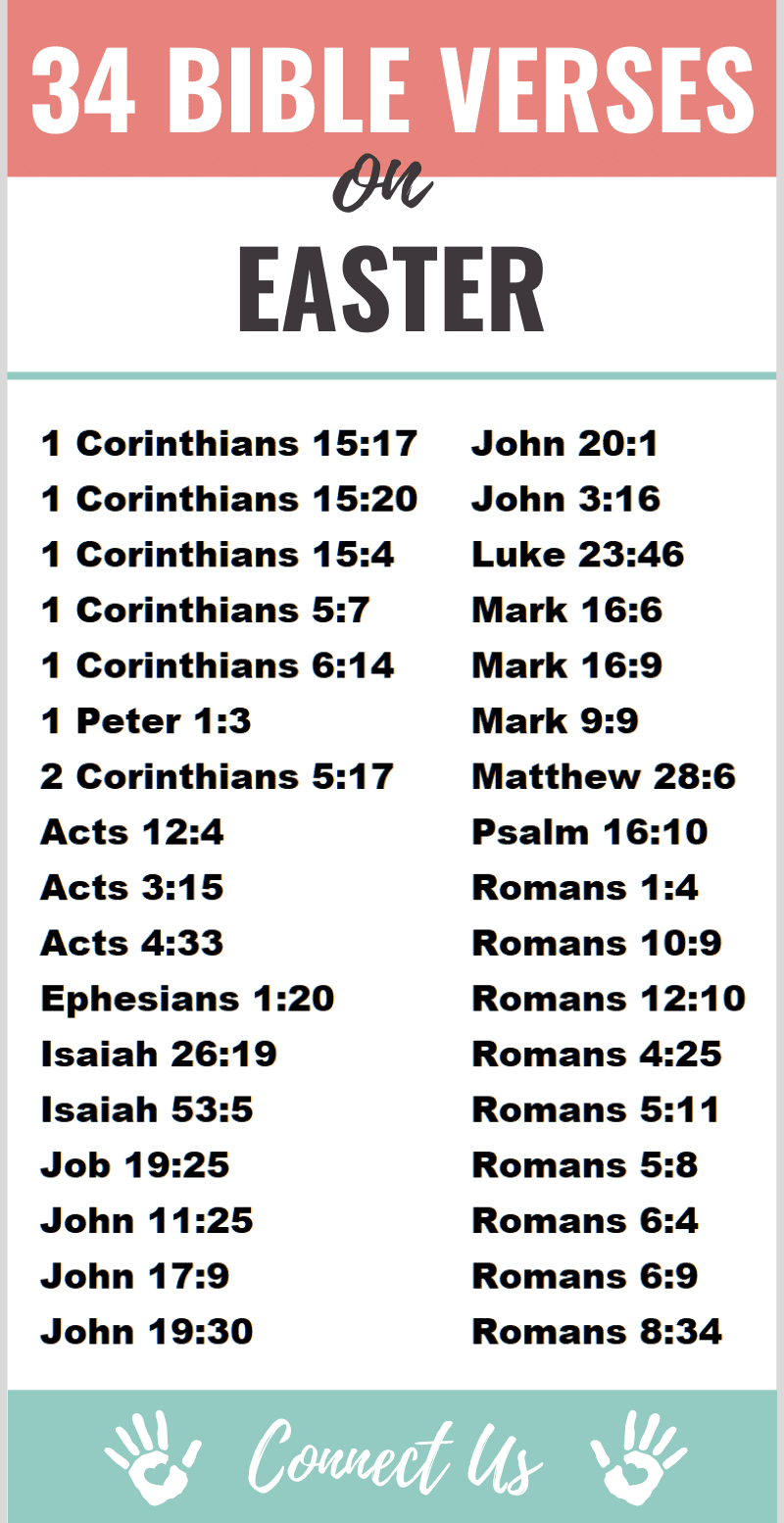 Author Bio
Natalie Regoli is a child of God, devoted wife, and mother of two boys. She has a Masters Degree in Law from The University of Texas. Natalie has been published in several national journals and has been practicing law for 18 years.