Here are the 40 best Bible scriptures on drinking.
Ephesians 5:18
And do not get drunk with wine, for that is debauchery, but be filled with the Spirit.
Proverbs 20:1
Wine is a mocker, strong drink a brawler, and whoever is led astray by it is not wise.
1 Peter 5:8
Be sober-minded; be watchful. Your adversary the devil prowls around like a roaring lion, seeking someone to devour.
1 Timothy 5:23
No longer drink only water, but use a little wine for the sake of your stomach and your frequent ailments.
Galatians 5:21
Envy, drunkenness, orgies, and things like these. I warn you, as I warned you before, that those who do such things will not inherit the kingdom of God.
1 Corinthians 10:31
So, whether you eat or drink, or whatever you do, do all to the glory of God.
1 Corinthians 5:11
But now I am writing to you not to associate with anyone who bears the name of brother if he is guilty of sexual immorality or greed, or is an idolater, reviler, drunkard, or swindler—not even to eat with such a one.
1 Corinthians 6:10
Nor thieves, nor the greedy, nor drunkards, nor revilers, nor swindlers will inherit the kingdom of God.
1 Corinthians 6:12
"All things are lawful for me," but not all things are helpful. "All things are lawful for me," but I will not be enslaved by anything.
1 Peter 4:3
For the time that is past suffices for doing what the Gentiles want to do, living in sensuality, passions, drunkenness, orgies, drinking parties, and lawless idolatry.
1 Timothy 3:8
Deacons likewise must be dignified, not double-tongued, not addicted to much wine, not greedy for dishonest gain.
Amos 9:14
"I will restore the fortunes of my people Israel, and they shall rebuild the ruined cities and inhabit them; they shall plant vineyards and drink their wine, and they shall make gardens and eat their fruit."
Deuteronomy 14:26
And spend the money for whatever you desire—oxen or sheep or wine or strong drink, whatever your appetite craves. And you shall eat there before the Lord your God and rejoice, you and your household.
Deuteronomy 21:20
And they shall say to the elders of his city, "This our son is stubborn and rebellious; he will not obey our voice; he is a glutton and a drunkard."
Ecclesiastes 10:19
Bread is made for laughter, and wine gladdens life, and money answers everything.
Ecclesiastes 9:7
Go, eat your bread with joy, and drink your wine with a merry heart, for God has already approved what you do.
Habakkuk 2:15
Woe to him who makes his neighbors drink— you pour out your wrath and make them drunk, in order to gaze at their nakedness!
Hebrews 10:26
For if we go on sinning deliberately after receiving the knowledge of the truth, there no longer remains a sacrifice for sins.
Isaiah 24:9
No more do they drink wine with singing; strong drink is bitter to those who drink it.
Isaiah 28:7
These also reel with wine and stagger with strong drink; the priest and the prophet reel with strong drink, they are swallowed by wine, they stagger with strong drink, they reel in vision, they stumble in giving judgment.
Isaiah 5:11
Woe to those who rise early in the morning, that they may run after strong drink, who tarry late into the evening as wine inflames them!
Isaiah 5:22
Woe to those who are heroes at drinking wine, and valiant men in mixing strong drink.
Isaiah 65:8
Thus says the Lord: "As the new wine is found in the cluster, and they say, 'Do not destroy it, for there is a blessing in it,' so I will do for my servants' sake, and not destroy them all."
James 4:17
So whoever knows the right thing to do and fails to do it, for him it is sin.
Judges 13:14
She may not eat of anything that comes from the vine, neither let her drink wine or strong drink, or eat any unclean thing. All that I commanded her let her observe.
Judges 13:4
Therefore be careful and drink no wine or strong drink, and eat nothing unclean.
Judges 13:7
But he said to me, "Behold, you shall conceive and bear a son. So then drink no wine or strong drink, and eat nothing unclean, for the child shall be a Nazirite to God from the womb to the day of his death."
Leviticus 10:9
"Drink no wine or strong drink, you or your sons with you, when you go into the tent of meeting, lest you die. It shall be a statute forever throughout your generations."
Luke 1:15
"For he will be great before the Lord. And he must not drink wine or strong drink, and he will be filled with the Holy Spirit, even from his mother's womb."
Luke 21:34
"But watch yourselves lest your hearts be weighed down with dissipation and drunkenness and cares of this life, and that day come upon you suddenly like a trap."
Matthew 11:19
"The Son of Man came eating and drinking, and they say, 'Look at him! A glutton and a drunkard, a friend of tax collectors and sinners!' Yet wisdom is justified by her deeds."
Matthew 24:49
"And begins to beat his fellow servants and eats and drinks with drunkards."
Numbers 6:3
He shall separate himself from wine and strong drink. He shall drink no vinegar made from wine or strong drink and shall not drink any juice of grapes or eat grapes, fresh or dried.
Proverbs 23:31
Do not look at wine when it is red, when it sparkles in the cup and goes down smoothly.
Proverbs 23:35
"They struck me," you will say, "but I was not hurt; they beat me, but I did not feel it. When shall I awake? I must have another drink."
Proverbs 31:4
It is not for kings, O Lemuel, it is not for kings to drink wine, or for rulers to take strong drink.
Romans 12:1
I appeal to you therefore, brothers, by the mercies of God, to present your bodies as a living sacrifice, holy and acceptable to God, which is your spiritual worship.
Romans 13:13
Let us walk properly as in the daytime, not in orgies and drunkenness, not in sexual immorality and sensuality, not in quarreling and jealousy.
Romans 14:21
It is good not to eat meat or drink wine or do anything that causes your brother to stumble.
Titus 2:3
Older women likewise are to be reverent in behavior, not slanderers or slaves to much wine. They are to teach what is good.
More Bible Verses that Will Move You
50 Most Powerful Scriptures on Faith
60 Transcendent Verses on Trust
50 Strong Scriptures on Perseverance
68 Powerful Verses on Forgiveness
40 Uplifting Scriptures on Patience
Add Our Infographic Below to Your Pinterest Board
Hit the pin button below to add our infographic, with all the verses, to one of your Pinterest boards.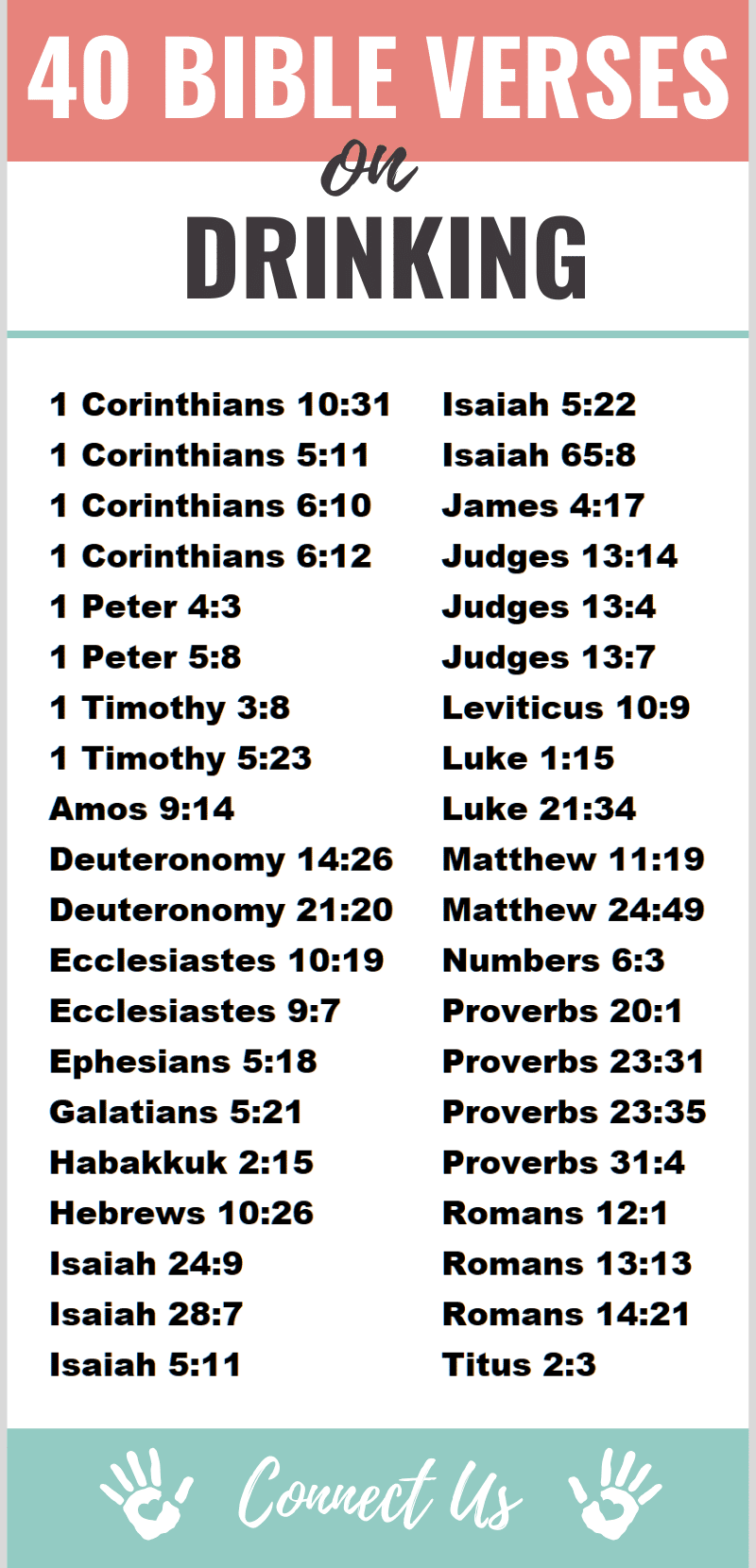 Author Bio
Natalie Regoli is a child of God, devoted wife, and mother of two boys. She has a Master's Degree in Law from The University of Texas. Natalie has been published in several national journals and has been practicing law for 18 years.