Here are the 40 best Bible scriptures on music.
Ephesians 5:19
Addressing one another in psalms and hymns and spiritual songs, singing and making melody to the Lord with your heart.
Psalm 105:2
Sing to him, sing praises to him; tell of all his wondrous works!
Psalm 104:33
I will sing to the Lord as long as I live; I will sing praise to my God while I have being.
Psalm 95:1
Oh come, let us sing to the Lord; let us make a joyful noise to the rock of our salvation!
Colossians 3:16
Let the word of Christ dwell in you richly, teaching and admonishing one another in all wisdom, singing psalms and hymns and spiritual songs, with thankfulness in your hearts to God.
1 Chronicles 15:22
Chenaniah, leader of the Levites in music, should direct the music, for he understood it.
1 Chronicles 23:5
4,000 gatekeepers, and 4,000 shall offer praises to the Lord with the instruments that I have made for praise."
1 Corinthians 14:15
What am I to do? I will pray with my spirit, but I will pray with my mind also; I will sing praise with my spirit, but I will sing with my mind also.
1 Corinthians 15:33
Do not be deceived: "Bad company ruins good morals."
1 Samuel 16:23
And whenever the harmful spirit from God was upon Saul, David took the lyre and played it with his hand. So Saul was refreshed and was well, and the harmful spirit departed from him.
2 Chronicles 5:13
And it was the duty of the trumpeters and singers to make themselves heard in unison in praise and thanksgiving to the Lord), and when the song was raised, with trumpets and cymbals and other musical instruments, in praise to the Lord, "For he is good, for his steadfast love endures forever," the house, the house of the Lord, was filled with a cloud.
2 Chronicles 7:6
The priests stood at their posts; the Levites also, with the instruments for music to the Lord that King David had made for giving thanks to the Lord—for his steadfast love endures forever—whenever David offered praises by their ministry; opposite them the priests sounded trumpets, and all Israel stood.
Acts 16:25
About midnight Paul and Silas were praying and singing hymns to God, and the prisoners were listening to them.
Amos 5:23
Take away from me the noise of your songs; to the melody of your harps I will not listen.
Amos 6:5
Who sing idle songs to the sound of the harp and like David invent for themselves instruments of music.
Daniel 3:15
Now if you are ready when you hear the sound of the horn, pipe, lyre, trigon, harp, bagpipe, and every kind of music, to fall down and worship the image that I have made, well and good. But if you do not worship, you shall immediately be cast into a burning fiery furnace. And who is the god who will deliver you out of my hands?
Ecclesiastes 7:5
It is better for a man to hear the rebuke of the wise than to hear the song of fools.
Exodus 15:1
Then Moses and the people of Israel sang this song to the Lord, saying, "I will sing to the Lord, for he has triumphed gloriously; the horse and his rider he has thrown into the sea."
Hebrews 2:12
Saying, "I will tell of your name to my brothers; in the midst of the congregation I will sing your praise."
Isaiah 5:12
They have lyre and harp, tambourine and flute and wine at their feasts, but they do not regard the deeds of the Lord, or see the work of his hands.
James 5:13
Is anyone among you suffering? Let him pray. Is anyone cheerful? Let him sing praise.
Job 21:12
They sing to the tambourine and the lyre and rejoice to the sound of the pipe.
Luke 15:25
"Now his older son was in the field, and as he came and drew near to the house, he heard music and dancing."
Mark 14:26
And when they had sung a hymn, they went out to the Mount of Olives.
Matthew 26:30
And when they had sung a hymn, they went out to the Mount of Olives.
Philippians 4:8
Finally, brothers, whatever is true, whatever is honorable, whatever is just, whatever is pure, whatever is lovely, whatever is commendable, if there is any excellence, if there is anything worthy of praise, think about these things.
Proverbs 25:20
Whoever sings songs to a heavy heart is like one who takes off a garment on a cold day, and like vinegar on soda.
Psalm 101:1
A Psalm of David. I will sing of steadfast love and justice; to you, O Lord, I will make music.
Psalm 135:3
Praise the Lord, for the Lord is good; sing to his name, for it is pleasant!
Psalm 144:9
I will sing a new song to you, O God; upon a ten-stringed harp I will play to you.
Psalm 149:3
Let them praise his name with dancing, making melody to him with tambourine and lyre!
Psalm 150:4
Praise him with tambourine and dance; praise him with strings and pipe!
Psalm 40:3
He put a new song in my mouth, a song of praise to our God. Many will see and fear, and put their trust in the Lord.
Psalm 57:7
My heart is steadfast, O God, my heart is steadfast! I will sing and make melody!
Psalm 68:4
Sing to God, sing praises to his name; lift up a song to him who rides through the deserts; his name is the Lord; exult before him!
Psalm 71:23
My lips will shout for joy, when I sing praises to you; my soul also, which you have redeemed.
Psalm 87:7
Singers and dancers alike say, "All my springs are in you."
Psalm 95:2
Let us come into his presence with thanksgiving; let us make a joyful noise to him with songs of praise!
Revelation 14:3
And they were singing a new song before the throne and before the four living creatures and before the elders. No one could learn that song except the 144,000 who had been redeemed from the earth.
Revelation 5:8
And when he had taken the scroll, the four living creatures and the twenty-four elders fell down before the Lamb, each holding a harp, and golden bowls full of incense, which are the prayers of the saints.
More Bible Verses that Will Move You
50 Most Powerful Scriptures on Faith
60 Transcendent Verses on Trust
50 Strong Scriptures on Perseverance
68 Powerful Verses on Forgiveness
40 Uplifting Scriptures on Patience
Add Our Infographic Below to Your Pinterest Board
Hit the pin button below to add our infographic, with all the verses, to one of your Pinterest boards.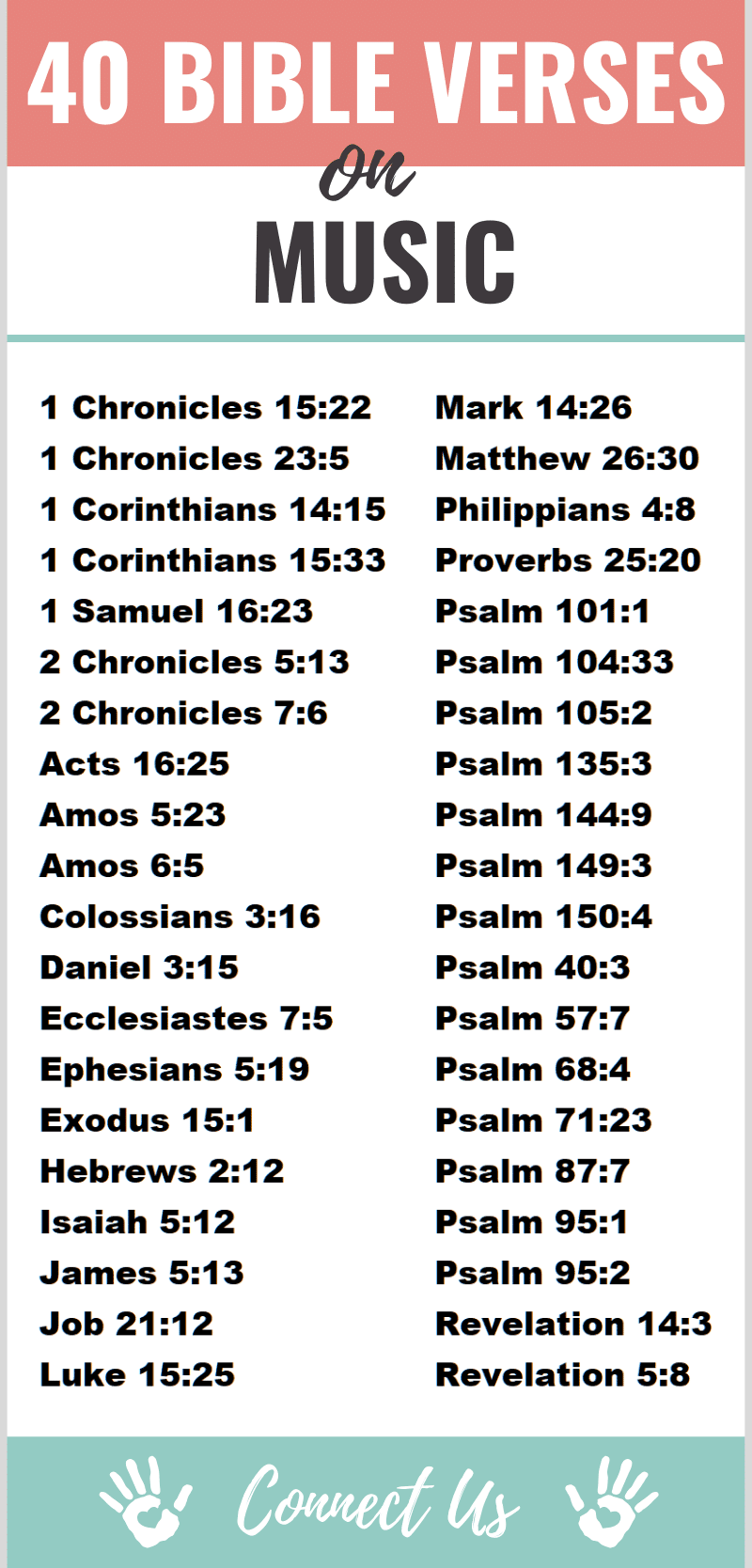 Author Bio
Natalie Regoli is a child of God, devoted wife, and mother of two boys. She has a Master's Degree in Law from The University of Texas. Natalie has been published in several national journals and has been practicing law for 18 years.