The word "tongue" appears 138 times throughout the books of the Bible. The graph below shows the locations of each appearance. It begins with Genesis in the top left and concludes with Revelation in the bottom right.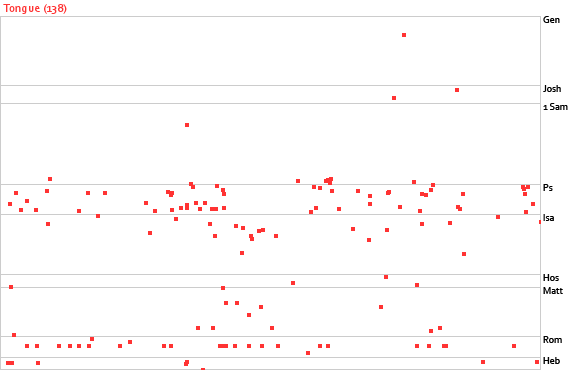 Here are the 40 most compelling Bible scriptures on gossip.
Proverbs 20:19
Whoever goes about slandering reveals secrets; therefore do not associate with a simple babbler.
Proverbs 16:28
A dishonest man spreads strife, and a whisperer separates close friends.
Proverbs 11:13
Whoever goes about slandering reveals secrets, but he who is trustworthy in spirit keeps a thing covered.
Ephesians 4:29
Let no corrupting talk come out of your mouths, but only such as is good for building up, as fits the occasion, that it may give grace to those who hear.
Proverbs 26:20
For lack of wood the fire goes out, and where there is no whisperer, quarreling ceases.
1 Peter 4:15
But let none of you suffer as a murderer or a thief or an evildoer or as a meddler.
1 Thessalonians 4:11
And to aspire to live quietly, and to mind your own affairs, and to work with your hands, as we instructed you.
1 Timothy 5:13
Besides that, they learn to be idlers, going about from house to house, and not only idlers, but also gossips and busybodies, saying what they should not.
2 Corinthians 12:20
For I fear that perhaps when I come I may find you not as I wish, and that you may find me not as you wish—that perhaps there may be quarreling, jealousy, anger, hostility, slander, gossip, conceit, and disorder.
Colossians 3:8
But now you must put them all away: anger, wrath, malice, slander, and obscene talk from your mouth.
Colossians 4:6
Let your speech always be gracious, seasoned with salt, so that you may know how you ought to answer each person.
Exodus 20:16
"You shall not bear false witness against your neighbor."
Exodus 23:1
"You shall not spread a false report. You shall not join hands with a wicked man to be a malicious witness."
James 1:26
If anyone thinks he is religious and does not bridle his tongue but deceives his heart, this person's religion is worthless.
James 3:5
So also the tongue is a small member, yet it boasts of great things. How great a forest is set ablaze by such a small fire!
James 4:11
Do not speak evil against one another, brothers. The one who speaks against a brother or judges his brother, speaks evil against the law and judges the law. But if you judge the law, you are not a doer of the law but a judge.
Jeremiah 6:28
They are all stubbornly rebellious, going about with slanders; they are bronze and iron; all of them act corruptly.
Leviticus 19:16
"You shall not go around as a slanderer among your people, and you shall not stand up against the life of your neighbor: I am the Lord."
Luke 6:31
"And as you wish that others would do to you, do so to them."
Matthew 12:36
"I tell you, on the day of judgment people will give account for every careless word they speak."
Matthew 18:17
"If he refuses to listen to them, tell it to the church. And if he refuses to listen even to the church, let him be to you as a Gentile and a tax collector."
Matthew 7:12
"So whatever you wish that others would do to you, do also to them, for this is the Law and the Prophets."
Philippians 4:8
Finally, brothers, whatever is true, whatever is honorable, whatever is just, whatever is pure, whatever is lovely, whatever is commendable, if there is any excellence, if there is anything worthy of praise, think about these things.
Proverbs 10:18
The one who conceals hatred has lying lips, and whoever utters slander is a fool.
Proverbs 10:19
When words are many, transgression is not lacking, but whoever restrains his lips is prudent.
Proverbs 11:9
With his mouth the godless man would destroy his neighbor, but by knowledge the righteous are delivered.
Proverbs 13:3
Whoever guards his mouth preserves his life; he who opens wide his lips comes to ruin.
Proverbs 17:4
An evildoer listens to wicked lips, and a liar gives ear to a mischievous tongue.
Proverbs 17:9
Whoever covers an offense seeks love, but he who repeats a matter separates close friends.
Proverbs 18:21
Death and life are in the power of the tongue, and those who love it will eat its fruits.
Proverbs 18:8
The words of a whisperer are like delicious morsels; they go down into the inner parts of the body.
Proverbs 21:23
Whoever keeps his mouth and his tongue keeps himself out of trouble.
Proverbs 25:23
The north wind brings forth rain, and a backbiting tongue, angry looks.
Proverbs 26:22
The words of a whisperer are like delicious morsels; they go down into the inner parts of the body.
Psalm 101:5
Whoever slanders his neighbor secretly I will destroy. Whoever has a haughty look and an arrogant heart I will not endure.
Psalm 141:3
Set a guard, O Lord, over my mouth; keep watch over the door of my lips!
Psalm 19:14
Let the words of my mouth and the meditation of my heart be acceptable in your sight, O Lord, my rock and my redeemer.
Psalm 34:13
Keep your tongue from evil and your lips from speaking deceit.
Romans 1:29
They were filled with all manner of unrighteousness, evil, covetousness, malice. They are full of envy, murder, strife, deceit, maliciousness. They are gossips.
Titus 3:2
To speak evil of no one, to avoid quarreling, to be gentle, and to show perfect courtesy toward all people.
More Bible Verses that Will Move You
50 Most Powerful Scriptures on Faith
60 Transcendent Verses on Trust
50 Strong Scriptures on Perseverance
68 Powerful Verses on Forgiveness
40 Uplifting Scriptures on Patience
Add Our Infographic Below to Your Pinterest Board
Hit the pin button below to add our infographic, with all the verses, to one of your Pinterest boards.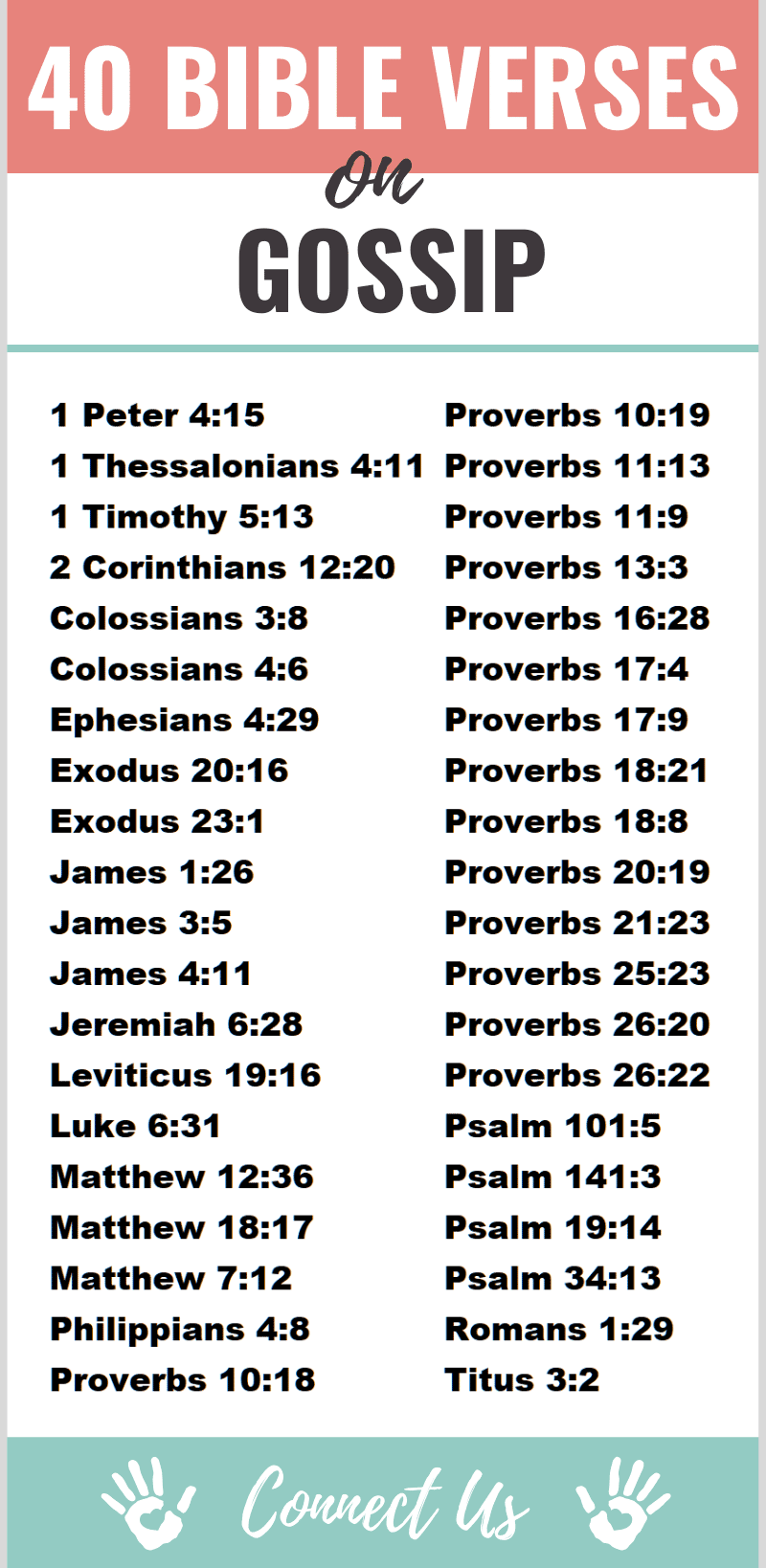 Author Bio
Natalie Regoli is a child of God, devoted wife, and mother of two boys. She has a Master's Degree in Law from The University of Texas. Natalie has been published in several national journals and has been practicing law for 18 years.