The word "friend" is found 118 times in the Old and New Testament. The image below reveals the locations of each occurrence. This cool graph starts with Genesis in the top left and ends with Revelation in the bottom right.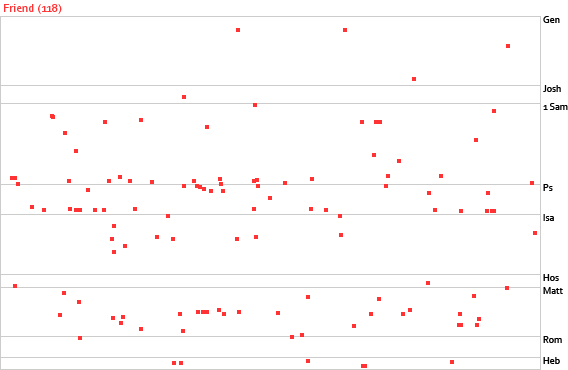 Here are the 40 most encouraging Bible scriptures on friendship.
Proverbs 18:24
A man of many companions may come to ruin, but there is a friend who sticks closer than a brother.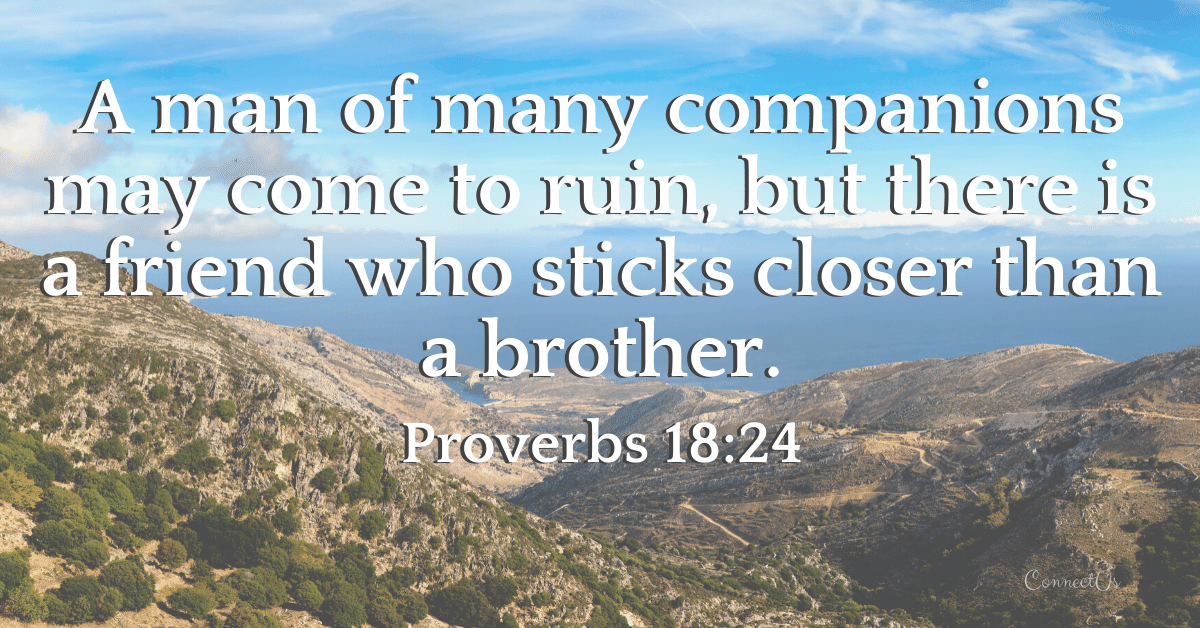 John 15:13
"Greater love has no one than this, that someone lay down his life for his friends."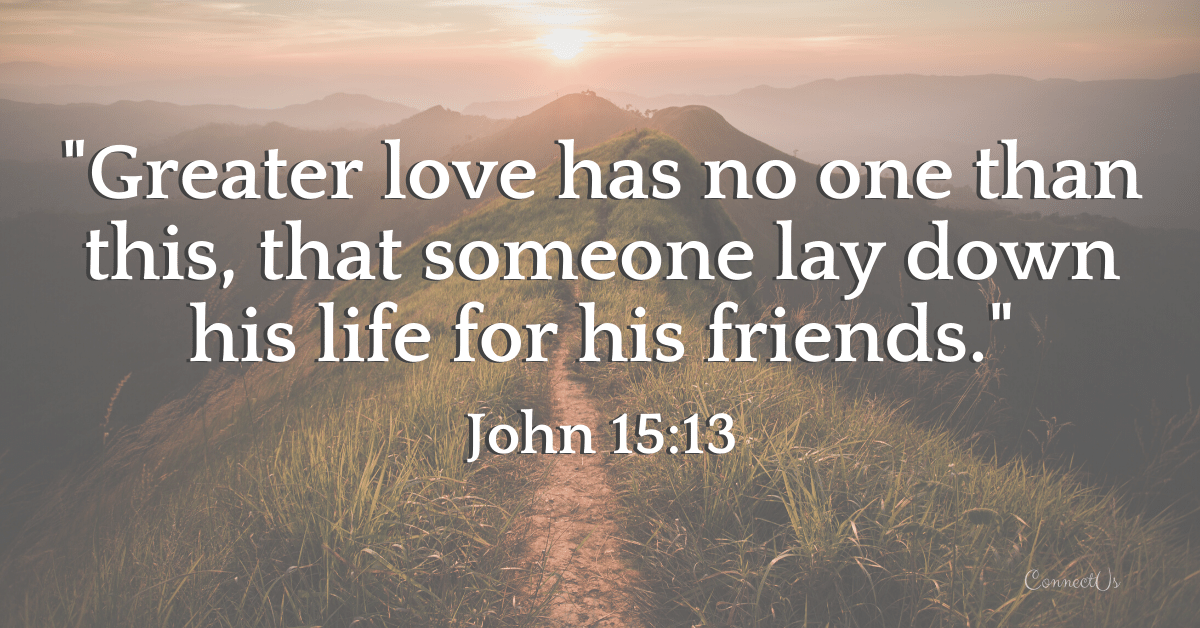 Proverbs 27:17
Iron sharpens iron, and one man sharpens another.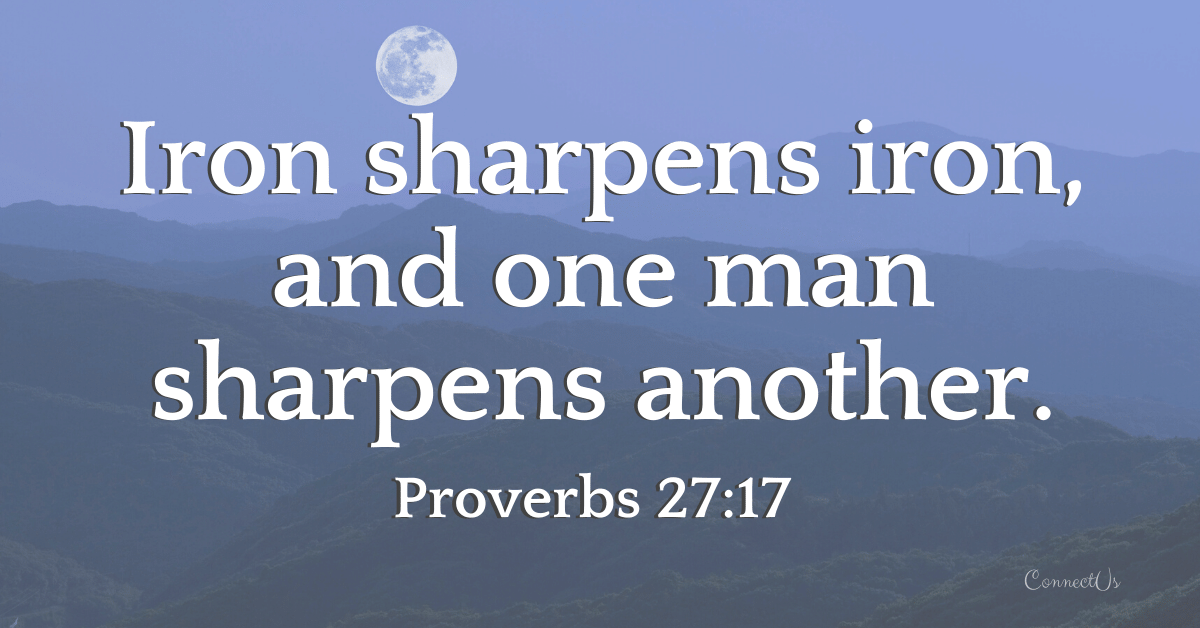 Proverbs 17:17
A friend loves at all times, and a brother is born for adversity.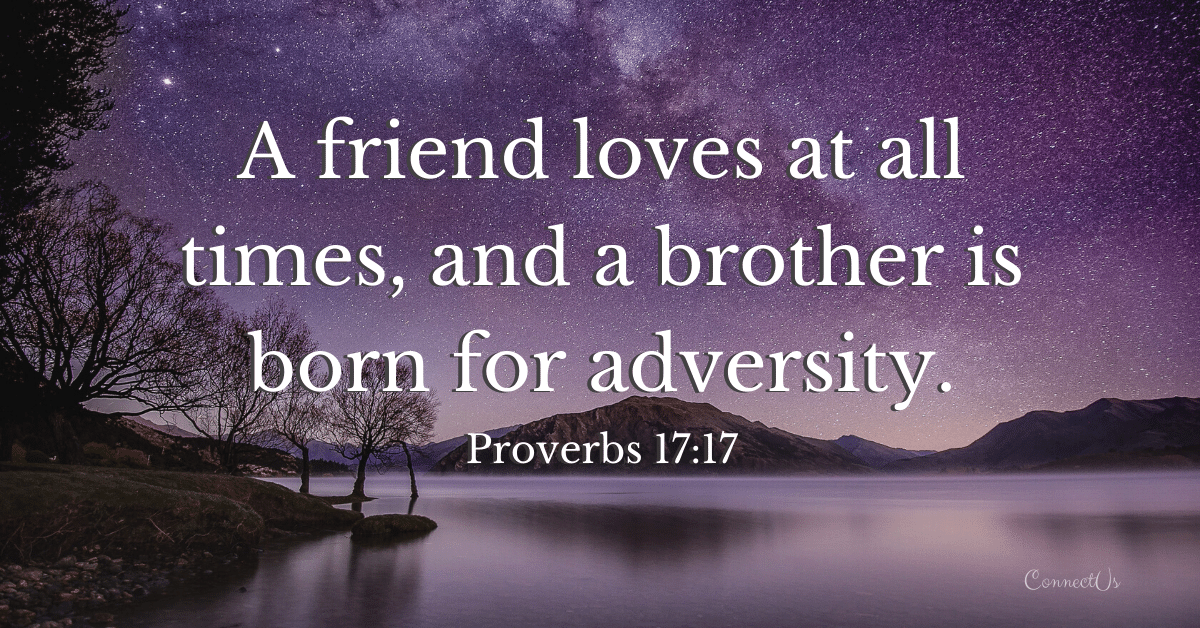 1 Corinthians 15:33
Do not be deceived: Bad company ruins good morals.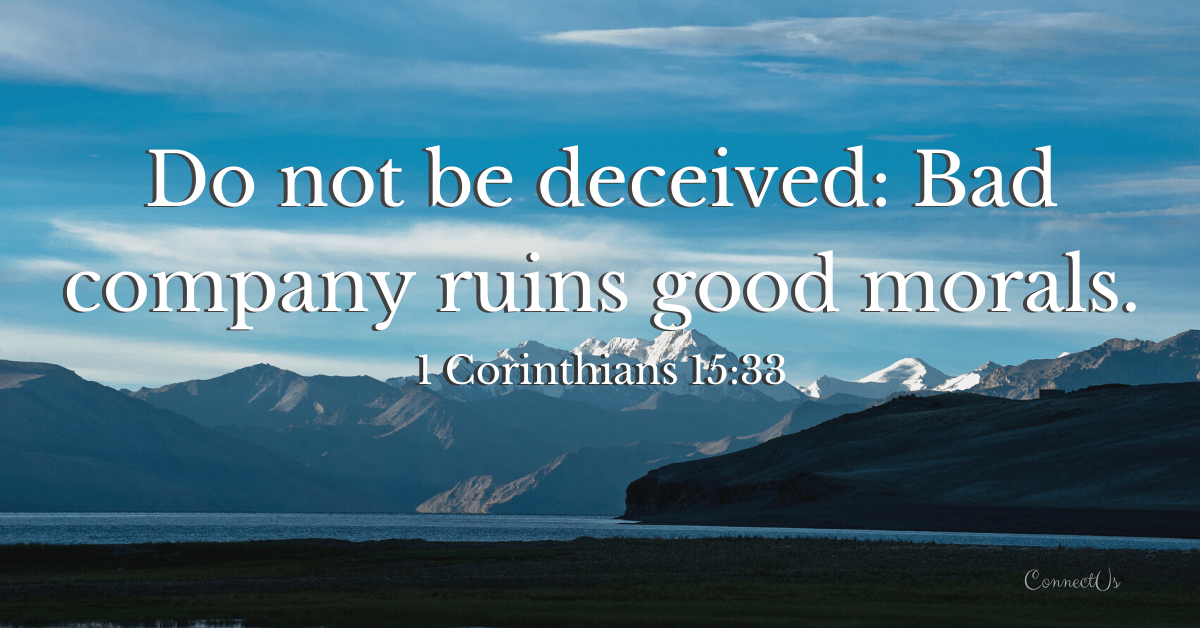 1 John 1:9
If we confess our sins, he is faithful and just to forgive us our sins and to cleanse us from all unrighteousness.
1 John 4:7
Beloved, let us love one another, for love is from God, and whoever loves has been born of God and knows God.
1 Samuel 22:23
"Stay with me; do not be afraid, for he who seeks my life seeks your life. With me you shall be in safekeeping."
1 Thessalonians 5:11
Therefore encourage one another and build one another up, just as you are doing.
2 Kings 2:2
And Elijah said to Elisha, "Please stay here, for the Lord has sent me as far as Bethel." But Elisha said, "As the Lord lives, and as you yourself live, I will not leave you." So they went down to Bethel.
2 Samuel 10:2
And David said, "I will deal loyally with Hanun the son of Nahash, as his father dealt loyally with me." So David sent by his servants to console him concerning his father. And David's servants came into the land of the Ammonites.
Amos 3:3
Do two walk together, unless they have agreed to meet?
Ecclesiastes 4:12
And though a man might prevail against one who is alone, two will withstand him—a threefold cord is not quickly broken.
Hebrews 13:5
Keep your life free from love of money, and be content with what you have, for he has said, "I will never leave you nor forsake you."
James 2:23
And the Scripture was fulfilled that says, "Abraham believed God, and it was counted to him as righteousness"—and he was called a friend of God.
James 4:4
You adulterous people! Do you not know that friendship with the world is enmity with God? Therefore whoever wishes to be a friend of the world makes himself an enemy of God.
Job 2:11
Now when Job's three friends heard of all this evil that had come upon him, they came each from his own place, Eliphaz the Temanite, Bildad the Shuhite, and Zophar the Naamathite. They made an appointment together to come to show him sympathy and comfort him.
Job 6:14
He who withholds kindness from a friend forsakes the fear of the Almighty.
John 15:15
"No longer do I call you servants, for the servant does not know what his master is doing; but I have called you friends, for all that I have heard from my Father I have made known to you."
Luke 6:31
"And as you wish that others would do to you, do so to them."
Matthew 18:20
"For where two or three are gathered in my name, there am I among them."
Proverbs 11:13
Whoever goes about slandering reveals secrets, but he who is trustworthy in spirit keeps a thing covered.
Proverbs 12:26
One who is righteous is a guide to his neighbor, but the way of the wicked leads them astray.
Proverbs 13:20
Whoever walks with the wise becomes wise, but the companion of fools will suffer harm.
Proverbs 16:28
A dishonest man spreads strife, and a whisperer separates close friends.
Proverbs 16:7
When a man's ways please the Lord, he makes even his enemies to be at peace with him.
Proverbs 17:9
Whoever covers an offense seeks love, but he who repeats a matter separates close friends.
Proverbs 20:6
Many a man proclaims his own steadfast love, but a faithful man who can find?
Proverbs 22:11
He who loves purity of heart, and whose speech is gracious, will have the king as his friend.
Proverbs 25:17
Let your foot be seldom in your neighbor's house, lest he have his fill of you and hate you.
Proverbs 27:10
Do not forsake your friend and your father's friend, and do not go to your brother's house in the day of your calamity. Better is a neighbor who is near than a brother who is far away.
Proverbs 27:19
As in water face reflects face, so the heart of man reflects the man.
Proverbs 27:6
Faithful are the wounds of a friend; profuse are the kisses of an enemy.
Proverbs 27:9
Oil and perfume make the heart glad, and the sweetness of a friend comes from his earnest counsel.
Psalm 41:9
Even my close friend in whom I trusted, who ate my bread, has lifted his heel against me.
Romans 1:12
That is, that we may be mutually encouraged by each other's faith, both yours and mine.
Romans 12:10
Love one another with brotherly affection. Outdo one another in showing honor.
Romans 12:15
Rejoice with those who rejoice, weep with those who weep.
Romans 5:10
For if while we were enemies we were reconciled to God by the death of his Son, much more, now that we are reconciled, shall we be saved by his life.
Ruth 1:17
Where you die I will die, and there will I be buried. May the Lord do so to me and more also if anything but death parts me from you.
More Bible Verses that Will Move You
50 Most Powerful Scriptures on Faith
60 Transcendent Verses on Trust
50 Strong Scriptures on Perseverance
68 Powerful Verses on Forgiveness
40 Uplifting Scriptures on Patience
Add Our Infographic Below to Your Pinterest Board
Hit the pin button below to add our infographic, with all the verses, to one of your Pinterest boards.

Author Bio
Natalie Regoli is a child of God, devoted wife, and mother of two boys. She has a Master's Degree in Law from The University of Texas. Natalie has been published in several national journals and has been practicing law for 18 years.