Here are the 40 most encouraging Bible scriptures on loving others.
John 13:34
"A new commandment I give to you, that you love one another: just as I have loved you, you also are to love one another."
1 John 4:11
Beloved, if God so loved us, we also ought to love one another.
Proverbs 10:12
Hatred stirs up strife, but love covers all offenses.
1 Corinthians 13:13
So now faith, hope, and love abide, these three; but the greatest of these is love.
1 Peter 4:8
Above all, keep loving one another earnestly, since love covers a multitude of sins.
1 Corinthians 13:1
If I speak in the tongues of men and of angels, but have not love, I am a noisy gong or a clanging cymbal.
1 Corinthians 13:3
If I give away all I have, and if I deliver up my body to be burned, but have not love, I gain nothing.
1 Corinthians 16:14
Let all that you do be done in love.
1 John 3:1
See what kind of love the Father has given to us, that we should be called children of God; and so we are. The reason why the world does not know us is that it did not know him.
1 John 3:11
For this is the message that you have heard from the beginning, that we should love one another.
1 John 3:14
We know that we have passed out of death into life, because we love the brothers. Whoever does not love abides in death.
1 John 3:16
By this we know love, that he laid down his life for us, and we ought to lay down our lives for the brothers.
1 John 4:12
No one has ever seen God; if we love one another, God abides in us and his love is perfected in us.
1 John 4:16
So we have come to know and to believe the love that God has for us. God is love, and whoever abides in love abides in God, and God abides in him.
1 John 4:18
There is no fear in love, but perfect love casts out fear. For fear has to do with punishment, and whoever fears has not been perfected in love.
1 John 4:19
We love because he first loved us.
1 John 4:21
And this commandment we have from him: whoever loves God must also love his brother.
1 John 4:7
Beloved, let us love one another, for love is from God, and whoever loves has been born of God and knows God.
1 Peter 1:22
Having purified your souls by your obedience to the truth for a sincere brotherly love, love one another earnestly from a pure heart.
1 Peter 2:17
Honor everyone. Love the brotherhood. Fear God. Honor the emperor.
1 Thessalonians 4:9
Now concerning brotherly love you have no need for anyone to write to you, for you yourselves have been taught by God to love one another.
Colossians 3:14
And above all these put on love, which binds everything together in perfect harmony.
Ephesians 4:2
With all humility and gentleness, with patience, bearing with one another in love.
Ephesians 4:32
Be kind to one another, tenderhearted, forgiving one another, as God in Christ forgave you.
Ephesians 5:2
And walk in love, as Christ loved us and gave himself up for us, a fragrant offering and sacrifice to God.
Ephesians 5:25
Husbands, love your wives, as Christ loved the church and gave himself up for her.
Galatians 5:6
For in Christ Jesus neither circumcision nor uncircumcision counts for anything, but only faith working through love.
John 15:12
"This is my commandment, that you love one another as I have loved you."
John 15:13
"Greater love has no one than this, that someone lay down his life for his friends."
John 3:16
For God so loved the world, that he gave his only Son, that whoever believes in him should not perish but have eternal life.
Leviticus 19:18
"You shall not take vengeance or bear a grudge against the sons of your own people, but you shall love your neighbor as yourself: I am the Lord."
Luke 6:31
"And as you wish that others would do to you, do so to them."
Matthew 22:37
And he said to him, "'You shall love the Lord your God with all your heart and with all your soul and with all your mind.'"
Matthew 22:39
"And a second is like it: 'You shall love your neighbor as yourself.'"
Micah 6:8
He has told you, O man, what is good; and what does the Lord require of you but to do justice, and to love kindness, and to walk humbly with your God?
Proverbs 17:17
A friend loves at all times, and a brother is born for adversity.
Romans 12:10
Love one another with brotherly affection. Outdo one another in showing honor.
Romans 13:8
Owe no one anything, except to love each other, for the one who loves another has fulfilled the law.
Romans 5:8
But God shows his love for us in that while we were still sinners, Christ died for us.
Romans 8:28
And we know that for those who love God all things work together for good, for those who are called according to his purpose.
More Bible Verses that Will Move You
50 Most Powerful Scriptures on Faith
60 Transcendent Verses on Trust
50 Strong Scriptures on Perseverance
68 Powerful Verses on Forgiveness
40 Uplifting Scriptures on Patience
Add Our Infographic Below to Your Pinterest Board
Hit the pin button below to add our infographic, with all the verses, to one of your Pinterest boards.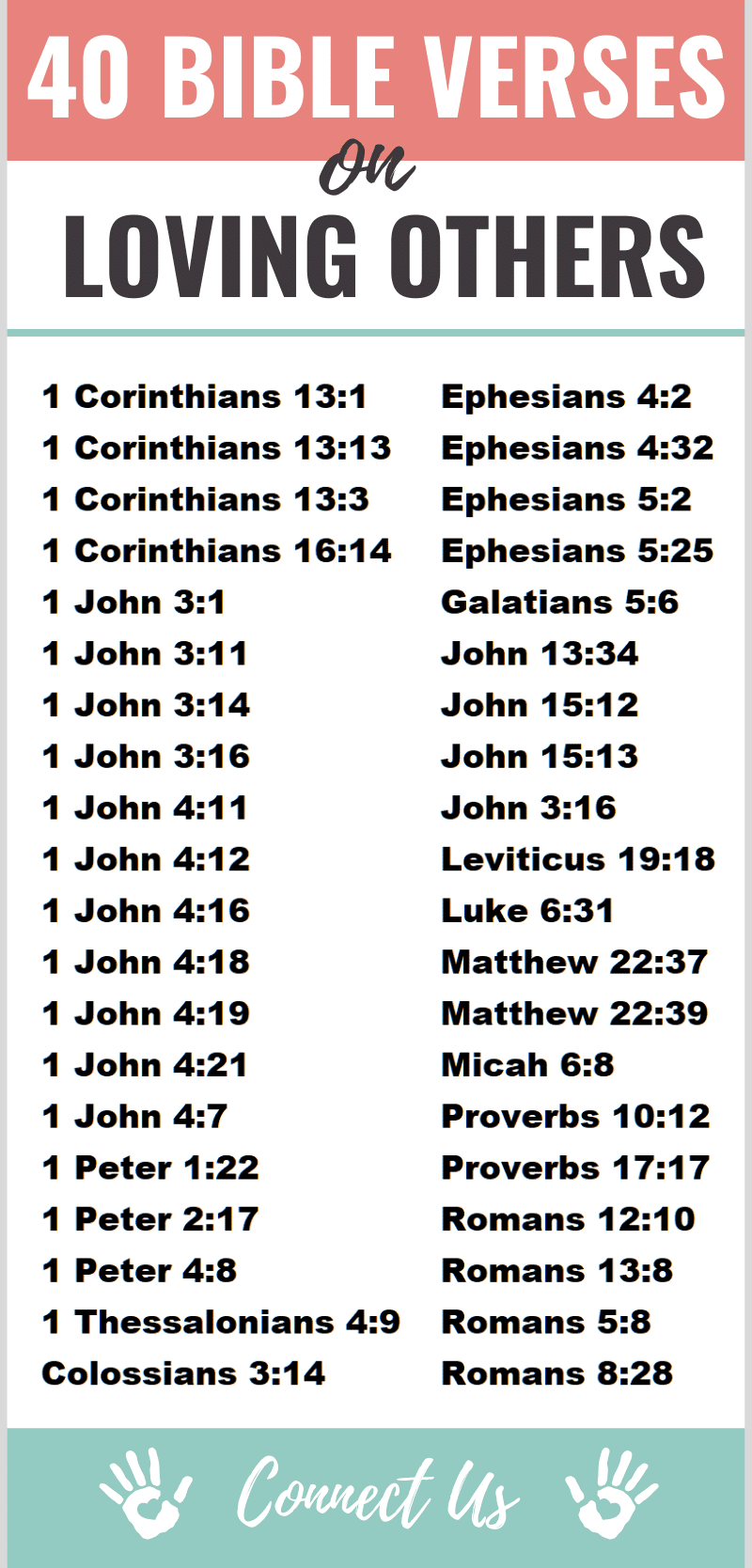 Author Bio
Natalie Regoli is a child of God, devoted wife, and mother of two boys. She has a Master's Degree in Law from The University of Texas. Natalie has been published in several national journals and has been practicing law for 18 years.