Here are the 40 most encouraging Bible scriptures on persistence.
Galatians 6:9
And let us not grow weary of doing good, for in due season we will reap, if we do not give up.
Proverbs 24:16
For the righteous falls seven times and rises again, but the wicked stumble in times of calamity.
2 Thessalonians 3:13
As for you, brothers, do not grow weary in doing good.
Philippians 3:14
I press on toward the goal for the prize of the upward call of God in Christ Jesus.
1 Corinthians 15:58
Therefore, my beloved brothers, be steadfast, immovable, always abounding in the work of the Lord, knowing that in the Lord your labor is not in vain.
1 Chronicles 16:11
Seek the Lord and his strength; seek his presence continually!
1 Corinthians 13:7
Love bears all things, believes all things, hopes all things, endures all things.
1 John 5:15
And if we know that he hears us in whatever we ask, we know that we have the requests that we have asked of him.
1 Peter 5:7
Casting all your anxieties on him, because he cares for you.
1 Thessalonians 5:17
Pray without ceasing.
1 Thessalonians 5:21
But test everything; hold fast what is good.
1 Timothy 4:16
Keep a close watch on yourself and on the teaching. Persist in this, for by so doing you will save both yourself and your hearers.
1 Timothy 6:12
Fight the good fight of the faith. Take hold of the eternal life to which you were called and about which you made the good confession in the presence of many witnesses.
2 Thessalonians 3:5
May the Lord direct your hearts to the love of God and to the steadfastness of Christ.
2 Timothy 2:12
If we endure, we will also reign with him; if we deny him, he also will deny us.
Ephesians 1:4
Even as he chose us in him before the foundation of the world, that we should be holy and blameless before him.
Ephesians 6:18
Praying at all times in the Spirit, with all prayer and supplication. To that end keep alert with all perseverance, making supplication for all the saints.
Hebrews 10:36
For you have need of endurance, so that when you have done the will of God you may receive what is promised.
Hebrews 11:6
And without faith it is impossible to please him, for whoever would draw near to God must believe that he exists and that he rewards those who seek him.
Hebrews 12:1
Therefore, since we are surrounded by so great a cloud of witnesses, let us also lay aside every weight, and sin which clings so closely, and let us run with endurance the race that is set before us.
Hebrews 13:15
Through him then let us continually offer up a sacrifice of praise to God, that is, the fruit of lips that acknowledge his name.
Hosea 6:3
Let us know; let us press on to know the Lord; his going out is sure as the dawn; he will come to us as the showers, as the spring rains that water the earth.
James 1:12
Blessed is the man who remains steadfast under trial, for when he has stood the test he will receive the crown of life, which God has promised to those who love him.
James 1:4
And let steadfastness have its full effect, that you may be perfect and complete, lacking in nothing.
James 5:11
Behold, we consider those blessed who remained steadfast. You have heard of the steadfastness of Job, and you have seen the purpose of the Lord, how the Lord is compassionate and merciful.
John 14:26
"But the Helper, the Holy Spirit, whom the Father will send in my name, he will teach you all things and bring to your remembrance all that I have said to you."
John 15:7
"If you abide in me, and my words abide in you, ask whatever you wish, and it will be done for you."
Luke 21:19
"By your endurance you will gain your lives."
Matthew 24:13
"But the one who endures to the end will be saved."
Philippians 1:6
And I am sure of this, that he who began a good work in you will bring it to completion at the day of Jesus Christ.
Philippians 4:13
I can do all things through him who strengthens me.
Proverbs 12:27
Whoever is slothful will not roast his game, but the diligent man will get precious wealth.
Revelation 2:10
"Do not fear what you are about to suffer. Behold, the devil is about to throw some of you into prison, that you may be tested, and for ten days you will have tribulation. Be faithful unto death, and I will give you the crown of life."
Revelation 3:10
"Because you have kept my word about patient endurance, I will keep you from the hour of trial that is coming on the whole world, to try those who dwell on the earth."
Revelation 3:11
"I am coming soon. Hold fast what you have, so that no one may seize your crown."
Romans 12:12
Rejoice in hope, be patient in tribulation, be constant in prayer.
Romans 15:13
May the God of hope fill you with all joy and peace in believing, so that by the power of the Holy Spirit you may abound in hope.
Romans 2:7
To those who by patience in well-doing seek for glory and honor and immortality, he will give eternal life.
Romans 5:4
And endurance produces character, and character produces hope.
Titus 2:2
Older men are to be sober-minded, dignified, self-controlled, sound in faith, in love, and in steadfastness.
More Bible Verses that Will Move You
50 Most Powerful Scriptures on Faith
60 Transcendent Verses on Trust
50 Strong Scriptures on Perseverance
68 Powerful Verses on Forgiveness
40 Uplifting Scriptures on Patience
Add Our Infographic Below to Your Pinterest Board
Hit the pin button below to add our infographic, with all the verses, to one of your Pinterest boards.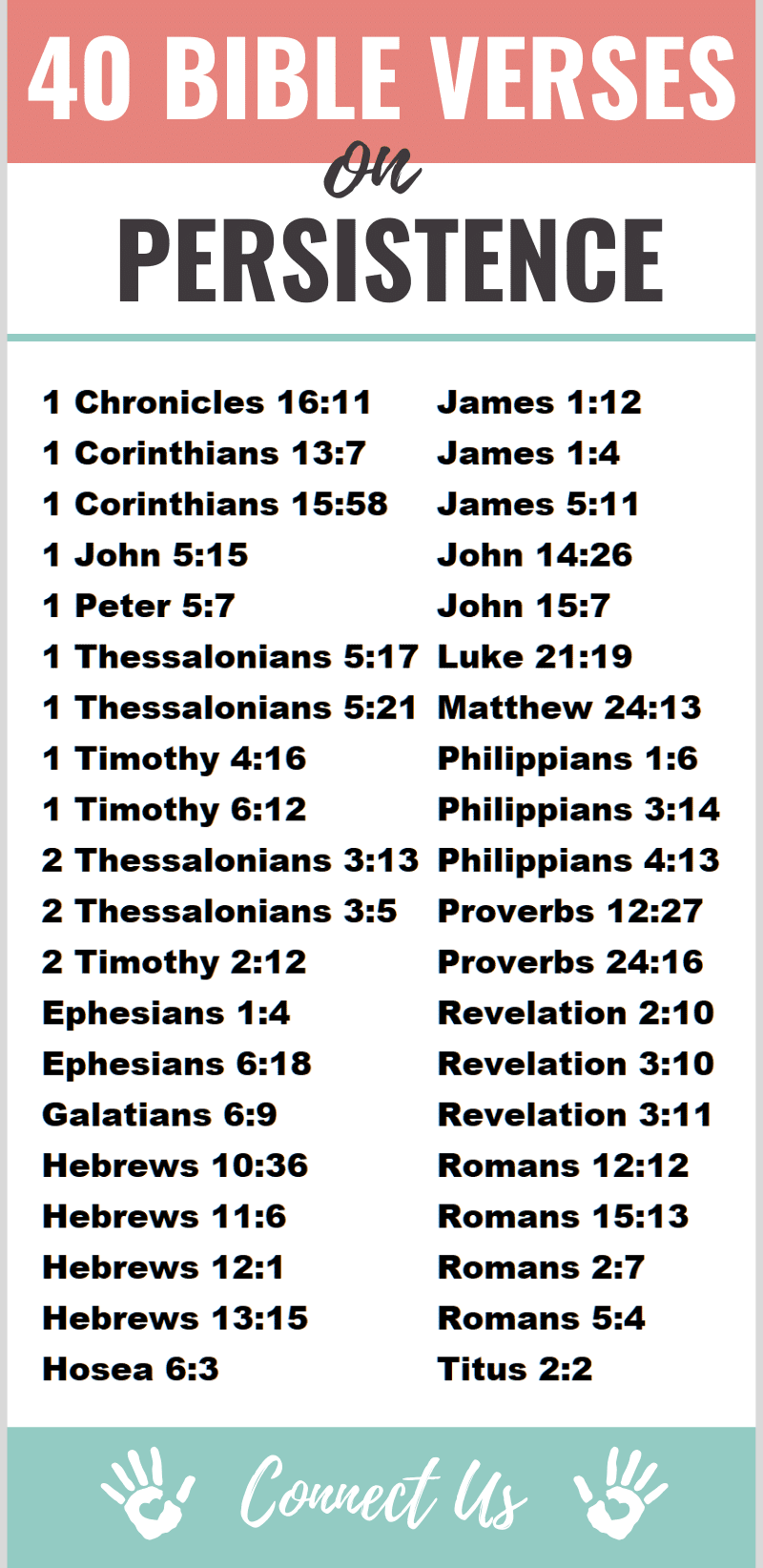 Author Bio
Natalie Regoli is a child of God, devoted wife, and mother of two boys. She has a Master's Degree in Law from The University of Texas. Natalie has been published in several national journals and has been practicing law for 18 years.